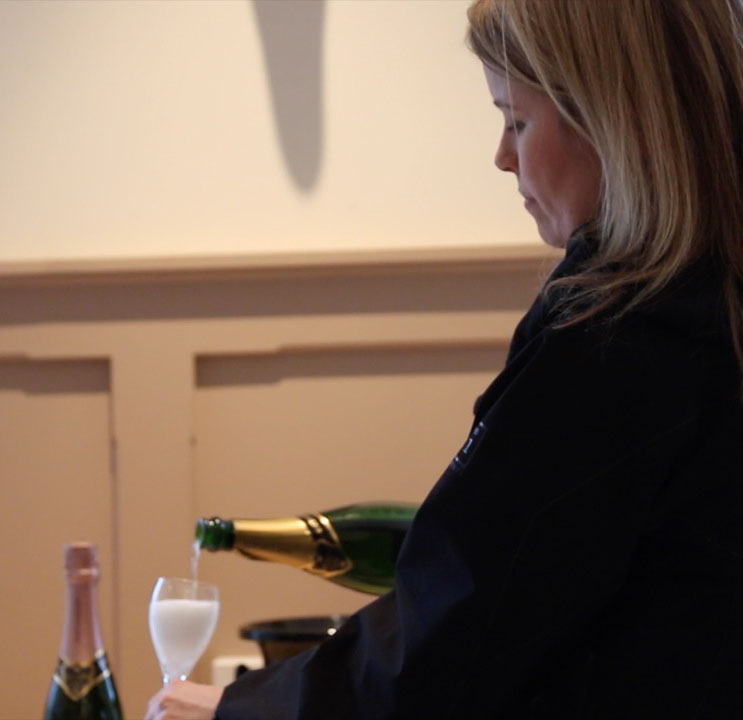 Established in 2008 by lawyer Simon Robinson, Hattingley Valley planted it's first 7.3 hectare south-facing site with Chardonnay, Pinot Noir and Pinot Meunier in the Southern England county of Hampshire. With continued expansion, Hattingley Valley now has over 35,000 vines across two well-situated sites in East Hampshire.
On launching the winery Robinson hired winemaker Emma Rice who had recently founded Custom Crush, a wine analysis laboratory and winemaking consultancy for England's domestic wine industry. Hattingley Valley receive grapes from vineyards across Southern England and estimate the winery is currently the largest contract maker of sparkling wine in England.
We talk with Emma Rice about the emerging English wine industry.
Christopher Barnes: Emma, Hattingley Valley, how long has the estate been here?
Emma Rice: We planted in 2008. First vintage in 2010.
Emma, how did Simon Robinson decide to become a winemaker and a vine grower?
Well, he had the farm existing already and decided that he would like to diversify what was going on in the farm and grapes were a bit of a passion of his ... well, wine was a bit of a passion of his. And he decided that maybe he could look into planting a vineyard. Did that in 2008 and we made our first wine in 2010 and here we are.
How long does it take before the grapes reach the stage where they're good wine grapes?
We can take a small crop in the third growing season. But to be honest, they are not really producing a fully mature crop until the fifth or sixth growing seasons. Then they will mature for another 10 to 15 years, tail off at about 25 years old.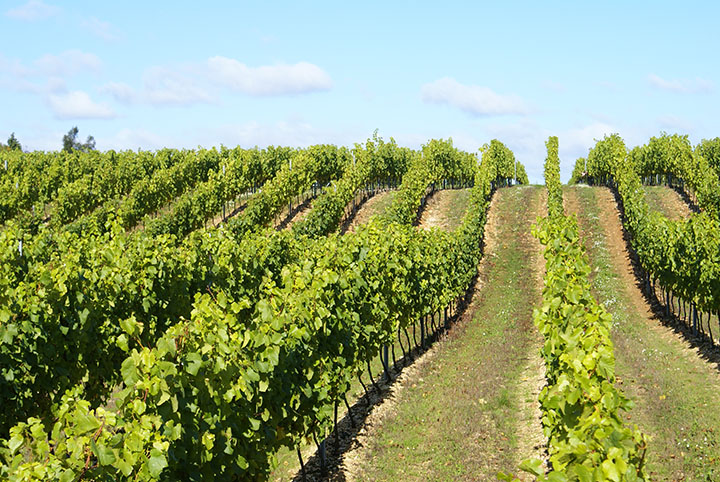 What is it about Hampshire and the climate here that allows you to produce good sparkling wine?
We're on solid chalk, so it's very similar to the Champagne region of Northern France and we have a very, very long, cool growing season. We don't get huge sugar ripeness. We get good acidity, we maintain the acidity at a very nice level. But we get very good flavor development in the grapes because they have such a long time to get to the sugar ripeness that they do.
How did you get involved with winemaking?
I was in the wine trade in London for eight years and I read about Plumpton College in East Sussex offering winemaking courses. I signed up and then that was it. I set on my path to winemaking.
How did you end up in Hattingley Valley?
I went from East Sussex to Napa Valley, California, Tasmania, Australia; back to Sussex and that's when I met Simon. I set up a laboratory in Sussex testing wines and grapes. I met Simon through doing that and then I became involved in helping him to build the winery here in 2009.
I bet the climate is a little different in Napa and Tasmania than it is in Hampshire, England.
Surprisingly, Tasmania is probably much closer to the English climate than the Napa climate but Napa was an exceptionally dry climate by comparison to here in England.
You get a little bit more rain here.
Just a little bit.
And gray skies.
And gray skies. Not so much guaranteed sunshine and we get the rain throughout the growing seasons. Whereas, in Napa they get the rain in the winter, no rain at all during the summer. They irrigate control it nicely. We don't have to irrigate. We are managing too much water. Whereas in Napa I believe they are managing not enough. It is two extremes.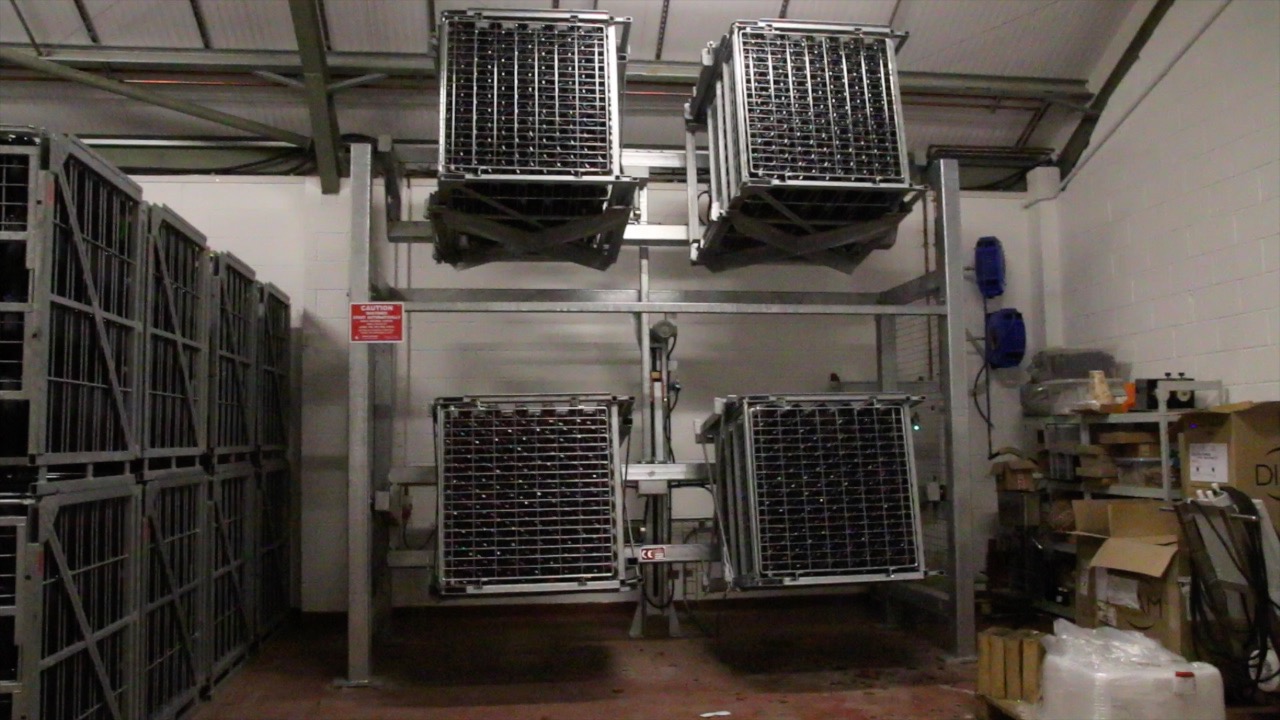 Tell us about the process of making sparkling wine here.
We get the grapes in, Chardonnay, Pinot Noir, Pinot Meunier, handpicked just as they do with Champagne. We bring them into the winery, a whole bunch pressed in Champagne presses. These are bladder presses and horizontal tilt plate presses which are designed in Champagne for use with Champagne grapes. We whole bunch press and we take I think between 50 to 60% yield from the grapes. So, a four ton load we will take between 2,000 and two and a half thousand liters of juice, depending on the quality of the grapes.
Then we ferment them as ordinary white wines, both the black grapes and the white grapes. And then this stage of the year, January, February, we are blending and making up what will become the final wine. So we're blending not only the different varieties together, so our classic cuvee is 50% Chardonnay, 30% Pinot Noir, 20% Pinot Meunier, give or take depending on the vintage. We are making those blends up from a palate of maybe 60 to 70 different tanks. That takes a lot of time and effort and that's where we like to think the skill comes in, the real skill comes in.
Then we cold stabilize and filter those wines, those final blends; ready to be bottled. We are doing a bottling run in March at which point we add sugar and yeast and riddling agents to allow us to do this process later here. Wine takes two or three months to ferment in the bottle, we end up with six bar of pressure, an extra 1.5% alcohol and therefore you have a fizzy wine, with lots of yeast in it so you can't see it in this bottle because it is such a small plug of yeast. We have to get that yeast out, keep the wine and the bubble in and that is the disgorging process. At which point we take the yeast out. We add a small amount of sugary wine solution called the dosage at a level we have established by doing trials. That is what these are here for, for trials. Most of this process, this riddling process is not done by hand like this as they used to do in Champagne. It is done on the big machines that you can see behind you over there.
How did you decide on the blend with the three grapes? Was it to do with how the grapes grow here or is it to do with a taste profile that you're interested in?
We are trying with our classic cuvee, which is the traditional blend of the three varieties. We are trying to come to a Hattingley Valley house style. It's very difficult and Champagne, it takes them decades and generations of winemakers to get to that point. We are in our very early days, we are only in our sixth vintage. We've had some very variable crops over the last five to six years where sometimes the Chardonnay does really well, sometimes the Pinot does very well. And sometimes we get the perfect storm and they both do well and you have the maximum choice.
We are working towards what we think is going to be the Hattingley style. Which so far, is now starting to look like 50% Chardonnay, 30% Pinot Noir, 20% Pinot Meunier. It has not always been like that. One of the other crucial factors that we use is oak barrels. We do a lot of fermentation of the base wine in old Burgundy barrels. That really is helping us to produce this signature style and we're now able to start keeping reserve wines back. So we keep 30% of the crop back in tank for the next year so that we can produce this true, non-vintage style as they do in Champagne, all be it on a slightly smaller scale because we don't have the luxury of the tank space but it also helps us to even out the crop difference is year to year as well.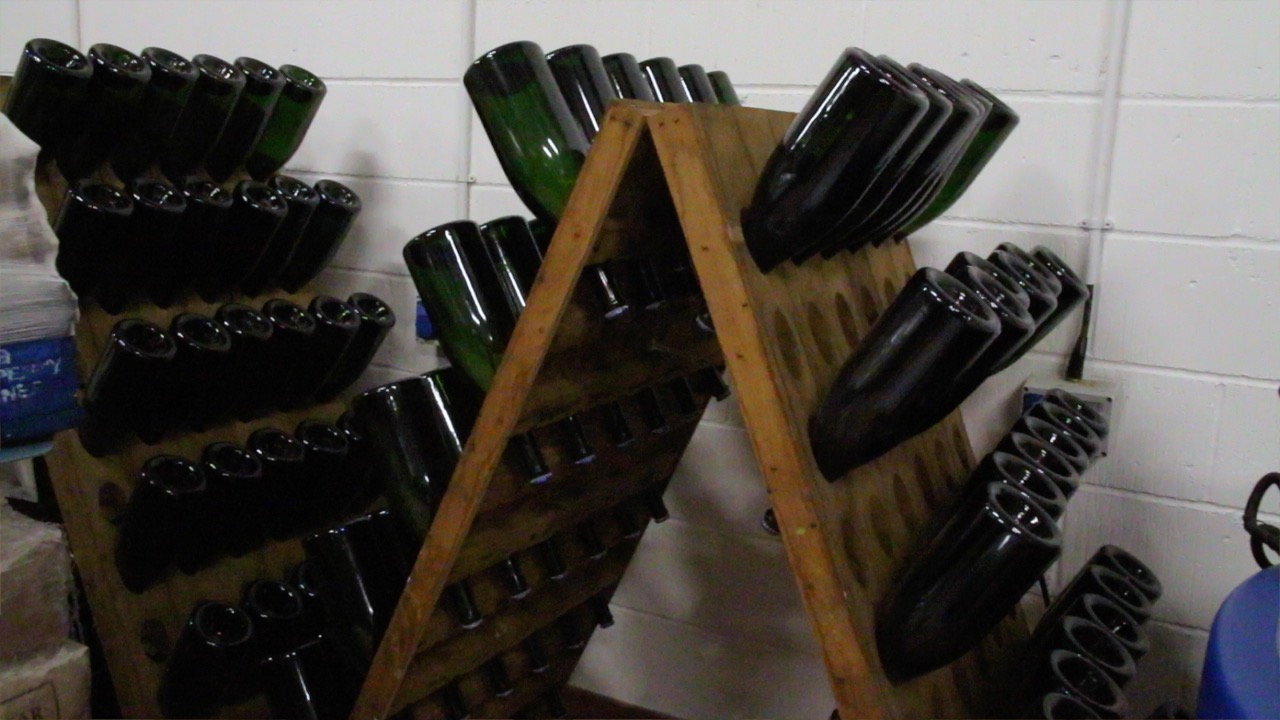 Emma, the English sparkling wine industry. When people think of England, they don't think of wine. They think of fish and chips, they think of bad weather, wine is usually not one of the things that comes up. Yet it has been getting a lot of press recently. There have been these blind tastings where they have been going head to head with Champagne and doing very well. What's going on with the English wine industry?
I think there's been an influx of people doing it properly. It no longer is it the domain of hobbyists and amateurs who are planting a few grapes in their back garden. It's people who are doing it on a serious scale with good professional advice and knowledge and the right equipment. It is also the realization that we need some place for our strengths. We are very good at growing under ripe grapes in England. What you need for good quality sparkling wine is under ripe grapes. We're not trying to grow Chardonnay to make a Burgundian style Meursault or Chassagne-Montrachet. We're growing Chardonnay, we have no intention of getting it to full ripeness, we couldn't. Occasionally we probably could but, we are playing to our strengths and we found what we're good at and that's I think becoming very apparent in the results we're seeing.
How does England or Southern England ... is it really Southern England that we're talking about?
Predominantly. Southeast through to the southwest. There are small pockets north of London in East Anglia where the micro climates are really quite good. There are other little spots further north as well, which are even more marginal. Some people are making good wine there, whether they will make great wine is debatable. They are taking a huge risk. The further north you go the greater the risk there is.
What is the risk? Frost?
Everything. There's the frost in the spring and the autumn. There's the lack of sunshine, lack of warmth and too much rain. There's every disease going. Every fungal disease you can think of for a grapevine. We get it here. Everything is against us.
How does Southern England compare with Champagne in terms of climate?
We have cooler climate. They have a much more continental climate. They don't have the maritime influence that we have all over England; being an island. They have hotter summers and a hotter growing season. Probably colder winters as well, not so important. We get a longer, cooler growing season than they do. Sometimes that works against us, sometimes that works in our favor. 2003 would be a good example where England probably produced better grapes for making quality sparkling wine than the majority of Champagne. It was such a hot year.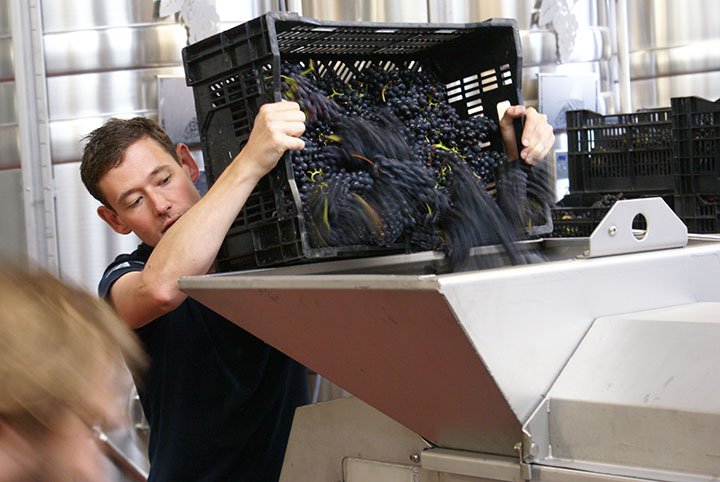 What about the soils? How do the soils compare?
We have the same chalk, which runs through the south downs, the South and the North Downs in the southern part of England, coming out as the white cliffs of Dover going over through Northern France and coming up again in Champagne. Same chalk, same seam of chalk. We have different topsoils. We have a bit of clay, bit of green sand, other more loamy topsoil but the soils themselves are essentially the same. It's just we are generally wetter and cooler than they are.
How do the wines compare?
We have slightly higher acidity I'd say. Lower PH, slightly higher acidity. In terms of flavor profile, it can be very similar, very, very similar. The markers for English sparkling wine are high acid, particularly green apple-y kind of acid. Then hedgerow floral flavors; elderflower and other white flowers as hedgerow flavors, which you don't get in Champagne. It depends on the style and how long it has been lees aged for, but some people might say that English sparkling wine now tastes like Champagne did 20 years ago.
Where does climate change come into this? I've read some things in various places that it's all of a sudden become hotter in Champagne and slightly hotter here and that has made a difference in the ability to make quality wines. Is that a factor?
I think there's definitely something going on. Climate is changing and it is changing in our favor as winemakers in England. Whether that's good for the rest of the world I don't know. In Champagne, anecdotal evidence is that the harvest is anything from four to six weeks earlier on average than it used to be a generation ago. That is just anecdotal evidence. I do not have any hard facts and figures on this but I have the feeling and was given the impression from talking to people in casual conversation that harvest in Champagne gets earlier and earlier. In England we are able to produce better and better grapes every year. Not every year, not necessarily going in an increasingly nice smooth line but over the decades we are able to produce better quality grapes than we used to be able to. The wines we're making are reminding people of Champagne from 20 to 30 years ago.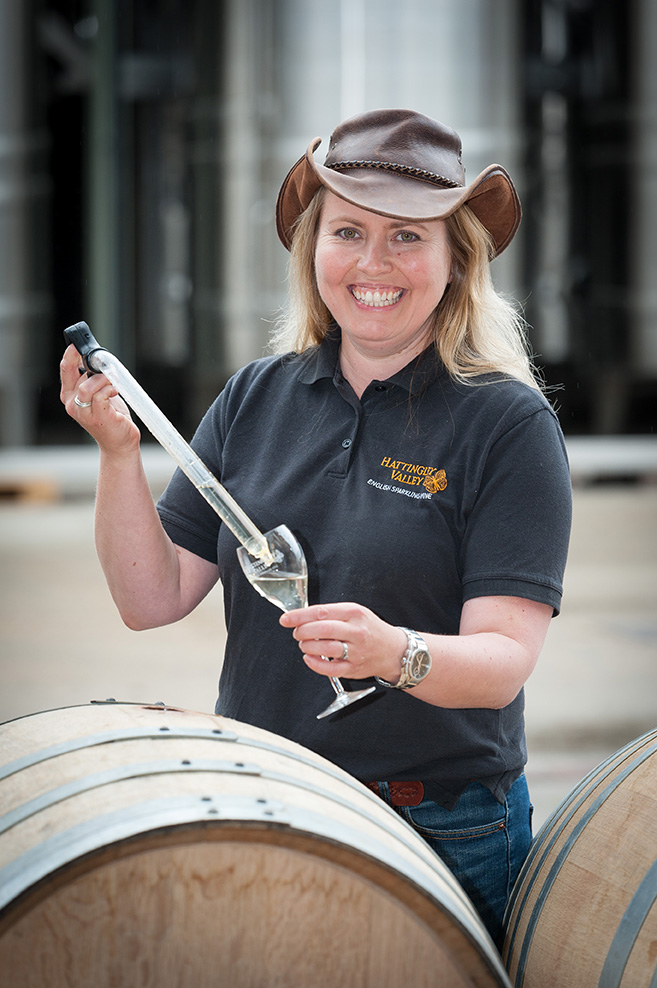 In terms of picking earlier in Champagne, that impacts the flavor profile of the wine because the grapes are not maturing for a longer period of time. Is that correct?
That's my take on it. That the shorter the growing seasons, the less well-developed flavor, fruit flavors. When we bud burst within 10 days to a week of Champagne but we can be harvesting six weeks later. We don't have that margin for error at the end of the growing season that they have in Champagne. They can pick anytime from mid-August through to the end of September, beginning of October. If we don't start picking at the beginning of October we can't get the grapes in before the leaves fall off and the temperature drops and the games over. We don't have that margin of error on the back end of the process that they have. We are much more susceptible to a bad growing season and not being able to reach ripeness.
What are some of the risks? You talked about the susceptibility at the end of the growing season. Can you have the situation where you are losing a large percentage of your crop one year?
Yes and it can happen as early as flowering. It can happen if bud burst, if you have a bad frost and don't manage to protect the vine. Then flowering is the next crunch point. Usually we are flowering at the same time as the Wimbledon tennis tournament. So think of us when you are watching tennis. If it's raining, if they have to stop play we're in trouble. Then it's the general temperatures of the growing season, they have a huge impact on whether or not we're going to make it to ripeness. And then of course, we have to anticipate when we think we are going to harvest, stop spraying the pesticides which prevent the rot at a certain point because you have to have the harvest interval. Then you are walking on eggshells hoping that you get the warmth and the sunshine to ripen the grapes before the rot takes hold. Once the rot takes hold it can rip through a vineyard that looked perfectly healthy two days earlier. You can go back two days later and you've pretty much lost 80 to 90% of the crop.
That's an extreme. We always have rot in our grapes in some way or another. Even the cleanest vineyard in England, it's just managing it and keeping it to a level that doesn't affect the quality.
What percentage can you lose from year to year in terms of climatic issues?
Well, in my career here at Hattingley or making wine here in Hampshire, we went from 2012 when we produced 11 tons to 2013 off the same vineyard area producing 211 tons. That gives you an idea of how extreme the weather can be. That was just poor flowering, cold, wet summer, low temperatures, excessive rain; just berries failing to ripen. The potential was out there and it just ... they just never ripened. Most vineyards in England wrote off the entire harvest. Not all, but a lot of them actually wrote off the harvest as a failure.
That's got to be kind of depressing when you've put all of this energy and love and passion into growing these grapes and they just die on you.
They just don't get there.You watch them and you can see they are still looking lovely and healthy because they're not even ripe enough for the rot to be interested. There's not enough sugar in them for the rot to be interested. And you know that you've only got three weeks of weather or three weeks and you know the leaves are going to fall off; you know you can't make it. That's very depressing. That can happen in certain sites each year. But 2012 was the extreme where we just pretty much had to write off the entire crop as unusable.
English sparkling wines have gone head to head with Champagne in blind tastings. How have they done?
Very well. Hattingley Valley, to blow our own trumpet, in 2014 we entered the Tom Stevenson World Championships, sparkling wine and Champagne and our rosé, 2011, won best vintage rosé by style, beating all vintage rosés from Champagne as well as sparkling wines from elsewhere in the world. We've won lots of awards, English wine generally are competitors here in England. Going back to Nyetimber's first vintages back in the 1990s, they have been beating Champagne. Not all the time, maybe not the Grand Marque Champagne cuvees but certainly really giving them a good run for their money.
In terms of the marketing of English sparkling wines, it's not something that rolls off most people's tongue; English sparkling wine. How do you build a brand? How do you get people internationally and also domestically, excited about the English sparkling wine brand?
This is an ongoing debate in the industry and the wider wine world. Do we need a name for English sparkling wine; other than English sparkling wine? My argument is that there is no doubting what we're talking about when we say English sparkling wine. Very few consumers in this world can name a brand of Prosecco. They only know Prosecco as a generic. I don't know a single consumer who would be able to tell me what Cap Classique is or means.
A lot of marketing effort went into coming up with that name for South African sparkling wines. No one uses it; no one knows what it is and no one refers to it. I think we can't force the issue. The term English has both positive and negative connotations. A lot of positives, across particularly in the export market. Let's just go with it. We are being successful already. It's not confusing. No one has to ask "what is that?" because it says exactly on the tin. I think we should just carry on; plowing on with that name and not get bogged down in trying to come up with something that no one would even know what it is.
Aside from the name, how do you get people excited about the concept of drinking a sparkling wine from England? What kind of activities do you feel like the industry has to do to get the product out there; to get people trying it around the world?
With Hattingley along with the English Wine Producers group have been to ProWein in Dusseldorf, Germany for the last four years; going again in a couple of weeks time. From that we have managed to get into 12 different export markets. It's expensive to do but it's definitely worth it if you've got the volume to sell. We are seeing surprise from those export people in export markets. People have never even had any idea that England was growing grapes, let alone making sparkling wine from it. But we've had nothing but positive feedback. As I say, there is a certain cache' to the term "English" and "England" in certain markets around the world. It can speak of quality and you associate it with things like Jaguar and Land Rover and Rolls Royce or other luxury goods that come out of England.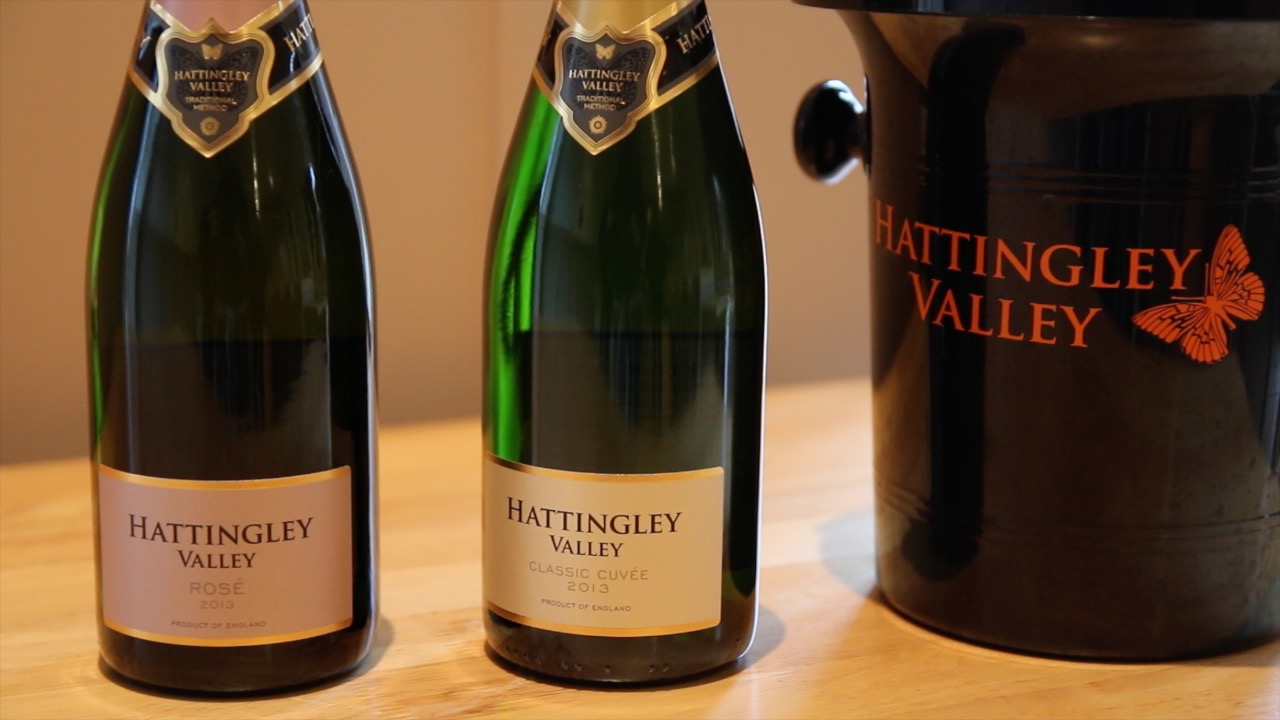 How has the English sparkling wine industry evolved from what was essentially a hobbyist industry to something that is becoming more professionalized and serious in terms of looking at export to the extent that the famous Champagne house, Taittinger has made a large commitment to making sparkling wine here?
We have been growing wine in England for decades but just not making very good wine from it. The real renaissance I think has to be attributed to two Americans, the Moss' who started Nyetimber. They were the first people to put two and two together and think: chalk, cold climate, forget these German varieties that just never ripen properly; let's try making Champagne style wines here." They tried it, they were successful and then there have been a few pioneers who have come after them; second generation, Mike Roberts at Ridgeview; various other people. Now the newer generation which is Simon Robinson who owns Hattingley Valley, Rathfinny and Hambledon Vineyard; these guys are bringing in some serious money from their other industries or earlier careers and they are hiring qualified winemakers and that's the other thing. Plumpton College in East Sussex has been training winemakers for years now. I think the first B. Sc. In viticulture and oenology was the 2006 graduating class; which I was in.
There are more and more qualified viticulturists and winemakers who are English, being trained in England who want to work in England. That makes a massive difference; having people in the country, trained here, who understand the English climate. Because it's all well and good getting a kiwi or an Aussie guy to come over and run your vineyard in England but he had no idea what he's facing in terms of disease pressure. Just the sheer challenge of growing grapes in this country; you cannot relax or rest ... you can't on your laurels whatsoever. Obviously they can learn but it might take them two or three seasons of cocking it up before they actually manage to get it right. If you are trained in England and you've been growing grapes here ever since you left college then you got a head start over those guys coming in from the international market. It means that the people who do have vineyards here have got a pool of qualified workers to choose from.
Fantastic. You are doing how many different types of wines right now?
For Hattingley we make a Blanc de Blancs, classic Cuvee, a rosé, what we call our Kings Cuvee; which is 100% barrel fermented sparkling wine; made in very, very small quantities. Then we are trying out a Blanc Noir, not yet on the market. We also make wines for other people as well.
----
More on English wine:
Grape Collective's feature on Climate Change and English Sparkling Wine
Dorothy Gaiter's interview with Christian Seely of Coates and Seely
Dorothy Gaiter's interview with Ridgeview Estates owner Tamara Roberts
Read Jancis Robinson on English wine.
Watch Monty Waldin's introduction to English wine.