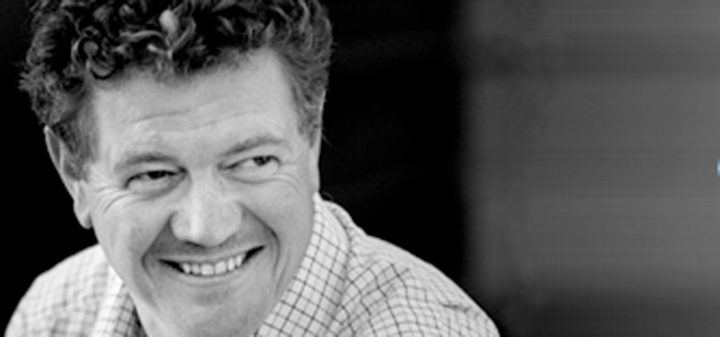 Editor's Note: The introduction preceding the interview is an excerpt from Dorothy J. Gaiter's weekly column, Love By The Glass, where Christian Seely was the most recent installment's focus.

I'm often asked how to get into the wine business and I always reply, "I don't know. I'm in the journalism business." I met Christian Seely recently and he well could have entered this world, metaphorically speaking, with a silver tastevin hanging around his neck.
Seely is the managing director of AXA Millésimes, the wine division of the French company AXA, which is one of the largest insurance companies in the world. That means he's in charge of several impressive vineyards: the legendary Disznókő in Tokaj (Hungary), Châteaux Pichon Baron and Pibran in Pauillac, Château Suduiraut in Sauternes, Domaine de l'Arlot in Burgundy, Château Petit-Village in Pomerol, Mas Belles Eaux in the Languedoc, and Quinta Do Noval in the Douro valley in northern Portugal.
Dorothy J. Gaiter: Today we have Christian Seely who's the Managing Director of Axa Millesimes. That's part of the world's second largest insurance company I think I've heard?
Christian Seely: Exactly.
A French company and it's diversified and owns wineries now, and has for a bit. What does it mean to be a Managing Director? What do you do?
I look after the various vineyards that belong to Axa. To me the most important aspect of the job is the idea of being a custodian of great historic vineyards. When you manage great vineyards like Pichon Baron or Quinta do Noval in Portugal, you're conscious of the fact that you're looking after something that is much greater than you are, has existed for a long time before you ever arrived and is going to exist for a long time after you're no longer there. It's a privilege and a responsibility to have the chance to be looking after something so precious.
Now, you have a reputation for restoring things, you're a 'Mr. Fix it', right?
I don't know about that but by the nature of things, when we tend to buy vineyards, they're for sale usually because things have got a little run down in the years prior to the sale. It's very much an aspect of what we do, that we try to restore great vineyards to their former glory, and that's something that I love being a part of.
It's a wonderful thing to have a shareholder behind me, the Axa Group with a very clear vision of what they want to do with these vineyards and the means to do it. It's obviously an extraordinarily exciting thing to have a great vineyard in your hands and to have the chance to spend some years polishing up the jewel and bringing it back to its full potential.
Is there one thing these once distressed properties had in common? Was it the state of the vineyards, the economy, bad technology? Is there any one thing?
Not one thing ... I think that usually what happens in a family ownership vineyard, you can get to a stage when there are very many members of the family who are owners and that leads to complicated problems with management and investment. Normally what happens in the last 20 years or so of an ownership like that is that, the vineyard starts to be neglected because you can always delay investment in a vineyard. You look at a field full of vines and you think, "Wel,l I don't need to do anything this year" — and you probably don't. You can probably get away with not doing anything next year as well.
If you go for five, 10, 15, 20 years and you don't do anything, you wake up one day and you realize that the vineyard has started to decline in your ownership, and then it's actually quite a big job bringing a vineyard back to life again — whereas you should be planting two to five percent of your vineyard every year depending on the circumnstances. If nothing's been done for 20 years, you've got to do a lot in a short space of time.
I read in your fabulous blog that in February you were in Hungary?
Yes.
With the Tokaji, with the blending. Are you hands on like that, everywhere?
I'm very much hands on with the blending. I think it's one of the most fascinating and enjoyable parts of running a vineyard and making wines, and also one of the most vital in terms of deciding the character, personality and quality of the wine. Of course in each vineyard there is a technical team of people who, Oenologists and Cellarmasters and people who work in the vineyard who participate in those blending sessions, but I'm present at every blending session in every property. In the end, there are decisions to make about the kind of selections one makes, the kind of style one's aiming at and I think that, that's ultimately my responsibility, but I do listen extremely carefully to the very brilliant winemakers we have working with us.
Now Tokaji and Sauternes, those are dessert wines. Have Americans warmed to them at all? I find that when I have guests, if I ask them would they like a dessert wine" they'll say "No." If I just give it to them, they're thrilled to have it.
Yes. I think that's exactly the point and the problem is that, the notion of a dessert wine is perhaps what people don't get too excited about. When they actually taste the wines, they realize that these can be some of the most thrilling wines in the world. We've made considerable progress with Chateau Suduiraut in the United States and also with Disznókő Tokaji. It's usually by the process of getting people to taste it and you do that with by-the-glass promotions and you know, just encouraging... I think mostly restaurants and bar outlets to get the wine in front of people. But I do find that when people actually have a glass in front of them, they tend to like it, you know?
I bet they do, I bet they do. Now, you're going to be pouring dry Douro wines today?
Yes.
These table wines are fairly new to this property?
Yes they are. Quinta do Noval's a great historic port house has been making port wine since 1715. Quinta do Noval is obviously known for making great fortified wine, and the great ports of Quinta do Noval are world famous. In fact, we make the rarest and the most expensive vintage port in the world. But as well as having the possibility of making these wonderful port wines, we also have one of the great vineyards of Douro. It's 143 hectares, which in acres that's about 2.5 times that, so it's a lot.
We've been replanting the vineyards. In the 1990s when I started at Quinta do Noval, we replanted actually 100 of those 143 hectares. That was quite a big program, all with the noble grape varieties, things like Touriga Nacional, Touriga Franca, Tinto Cão. Today what that means is that I have a huge wealth of high quality fruit from these noble grape varieties growing. I've got all the grapes I need to make all the port I want, but I've also got a lot of very high quality grapes with which I can make red wine. Today, Quinta do Noval's production is about 70% port and 30% red wines.
How are they doing?
They're doing really well. I find it one of the most thrilling developments that's occurred both at Quinta do Noval in particular and then the Douro in general, over the last 15 years. Up till about 15 years ago, there was hardly any quality red wine production in the Douro. Its attention was focused entirely on port. While our attention is still focused on port, we've been making huge progress, collectively as a group of producers and I think individually at Quinta do Noval as well, in the quality of red wines that we've started to make in the Douro, mostly from the port varieties that I mentioned before.
I find it really exciting that a great historic wine region like the Douro, known for making one of the great wines of the world; port wine, is actually reinventing itself in that way. Still making the great wine it's always made with its port wines, but actually reinventing itself as one of the great red wine regions of the world as well. Now I don't know any example of a wine region apart from the Douro, where you have a great historic reputation for making one kind of wine, and within 15 years we've started to build a reputation for ourselves for making another kind of wine as well.
Quinta do Noval made a dry wine before they started releasing it commercially, right?
Yes, but all the port producers have historically made a certain amount of dry red wine, which was considered in the old days to be almost a by-product of port production and intended to be sold off in bulk in Portugal.
I see.
What's really changed is that, because of the revolution in the way that we look after our vineyards and the much larger proportion of high quality grapes we now have planted in the vineyards, is that we now have high quality grapes to make red wine with. It was only 15 years ago that we really began to make experiments to see what was possible to do in the Douro with these grapes, instead of just making a basic red wine to see if we could make something great, and it's helped enormously. The reason why it's been possible is that since about the year 2000, I've had Touriga Nacional, Touriga Franca, Tinto Cão — things like that available with which to make Douro red wines, and that's why they've become so interesting as red wines.
You've planted some Syrah?
Yes I did.
My goodness! Did that raise eyebrows?
It did and sometimes it still does. I think that you know, nobody could believe more than I, in the potential for quality from the traditional Portuguese grapes planted in the Douro Valley. I think also, we're in a revolutionary phase in the Douro, where we're discovering things all the time. I think it's normal to try experiments as well to see if other grape varieties might also have their role to play in this story. I planted Syrah. I've made other experiments. I planted Cabernet and Cabernet did not grow well in the Douro, so I abandoned that experiment.
I think if you're ready to make an experiment, you should be ready to abandon it if it doesn't work, that's what an experiment is. Syrah has adapted really well to the Douro Valley. The wine that we have here, the Cedro has a proportion of Syrah which is blended in with the Portuguese grape varieties, and it goes very well with the Portuguese varieties. In fact, it's adapted so well, I think it thinks that it is a Portuguese variety.
Does it have DOC status?
No, the Syrah still doesn't and so because there's 20% of Syrah in this wine, it's not called DOC Douro, it's called Vinho Regional Duriense but it just means that it's from the Douro.
Okay.
Not DOC, nobody seems to mind. I'd rather have the Syrah in it than not because I think it really adds something positive to the wine.
Now, how did Cedro get its name?
That was actually, I just thought of it one day. We have a Cedar tree on the terrace of Quinta do Noval which has been there about 160 years, and it's a sort of emblematic image of Quinta do Noval. We were thinking of what to call this one and I suddenly thought, Cedro is the Portuguese word for Cedar and that was it.
I see. I terms of pricing with the dry reds, is this the ... How do I say that, the most accessible?
Yeah, it's the most accessible. We have two main ones, we have the Cedro and then we have the Quinta do Noval. The Cedro, we make quite a considerable amount of and it's neither cheap nor expensive, it's a high quality wine but we recognize that it has to be reasonably accessible. Quinta do Noval's red wine, we just make 1000 cases of a year, and it comes from the very best plots of Quinta do Noval using grapes that could have made vintage ports. Naturally, it's a seriously high quality wine and well, the price is obviously a little higher accordingly.
You don't make it every year, you make it only like an exception?
Exactly, the Quinta do Noval, we make it most years because most years it's possible but there are some years we decide not to.
Wow, and what happens to those grapes?
Those grapes, we just make little bit more Cedro in those years. Curiously from those years, the Cedro can be really good because in a year like that, when we don't make the Quinta do Noval red wine, all the grapes from the best rows would go into the Quinta do Noval wine, go into the Cedro and so that compensates for the difficult year.
Now I'm going to ask you a difficult question.
Okay.
Of the eight wine properties, is there one that's a favorite?
I'm not supposed to have one really; a favorite, but I have to say that the truthful answer to your question is that it is Quinta do Noval because that's where I started. During the 1990s, I started doing this job at Quinta do Noval and from 1993 to 2000, I lived at Quinta do Noval and I lost my heart to this very beautiful place. The Douro Valley is a wonderful, beautiful place in itself, but Quinta do Noval is particularly so. The experience of living with this vineyard, working on it during that time and doing the work that was necessary to bring it back to life, meant that, well, I ended up falling a bit in love with the place.
Although I'm based in Bordeaux at Chateau Pichon Baron and that's not a bad place to be either, I left my heart in the Douro and I go back there very often.
You make an English sparkler?
Yes I do. This is actually not an AXA Millésime property, this is my personal adventure. I started this as a 50-50 partnership with an old friend of mine called Nick Coates. The reason I did it was that, what I've learned working in Portugal and in France and Bordeaux and Burgundy is, the importance of place in a wine. If you have a great vineyard site, then you could make a great wine with a great individual personality.
There are places in Southern England which have a geology which is almost identical to that which exists in Grand Cru Champagne vineyard sites, so chalky soils with a bit of clay mixed in. The vineyard that we planted in a little valley in Hampshire, it has a geological profile which is exactly a Champagne profile. I planted Chardonnay, Pinot Noir and Pinot Meunier and we built a little winery with a lot of help from consultants from Champagne. We've been making English sparkling since 2009 actually.
How's that doing?
Doing really well, it's a fun project. We're up to 55,000 bottles a year now.
Really!
Not only are we making it, we're also selling it. This is also a very important part of any wine product.
I would guess so, I would guess so.
Our wines are thrilling because they have a quality which is perfectly equivalent to Champagne quality, but they have a personality which is slightly different because it's normal, they come from England and not from Champagne. I think that we can actually make world-class sparkling wines in England and it's great fun trying to do that.
That would be a fun blind taste I would think?
It's a really fun blind taste, and I've done it a few times, and you just put it in a lineup. Normally although it has as I said, a different personality, people do not automatically find the Coates & Seely in the middle of the Champagnes. We don't necessarily come top in the tasting nor do we come bottom, but if you come somewhere in the middle of the tasting of various Champagnes and you've only just started a few years ago in England, then you're doing pretty well.
I would think so, I would think so. Congratulations, that must be a hoot.
Yeah, it's really good fun.
You went to college with Nick, right?
Yeah, we did business school in, did an MBA in Fontainebleau together. He was very sensible and went into the world of finance and made lots of money, and I've just been ...
You've been having fun, though.
Scrabbling around in vineyards ever since.
Oh, such a tough life, such a tough life. Thank you, thank you very much!
Read Dorothy's profile of the winemaker in this week's installment of Love By The Glass.