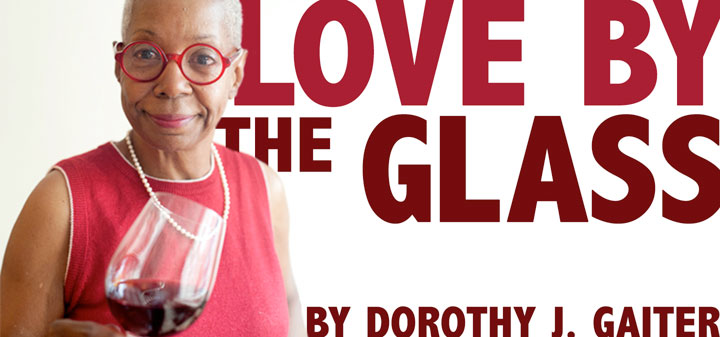 In identifying the origin of a wine, the word "English" was "probably the worst marketing word you could put on a bottle of wine," the late Mike Roberts often said. His daughter Tamara told me recently that the family so firmly believed that was true that "for years we hid" the word on the labels of sparkling wine made by their company, Ridgeview Wine Estate, located in Sussex, England. "It was a bit misleading, but we wanted people to just try it first."
Well, that was then.
All that changed in 2010 when Ridgeview, which now proudly has "England" emblazoned on its labels, triumphed over five Champagnes to win Decanter magazine's International Trophy for Sparkling Wine Over 10 pounds, around $15. Among the Champagnes that Ridgeview's Grosvenor Blanc de Blancs 2006 beat at Decanter's World Wine Awards were the Taittinger Prélude NV, Charles Heidsieck Millésime 2000 and Thienot's Brut Rosé NV, according to the magazine. Four years later at the Decanter competition, Ridgeview won three silver and two bronze medals.
"It was the first time someone outside Champagne had won," Tamara Roberts, Ridgeview's CEO, told me. Her brother Simon is Ridgeview's winemaker and his wife Mardi also works at the winery in southern England, which recently opened a new, modern tasting room.
Tamara Roberts was in New York in September to announce that Ridgeview would soon push beyond its small availability in New York and California. Those were sort of test markets, established three years ago. This new push will expand Ridgeview's presence in New York and in Washington, D.C., just in time for the holidays -- though as you know, I believe sparkling wine and Champagne should be popped just because. While she was doing the meet and greet, her husband Simon was entertaining their two young sons a few blocks away at a Manhattan hotel.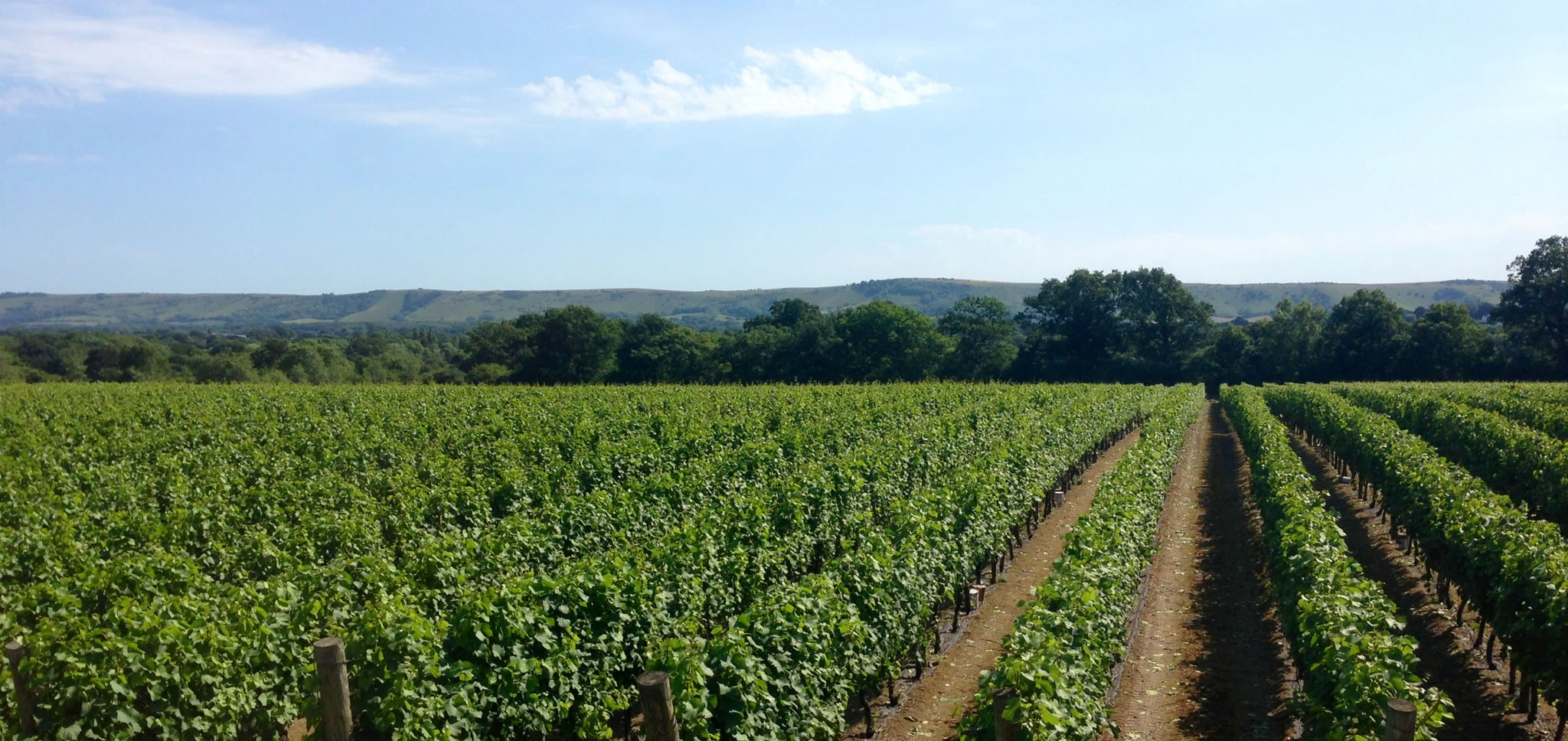 The Decanter awards and other accolades underscored what Mike Roberts, who died in November 2014, long believed: England has great potential to make stellar sparklers. The Romans made wine there in their day, and all manner of domestic beer has reigned as the alcoholic beverage of choice. In terms of home-grown wines, not especially well-regarded still wines from German grape varieties started gaining a foothold in the 1950s, with sparkling wine from those same varieties going into production in the 1970s. The first classic Champagne grapes, Chardonnay, Pinot Noir and Pinot Meunier, were planted in the late 1980s.
"We couldn't understand why people concentrated on very strange German varieties, with Champagne just 100km south of here [across the English Channel], with the same geology, almost the same temperatures, same moisture," Mike Roberts told Wine Searcher in April 2012.
"Britain is one of the few places on earth naturally suited to growing grapes for sparkling wine," agreed Champagne experts Tom Stevenson and Essi Avellan, a Master of Wine, writing in the revised Christie's World Encyclopedia of Champagne & Sparkling Wine.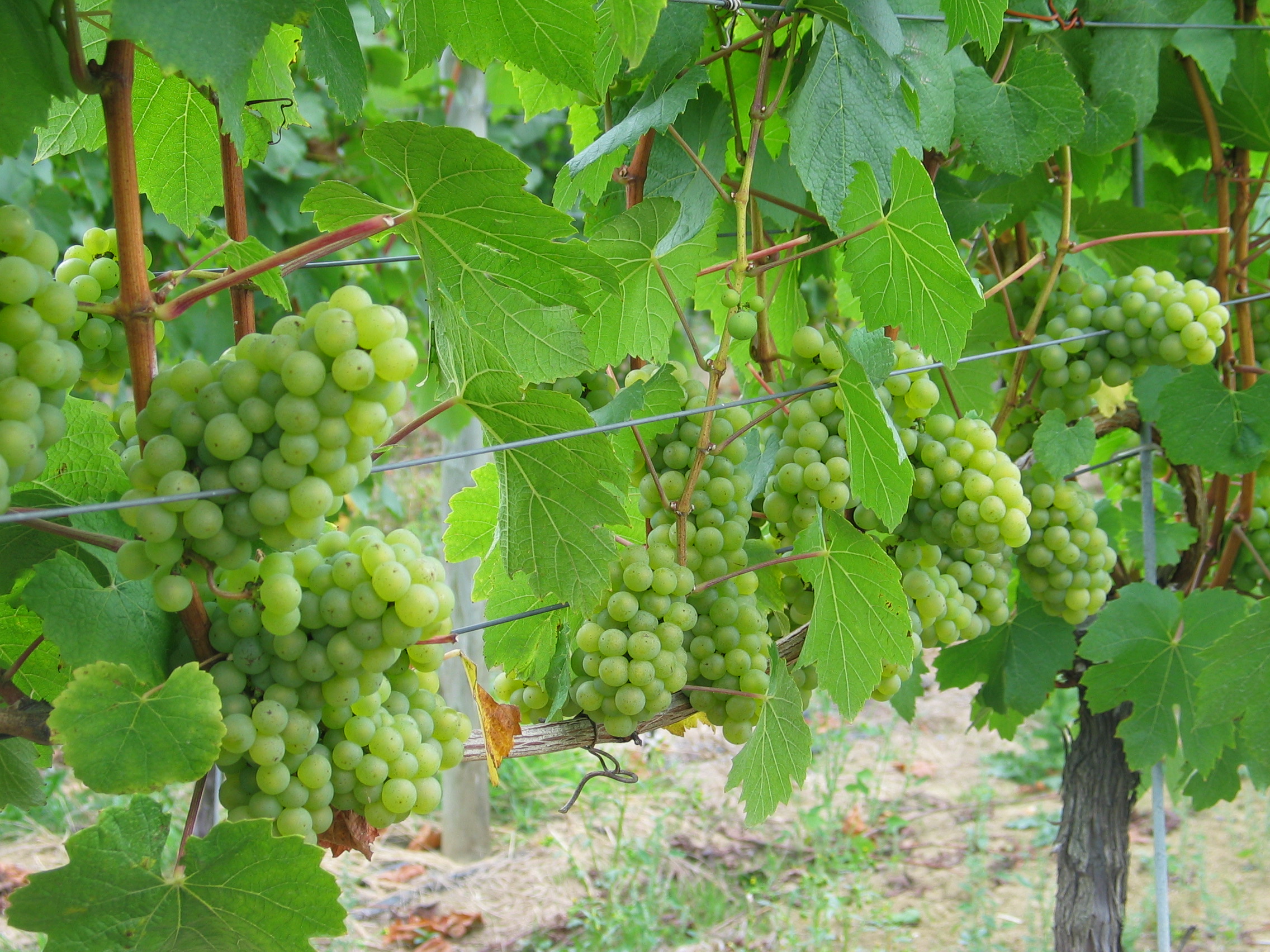 Indeed, being 88 miles from Champagne and one degree north of the Champagne region's latitude, cool-climate southern England boasts limestone and chalky soils like Champagne. Global warming, it's been said, has helped the English by making possible shorter growing seasons, with harvests happening before frosts can harm the vines and grapes. But weather remains variable and rains in recent years have devastated some crops.
Over the past 40 years, England and Wales have seen the number of wineries grow to around 135, with a tremendous spike in the number of vineyards planted (470), a large number to grapes for sparkling wines. According to Decanter, 66% of the wine produced in England and Wales is sparkling.
Ridgeview is celebrating its 20th year in production. Mike and his wife Christine founded the company in 1995 solely to make sparkling wine the traditional way Champagne makers make it and using the three traditional grapes. They've grown from 20,000 bottles a year to 350,000 bottles. Mike Roberts was such a pioneer that in 2011, Queen Elizabeth made him an MBE (Member of the British Empire; it's three levels below Knight), in recognition of his contributions to the industry.
Some of Ridgeview's wines bear the names of English towns—Bloomsbury, Fitzrovia and Cavendish--and all bear the trademark "Merret" to honor Christopher Merret, an English doctor and scientist who in 1662 "was the first to document the deliberate addition of sugar for the production of sparkling wine," according to Wikipedia. This was decades before this process was documented in Champagne, Wiki notes. Brits are so proud of Merret's contribution that some, like Ridgeview, have considered using the name Merret as a generic name for English sparkling wine.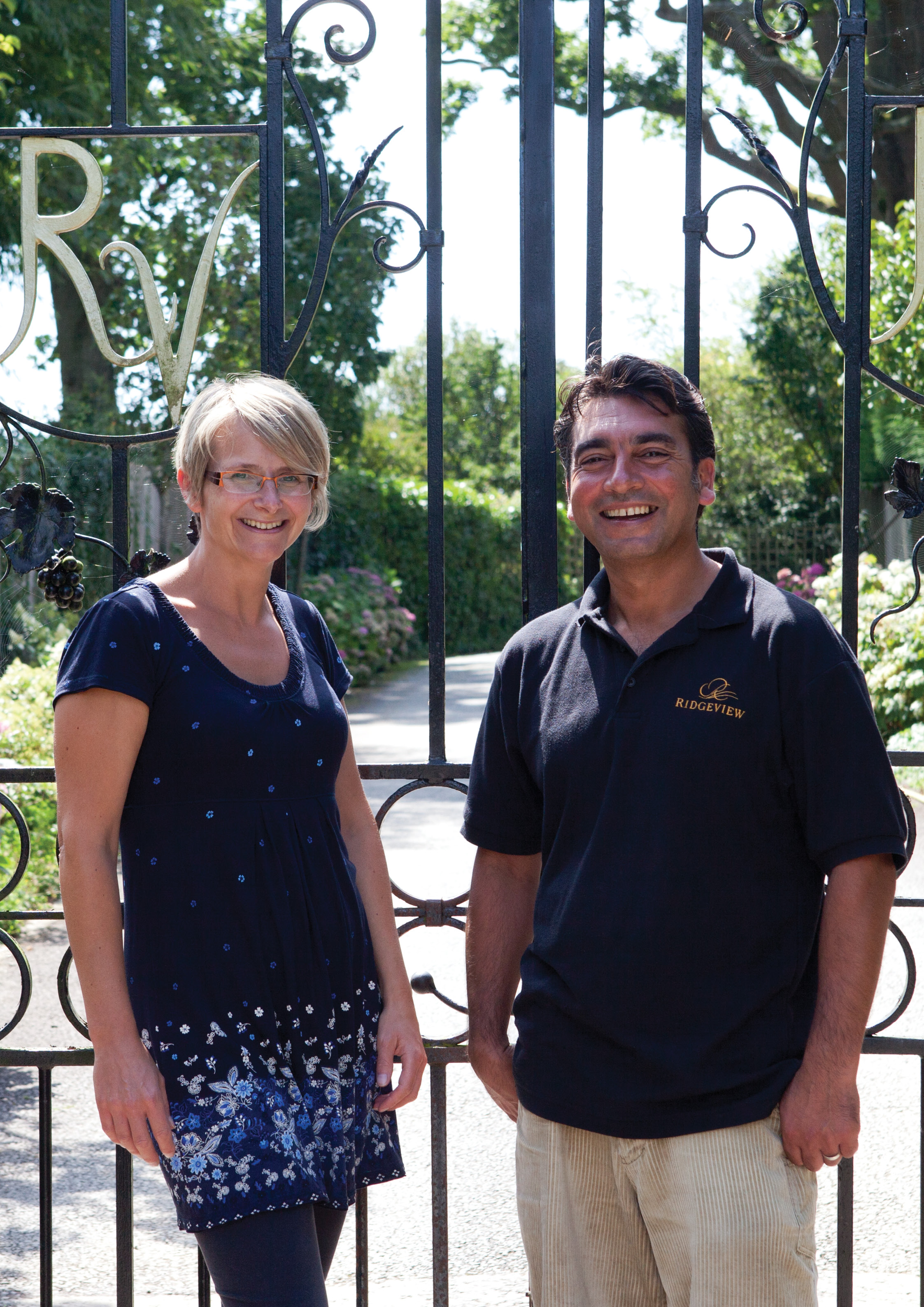 Tamara and Simon Roberts
In any case, the planners of the Queen's Diamond Jubilee festivities, marking the 60th anniversary of her accession to the throne, adopted Ridgeview's Bloomsbury, which is predominately Chardonnay, as its official wine. It was also served at her 80th birthday celebration. In 2011, Buckingham Palace served Ridgeview Fitzrovia (Rosé Brut) to President Obama at a state dinner.
The Bloomsbury is Ridgeview's signature white (2013), and I found its yeasty, tart, lemon-curd acidity and pinpoint bubbles delightful. It has a clean brightness that was quite winning. The Cavendish (2013) is the house's "traditional blend," mostly from the two red-skin varieties. The nose on all of these was heavenly yeasty, like brioche, with zesty, ripe lemons and some minerality. All had satisfyingly long finishes.
The 2013 Fitzrovia Rosé was a pale pink and reminded me of strawberries. It's predominately Chardonnay with a little Pinot Noir wine added, which contributed depth and red-berry notes. I could have drunk it all day. The 2011 Blanc de Blancs (formerly known as Grosvenor), all Chardonnay from a single estate, was classy, again with toast, a hint of honey and a lovely richness. The 2010 Blanc de Noirs was an elegant, sit-up-and-take-notice sparkler. Full, with honey and toast and spiky lemon. We love Champagne with some age on it, so this was especially swoon-worthy. And finally, the 2010 Rosé de Noirs, an "intentional" rosé, which is to say it was made using the saignée method of bleeding off the first-press juice, was majestic.
Before starting Ridgeview, the Robertses owned a tech company and, loving Champagne, Mike Roberts often took clients to the Champagne region, "the most successful appellation in the world," as he called it. After selling the tech business, they bought some land in South Downs, Sussex, that they thought would be perfect for sparkling wine and hired Champagne producers to advise them. One piece of advice impressed me. The advisers told them to always taste their wine against Champagne, to be sure they were staying on the right track.
When I asked Tamara if they still do that, she laughed and said that they actually don't drink a lot of their sparkling wine "because we can sell it," she said, explaining that demand far outstrips supply. But yes, she said, they do compare their wines to Champagne. "One can grow too used to drinking what they make," she added.
Since the Robertses compare their wines to Champagne, I will, too. These Ridgeviews all ranged from $40 to $45 and compared to the wines produced in this price range by some of the large Champagne houses—not the authentic, small, grower-Champagne makers--I'd have to give the nod to the Ridgeviews.
"They tasted like striver wines," our notes read. "They're still working hard to be well-made. So many large Champagne makers seem to have gotten lazy. Their wines often taste like bulk, mass-made wines and yet they're still charging $35 and more. These taste like someone really cares."
Dorothy J. Gaiter conceived and wrote The Wall Street Journal's wine column, "Tastings," from 1998 to 2010 with her husband, John Brecher. She has been tasting and studying wine since 1973. She has had a distinguished career in journalism as a reporter, editor, columnist and editorial writer at The Miami Herald and The New York Times as well as at The Journal.
For more on English sparkling wine read Dorothy J. Gaiter's interview with winemaker Christian Seely.