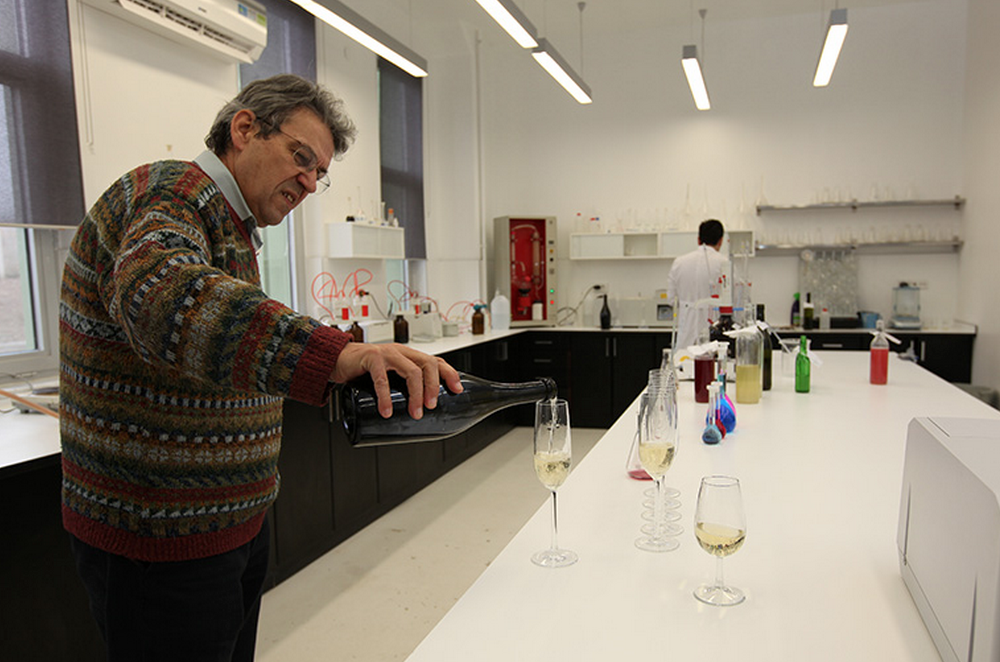 Vinkara was started by the Gürsel family in 2003 on the outskirts of Ankara near the town of Kalicek, home to one of Turkey's most famous grapes, Kalicek Karasi. The family, owner of Marmara Hotels which has two New York locations, also owns a construction company involved in the renovation of New York City's famous High Line park.
Ardiç Gürsel runs the business and studied at Cornell University's School of Hotel Administration. Her focus has been on highlighting the potential of native Turkish varietals. Gürsel brought in Piedmont winemaker Marco Monchiero as a consultant, and Monchiero recruited agronomist Ennio Gugliotta and winemaker Tina Lino from Sicily to head up the winemaking operations.
Christopher Barnes: Ennio, you're from Sicily, and you're making wine in Turkey.
Ennio Gugliotta: Yes, I'm from Sicily. I've been working in Vinkara for three years. The first time I came was when Mr. Monchiero from Piedmont called me, proposed I come and work here, because I'm also an agronomist so I'm taking care of the vineyard. I came here to see the place and I fell in love with it. So, I decided to come study this new part of the world and the vineyards here. We can say that it's new, as far as the wine in the world, but for the vineyards we can that this is a very old place for growing grapes.
Vineyards born in Turkey were born in the center of Anatolia, and we are in the center of Anatolia. We are near Ankara, 60 kilometers away. We are in a place called Kalecik. Kalecik is the city behind us. This city gives the name to our most important grape, Kalecik Karasi.
With this grape, we are making six different wines. For us it is very important. We are using it to make white wine, red wine, and rose wine. We have about 135 acres of vineyards. Half is planted with the Kalecik Karasi. The rest of our vineyards is planted with the other indigenous and international grapes.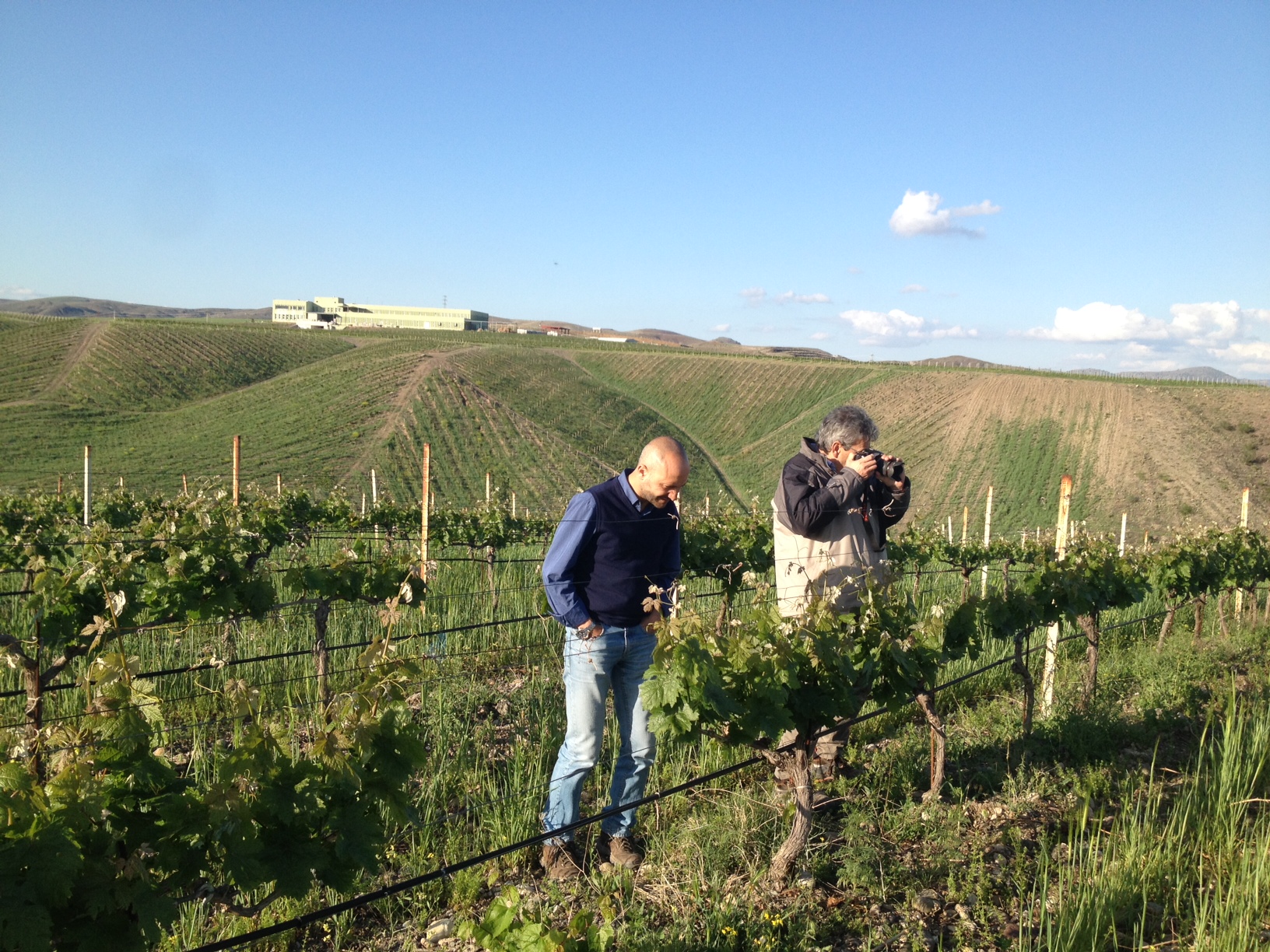 Ennio, tell us about your background in wine. You're from Sicily. How did you start getting into the wine business?
I received my degree in agricultural science and then I earned a doctorate in viticulture. I started to work for one of the most quality wineries in Sicily. I worked there for about six years.
Which winery?
It's Abbazia Santa Anastasia. It's in Castelbuono. Then I started to work for a winery in Malta, and after that I worked for a little winery in Sicily as a consultant. Mr. Monchiero, that is our consultant, knew about me because my doctorate was in a winery where he was working. From this winery he knew me. He called me. For 15 years I'm working only with the viticulture, with the wine.
Ennio, in terms of Anatolia, it is the birthplace of grapes.
Yes. We can say that Turkey, the east of Turkey, is the birthplace of grapes. Then they moved down. Grapes went down to Africa, to Egypt, and come back up in Turkey, in the center of Turkey, and from Turkey they went to Greece. From there, to Europe. This is what we find in very important historical articles of viticulture.
Also, we can find very old vineyards grown in all of parts of Anatolia. I think this is the only example in Turkey where the name of the grape is the name of the city. I think this is important. It means that this grape was born here, this kind of grape. We are very proud of this grape. This is our aim, to bring abroad these indigenous grapes, mostly the Kalecik Karasi because we are in Kalecik.
We prefer to plant indigenous grapes. Also we have an important job, which is to select the best plant in our vineyard. They are taking the buds and we are grafting in the root stalk. We are taking the buds from our best plant to keep its unique characteristics. I think we have a very big job from this point of view.
Sicily is a very hot wine region and it's very hot here. It's got to be 100 degrees today, right? Are there things that are similar in terms of the way that you made wine there and things that are different?
If we compare Sicily to this place, the only similarity is the temperature. Today, I think it is 34 or 35 C degrees. In Sicily you can have this temperature, but the most important difference is the humidity. Now we have about 33% humidity. The characteristics of this place are different from that point of view.
In Sicily, it's easy to practice, for example, organic viticulture. But here it's very easy because with this little wind that you feel, with this low humidity, and with this high temperature, grapes are growing without disease. You can control the disease with natural products. In fact, we are only using sulfur and copper to manage all the plants.
This is important for us because we are keeping the characteristics of the grape. We are keeping the yeast in the grape. If we want, and we did this last year for example, we can try to ferment without using selected yeast. We are using our yeast sometimes. This is very important. This is an advantage for the disease, but you can imagine that with this, the plant needs to take water from the soil because the plant needs water. We have this irrigation system. We are lucky because we are near the longest river in Turkey, the Kizilirmak. We are taking water from the river and we are giving it to the plant if the plant needs it.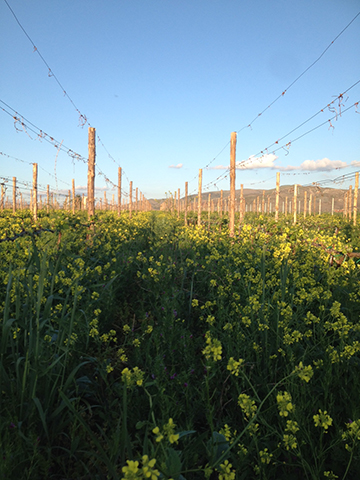 In terms of the terroir here, how would you describe it?
We find different types of soil here. You can find clay that gives structure to the grape. We are using this grape to make, for example, reserve wine. There are sandy soils that we are using to make, for example, sparkling wine. You can find mixed soil, and we have the same varietals in different soils for this reason.
With Kalecik Karasi, we can make very different wine. We are making classic method wine and sweet wine, passing from red young, red reserve, and rose, for example.
When you came here you had some ideas about how to grow wine in this environment. Have you changed over time? What have you adapted in terms of learning the climate and the terroir and the winemaking here?
The lack of humidity makes me change my ways because normally in Sicily, you do not need to give water so often. In the winery, we have a scholander pressure chamber. With this chamber we are measuring the hydric potential of the leaves in the plant.
With this instrument, we can understand when the soil needs water. I can say that in this field, with this heat, in this particular year, we are giving water every 10 days because the plants need it. They are losing a lot of water. The most important difference is this. I was practicing organic viticulture in Sicily, I can practice it easily here.
Tell us about the native varietals that you work with here.
The Kalecik Karasi was, for me, a surprise because you can understand how ductile it is managing the planting in a different way. For example, in this parcel where we are, until last year we were taking grapes to make a reserve wine because we were doing research with Palermo University. They were coming here for three years to check the plant for this research.
We understood that by removing the leaves before flowering, the characteristics of the grape changed totally. Normally, Kalecik Karasi is a grape with not so much color, with high acidity when you have to harvest, but because of this operation, the characteristics changed totally. The acidity is going down and the color is going up. It's full-colored. You can use this kind of grape to make reserve wine.
If you are pushing the plant with the water, the color will not be as deep. You can use this grape to make sparkling wine with the classic technique of Champagne. This characteristic made me crazy. It's a very interesting grape.
Then we have other indigenous grapes. For example, we have Bogazkere, Okuzgozu, we have Narince, for white. Now we discovered another old white grape near our company that we grafted this year. That is Hasandede.
For example, Bogazkere is a grape where our consultant, Mr. Monchiero, is saying is very similar to a good Barolo because of the tannin content and the color.
That's quite a compliment.
Yes it is.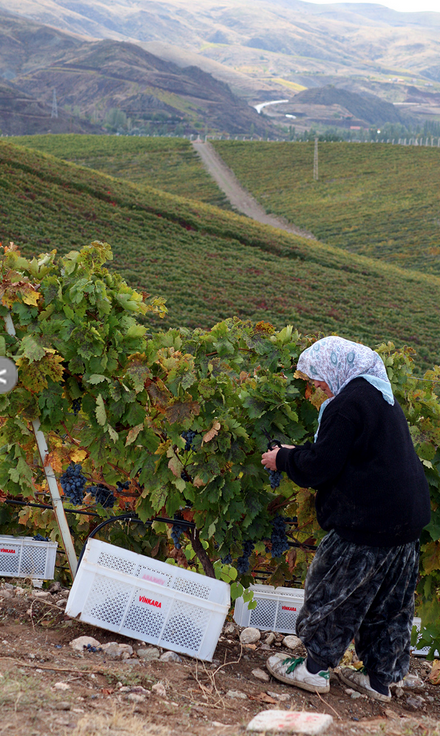 Barolo is one of the great wines of the world. For someone who makes wine in Piedmont to make that statement, I think, says something.
Yes. You can imagine that you cannot eat the grape because of the tannin content. It's not an easy grape to make wine. If you can understand how to make wine with this grape it's wonderful. It can make a very important wine.
Then we have Narince, a grape with which we won some recognition in the USA. It is a very interesting white wine. It's full of flower. It's very interesting. There is Okuzgozu that is very similar. For example, I can compare it with a fresh Nero d'Avola. It's a very good wine to drink young, for example.
Each grape has its own characteristics. We have classic international grapes here as well. It is a very good place to make white and red wine because we are at 2,000 feet above sea level. Now it's hot but tonight it will be 16 degrees. There is a very big difference between the temperature in the night and in the day. This is good for the grapes, for the red and for the white.
I can say that I'm very happy to stay here, to work in this place, because I'm also increasing my experience with making good wine.
Of the international varietals, which do you think reacts the best to this particular climate?
I can say that Sauvignon Blanc is giving us a very good grape. The plant is also growing in a very good way. We have a structure of like two meters because the plants are growing in a good way. The leaves that are covering the grapes, we are not losing the acidity that sometimes is happening in Sicily, for example. This can be a problem with white wine. Sicily is not famous for white wine. It's famous for the Passito, for example, for red wine, but with the high content of alcohol.
The problem with the white wine is that in August, the plants start to lose their leaves. Grapes are in the sun and they start to lose malic acid. Acid is going down. It's losing the characteristic of freshness that you are looking for in a white wine. Here it's different because the condition is different. There is no humidity. You don't need to give the plants chemicals. In the night, temperatures drop so the plant has the time to regenerate itself. It's answering in a very good way.
What is unique about your viticulture?
We can say that we are not using chemicals to remove the grass under the plant. We are doing this mechanically. We don't want to use chemicals. We are seeding at the end of the harvest so we are putting in the soil in March. We can say we are making organic viticulture.
Of course, we cannot make organic wine because some of our grape production is coming from outside because we are working in the same line. We cannot make organic wine but our viticulture is organic. With our grapes we are making the most important wine that we are producing. We can say the reserve, we can say the sparkling wine, and the high line wine we are making with our grapes. With the grapes from outside we are making the low line wine.
Tina, you're from Sicily? How did you end up in Turkey?
Tina Lino: It was a strange destiny that brought me here, but it was a really interesting challenge and a new adventure for me. This company was looking for someone, and because the weather conditions are so similar to Sicily - even if this is not true - I can say now that I came. Mr. Monchiero, the consultant of this company, asked the professor of my university. I was a Ph. D. in viticulture, too, and I studied enology. He asked my professor if he knew someone that could come here and who would want to come here, and so I came here with Ennio. You already talked with him. We both came to start this new thing, this new adventure, let's say.
How is making wine here different from making wine in Sicily?
I think the biggest difference is about the wine environment. We are Italians. We have a big tradition. Everyone knows about wine. Everyone has at least made his own wine at home. Here it is so hard to find people that are able to work in the wine industry that knows how to move with the pumps, with the meaning of what you're making. That is the most important thing. It's not just about the technical, push the button. It's why you are making something.
It was a little hard at the beginning when we started, because we also changed a lot of people. There are a lot of people that came and went. To find people to teach and to have this beautiful staff that we have now, it was a little hard. Now it's okay. We are working in a very good way.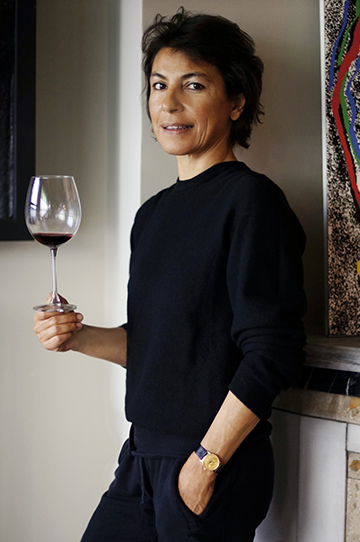 Photo: Vinkara owner Ardiç Gürsel
Vinkara is a fairly new estate. Tell us about the estate and how it came into origin.
I know a few things. I know that this company started in 2003, but they started to make wine in a more serious way, let's say, in 2007. As they made more wine they became more and more serious.
It became a true business when Ardiç Gürsel took over control of the business in 2007.
It started like a dream, the dream to make wine in Turkey, not just for Turkey, but to be known all over the world. Turkey has a big history with wine, with grapes. Also in the ancient period, there was a history about wine in Turkey. In the modern era, it was lost because of some religion stuff or historical stuff. It's a place with big traditions and with a big history about grapes and wine.We can say that the world doesn't know much. For example, when I came to Turkey to make wine, someone asked, "Why? In Turkey they are making wine?" It's so hard to know that Turkey is making wine. Miss Ardiç, the owner of this company, had this dream. Let's make wine. Let's make high quality wine and let's drink to let the world know about the Turkish grapes and Turkish wine. We are working mostly with Turkish grapes to develop and to bring out this message of the traditions of this country.
How is Turkey, as a wine-producing country, evolving?
I think in this moment in Turkey there are really interesting producers. Really interesting. I think the serious wine producing in the country started in the last 20 years maybe, but I think the level is really good. There are a lot of good companies, high quality companies.
It started mostly with calling consultants from Europe, mostly Europe. There are a lot of French consultants here now. And now the time of the Italians. The quality of the wines is really interesting. I can easily compare it with the European level of wines.
Also I'm talking about the indigenous grapes. These grapes are so interesting. They have all the qualities to be an international wine. Of course, the hard part is getting the name to be known. Also it's a little hard to get a new wine in the market. Maybe because they came so late. They started from a good point, not from a modern point. There are really interesting products in this place. Of course, we are making one of the best.
The political situation in Turkey recently has caused some problems for the wine industry. What sort of problems have you been facing as a result of the politics?
It's not forbidden to produce wine in this country. There are a lot of beer industries. It's not forbidden but it's not encouraged in any way. There are a lot of taxes. We are paying so many taxes for everything.
This is the case with all the products with alcohol. Also the cost of this depends on the alcohol content in some products. For example, the one on the sparking wine is really expensive. You cannot market in an easy way. You cannot advertize. It's really hard to sell.
I think harder than producing the wine is selling it, because with production we don't have so many problems. We are also buying grapes from other regions of Turkey and we are not having so many problems in the production part. With the selling, it's really hard because first there are all the marketing problems. Then you have to add all these obstacles so it's not easy to make your name known. It's not easy to have competitive prices in the Turkish market.
If I'm in Europe or maybe in America, this wine is an affordable price. For the Turkish people, it's different. I mean, if I want to buy a cheap wine in Italy with five euros I can find something good. Here with five lira it's so hard to find a good wine. All these things are making the selling of the wine a little bit difficult.
In recent times, there's been a much higher focus on quality in Turkey.
As I said before, if we want to be known all over the world, we have to work together. This is a project, to brand the Turkish wine together, to first let the world know that Turkey is producing wine. Because of this, the quality has to be competitive for the international market. It's really quality-focused.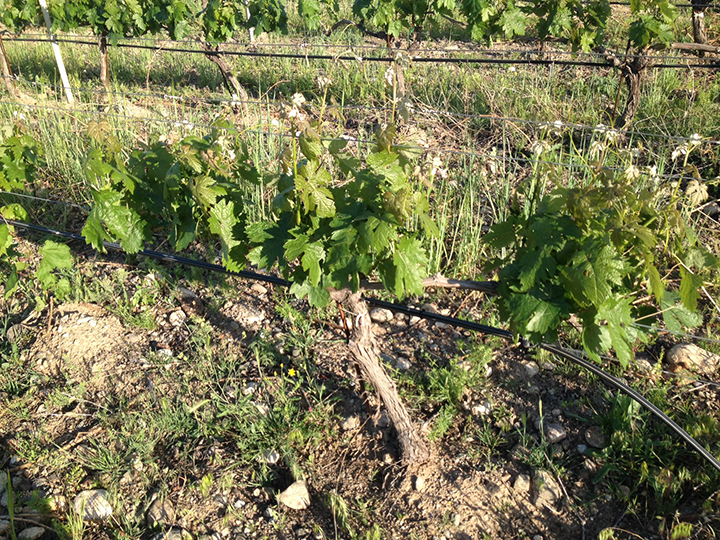 In terms of your philosophy of winemaking, what are your influences?
My philosophy is that the less you are adding, the best you are making. As you saw before outside, we grow really good grapes here. As for the weather conditions, we are not dealing much with disease so we are organic. Even if we don't have certification, we have organic grapes.
We are working so much in the vineyards. The thing that I like so much about this place is that the indigenous grapes are so interesting. They have everything. They don't miss anything. For example, Kalecik, that is, of course, our best, our masterpiece. We are in Kalecik. It has sweet tannins, it has the structure to be aged, it has its mass to make a Champagne blanc de noirs, it has a freshness that gives an interesting rosé.
You don't need to work trying to complete these grapes. If you want to improve these grapes you just have to work with them, to touch them in the correct way. They don't need anything. It's so amazing for me.
The white grapes are so interesting now. We found something new and we are surprised of this mass, this acidity. It's beautiful to work in Turkey. Of course we are also working with some international products because the market is asking for that - the internal market. We are trying different kinds of vinification methods to understand which would be the best way to work with the different grape varieties. It's so stimulating and interesting.
Tell us about the region here and how it's different from some of the other winemaking regions in Turkey.
I really think that the most interesting difference about this region and the others is the humidity. This place is so dry, as you saw today, that everything is changing. For example, I said that in the beginning, they told us it's similar to Sicily. I can say it's actually not, because of the humidity. Even if the temperature is as high as it is in Sicily, in Sicily we have a lot of humidity that gives us different planning of the vineyard jobs because you have to deal with this humidity.
Here, no. This is dry. So dry that even if the temperature is not too high, the plants are losing a lot of water. You are dealing with desert-like conditions so it's a different situation. In other regions, it's not this dry.
Tina, tell me how Central Anatolia is different from some of the other winemaking regions in Turkey.
I can say that the main winemaking regions in Turkey, and the local grapes, can be found in the center of Anatolia, the Central Anatolia. The north of Anatolia, with the region of Tokat to this side, and the Eastern Anatolia. There is also others region here, but there they have mostly international varieties. The traditional winemaking places in Turkey are these areas.
I can say that Central Anatolia is the best of the regions because, for example in the northern part, in Tokat, the region of Narince, there is a lot of humidity because there are these mountains that are blocking the wind from the sea. There is a lot of humidity there, so it's a little more difficult to deal with the safety of the plants.
In the eastern region, the temperature is too high. So high that sometimes the grapes are not maturing in a good way because they're not reaching their age of maturity. Also because the grapes for this region are late grapes. Really often, in Turkey, the winter comes early. In the past two years, I saw that in the end of September it started to rain so it became a little more difficult.
Here we have a high temperature, yes, but never too high - I think we never pass 38 degrees - but it's really dry. In regards to the management of the disease, it's easier. I can say that here the conditions to make quality grapes are present, and are easy.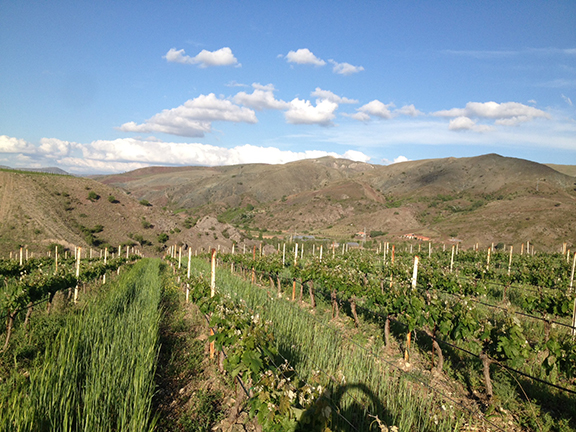 How is working with the native grapes of Turkey?
First of all, there is a big curiosity because I want to know them. Since the winemaking is so young here, there is not much written about these grapes. I tried to find some articles.
The first approach is the curiosity to understand them. I can say that now with the third harvest, I think I know what is better for Kalecik and what you can do for the Kalecik, that you would not do for the Okuzgozu or the Bogazkere. Of course I cannot say that I fully know these grapes now.
After curiosity, the second thing is to understand that each of them has special characteristics. I think we are trying to compare them to better-known grapes because you need to compare them with something that you know. We are saying, for example, the Bogazkere is like a Nebbiolo, because of the tannins. But it's not completely accurate because it also has a lot of color.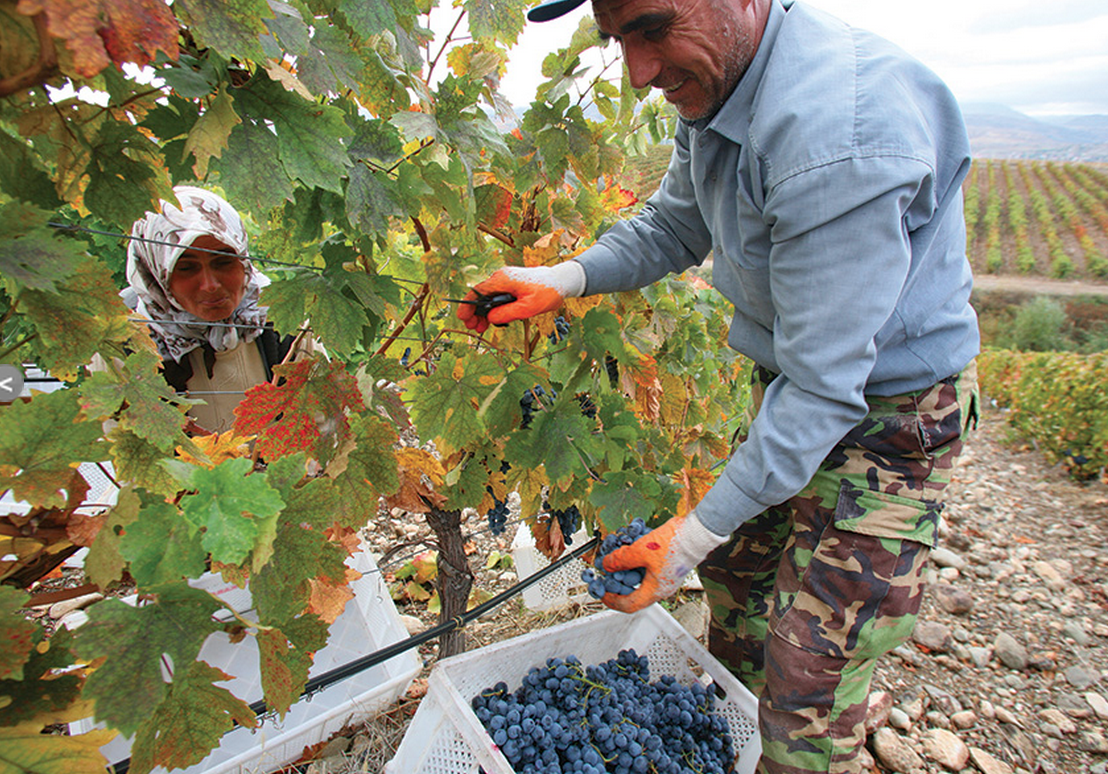 We are trying to give them the identity of something more famous but they have their own identity. The job that we are trying to do here is to understand their identities, to distinguish their characteristics, and make them become personal. Just like everyone can smell a glass and say, "This is a Cabernet," we would like to arrive at this point with the Kalecik or with the Bogazkere. We want people to be able to say, "Oh, this is a Kalecik."
Tina, what does Turkey need to do as a wine region to get more recognition internationally?
It's so hard. I can say from my point of view, from the technical point of view, Turkey doesn't miss anything. It has grapes, it has terroir, it really has so much. We can talk about terroir without any problems. With the technical aspect, it doesn't miss anything.
I think the biggest job that this country has is marketing, to associate the name of this country with wine. In this moment no one is thinking Turkey is producing wine. The first job is to make this association, Turkey, wine.
Then the other job would be, of course, to make the grape names be known. Of course it's just my opinion. I'm an oenologist but I don't think it's wrong.