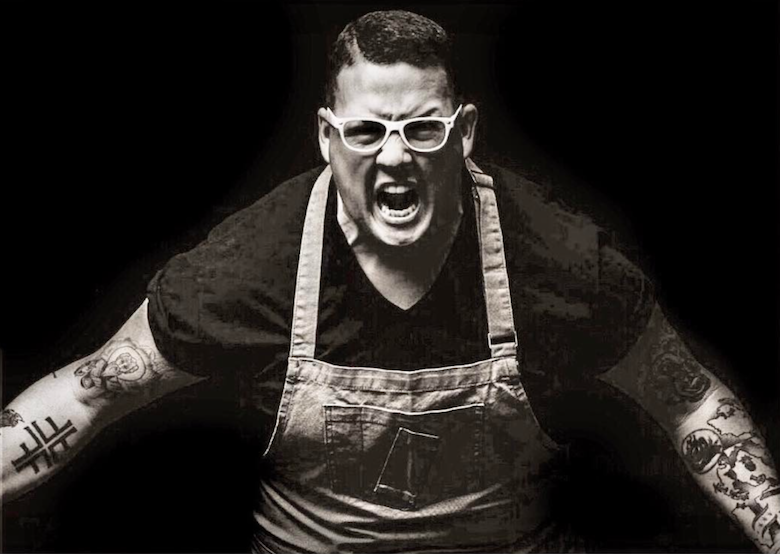 I love cooking shows. My favorite is Master Chef Junior. Unlike adult reality competition show contestants, who can be ruthlessly gossipy and mean-spirited with one another, the youngsters on Master Chef Junior often cry when a fellow-contestant gets booted off the show, and they're happy when one another do well. There's a general sense of merriment in the kitchen and the shows soundtrack is punctuated with childish laughter throughout.
The judges on these shows are also a revelation. Whereas chefs like Gordon Ramsey or Joe Bastianich can be relentlessly intimidating to adult contestants on shows like Top Chef and Hell's Kitchen, they are funny, playful and self-deprecating with the children on Master Chef Junior, even allowing these kids to toss cream-filled pies at them during entertaining little sketches on the show. Of the celebrity chefs that have judged Master Chef Junior in the past, Chicago-based Chef Graham Elliot is a personal favorite. His easy smile belies a profound level of commitment to his chosen vocation. His white eyeglasses frame a boyish face, but the edge of ambition has sharpened his countenance, making him look more ruminative, more confident, as he's gotten older.
Recently, during Yountville Live, a luxurious getaway event held throughout the town of Yountville in the Napa Valley, I chatted with Chef Graham Elliot just before he prepared a course of Kalamata olive crusted lamb, roasted asparagus, chanterelle mushrooms, carrot puree and smoked yogurt for the event's welcome gala. Wearing his signature canvas tennis shoes and his hair closely and impeccably shorn, he demonstrated old-fashioned manners while we chatted, even though he appeared anxious and a little nervous about the upcoming dinner:
RHD: You've been a judge on a number of cooking shows. Just this past season, you judged Top Chef. When you were a judge on Master Chef Junior, did you learn anything from the children on that show?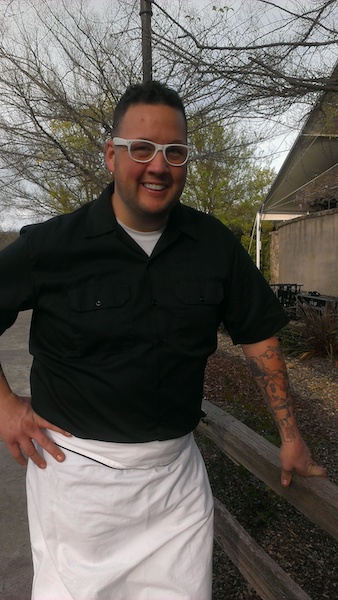 GE: Yes, absolutely. And, I'm a dad of three boys, too. As an adult, you think that you know certain things, but then you observe how someone with innocent eyes sees things. Sometimes a child will want to work with an ingredient just because of its color, or its shape! As a chef, you can overthink things a lot. You can focus too much on flavor and technique instead of just the fact that something might be fun to cook. Children will want to cook snails "just because they're cool."
So children help to reignite a sense of wonder in you about cooking?
Exactly. They bring back the joy of it.
Well, you seem to be a very hands-on, joyful dad to sons Mylo, Conrad and Jedediah. Your Instagram feed is one of my favorites because it highlights, at least for me, just the right combination of elements between your family life, your interests in music and your career as a chef. Is it hard to find actual balance in your life…between, say, your career and your family?
The lifestyle of being a chef really encompasses everything. It's not just what you do for a living; it's who you are. I've been very lucky in my life because my wife really helps to run everything – really helps us to keep track of our life. But with our sons, you know, they've got to be picked at things and dropped off at certain times…whether its gymnastics or Jujitsu. So for me it's become about quality over quantity. When I am there with them, it's time for me to be as hands-on as I can be, from playing to cooking. I like teaching them how to cook the food we're eating.
And they seem to enjoy it. Your son Conrad recently made a drawing of you in class, highlighting that you're a chef. He's obviously proud of you.
He calls me Graham Elliot a lot. I'm not sure if he realizes the chef and his dad are the same guy.
If you don't mind my pointing this out: you're someone who is famous. When one is famous, is there still time for personal growth? Or do you get so busy that then you just kind of rationalize…"Hey, I've succeeded so far, so I'm good just the way I am," and kind of give up on personal growth? I guess I ask because personal growth is important to me so I'm always curious about where it lands for other people.
When you're a chef, it's easy to get fixated and stuck on just making a "signature dish." People come to expect it. They see you make certain dishes on television, or they see you act a certain way on television, and you can almost become that character. People just assume Gordon Ramsey will yell at them if they worked for him. Or they will see a chef being some other way on television and decide they like him better. For me, I used to think, "Okay, I'm going to be the giant, jolly, overweight chef. I'll be the fun, cute, side-kick guy." But now I think I'm becoming a little more self-aware, and I'm realizing that I don't want to be those things. Right now, with kids and television and travel, chefing, restaurants – life is hectic. Instead of feeling like I'm surfing, I feel like I'm in front of the wave, and it's falling right on top of me, and it's very, very hard to step back and make time for myself when life is this busy – to take a beautiful hike, or meditate by the beach. It's very hard to find time for oneself and to stay centered.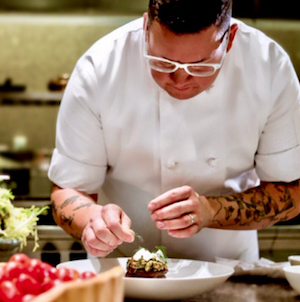 As a fan, the way that I perceive you is that you have this personality that combines a refusal to compromise – and I mean that in the best sense – someone who wants to create greatness, coupled with this very sweet, almost accommodating demeanor. You seem to be caught in a dichotomous world.
Oh, definitely. But I try very hard to push the envelope in life and in my work and I encourage my staff to be that way, too. Some chefs can get very caught up in technique or routine. But I like to remain open to food, remain open to interpretation. It's not black or white. For example, we're working with a carrot right now. The farmer we got them from put a lot of love into growing them, harvesting them. So when we got them in, we dusted them off and then just started to imagine ways to prepare them. Pickle them? Make carrot cake? Smoke the carrots and shave them into a salad? None of these ideas are better or worse than the others. A lot of old world or French techniques are very black and white. Every dish has to be the same. Every plate needs to look uniform. But I prefer to let the chefs change out their plates every day if they feel like it. Let's do it. Let's be creative. Food should be an extension of who we are.
It's interesting, though, because when I'm judging, like on Top Chef, someone might prepare a tartare. And they might sear it. And I'll think, "This is great! Because now there's this mixture of hot and cool, textures, etc." But, Tom Colicchio might say, "yes, but tartare is supposed to be raw." It's interesting because we have different approaches to judging. Chef Joe Bastianich is very direct and I totally respect him for that. But he'll just tell someone, "This is clearly wrong, get out of my face." I could never be like that; I tend to give what I call a "compliment sandwich," which is when I say something like, "I might have done this instead, but great job! Now, go back and try it again."
My dad is a home cook. He loves to cook. But, as much as he loves to cook, he insists that food is always better when someone else prepares it for him. If my mom makes him a sandwich, he'll think it tastes better because she made it for him and then served it to him. Are you this way at all?
If I make it, I generally don't want to eat it. For example, this week I cooked off corn beef, cabbage and potatoes for St. Patrick's Day. I roasted off apples and onions, and blanched the cabbage, and then folded into it chopped parsley; I did all these beautiful little steps, but then I didn't even make myself a plate. It's weird. I sing and play guitar and I would never listen to myself sing and play. I don't think I'd be able to enjoy it. I think I'm just so nervous about being judged. Especially when people come to dine at our house. When you have a restaurant, there might be 20 guys and gals helping you out, and it's a fun, loud atmosphere. But when someone comes into your home, and if they've seen you on television, you just wonder what they're expecting from you. And I'm just like everyone else. I'll be trying to season something at home, and the hood system or smoke alarm goes off. The dogs are jumping around, and I'll get nervous. But if I'm invited to someone's home, I really enjoy it. Even if they've made a lasagna that's raw in the middle, but if they're serving it with a smile and they made it with love, then I absolutely love it.
The same is true at restaurants. If I go to a little mom-and-pop restaurant and the food isn't properly seasoned or whatever but the service is great and they're happy you're there, well, then I can overlook a lot of things. But if I go to a restaurant and I have to wait a half hour for my food and the server is rude, well, then it's like being on a date with someone who doesn't really like you. That's how I feel when I'm at a restaurant and no one seems to care about the customer. It's like, okay, this isn't working for me. Why don't we break up now?
______________________________________________________________________________
Born in Seattle, Washington, Elliot, 40, currently resides in Chicago, Illinois with his wife, Allie, and their three sons. He currently appears on Bravo's Top Chef and is working on an upcoming, as-of-yet untitled new restaurant project. In addition to having owned Graham Elliot, Graham Elliot Bistro and Grahamwich, he has had hugely successful stints at The Mansion on Turtle Creek (Dallas); Jackson House Inn & Restaurant (Woodstock, VT); Charlie Trotter's, Tru, and Avenues (Chicago).