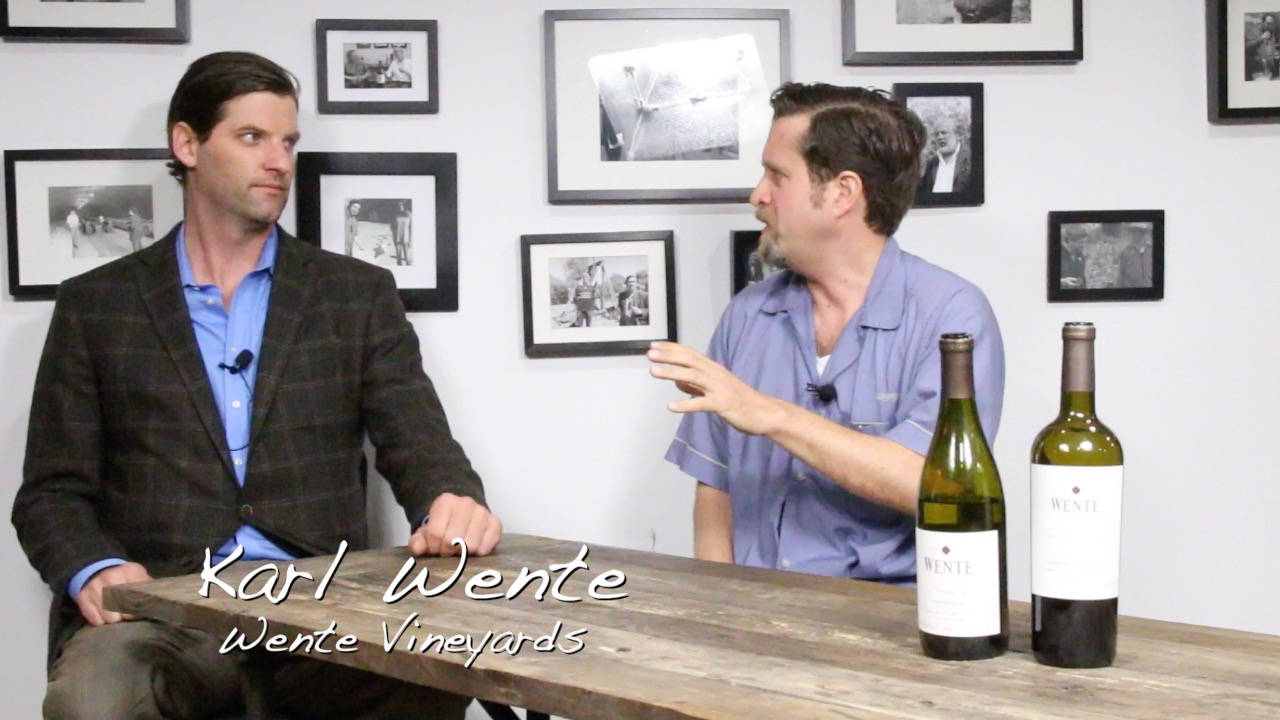 The Wente wine story began in 1883, with German immigrant C.H. Wente. He learned his craft studying winemaking under Charles Krug in Napa Valley. He went out on his own buying 47 acres in the Livermore Valley to the east of San Francisco.
Wente is famous for bringing in a Chardonnay clone from Burgundy in 1912 that is the source material for 80% of American Chardonnay plantings today.
Fifth-generation winegrower and winemaker Karl Wente is responsible for all winemaking at Wente Vineyards. 2013 will be Karl's fourteenth vintage and the twelfth at Wente Vineyards working with the family's estate-grown vineyards.
Christopher Barnes: You're the fifth generation to be making wine in your family?
Karl Wente: Yes.
You are the oldest family winery operating in the United States right now?
In the country. My great-great-grandfather got set up in Livermore, California just east of San Francisco in 1883 and we have been growing grapes and making wine on that property since that time. Coming up on 132 years, 132 consecutive vintages.
That's a long time for one family to be making wine and not having fights and selling off and all of the kind of stuff that you hear about with these families as the business gets better.
Absolutely, there are not a lot of mid-sized family wineries left, but it is something that we're very proud of. I'm also very proud to say that my family has never talked about doing anything but succeeding in the wine industry. We all get along, we all really have the same core principle: you take care of the land and take care of the soil and it'll take care of you. Very lucky to say that I oversee 2,000 acres of vineyards in the Livermore Valley and also 1,000 down in Rio Seco. We, as a family, treasure that land, treasure that soil. Healthy soils lead to healthy grapevines, healthy grapevines lead to healthy clusters, which lay the foundation for great wines.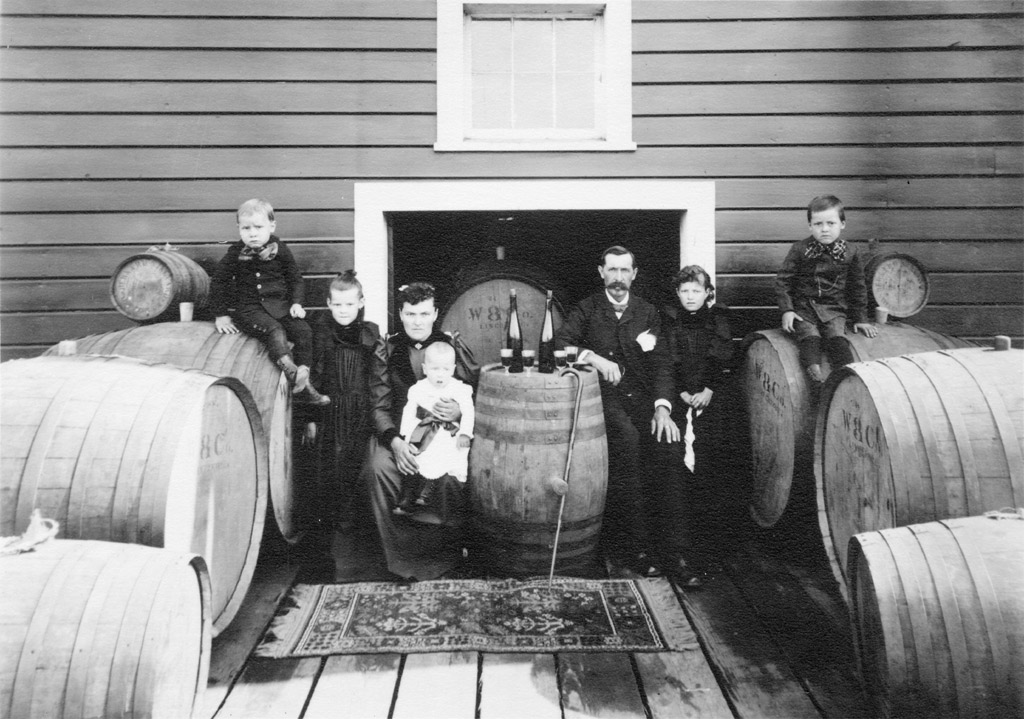 The Wente family in 1895
How did the family get through the Prohibition? That was a major turning point with many wine families, having to get through that obstacle.
Absolutely, that's a great question. Ultimately, the main reason we survived the Prohibition was because the Catholic church bought a lot of sacramental wine from us and we had the proper licenses and deals with the Catholic church. That really enabled us post-Prohibition, our wonderful failed social experiment, but after the Prohibition our winery was up and running already. Every other winery had to restart, get new pumps and hoses and presses and everything, but we were just ready to go. Soon after, my family was the first to bottle, I mean excuse me, the first to varietally label wines. Anywhere in the world, it's pretty phenomenal. Now you look at the shelves across most stores, a high percentage of those wines were varietally labeled. Until 1932, we put Sauvignon Blanc on the label. In 1936, we were the first to varietally label Chardonnay.
Fantastic. Talk about the Livermore Valley. A lot of people know Napa and a lot of people know Sonoma.
Absolutely.
It's not one that most people have heard about but it is very close to San Francisco.
It's extremely close to San Francisco. With no traffic, which is a fictitious state of affairs over there, but with no traffic I can get from my home in Livermore to downtown San Francisco in about 50 minutes. It's just not that far. Livermore is one of the only coastal valleys in California with an east-west orientation. The west side of the valley is less than 20 miles from the bay. Very close proximity, it stretches another 20 miles away. Between 20 to 40 miles from the Bay. Ultimately, the same reason that Mark Twain said the coldest winter he ever spent was a summer in San Francisco. That's the climatic influence that really drives us. We'll have a 95 degree day, you need the temperature and heat to ripen grapes but then it will go down to 50 at night. That diurnal swing is what really helps to maintain and retain the natural acidity in those berries. They also elongate the growing season to develop flavors, colors, textures, all of those intangibles that make great wines.
In terms of Livermore Valley, what is the terroir like there?
It is driven by that diurnal swing. Those warm highs and the cool lows. It has very deep gravelly alluvial soils as generally the rivers have meandered to the west, flown into the Pacific and flown into the Bay. You have these alluvial fans and lots of diversity with soil types. I think what's really key is across our 2,000 acres in Livermore, is matching up the right grape varietal in that right location. Gravel loves Sauvignon Blanc, Cabernet, Petit Verdot. Versus clay where you have higher clay content, Petite Sirah, Merlot, Chardonnay. It's really getting each of those lined up, but it's really very moderate in the growing degree days set up by Professor Winkler and Professor Amery at UC Davis. We're in a region two to a region three, maybe some of the warm points are a low region four but Livermore is a very diverse valley where you can grow a lot of different grapes.
You're famous for the Wente clone.
Yes
About 80% of Chardonnay in the United States is based on a clone that your family developed. That's a pretty incredible fact.
It really is phenomenal. You think about there is almost 100,000 acres of Chardonnay in California, maybe a little bit less than that, but 80% of that has genetic routes that came through our property in 1912. You go back to 1912, my great-grandfather was in the first graduating class at UC Davis. His professor said, "Hey, there's this great white grape in Burgundy, it's not planted in California and we don't know why." He thought we could get cuttings from the University of Montpellier, which was a sister university to UC Berkeley, then the agricultural extension UC Davis at the time. Which, of course UC Davis has now grown into one of the best wine schools in the world. I'm lucky to have two masters from UC Davis, one in viticulture and one in enology.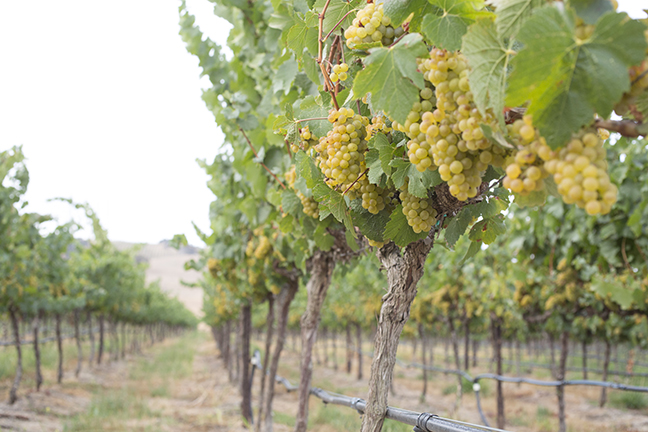 You go back to 1912, those cuttings came in, we put them in our vineyard in Livermore, grape vines then grow up, you take another cutting put it in the ground, vegetative propagation, that is intuitive enough to grow routes and you can do it again and do it again. Over the generations, every vintage you're selecting the best grape vines. Those that are the healthiest and those you eat the berries right before harvest and those that taste best. You come and take cuttings and plant the next vineyard. We're still doing that today. There are now five vineyards in Livermore that have never left our property since 1912. We just continually propitiate it forward. So then everyone else, if you wanted Chardonnay in California after 1912, you would come to our vineyard in Livermore and take cuttings and plant your own vineyard. It's a pretty phenomenal stat.
I'm actually doing a Chardonnay symposium in Pismo beach celebrating that Wente clone of Chardonnay. It's cool to see winemakers from all over the world come in; Dave Ramey, Merry Edwards, other greats in winemaking who really celebrate and sing the praises of the Wente clone, the heritage Wente clones.
What is it about the Wente Clone, what kind of characteristics does it bring to the wine?
Good question. There are multiple Wente clones out there and different heritage selections but the older one is the heritage selections. They had these, a lot of shot berries, they call it the chicks and hens, just incredible fruit aromatics and a little bit of a musty characteristic as well. It brings this apple, pear, citrus and stone fruit with apricot, but then also this really cool floral hint in the background. I think because of those characteristics, it's why California Chardonnay is what it is where you can barrel ferment it and put a reasonable amount of new oak on the wine but it still has the fruit characteristics and that fruit intensity to hold up to it.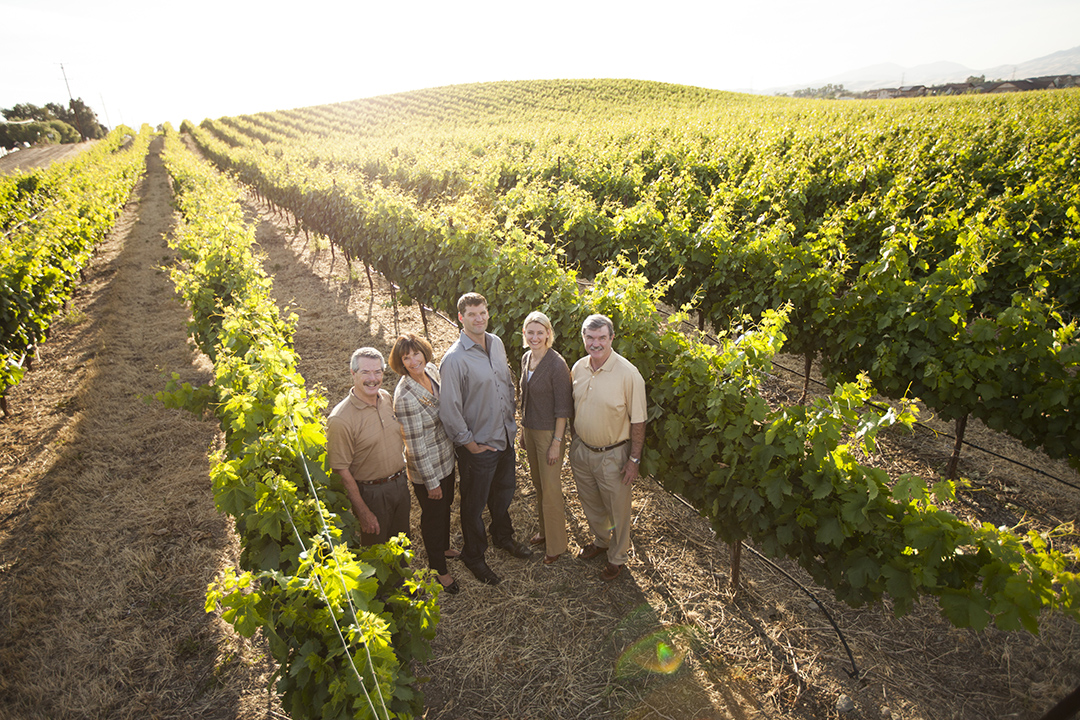 The fourth and fifth generation of Wente, photo by Sam Harnack
Fantastic. You mentioned that you're a trained winemaker and you have a masters in viticulture. How has your education informed the why that you make wine? I mean, fifth generation is obviously a lot of history, a lot of tradition you've come into. But then you also have this background which is modern winemaking. How do you marry those two?
That's a great question. I don't know the answer to that other than I put my boots on every day and go out and try to do the best that I can and use all the toys that I have. Those tools are your education, those tools are your family guidance and education, those tools are your vintage on vintage of learning. I don't feel that old but I'm coming up on my seventeenth vintage. Overall, 15 of those working with the same vineyards of our family estate-grown fruit. There is so much to be learned over the years. I really just take everything that I know, all the intuitive intelligence, all the intelligence of our phenomenal teams. I have two guys in the vineyards that have been working with my family for 42 years. It's leveraging all that knowledge, bringing it together and then keeping your eye on the prize that it's all about putting the best wine in the bottle.
You're using technology but you're not using technology to alter the wine, you're using it to try to bring out the terroir?
Yes, absolutely. We're 2,000 acres in Livermore, 1,000 in Monterey, it is about leveraging technology to get you closer to the ground. We're doing aerial images every week. An airplane flies over our vineyards and takes images. It just shows us how the growth is, if it is uniform, where you have different pockets of things. Where maybe the dust is getting on some of the vines there, you go and water the row. Where this one is growing a little bit more at the bottom of the hill than at the top of the hill because the water flows down. It's just stuff like that, but all that does is inform you of the best place to go to in the vineyard and look and see what's happening. There's no substitute, the best thing a farmer can see in the field are his own boot prints or his own shadow. You have got to get out there and get there. Anything that we do from a technological standpoint is exactly that. I just want to get closer to the ground, closer to the roots.
Obviously making and selling wine is very different. Social media being one of the biggest changes from a marketing standpoint.
Yes.
How has your company embraced modern tools of marketing?
We have a phenomenal team, a phenomenal marketing team. Amy Hoops who has been with us forever, oversees all of our sales and all of our marketing. She, from day one, understood the potential of what social media was and how to really touch base with your customers. We have one of the largest Facebook followings at Wente vineyards of any winery out there. We are constantly keeping people informed. It's a real part of it, it's not going away. I'm proud to say and embarrassed to say I don't have Facebook and never have. I understand the impact of what it is, and at the end of the day, for me, it's just being able to tell our story of who we are. It's an authentic story, five generations, same piece of property, 100% estate grown, 100% family owned as stated. Lastly we are 100% sustainably farmed with certified sustainable vineyards and winery.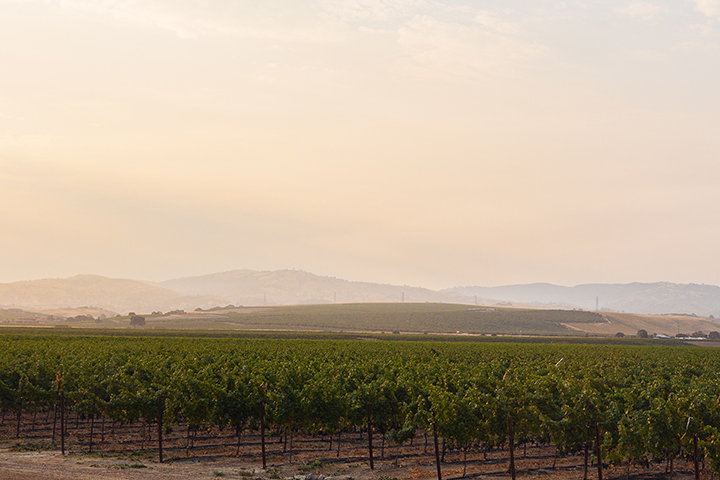 Talk a little bit about the viticulture. You are sustainable but not organic or biodynamic.
Correct.
Why sustainable?
To me, sustainable farming gives you the tools to take the best of what's out there. Ultimately, I'm a musician and an artist. I live by the mantra that good artists borrow and great artists steal. For me, I just want to take the best ideas out there that are going to grow the best grapes. Vertebrates are a great indication of the health of the ecosystem. The more vertebrates you have in your vineyard, the healthier the ecosystem. But, the more vertebrates you have in the vineyard, the more problems you have as well. It's a fine balance. We have egrets, herons, hawks, owls, squirrels, gophers, rattlesnakes, garter snakes, turkeys, deer, starling, it's a lot of different stuff in there. That really shows that you're taking are of the soil and taking care of the land and getting healthy grapevines.
I use a lot of certified organic products in the vineyard, but I don't chase organic certification. I just chase the best decision-making, the healthiest soil. Ultimately, my sister's kids run through the vineyard, my mom and dad and my grandma walk through the vineyards. My dad's horses go through the vineyard, my dogs go through the vineyards. If you're going to put your family, your friends, your livelihood there, you what to make it as good and healthy as possible.
Read Dorothy Gaiter's column profiling Wente red wines.