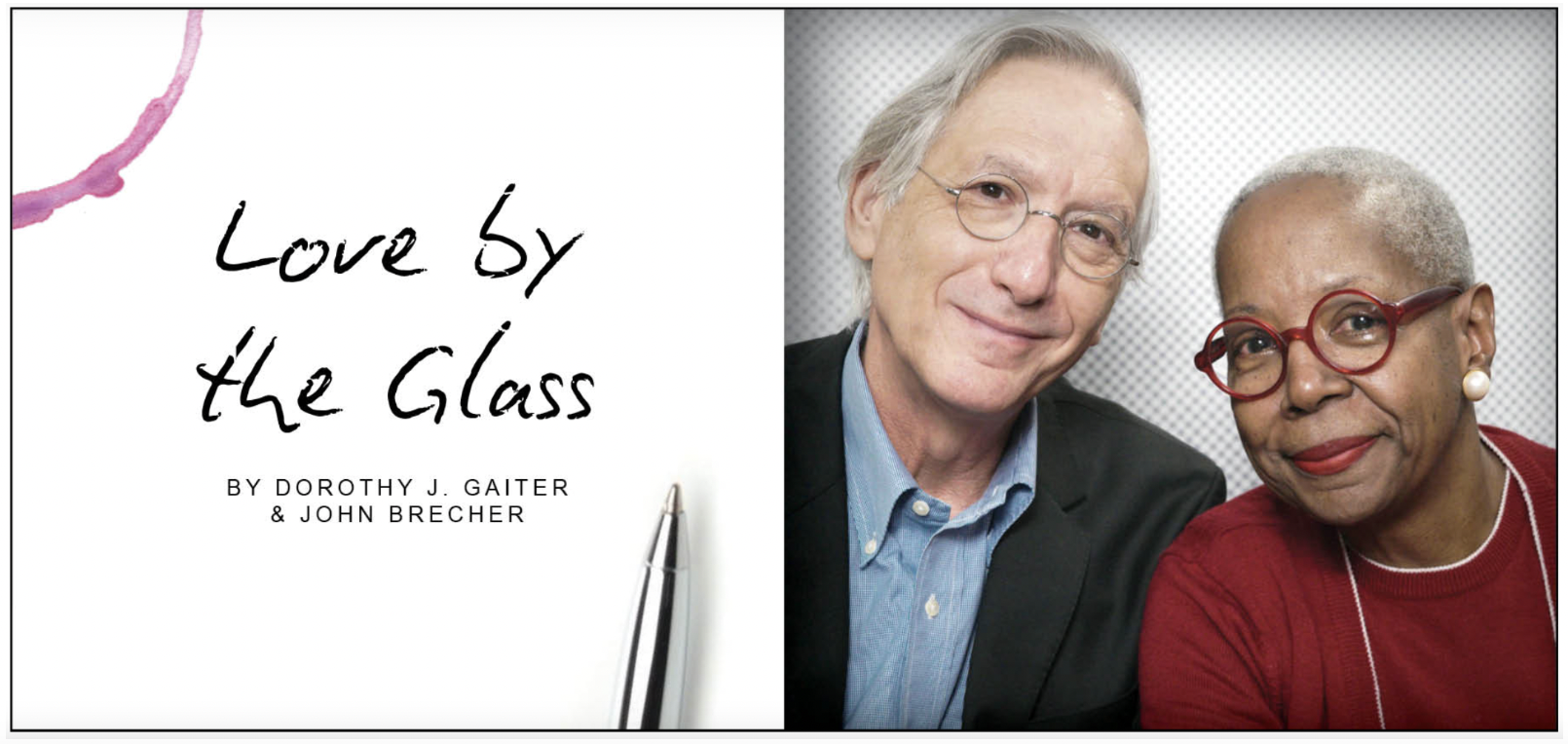 We were at a large tasting hosted by the Association of African American Vintners in Oakland a few months ago when John sampled a Grenache Blanc, a variety we generally consider more solid than exciting. This was an exception. It had a combination of generous fruit, tropical life and an earthy roundness that made it complex and delicious. When John said all of this, the man who poured it smiled and said: "That's good to hear because otherwise I wasted a whole lot of money on terra cotta pots."
John rushed to get Dottie to taste the wine. Then we vowed we'd find out more about this man and his wine.
The man is Raymond Smith, owner of Indigené Cellars, with a winery in Carmel Valley and a tasting room in Paso Robles. It turns out he has a story quite unlike any other we've heard over the years, featuring bottling lines, the value of mentors and even a soul food supper club for at-risk youth in San Francisco.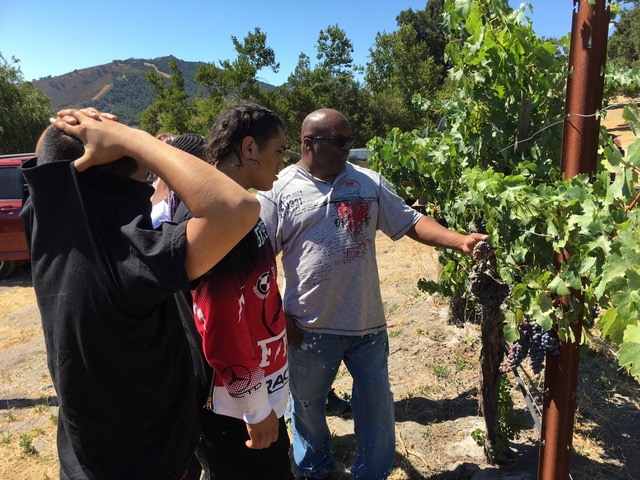 And many amphoras.
Amphoras are ancient, but also a little bit of a trend in local winemaking. Famed Napa Valley winery Dalla Valle Vineyards has used some since 2018. In a recent press release, winemaker Maya Dalla Valle said the use of amphora "adds to the complexity of the wine without introducing higher quantities of new oak to overpower the fruit and nuances it contains."
Smith, who is 59, studied journalism in college, but he found a job at a large winery in Paso Robles. "I learned all about bottling and barrel work, like the mid-part of winemaking," he told us when we called.
A few years later, someone contacted him about helping to start a mobile bottling operation. "So we got this business up and running," Smith said. "These guys were the money part and I was the sweat equity part, the guy who had the knowhow. It changed my perspective of winemaking from learning from one guy to learning from 400 guys because I was traveling all over California and meeting new people and learning about new ways of blending wines, new ways of making wines."
As a result, Smith speaks with intimacy about multiple regions of California in a way we've rarely heard.
In a short time, Smith bought the bottling business. That's when his education really took off. He told us he always had mentors, winemakers who were eager to discuss everything with him. Many had one thing in common: "I always for some reason was hooked up with some crusty old Italian guy. I always met Italian varietal makers for some reason and kind of stayed close to them and these were guys who I had a deep relationship with."
We think his secret was that he listened. As he put it: "I had no problem ever saying I didn't know and once I did that they had information for me every time I showed up."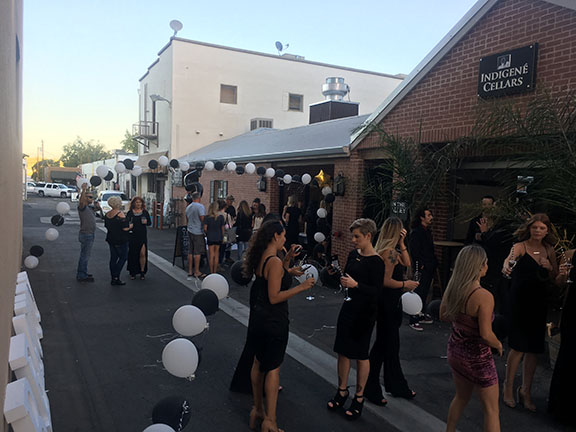 In 2008, a client suggested that Smith establish a winery within his winery in Monterey County and Indigené was born.
"I started researching what wines I did best. I didn't really get a lot of grapes from people who I didn't bottle with over the past 25 years. It's almost like the same relationships I've had. I've seen these vineyards and I've tasted these wines over 20 years and I know what they're capable of. I know what wines grow best in what areas just because of the experience of traveling all over California for 25 years and bottling and tasting wines from different areas. And that slowly became my source program."
He also knew that, while he would use some stainless steel (with Sauvignon Blanc, for instance) and oak (with Chardonnay, for example), he was particularly interested in amphoras, which he said makes wines "rounder, velvetier."
"Barrels breathe more than stainless steel, cement breathes more than barrels, terra cotta breathes more than cement. So it's the fastest way to achieve that micro-oxidation," he said. "I also as a bottler have worked with guys with terra cotta pots so usually once or twice a year if I am coming up to bottle I will be tasting wine from barrel every year, tasting wine from terra cotta pots. Any chance I got I would work with terra cotta pots."
He now makes 11 different wines, for a total of 1,200 to 1,400 cases a year, but Grenache Blanc ($30) is the only one completely fermented and aged in terra cotta. Why?
"It adds more oxygen, makes it rounder and softer faster and makes it fleshier and weightier almost to the effect of a red wine. The phenolic structure of Grenache Blanc works perfect for that. That made it big and round and made it more of the effect of minerality because you didn't pick up barrel tannins. The oxygen from terra cotta gives it more tropical notes."
He said he uses his 500-liter amphoras a bit on his Italian varietals, such as Sangiovese. "I just use a small amount to blend back to round the Sangiovese off because Italian varietals can be kind of angular, super sharp. After a while it will take the angular part away, makes it kind of round and satiny. It makes it rounder, softer, more pleasing, fleshier."
Almost all of his sales are direct to consumer, much from his tasting room in Paso Robles, which he describes as the most amazing community of wine people he's ever seen. "Paso Robles is one of the most densely populated areas of high functioning artists in the wine business," he said. "Everybody kind of keeps each other to a higher standard. If you had a winery and you had a problem come up, one of the first people who is going to help would be the guy next door. And it's always been like that."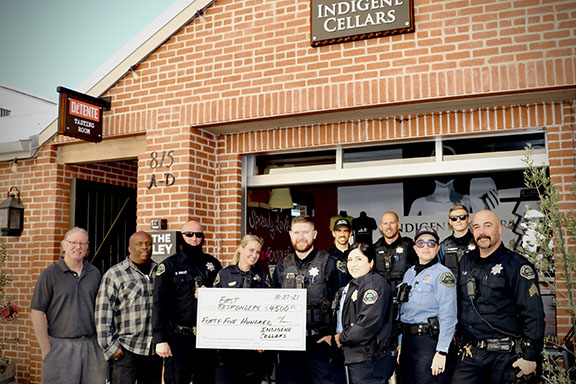 He no longer owns the bottling company. "That's great for money but not good for family or relationships" because of all the traveling, he said. Smith also does some winemaking consulting work.
He focuses a great deal now on philanthropic work, to try to give back the way his mentors gave to him. He is especially proud of a wine called Philanthropist, a Cabernet Sauvignon-based blend. All of the proceeds go to a list of charities that changes from year to year, he said, including shelters for women, the Boys and Girls Clubs and the youth-run supper club in San Francisco, which is called Old Skool Café. He even makes a Chardonnay and Cabernet Sauvignon that's served there. The Old Skool Café, which provides hospitality and culinary training for at-risk or formerly incarcerated youths, is run by former corrections officer Teresa Goines.
"I was just out trying to sell some wine when I was consulting for a winery in San Francisco one time and I came across her number and called to see if I could pour some wines for her," Smith said. "She liked a couple of the wines and said she'd take them. Then when I got home I started reading more about the restaurant and the program and I called her back and asked her about it and she told me what it was and I said, you know, we could renegotiate the nature of our association. I'd be more comfortable doing it as a charity," Smith recalled.
Since Grenache Blanc was the wine that drew us to Indigené, we asked Smith if he would consider that his signature wine. No, he said quickly. "It would definitely be red. That's a hard one because I have a wealth of information and I challenge myself every year with a lot of different wines. But it would probably be a blend called Ambiente, a blend of Sangiovese, Malbec and Merlot.
"It's just a big, stacked wine that I've made over the years that's indicative of a lot that I've learned from a lot of different guys and I was able to put a lot of those concepts into that one wine," he said.
What a nice way to give back.
Dorothy J. Gaiter and John Brecher conceived and wrote The Wall Street Journal's wine column, "Tastings," from 1998 to 2010. Dorothy and John have been tasting and studying wine since 1973. In 2020, the University of California at Davis added their papers to the Warren Winiarski Wine Writers Collection in its library, which also includes the work of Hugh Johnson and Jancis Robinson. Dottie has had a distinguished career in journalism as a reporter, editor, columnist and editorial writer at The Miami Herald, The New York Times, and at The Journal. John was Page One Editor of The Journal, City Editor of The Miami Herald and a senior editor at Bloomberg News. They are well-known from their books and many television appearances, especially on Martha Stewart's show, and as the creators of the annual, international "Open That Bottle Night" celebration of wine and friendship. The first bottle they shared was André Cold Duck. They have two daughters.
Banner by Piers Parlett