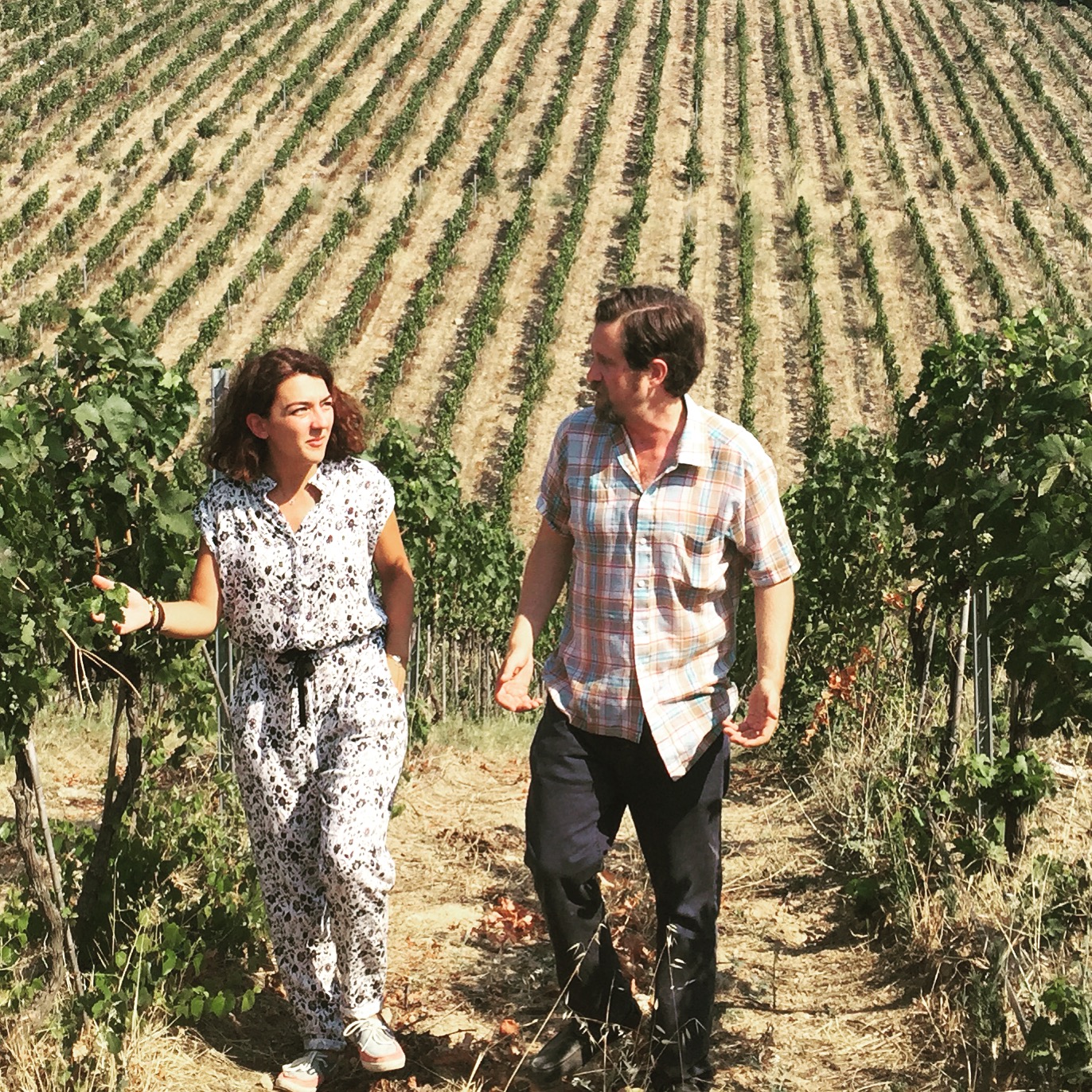 The Kastro Tireli is a boutique winery focused on small production artisanal wines. The vineyard is located in the Izmir province in Southwest Turkey, 200-280 meters above sea level and approximately 100 km inland from the coastline.
The property is part of the old Tireli ranch which in early days of the Turkish Republic, was owned by the commander of the National Forces. Today the estate is owned by businessman Yunus Mermerci who brought in wine consultant Andrea Paoletti and winemaker Isik Gulcubuk to help to develop a quality focused boutique estate.
We talk to Gulcubuk about the role of boutique wineries in raising the standards of winemaking in Turkey as well as the challenges faced as a result of the new tough governmental regulations in the alcohol beverage industry.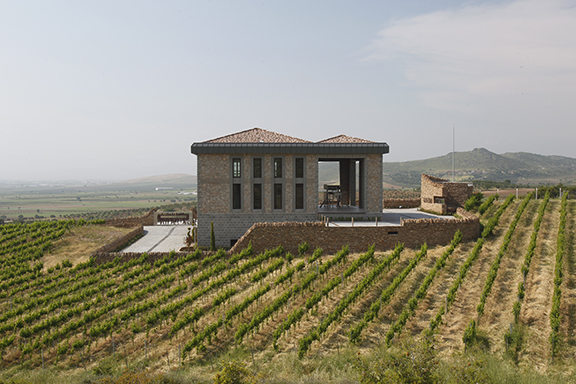 Christopher Barnes: How did you end up making wine in this part of Turkey?
Isik Gulcubuk: Well, because I am from the Aegean region, I'm from Izmir, so I studied abroad, and I wanted to come back to Turkey and produce wine from where I'm coming from. That was the main idea.
You studied at Montpellier is one of the top winemaking schools in the world. Where did you work after that?
I started working in Zaragoza in Spain, I worked with a consultant there. Then I moved to Bordeaux. I worked in Château Smith Haut Lafitte. Then I went to New Zealand to Matua Estate, and then I went to California, to Napa Valley Quintessa.
What are some of the experiences that you gained working abroad?
It was a big experience, indeed. First of all, I got a lot of hands-on experience. Because the wine industry here, it's not as it is in Europe or in the United States. I had a lot of hands-on experience with the winemakers, with a lot of different colleagues, and also with a lot of young winemakers like me. We had a lot of experiences and also a lot of wine talks, a lot of wine tastings and all that.
Which was your favorite work experience?
Well, all of them were different, you know? But I liked working at Quintessa.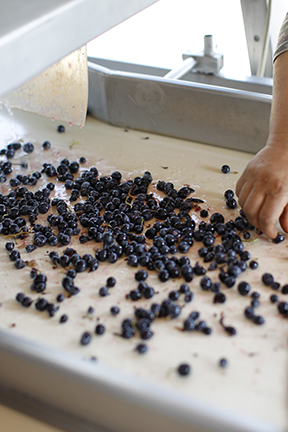 What sort of philosophical winemaking ideas did you take with you to this job from your experiences abroad?
First of all, I definitely like working with small estates. That was my idea when I worked, because I worked for small estates, I worked for medium estates, and I also worked for big estates. I really like the idea of being in a small estate, being maybe organic, a little bit biodynamic, if possible. It's not possible everywhere, but that was the main thing that was important.
What drew you to this job, to this estate?
I'm the winemaker. Well, winemaker, as it is in United States, because the name changes everywhere. I do the viticulture and the winemaking, so I do both sides.
How has the estate grown? It's a fairly new estate.
Yes, it's a new estate. We also have a consultant, an Italian consultant, Andrea Paoletti, who also consults on Elaia in Italy. He also has his own estate. He started with the estate in 2007. They planted the vineyards, and then they waited until 2010 to build the winery. The owner and Andrea visited many different estates around the world. They went to Côtes du Rhône, and they went to Italy, to Tuscany, to see different options and also to search for different wineries and to experience different wineries. Also, our owner, he graduated from Bordeaux Management School of Wine. Therefore he also has experience around the world with wine. Well, not really winemaking, but mostly on the marketing side.
Who's behind the estate?
His name is Yunus Mermerci. He's the owner of the estate, and his idea was to make a unique winery in Turkey when the wines in Turkey weren't as good as they are now. He was actually studying in Australia, not for wine but for management. Then he really liked the wine world there, so he said, "Okay."
When he came back to Turkey, he realized the wine in Turkey wasn't as good as it was in Australia. So he was like, "Why not? I can do something like that." He's also passionate for wine. If we're together with Andrea, we would drink and try different styles, different wines.
Tell us about the Turkish wine industry. It's evolved a lot.
I think the effect of the boutique estates was really important to Turkey. Back in, I think, between 2000-2005, the new boutique estates with small production, with importance on quality started to evolve. Also people started to go to Europe more often, experiencing different wines, more wines, and wines with better quality. I think that was the turning point of the Turkish wine industry.
Nowadays you see all these big estates also trying to produce good wines, and most of them now have their own vineyards. Turkey is I think at the moment the fifth country for grape production, but only I think around 30% of this production, or even less, goes to winemaking. All the rest goes to raisins, dried grapes, fresh grapes, and grape molasses.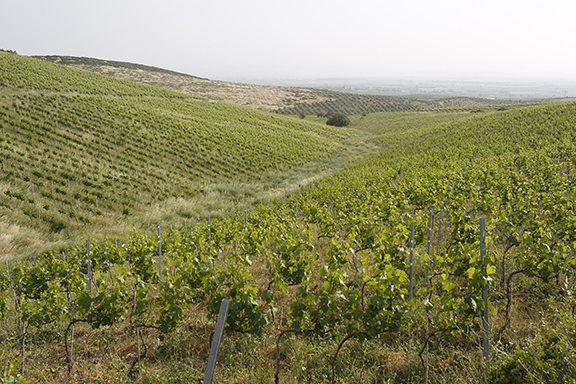 In terms of the winemaking, the boutiques had an influence, but how did quality improve? What were the processes that changed, that resulted in better wines getting made?
I think people realized how important it is, first of all, to have the perfect vineyard out there, because everything starts there. Everything starts in the vineyard. If you have bad grapes, there is no chance that you can make good wine, but then, you always have a problem really, too, of making bad wine out of the good grapes. But I think that was the main point, because before it was always farmers that were growing the grapes. Nowadays, as I said before, many of the estates have their own vineyards apart from buying from the producers.
In terms of Turkey as a wine industry, the records of the earliest winemaking ever have been found in Turkey. How do you see the future of Turkish wine?
I believe, and I want to believe, that it's going to get better. Probably as most other winemakers and owners said, we're having a difficult period at the moment, with the government putting so much pressure on the alcohol beverage industry in general, but it eventually affected the wine industry the most, because we were the newest. We had all these small, boutique wineries that were coming up.
At the moment we're left without having the possibility of doing any marketing. We're passing through a difficult stage, but at the same time, people are starting to consume more wine. We are starting to have, especially in Istanbul, more fine dining restaurants that are looking for good wines, and they do actually prefer Turkish wines since they are located in Turkey. On that side, on the restaurant side, it's evolving, but one-to-one sales and marketing wines, it's not really going.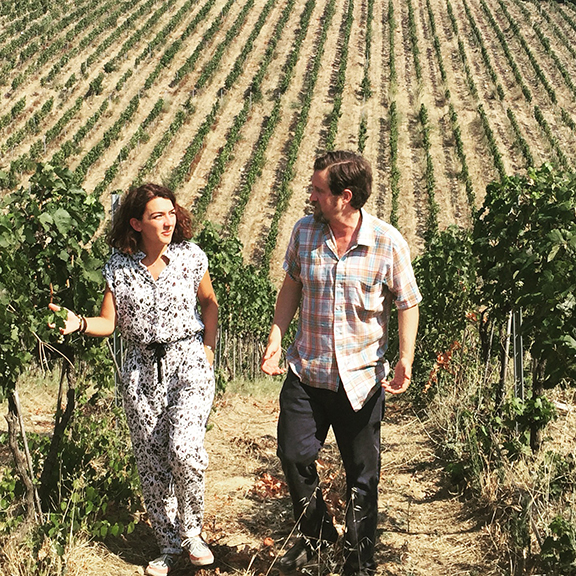 So in order for the industry to evolve further, you feel like the political problems have to get solved?
Definitely. We need a more solid atmosphere, a maybe a smoother atmosphere for production.
Talk about the specific problems the industry is facing from the government. Taxation is one that I've heard a lot.
Yes. We have really high taxation, but it's also the marketing. It's also one-to-one sales. We're not allowed to sell directly to the customer. We cannot have any wine tastings. We can only do tastings to professionals. So we can only do tastings to sommeliers and so on, and actually, these are like little wine tastings and maybe tastings in a mall or something like that. It's a way that people get to know your wine, but in our case, we really need to have the sommeliers to sell. Somebody needs to recognize us. So it's a bit tricky.
In terms of Turkey's international reputation, how do you see that right now?
To be honest, I don't think that's where we're reputed enough, because for many years living abroad, I have always been asked the same question, "Oh, do you guys make wine?" Of course, my answer would always be, "Yes, of course." But I think, considering that Turkey's one of the regions where wine was started, and we are part of Mesopotamia, therefore, we should actually be known more for wine production.
Since we are a Muslim country, the people have this idea that okay, you're a Muslim country, so you cannot produce wine. They cannot really have alcohol and the Islam religion together. But in fact, Turkey is not like a regular Middle Eastern country, that have strict rules because of the religion. First of all, the religion is not part of the government. Therefore we're a free country. Everyone can drink. Everyone is free to do anything.
In the future, I hope that we'll be known more for the wine. I think we need to promote Mesopotamia more and where the wine is coming from in order to go further in the international market.
You touched on an interesting question, which is the fact that this is a predominantly Muslim nation and yet there is a fairly large wine industry here. How does that work?
It has never been a problem, and I don't think that it'll ever be a problem. However, the fact that the government at the moment is promoting abstaining from alcohol, we feel the tension more. But since I grew up here, I can easily say that. I'm from this region, from Izmir and Izmir is a very liberal city. Therefore we never have issues of drinking outside. I never consider it as a problem, but when I look at the whole of Turkey, it's true that Turkey is a very diverse country.
It's true that, for example, in Ramadan, during the fast time, you cannot drink in a lot of places in Turkey, but most of the time, you would understand from the people and from your surroundings how the atmosphere is. Therefore you will try to behave according to the people around you. If alcohol is not welcome in a certain place, then you say, okay, maybe I won't drink here. It really depends on which part of Turkey you are in. You would never say that anywhere in Izmir or in most parts in Istanbul. On the coast you'll never see that, but then there are some certain spots that you wouldn't drink.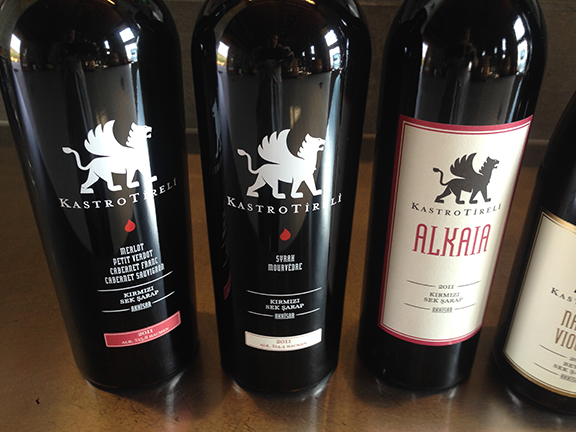 What about the center of the country?
Well, the very center of Cappadocia was formerly a wine-producing area and has a lot of tourists. So maybe the more eastern you go ...
Less drinking there.
Yes.
So the terroir in this area, how would you describe it?
First of all, we're 100 meters inland from the sea, and we're about 200 to 280 meters above sea level. The good thing with this terroir is the fact that we're not on the plain. Because Akhisar is a valley floor, the soil is very rich, whereas here we have really poor soils. We have a bit of shift, and then we have clay, but the clay percentage is not very high. [inaudible 00:16:48] has a lot of really rocky soils especially, while here you see a bit of sand as well, but when we go up to the hill, we'll have more rocks in the soil, rocks and shift.
The good thing here is the wind actually. Here in this area we receive really good wind. Although it's really hot here, as you can notice, we always have good wind that cools down the grapes, which gives us a really special microclimate, which eventually delays the phenolic maturity and the increase of the sugar. This, together with our poor soils, gives really good results with our grapes. We're actually in a hot climate but can always have the phenolic ripening as well.
I notice you use your leaves to kind of protect the grapes from the sun.
Yes. Yes, definitely. We have to, because otherwise we would have a lot of shriveled clusters at the end of the season.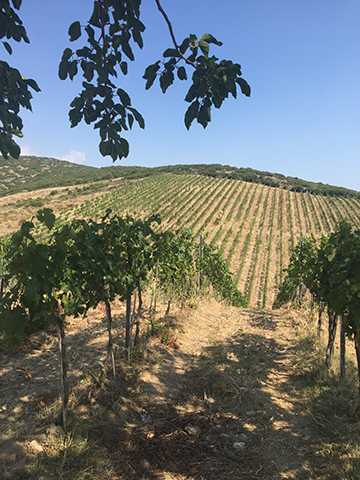 What sort of grapes perform well in this climate?
Syrah and Mourvédre work really well, and they are also our main production, so our flagship wine. Then Cabernet, as it works in many other climates, works really well here too. Our Cabernet with the Bordeaux blends work pretty well. Also interestingly, although the origins are not from here, the three Turkish varieties, Kalecik Karasi, Öküzgözü, and Boğazkere, work very differently and give interesting results in terms of wine here.
It gets hot here. What are the hottest days that you get in this area?
Today is one of the hottest days, and it's 39 degrees Celsius.
That's like 103 degrees Fahrenheit or something like that. You could crack an egg on the ground...
Yeah, it would.
... and it would cook.
Certainly.
You have got to have pretty hardy grapes to be able to manage that type of heat.
We do. We do irrigate. It helps.