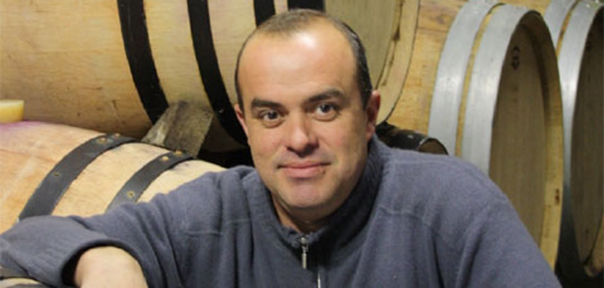 Cyriaque Rozier is the winemaker at both Château La Roque and Château Fontanès two very different Languedoc properties that share representation by legendary importer Kermit Lynch.
Château La Roque is a historic estate that can trace its history back to the Romans. Benedictine Monks created the impressive vaulted cellars that still house the bottles. The vineyard has 32 hecatares planted and the vines lay on terraced mostly southeast exposure with a soil of clay and limestone.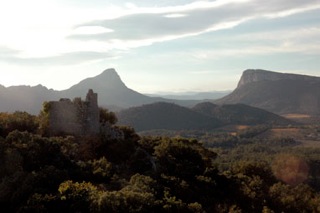 In 2003 Cyriaque started his own estate, Château Fontanès, which he works on in addition to his job as winemaker at Château La Roque. He started the estate from scratch planting all the vines himself. Kermit Lynch's literature describes the estates as being "hard as a rock, quite literally, and composed primarily of limestone and clay." In planting his estate Cyriaque picked his favorite plantings from estates in Côte-Rôtie, Châteauneuf-du-Pape, and Bandol. He farms biodynamically.
He talks to Christopher Barnes of Grape Collective about working at a historic winery, his relationship with Kermit Lynch and starting his own estate.
Christopher Barnes: Cyriaque tell us a little bit of your background.
Cyriaque Rozier: I am a winemaker in the South of France in a small area called Pic St-Loup. I have two projects. I have been the winemaker for 15 years in Château La Roque, all the estates, and famous estates and the big salon, and I have my own project called Château Fontanès I started there in 2003.
Fantastic. Tell us about Château La Roque. It's owned by the monks, right?
Right. It's a really old estate. We have written evidence that Château La Roque has been making wine on the Pic St-Loup since the 13th century, and it still belongs to the monks at this moment. They produce olive oil also, and they have lamb.
Lamb?
Yes, in the 14th century.
You can have a pretty good meal with all of that.
It's interesting to see this tradition, because the people feel that it started at the beginning of the 20th century to produce a lot of wine, not necessarily good wine, but there is a whole tradition.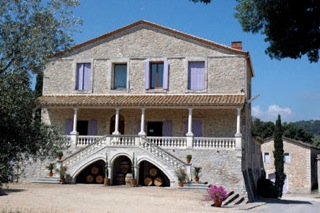 Fantastic. Château La Roque has been represented by Kermit Lynch since 1989, correct?
Yeah. It's one of the first wineries in the South of France that Kermit started working with, and also with Lasco and with the Hermitage of the Pic St-Loup, there were three wineries Kermit started working the second time. He started in Bandol at the beginning, because he is a real fan of the Mourvèdre in the South of France. That's why now this cuvee is also a cuvee with Mourvèdre, because Kermit insists to the winemaker to plant some.
Fantastic. Working with Kermit Lynch, he's obviously one of the iconic importers. Is there a lot of pressure to keep his standards up every year, to make sure he's happy with you guys?
Yeah, I think it's interesting, because when you work with Kermit, you can't make a mistake. After, it's a good job, because we meet him every year in Bandol, we have some dinners, some tasting. Last time we drank the last bottle of '89 of La Roque. It was the last bottle in his cellar, it was a blind tasting and nobody knew what it was, it was interesting.
After we tried a lot of things, we talked about the process, what we want to do, what we are trying to do. It's interesting. After his job is to promote the wines we produce in France. He does a good job in the United States for us.
He thought so much of you that he took on your own project. Why don't you talk a little bit about that?
I work with other wineries for 15 years, and then I want to do what I want to do. That's why I started Château Fontanès in 2003, so the way is to have 100% my own selection in the vineyard, I don't want any clones. It's really high density, you can find the 19th century in the Languedoc, so it's 10,000 plants per hectre, so it's double what you can find normally in the South of France.
It's 100% biological and biodynamic, and I have other production with olive trees, with saffron, with some fruits, etc.
Tell us a little bit about the Languedoc as a region. The Languedoc produces a lot of wine, there's oceans of wine being produced from the Languedoc, yet at the same time there are pockets of quality winemaking going on there.
I can speak for the Pic St-Loup, because we have a special terroir on the Pic St-Loup. A special climate, it's the coldest climate for the South of France, and you can see that we have the same rain as you can find in the North Rhone. After, what's interesting is that in many places in the Languedoc, people were able, at the end of the 19th century, to plant vineyards where they couldn't do anything else.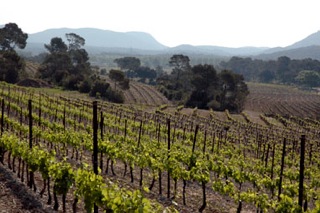 At the beginning you have the vineyard at the top of the hill or something, good exposition, but it's at the end of the 19th, and at the beginning of the 20th, all the vineyards are going down to produce more and more. Now it's the second time, the third time, it's going up. That is a tradition, but it depends what you want to be a producer of. If you want to do quality.
How has it been running your own estate? It's one thing being a winemaker, and it's another thing being the owner and having to write the checks and everything. It's almost a different skill set, isn't it?
Yeah, a different job. I think the most important thing to see in a vineyard are beautiful grapes, it's easy to make wine. After you can talk about it, you can drink, you can sell the vintage. But the job is in the vineyard, that's 90% of making wine. After I have to travel to do tastings and talk about the wine, but after, the rest is easy when you have good wine.
When you decided to start your own wine, did you approach Kermit? Did you say "I'm interested in doing this, is this something you would be interested in?"
Yeah. I knew Kermit before I started my project, so we had some informal dinner or lunch together with other winemakers, and we talked about it, and I told him what I wanted to do. He said to me, "The first bottle you have, send me some samples in Bandol." That's what I did, and two days after, I had a request. He said, "I want everything."
You must have been jumping up and down that day, right? When an importer like Kermit Lynch takes you on, it's a big deal.
Sure. I have my project, I'm working in Château La Roque, so it's a busy time, so it's important for me to have an importer like Kermit for my wines. I don't have the time to sell my wines, it's a good deal for me.
Tell us a little bit about your philosophy of winemaking.
I think we have to change with other winemakers, with people, that's the only way. The most important thing is to have dinner together with friends, to talk about wine, to cook. It's not fun if you are drinking alone and not talking about wine with others. I think it's really a philosophy to have fun with friends and talk about wine. Tasting other regions, you can find many interesting wines in other countries. You have to taste all the time and talk about it, and try to understand what the winemaker is trying to do with the wine.
You made a decision on your own estate to go biodynamic. Why was that?
I don't want to be asked too many questions when my child goes into the vineyard and eats grapes. When you drink my wine I don't want to be asked too many questions. That's it. I'm not sure if the wine is better, I don't know, but what I want, I want to sleep well. I think it's not difficult to produce wine in this way. That's the nature, my grandmother is using some plants, she is working maybe 50 years before, and it's easier.