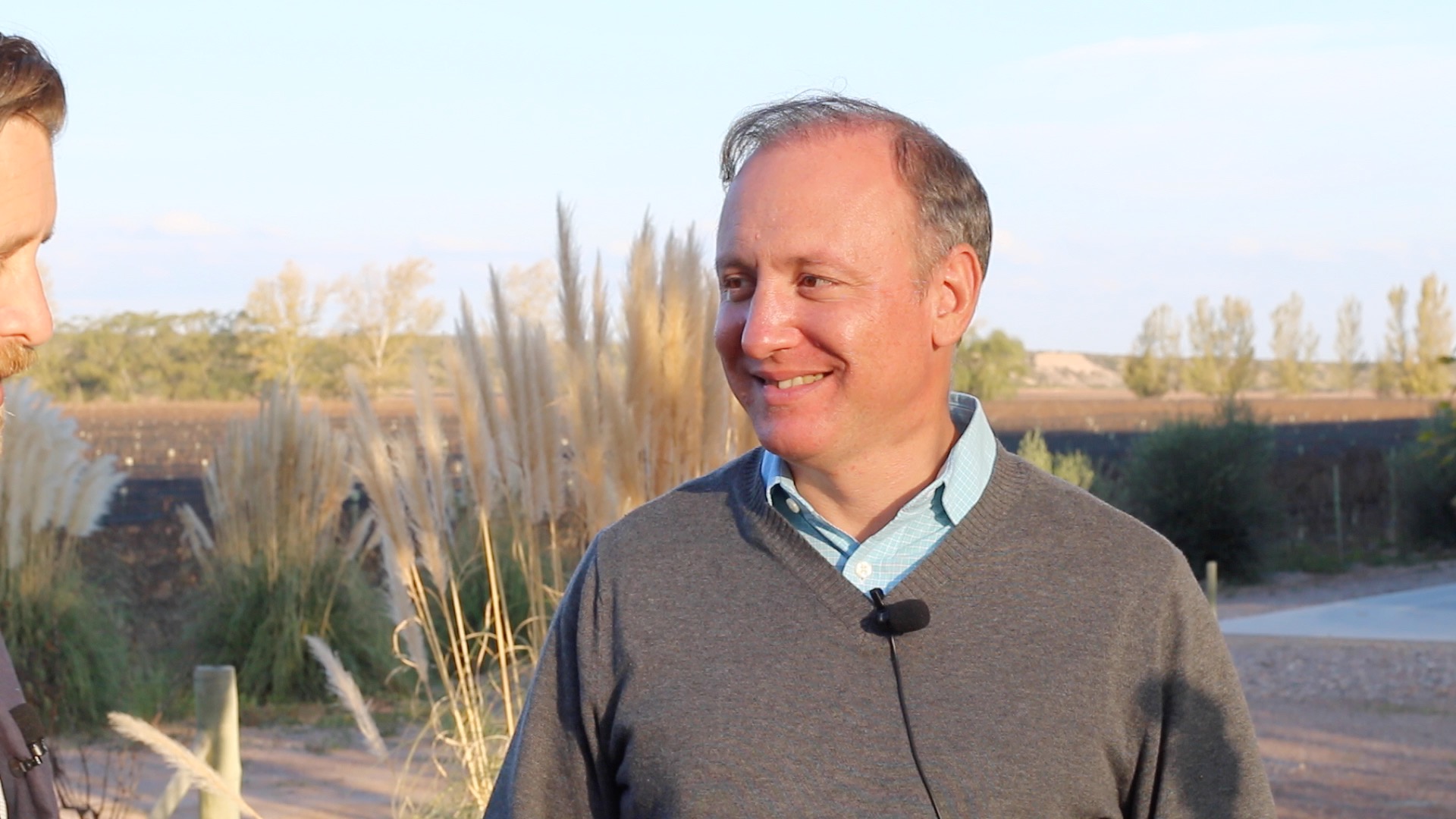 Huarpe is owned by brothers Max and José Toso. They are part of the Toso wine family which owns Luigi Bosca. Max runs the business as General Manager and José is the winemaker.
José had previously worked as a winemaker in Europe for six years. He was chief winemaker at J. Hofstaetter Winery in Alto Adige, Italy and winemaker at the Graf Adelmann Winery in Baden-Württemberg, Germany. Max has a business background and previously worked as a consultant at McKinsey & Co. in Argentina.
The Huarpe winery is located in Agrelo, Mendoza's first viticultural area. It is at the foothills of the Andes, and has alluvial soils, and its climate consists of cool nights and warm days.
Max, tell us about Huarpe. How did you and your brother start this winery?
We were literally born in a winery. Our family has been in the wine business for a very, very long time, but Huarpe is a new project. José was returning after a decade in Europe and I was trying to quit consulting, and so we decided to start Huarpe in 2003, putting together our backgrounds as wine people. We know Mendoza and now we're trying to help in the development of Argentine wines in international markets.
What's the philosophy of winemaking at Huarpe?
The key is to pay attention to our terroirs, in combination with our district and what we are trying to capture up front. Agrelo is our home, but we are also making wines in the Maipú area and the Uco Valley. We are trying to express our terroir by using the best technology available.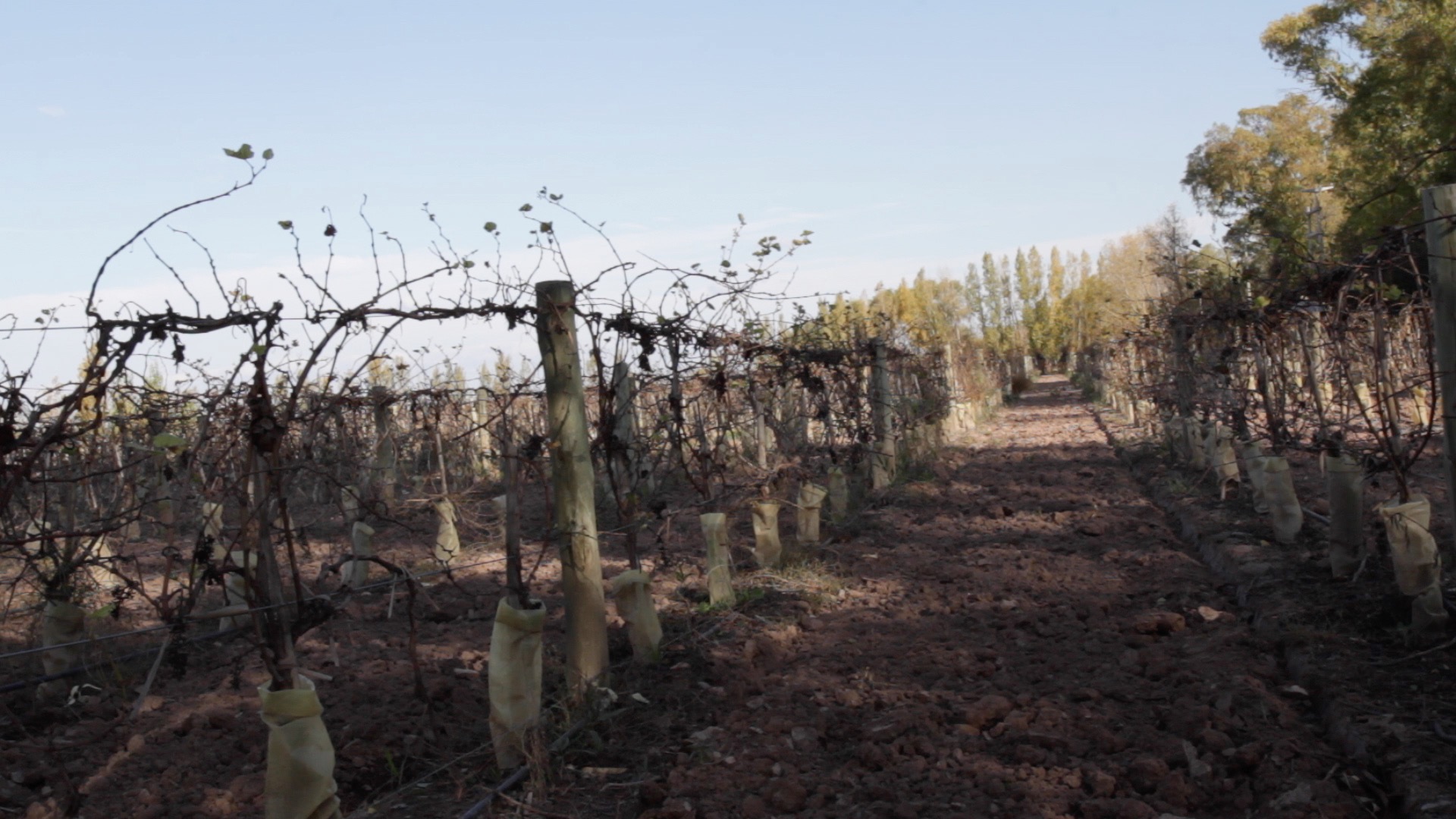 Tell us about Agrelo. Why did you choose Agrelo to be the home base for the winery?
Agrelo is a high altitude area, so you cannot have a high yield here, yield is controlled by altitude in this district, which is also is known as the capital of Malbec. Malbec is home here in Agrelo. We're not that creative. There are a lot of big brands around us, so it was kind of an easy choice.
Tell us a little bit about the terroir of Agrelo.
Agrelo has an alluvial soil system, very deep alluvial soil with a balance of clay, sand, and silt. You have to go down about 10 feet to hit ground rocks, so there is a lot space to develop a root system. It is also a very cold area, not only because of the altitude, but also because of the flow of air. It's going down from the Andes mountains which we have on the west and we have a small hill on the east, so the air gets stuck and this make it very cold, and we really like cold weather wines.
You do some very interesting blends. Tell us about the philosophy behind the blends?
The three top districts that we work in are Agrelo, Maipú and Uco. We asked ourselves what the best blend is that we could produce in this area. So in Agrelo, the answer was easy. It should be a blend based on Malbec, and the best grape blend for Malbec is Cabernet Sauvignon. We're trying to add Malbec as the backbone and Cabernet Sauvignon for its spicy notes. In the case of Maipú, we think of Maipú as one of the best Cab areas, and Merlot as the best grape blend for Cabernet Sauvignon.
We think the Uco Valley is the best area for grapes that require a long maturation period, such as Bonarda and Petit Verdot. Bonarda and Petit Verdot are a great pair because you have both the fruit character of Bonarda and then the floral notes of Petit Verdot together with the tannin content, and you also have balance and structure with these two grapes.
Your brother was a winemaker in Germany and in Italy. How has his European experience influenced winemaking in Mendoza and helped you make a truly Argentine wine?
I think you have several influences in Argentina, and this is what is to be Argentinian. It's a country of immigrants, as yourself, you are Argentinian, right?
That's correct.
Christopher Barnes, Max Toso, José Toso
An immigrant! So we have a lot of different influences. Obviously, the European influence is very strong, and so we were searching for wines with balance, not highly extracted wines, but wines with elegance and balance. I think that is very European.
Max, tell us what you think are the most exciting things going on in the Argentine wine industry right now.
I think what we are doing right now is showing the world that we are much more than Malbec, and that Argentine winemaking is very diverse. Maybe we are not viewed that way in the world, so we need to communicate it. Now we are showing our diversity. We are also producing great Cabernet Sauvignon, Bonarda, white grapes, sparkling, so this is the most interesting part. Showing the world what we can produce. Diversity is the key.
You make a Pinot Noir which is interesting. Tell us about the Pinot Noir that you make.
Basically when José returned from Europe, he was talking about Pinot Noir, and everyone here was talking about Malbec. He thought in Argentina our wine industry is so huge that there is a place for everything, for every grape. We just need to find it. So we did a lot of trials, in different areas, and after a lot of mistakes, we found a vineyard in Vista Flores which is great for Pinot Noir, and we are producing a more European style. Traditionally, the Argentinian Pinot Noir was heavier and darker in color. We are trying to do a real Pinot Noir, with more character.
What's next for Huarpe?
Right now, we have the new Huarpe terroirs and this is where our growth is going to come from in terms of products. We have 17 different wines, which is a lot for a winery of our size, but blends and terroir for different blends is our focus in terms of product. We serve 11 different markets, but we are always trying to expand to new areas in the world. Always small volume channels, we are not serving big accounts. We service independent liquor stores, restaurants, and we even do direct sales in different part of the world. In terms of markets, our focus is to try to take Huarpe to many more different places and geographies.
How have you grown since you started? You're doing 40,000 cases now, that's not a huge winery but it's a good, medium-sized winery.
Exactly. Our growth rate has been very fast. But José has a lot of experience in growing output each year. In his previous job, he actually moved a winery from about less than a million bottles per year to five million bottles per year, and he even got a prize for increasing quality. We are not going that far, but we have experience, and most importantly we have a great supply.
Right now we produce more grapes than we are using, and so we still can grow, let's say about twice our size, but not more than that, because we will keep our idea that we need a guy to explain the wines. Our story cannot be told with only our bottle, you need a wine geek in front communicating, and you only get these people in the small volume channels. So we need to partner with these people and this is something we will not change with growth.
You're building a complex here, how would you describe it?
That's another challenge. In Argentina, financing is always a challenge and when a wine business grows, you need to invest a lot of capital. Obviously, you will never pay a dividend in the early stages of the project. We were very successful in entering a few markets, so now we need to invest a lot in the winery. You cannot get long-term financing here, so it always has to come from one's internal cash flow. Now, we are investing in client reception infrastructure. We need space for events both small and large, lodging facilities, and we would like to have a chef so we can create an experience for tourists.
Ruta Provincial 15 - Km 32
(5509) Agrelo, Luján de Cuyo
Mendoza
+54 261 4790222