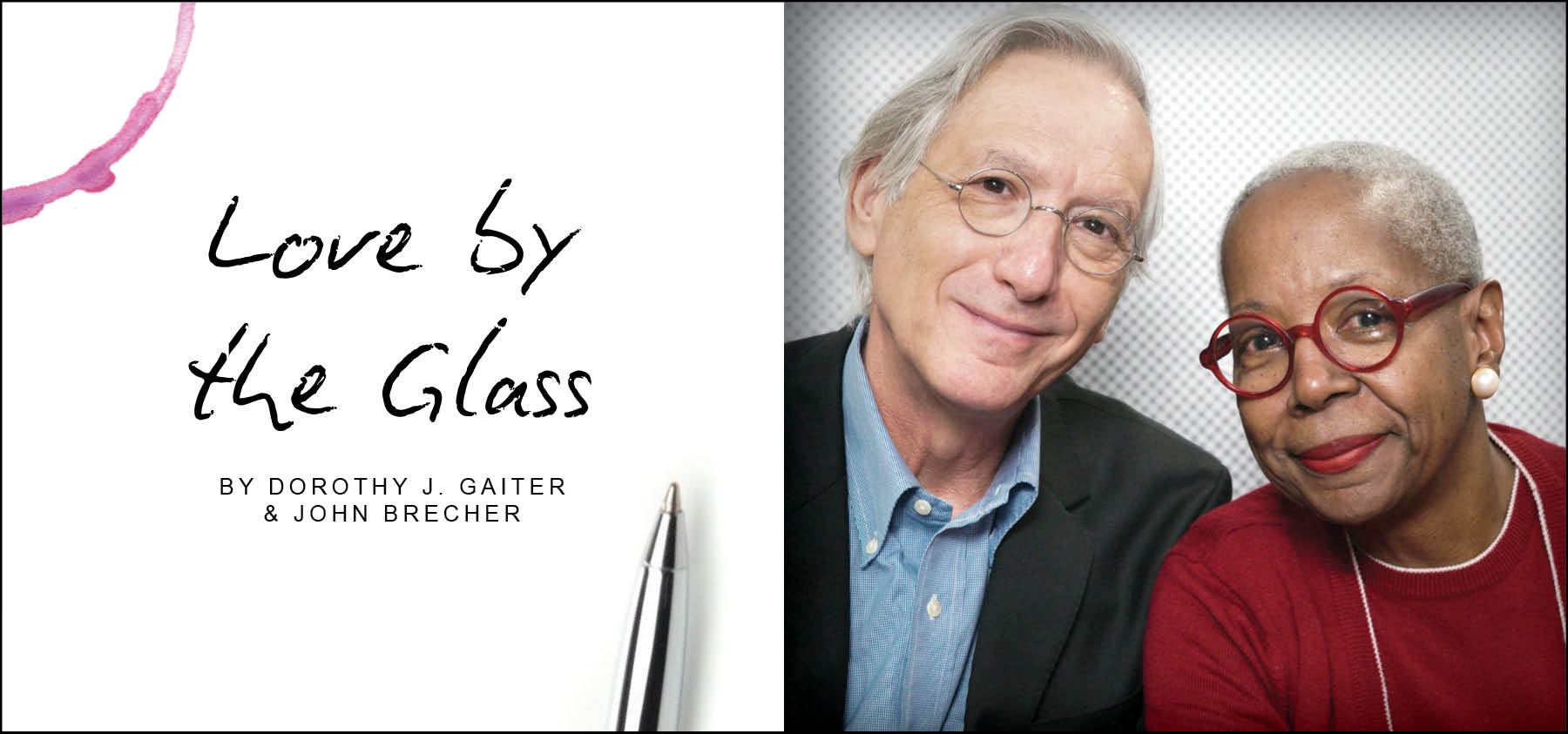 It has become cliché to ask of this year, "What else could possibly happen?" And yet the inconceivable continues to happen.
COVID-19 already had the wine industry and its many branches bent in submission. Now these fires, like the embodiment of multifaceted, multigenerational fury born of every wrong done to our planet, are sweeping away so much that is dear. The death toll from wildfires in California this year is at least 31. Almost 9,000 buildings have been destroyed and more than four million acres are in ashes, more than double the previous record for the amount of land burned in a single year in California. In Oregon, 10 have died. Experts have blamed human-induced climate change and poor management of forests for the wildfires. According to CalFire, since Sept. 27, fires have covered more than 65,580 acres in Napa and Sonoma counties, destroying 826 structures.
A recent tally put at 17 the number of wineries in Napa that suffered damage or were destroyed by the Glass Fire, many of them embedded in our hearts and memories like Cain Vineyard & Winery on wonderfully winding Spring Mountain and Dutch Henry Winery in Calistoga, which we visited two decades ago when Media and Zoë were little. While we tasted wines, they met Dutch, the dog, who sent them a postcard a few weeks later, thanking them for playing catch with him.
So many special places in Northern California. Spring Mountain Winery, whose Chardonnay was one of our favorite splurges in the '70s, sustained damage, as did Sterling. The fate of Paloma, which made fabulous Merlot at a time when "fabulous Merlot" seemed an oxymoron in Napa, is unclear. Château Boswell was an early casualty. Castello di Amorosa lost 10,000 cases of wine but the castle remains.
There are many ways to help wineries, but the easiest is simply to buy their wines or drink what you have and get more. That's what we have been doing every night. Some of our tastings notes from the past few days are sprinkled throughout this column.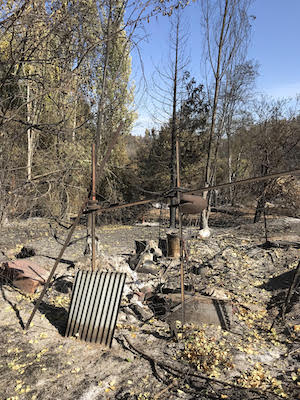 As we thought about what those affected by the current fires might be experiencing, we remembered the Olds family and what it has been through with three fires at its Sky Vineyards in Napa County, 2,100 feet high in the Mayacamas mountain range atop Mt. Veeder near the Sonoma County line. The Mayacamas Mountains are so beloved by Sky's founder, Lore Olds, 74, that he named his first daughter after it, Mayacamas Olds. (He also worked at Mayacamas Vineyards before founding Sky.)

(The Olds's family home, containing Sky Vineyards library wines, burned down in 2017. Photo by Mayacamas Olds.)
Sky Vineyards Mt. Veeder Zinfandel 2013. Rare combination of power, oomph and elegance, with fine structure. Lean and taut. What Zin can be. Dried rose petals, earth and plums, with great acidity. We paid $39.99 last year, but the winery is now selling it for $25 and shipping to most states, an awesome deal.
Mayacamas, 45, is general manager of Sonoma's Gloria Ferrer winery in the Carneros region. We met her last year when she was head of viticulture at Newton Vineyard on Spring Mountain, which sustained severe damage in the current fire. Lore's younger daughter, Skyla, 43, a lawyer turned winemaker, has been making wine with him at Sky since 2013. Lore Olds founded the winery in 1973, growing Zinfandel and Syrah organically on 14 acres and living in a home that he and his father built. It and the winery have always been largely off the grid, powered mostly by solar panels. We've been fans for decades.
If there's a winery to contact to ask about the long-term effects of fires on a winery and on the people who nurture and love it, Sky is a good – albeit painful -- example.
Sky Vineyards first experienced a sizable fire in 1996, when flames swept over the open land on the family's 200 acres. "Some of our property was burned then, but it wasn't the vineyards or any of the structures," Skyla told us. "In '08, it burned through part of the vineyard and structures. The chicken house was on fire twice and my dad was standing there with a hose in the backyard trying to save the chickens and put the fires out. We had 10 engines there."
The fires in 2017 were devastating. "There were actually three fires all around us. The Nuns fire was the largest, and they eventually turned into one complex," she said. The family lost four homes: the family home, Skyla's home and relatives' homes nearby. "The winery, which was built out of old wood in the '70s, miraculously did not burn and the four vintages that were either in barrel or bottle aging before release--that was all fine…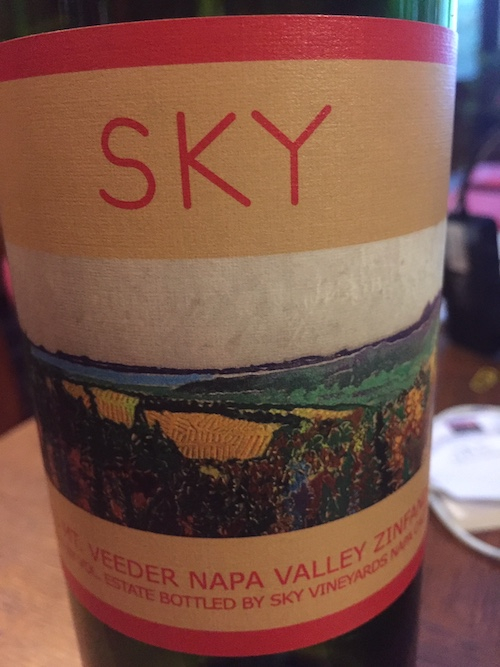 "But we did lose the house and in the basement of the house was where we had wines from the '80s and '90s. We kept 10 cases of every wine. The library was there so we lost virtually every wine from the '80s and the '90s. It was heartbreaking. One of the biggest losses you can imagine. You can rebuild a house but you can never have those wines again. It's very, very sad.
"Recovery takes a long time. I've been in therapy. I've traveled to other places to get out of the burn zone. I've worked really hard to try to repair my emotional and mental health. I'm sure it is so much worse for my dad going through it. He'd been up there for 50 years. He'd built the home by hand. He's an amazing artist. He does all of the artwork on the labels. His approach to the winemaking has been from a place of an artist. He has an incredible emotional bond to the property, the home, and the wine and for the entirety of your life's work to go up in flames and having to jump through the hoops that we have to jump through to just rebuild the house, it's been particularly hard."
What she called a "kernel" of hope, a way forward, "the current four vintages and the winery" surviving, helped them "start to try to crawl our way back."
"So as soon as we were able to get back on the property, through some back vineyard roads, we brought a tent and a camp stove and he's been living again on the property since 10 days after the fire. Now we have a little trailer for him and this year we finally started rebuilding the house and we've finally replanted some of the vines.
"You look around and half of what you see is the loss and everything that's burned and is gone but there's also the beginning of the rebirth of the place with the new vines and construction. It's a funny dichotomy of green and black.
(Skyla and Lore Olds)
"The communities have been amazingly supportive, like Sonoma and Napa and the wine communities across the country. Everybody has been so loving and supportive. But it's just working through the bureaucracies and clearing the red tape. It's hard. It took us two and a half years just to get our building permit approved finally and we're building a house that is tiny, 740 square feet, because that's all that we can, that's the easy route. Only half of the house apparently was properly permitted so we don't even get to rebuild the entirety of what we were living in for the last 30 years there." It would have been financially impossible to do that with upgrades to current building codes, she said, adding that some neighbors gave up on rebuilding and just moved away.
Skyla was on the board of the Mayacamas Volunteer Fire Department for six years and when she came off, Maya joined and is now board president. An uncle and two cousins, among those who lost their home on the property in 2017, are volunteer firefighters.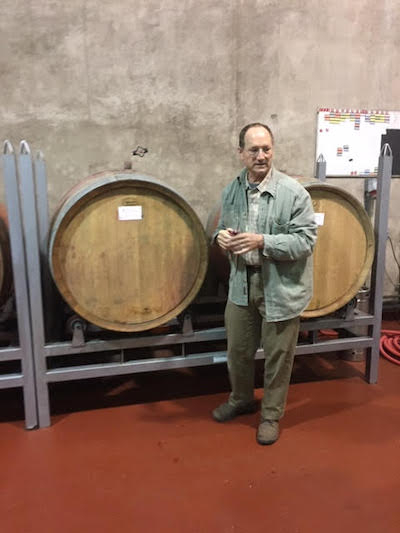 Cain Vineyard & Winery "Cain Five" Spring Mountain District 2007. Intense and still young, though with enough age to allow all of its components to come together. Beautiful fruit. It's the kind of confident wine that doesn't hit you in the face with any obvious fruit tastes but holds back and makes you come to it and really think about what it is. Rich and minerally. Dottie thought of a perfectly cooked black and blue steak. We paid $100 for this a few months ago and felt honored to drink it. A distinguished wine.
(Chris Howell)
On September 28, when the fires were spreading, we reached out to Chris Howell, winegrower and general manager at Cain, and his wife, Katie Lazar, director of sales and marketing, who have lived on the estate for 30 years. It was one of several emails we've exchanged since visiting them in 2018. They were so kind and their savory wines so elegant. When they came to Manhattan in February for a retrospective tasting, and later to hear us talk in Napa about the donation of our papers to UC-Davis's Warren Winiarski Wine Writers Collection, we saw them again. They and two other families who worked and lived on the Cain estate lost their homes, the winery, a barn built in 1871—all of the structures--and all the wine in the 2019 and 2020 vintages. Fortunately, wines from 2016, 2017 and 2018 had been stored safely off-site. They are assessing damage to the vineyard.
Newton Vineyard Napa Valley Unfiltered Chardonnay 2015. The nose is filled with nutmeg and acidity, not heavy and not sweet. It's fetching, clean and elegant. Unlike so many Chardonnays, it has a restraint that makes it great with a meal. Lovely. $44.99.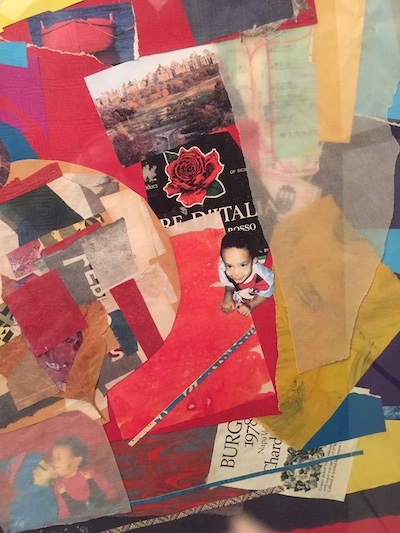 Newton had completed a costly renovation that included its signature pagoda. Last year, we attended a spectacular dinner in Manhattan hosted by general manager Jean-Baptiste Rivail in celebration of Newton's 40th vintage. Rivail said the winery's owner, luxury-goods conglomerate LVMH, has vowed to rebuild. "It is devastating to see how much efforts have been wasted in just one night, but the spirits are high," Rivail wrote us.
(Collage by Erica Bogin)
When John commissioned for Dottie a collage of some of her favorite things for her birthday decades ago, the only American wine label was a Burgess Cellars Chardonnay. The Lawrence family that owns Heitz Cellar and its president and CEO, Carlton McCoy Jr., had just purchased Burgess on September 11. While they were saddened by the loss of some of the winery's heritage structures, they were thankful that no one was injured and that the vineyards hadn't sustained greater damage.
Charles Krug Winery Napa Valley Merlot 2016. Linear, as Merlots can be, but lovely fruit and so easy to enjoy. Classy and tight. As the night goes on, the wine becomes rounder, fuller and utterly pleasing. For $25, this is a bargain and surely a surprise for people who remain skeptical of Merlot.
The 3-Michelin star restaurant at the famed, luxurious Meadowood Resort burned to the ground, as did some of banquet areas behind it and guests rooms. Bill Harlan, founding partner, hosted a grand Open That Bottle Night dinner in a banquet room when we headlined last year's Symposium for Professional Wine Writers at Meadowood. He vowed to rebuild "even better" than before.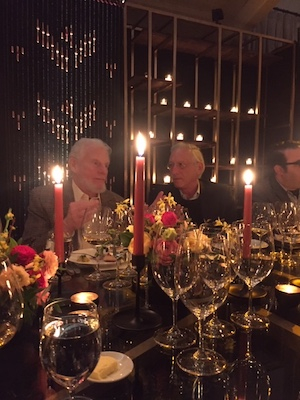 For that very special OTBN at Meadowood, Charles Krug Winery donated bottles of its 1974 Vintage Selection Cabernet Sauvignon and Robert Mondavi Winery donated the 2001 "To Kalon" Reserve Cabernet. For many years, we opened a 1974 Mondavi Cabernet Sauvignon on our wedding anniversary, but long ago had our last bottle. The generosity of the wineries was so touching and the wines were delicious, alive with lovely fruit. Charles Krug Winery, which is owned by Peter Mondavi's family, is allowing PG&E to use some of its property as a base camp from which to repair power lines, shut off gas and investigate the cause of the fires while aiding firefighters.
(John with Bill Harlan at OTBN)
Winery owners with deep pockets can rebuild structures. They can hire professionals to handle the paperwork. But many wineries in the area are still family-owned and small, struggling likely before the fires, up against the ropes with COVID-19 restrictions, even more vulnerable now to larger, consolidation-minded companies. Some wineries had completed harvesting but others had not. Smoke is everywhere, so for some wineries there will be no 2020 vintage. The Napa Agricultural Preserve, zoning legislation that conserves about 37,000 acres for agricultural or open-land use in perpetuity, was divisive when it was adopted in 1968, but it seems more prescient every year.
"I worry that the victims of these fires are going to have less community support than we had, which was what carried us through," Skyla told us. "Everybody showing up while the fires were still burning, with donations of clothes and other basic necessities and for months, people in the community giving you discounts because you were a fire victim. It was a really prolonged period of support and help.
"And now, everybody is traumatized from going through it again and they are less able to be there and be present for people who are losing everything. So I hope that we can figure a way to support them in the way that we were supported because that really was a tremendous piece of getting through the first few difficult months."
Dorothy J. Gaiter and John Brecher conceived and wrote The Wall Street Journal's wine column, "Tastings," from 1998 to 2010. Dorothy and John have been tasting and studying wine since 1973. In 2020, the University of California at Davis added their papers to the Warren Winiarski Wine Writers Collection in its library, which also includes the work of Hugh Johnson and Jancis Robinson. Dottie has had a distinguished career in journalism as a reporter, editor, columnist and editorial writer at The Miami Herald, The New York Times, and at The Journal. John was Page One Editor of The Journal, City Editor of The Miami Herald and a senior editor at Bloomberg News. They are well-known from their books and many television appearances, especially on Martha Stewart's show, and as the creators of the annual, international "Open That Bottle Night" celebration of wine and friendship. The first bottle they shared was André Cold Duck. They have two daughters.

Banner art by Piers Parlett