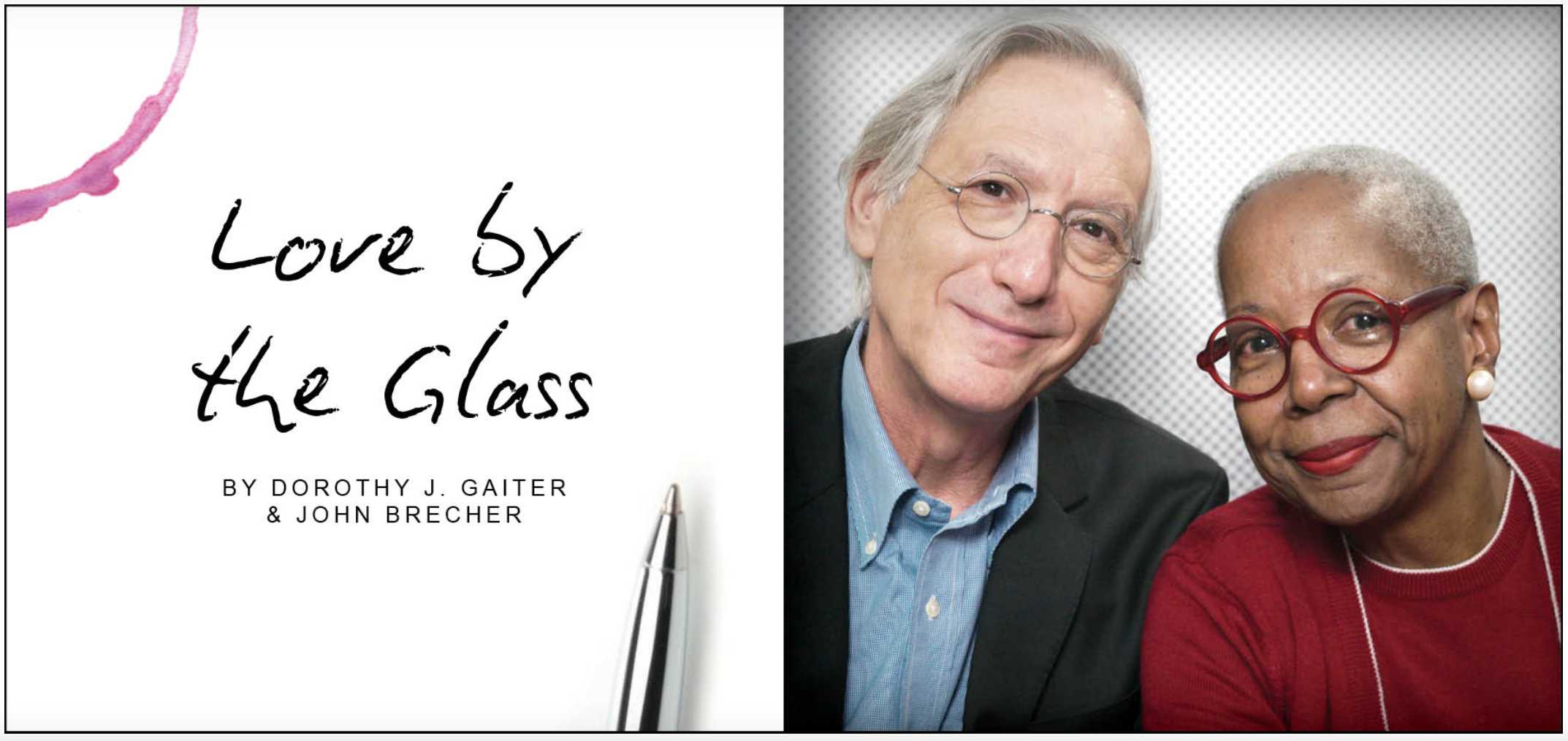 A couple weeks ago, without a passport, we traveled to a far-away magical land called Brooklyn. Of course, we've been there many times before. When Media and José travel, they generously allow us to stay at their stylishly appointed place. Every visit to their corner of the universe feels wondrous, but this time was super-special because we stayed a little longer than our usual two or three days. This allowed us to unspool and exhale a bit, which we needed. As usual, we employed their curated list of places to find sumptuous food. However, the wines that we enjoyed, from the merely interesting to the delicious, were our contributions to the bliss. This is where Troupis Winery's 2021 Hoof & Lur skin-contact Moschofilero comes in.
On our first night there, we went to Saint Julivert Fisherie, which does heavenly things with seafood, and, as we had before, ordered some wines by the glass. The Hoof & Lur had such a fetching orange-zesty tartness, with ginger and rose petal notes and a grippy texture, that we then ordered a bottle. It swayed and glided perfectly with Dottie's creamy risotto with smoked eel and conch and John's small plates of Cantabrian anchovies with beet butter and sea salt, tumeric-spiced Puerto Rican hushpuppies and whipped mackerel paté. So the next day, we contacted the family-owned winery in high-elevation, cool-climate Mantinia (or Mantineia) in Peloponnese, to ask about this 100% Moschofilero. It's a pink-skinned grape that we mostly associate with pleasant white wines. This interview, through emails with winemaker Kostas Koutsoumpos, has been edited.
GC: Tell us a little about yourselves.
Koutsoumpos: Tasos Troupis was my wife's father and he had the idea to build a winery and so I was the one who made his wish come true. At this point, I would like to mention that I am proud that Tasos had the opportunity to see his wines being recognized in Greece and abroad before he passed away in 2020. Currently, the winery belongs to my wife Panagiota and her brother Yiannis. Our son Thodoris is currently studying enology and having winemaking experiences around the world with the vision of coming back to join our team.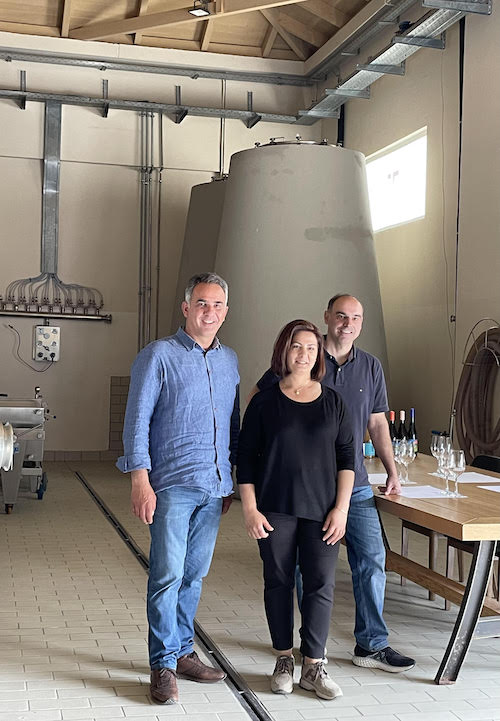 The family has been involved in viticulture since the 1970s, when they used to make their own house wine and sell the remaining grapes to local producers. Troupis Winery's history began in 2010, when the family decided to build a modern synchronized winemaking facility and develop 17 acres of vineyards. Today the family owns more than 24 acres of vineyards consisting of Moschofilero, Assyrtiko and an experimental plot of Koliniatiko.
(Kostas Koutsoumpos, winemaker and husband of Panagiota Troupis, who owns the winery with her brother Yiannis Troupis, right, the winery's manager of viticulture)
GC: Before farming, was the family involved in another type of business?
Koutsoumpos: I was a physical education teacher, my wife was an economist in a bank and her brother Yannis is an agronomist. Since then, our careers have changed towards the winemaking and the viticulture.
GC: How much wine does Troupis produce each year and, of that, how much is Hoof & Lur skin contact/orange wine?
Koutsoumpos: The annual total production is about 20,000 cases and the production of Hoof & Lur is about 2,700 cases for the vintage 2022.
GC: When did you start making the Hoof & Lur? You have other labels. Are they sold at different price points?
Koutsoumpos: We started producing the Hoof & Lur in 2016. Apart from Hoof & Lur, we produce more skin contact Moschofilero labels. They all differ in terms of winemaking, vineyard management or vineyard plot.
We want to take the Moschofilero variety to the limits and show that Moschofilero has potential. By experimenting both in the vineyard and in the cellar, we have come up with all these different expressions of the variety. Within our Moschofilero range, someone can find different styles of wines. Our winemaking consists of stainless steel, concrete, and oak/acacia vessels. Our wines are sold at different price points depending on the type of vinification.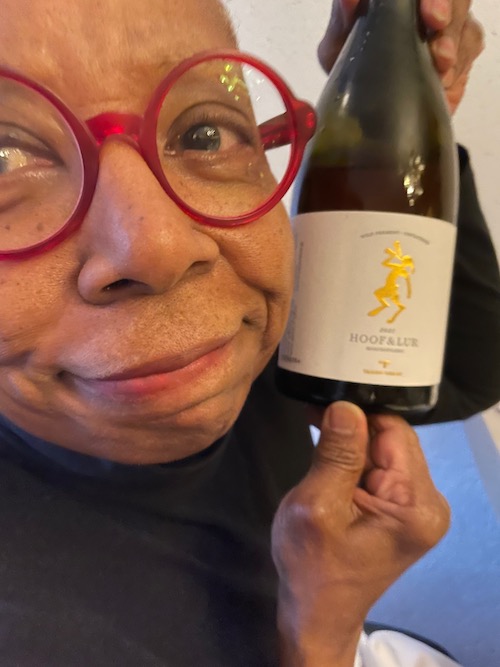 CG: The Hoof & Lur is delicious, but we mostly think of Moschofilero as a white wine. How did you decide to make it orange, with skin contact?
(Dottie with a bottle of Hoof & Lur)
Koutsoumpos: We were the first winery in Mantinia to experiment with Moschofilero and we found that the advantage of this grape is on the skin. So we decided to produce a range of wines with different extraction times, which gives different results each time.
GC: How long did the must in the 2021 Hoof & Lur have contact with the skins and does that length of time change year to year, depending on the harvest? Your Ekato got 100 days of skin contact.
Koutsoumpos: The Hoof & Lur was on the skins for 15 days. However, our winemaking isn't based on a recipe. Each vintage differs because of the extreme conditions during the maturation period (April to October). Due to the altitude and the cold summer nights that extend the maturation, the harvest of Moschofilero in Mantineia is the latest harvest in Greece! So all our decisions concerning the skin contact duration are made by tasting the must every day. Ekato is another low intervention wine, a reddish expression of Moschofilero. It's unique, with a special aroma and color. Ekato in Greek is translated as a hundred.
GC: Why is the wine we had called Hoof & Lur?
Koutsoumpos: The label comes from the shape of the semi god "Pan." Here we managed to combine the old with the new. Pan had two natures. He had the animal nature "Hoof" (he was a goat from the middle and below), meaning the old way of winemaking with minimal intervention techniques, the skin contact, made in concrete and the participation of oxygen during the whole process of the winemaking. The human nature "Lur," flute (he had a human appearance, body) meaning the evolution, the use of new concrete tanks, the use of cooling to protect aromas, etc. So searching back in time for modern ideas we created this alternative style of Moschofilero, fermented entirely with indigenous yeasts and minimum intervention.
GC: The Hoof & Lur label says that the wine is the winery's "homage to the wines native to the high plateau of Mantinia for millennia," the way your fathers and grandfathers remember it "skin contact, spontaneous fermentation, unfined and unfiltered with minimum sulfites." Could you talk about that?
Koutsoumpos: Yes, this is right. Back in the days when no machines existed (no press, no crusher or destemmer), everything was done manually. People used to foot tread the grapes and the wine took on an amber/orange color from the skins. Of course, no SO2 protection was used, and the wines were being vinified in concrete containers naturally without yeast additions. Then they used to rack and bottle the wine unfiltered.
GC: It has nice weight and orange color from skin contact and is yet so crisp. How was it made?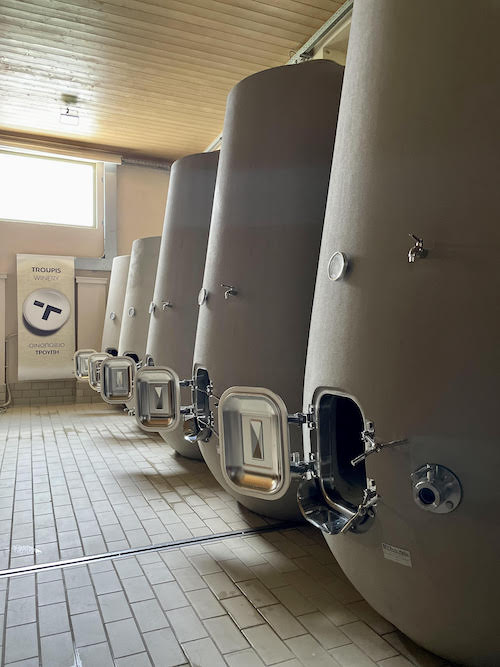 Koutsoumpos: The whole process takes place in concrete tanks only with the indigenous yeasts. We believe that the vinification in concrete tanks gives more texture and aroma expression in our wines. Moschofilero gets the crispiness because of our terroir here in Mantineia. The high-altitude plateau of Mantineia transfuses cold nights during the fruit ripening season which helps in preserving a perfect balance in terms of acidity, aroma and mouthfeel.
(Troupis cement eggs)
GC: You also make a white and a rosé from Moschofilero. Why is Moschofilero your passion?
Koutsoumpos: First of all, we are located in an origin where Moschofilero is a Protected product (P.D.O), an area where wine has historically been made. Secondly, we understood from the first years that Moschofilero was an unexplored variety, as all the wineries around were producing only white, easy-drinking Moschofilero wines. So it was a challenge for us to discover, rebirth and re-introduce Moschofilero to the consumers. I think we succeeded!
GC: Is there a market for orange wine in Greece? Do many wineries there make it?
Koutsoumpos: The orange wine trend is also developing in Greece.
However, we at Troupis Winery don't call our wines "orange." Even if we use native yeast strains, vinify and macerate our wines into the concrete with minimal intervention techniques and limited SO2 added, we prefer not to call the wines "orange wines," as this term can easily mislead the consumers.
***
One footnote: One of the traits we have discovered that good wines share is a sense of place. We enjoyed the Hoof & Lur in Brooklyn and a week later found and enjoyed Troupis Winery's Holy Mania, a wild ferment, unfiltered lighter colored 100% Moschofilero ($22.50), with more weight. There was a line through both, a sunny minerality, if you will, that took us to Greece.
While researching this column, we read on the website of Athens-born Master of Wine Yiannis Karakasis that "Almost all of the Moschofilero grown in Greece is found in this location," in the Mantineia plateau of the Peloponnese. He added, "The terroir influences the variety greatly. George Skouras [who studied in Burgundy and is credited with helping pioneer the modern Greek wine industry] argues that it is the ultimate terroir-driven variety. 'Wherever it was planted (except Mantineia), it did not succeed. Examples such as Mexico, California, Spain and Greece in places. Moschofilero loves and is favoured by the cold climate and high altitude of Mantineia. Outside the zone, it loses its acidity and aromas.'"
That is a pretty darn specific place. If overseas travel is not in your future anytime soon, try to find a Moschofilero from Mantineia (or Mantinia). The family behind Troupis Winery's efforts is having fun with it and you should, too.
Dorothy J. Gaiter and John Brecher conceived and wrote The Wall Street Journal's wine column, "Tastings," from 1998 to 2010. Dorothy and John have been tasting and studying wine since 1973. In 2020, the University of California at Davis added their papers to the Warren Winiarski Wine Writers Collection in its library, which also includes the work of Hugh Johnson and Jancis Robinson. Dottie has had a distinguished career in journalism as a reporter, editor, columnist and editorial writer at The Miami Herald, The New York Times, and at The Journal. John was Page One Editor of The Journal, City Editor of The Miami Herald and a senior editor at Bloomberg News. They are well-known from their books and many television appearances, especially on Martha Stewart's show, and as the creators of the annual, international "Open That Bottle Night" celebration of wine and friendship. The first bottle they shared was André Cold Duck. They have two daughters.
Banner by Piers Parlett