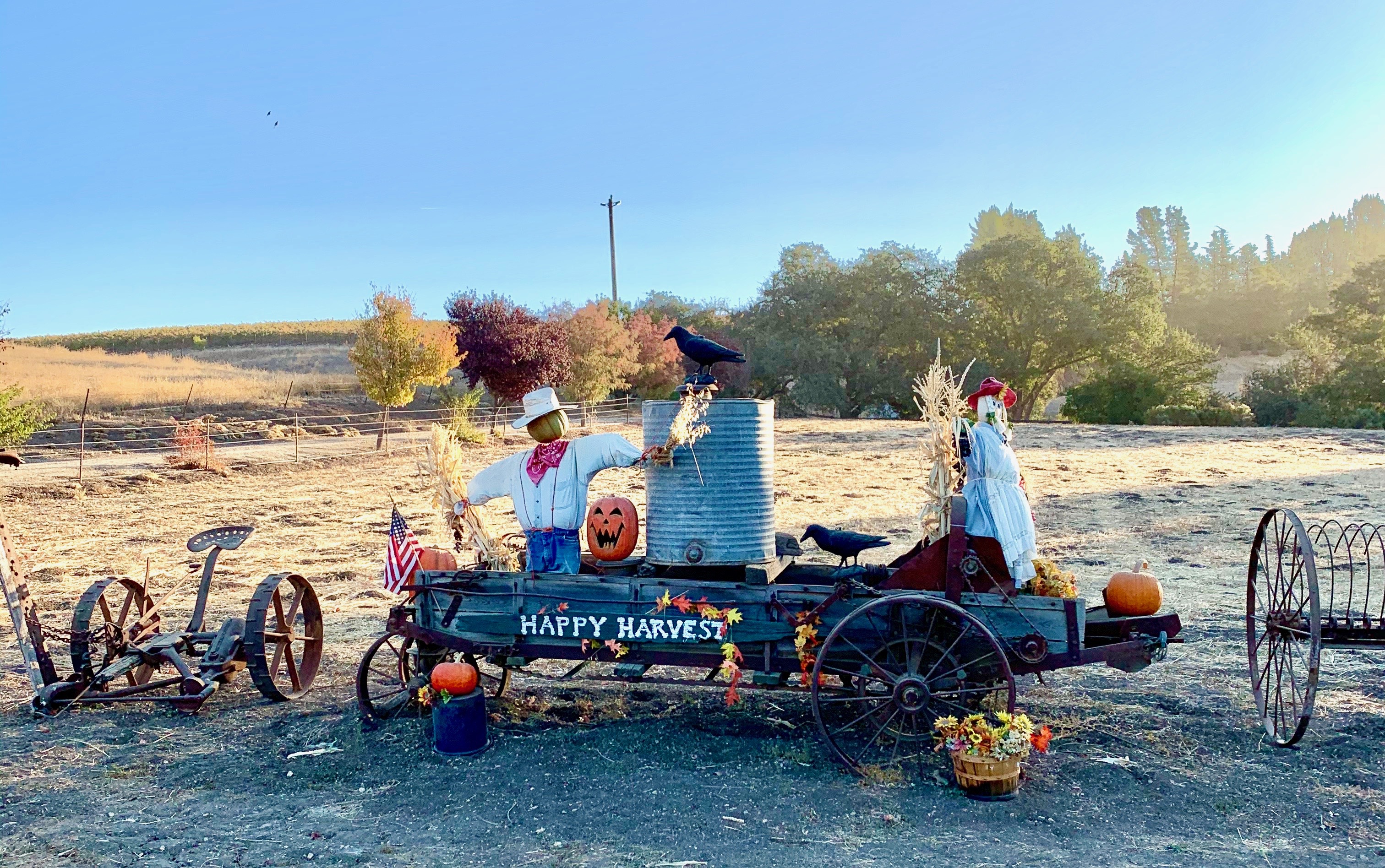 The Paso Robles wine region earned its name from the Spanish El Paso de Robles, meaning Pass of the Oaks, for its beautiful forests of oak trees. If it were being named today, one could imagine that it might be a toss-up between the words Robles and Viñedos (Vineyards) due to the region's current fame for its outstanding wines. Although grapevines were introduced to the area by Spanish conquistadors in the late 1700s, it wasn't until the mid-1900s that the industry really began to take off. Today, the rolling hills of Paso Robles are a blend of grand old oak trees with vineyards, pastures, and working farms.

Located in California's Central Coast, halfway between Los Angeles and San Francisco, the greater Paso Robles AVA, founded in 1983, is a large area — almost three times the size of Napa. In 2014, the region was divided into 11 sub-AVAs helping to distinguish each unique area of microclimates, soils, and elevations. The immense geological diversity allows many types of plantings to thrive, from classic California Cabernet and Zinfandel, to Rhône-derived Grenache, Syrah, Mourvèdre, and Viognier, as well as more unexpected varieties like Tannat and Albariño. And while this warm region's summertime temperatures can easily reach 100 degrees fahrenheit or more, it is blessed with a huge diurnal swing (40 to 50° nightly temperature drops) that preserves the grapes' acidity. The wines produced here may be big and bold, but they have a light, fresh quality to them.
Today there are 40,000 vineyard acres in Paso Robles and 200+ wineries, up from just 50 twenty years ago. While the perfect viticultural conditions have provided the base for Paso's tremendous growth, it is the relaxed vibe and strong social fabric of the community that has turned the area into a magnet for those looking to be a part of a dynamic and growing wine scene.

Paso Pioneers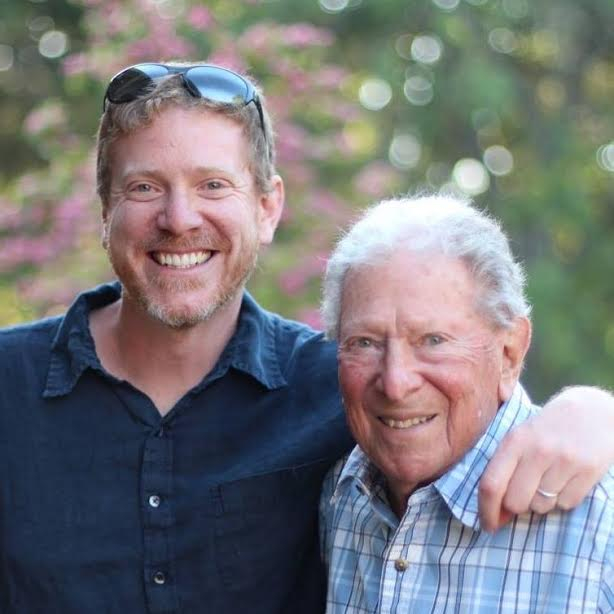 Paso's friendly, nonconformist vibe has attracted renegades for decades, long before its current fame as a top winemaking region. Jason Haas, Partner at Tablas Creek Winery, says that Paso doesn't have a single dominant model that winemakers are expected to follow. His father, the late wine importer Robert Haas, was a pioneer of California's Rhône movement. Haas Senior's partnership with the Perrin family of Château de Beaucastel led to the founding of Tablas Creek Vineyard in 1989. Based on the similarities between this part of California and the southern Rhône, the company imported new cuttings from Châteauneuf-du-Pape, including Grenache, Mourvèdre, and Syrah, and introduced new varieties like Picpoul and Counoise. Today, this environmentally friendly winery produces some of the region's best Rhône-style blends from certified organic and biodynamic vineyards.
(Photo: Jason and Robert Haas, courtesy of Tablas Creek Vineyard)
The spirit of innovation that people like Robert Haas (and others before and after him) have brought to Paso Robles lives on its many vibrant communities where no one is stigmatized by trying new wine styles or methods of production. "We're not like, say, Napa," says Haas, "where you're expected to make Cabernet, or the Sonoma Coast, where you're expected to make Pinot Noir. There's room to experiment without having to go against the rest of your community."
Friends and Families
The strong connections between those living and working in Paso is a huge part of the community's fabric. Individual winemakers may be doing their own thing, but it's not in a vacuum — there's a heartwarming camaraderie that exists beyond the vineyards and cellars. Haas says that people in Paso are friends who socialize outside of their work interactions. "A lot of [the camaraderie] comes from the example set by the first generation of winemakers here," says Haas. "Whether you're talking about Ken Volk, or Jerry Lohr, or Justin Baldwin, or Gary Eberle, they set the example of putting community first, and their own brands second. I think we've done a good job of keeping that collegiality even as the region has grown and become better known."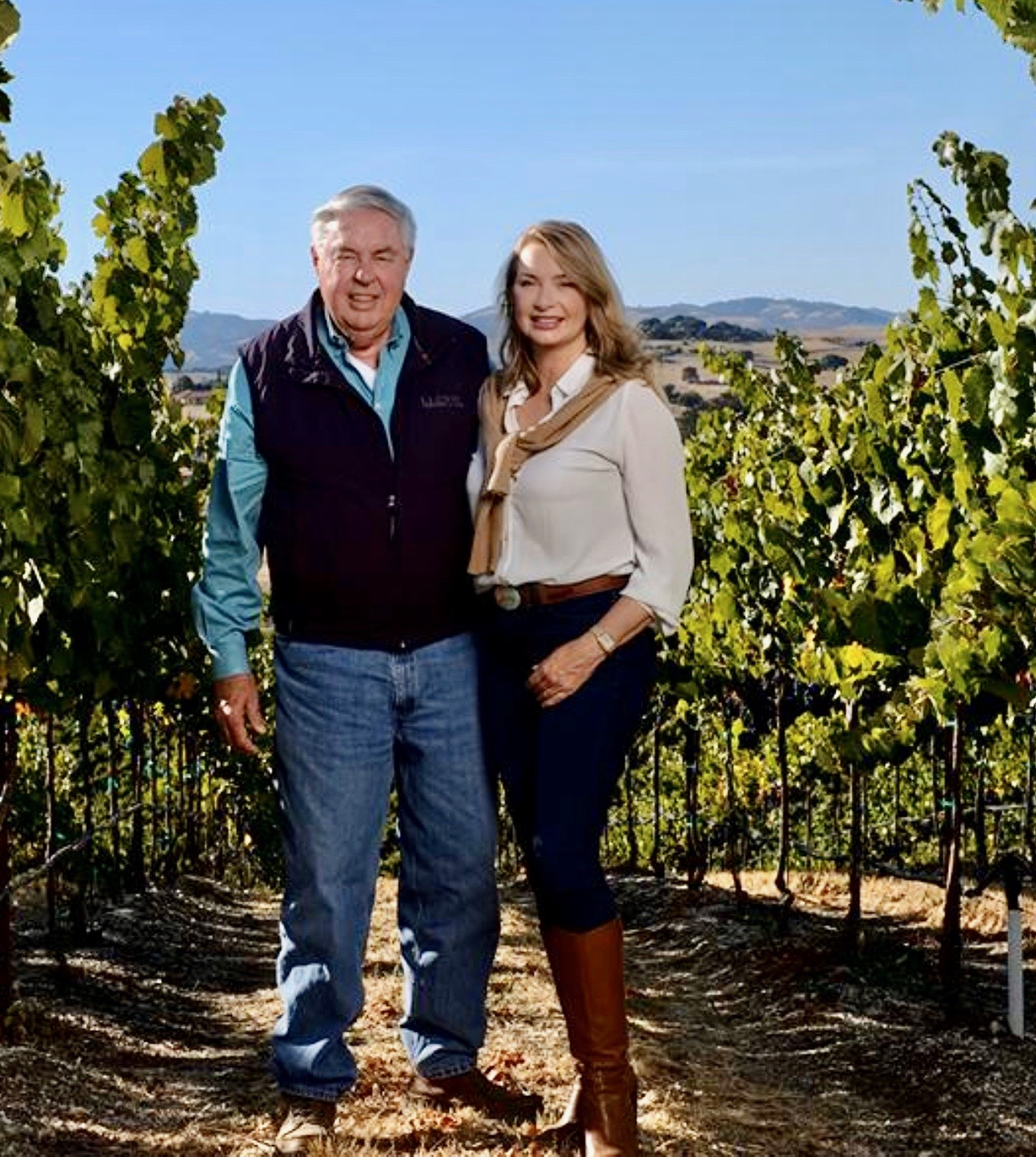 Cynthia Lohr, of J. Lohr Vineyards & Wine, couldn't agree more. Her father, Jerry Lohr, was a 1970s pioneer who understood the potential of the region and, together with a few others, was committed to building "Brand Paso," as she says. "In the last several decades, not only have we placed Paso Robles on the global stage to compete with the best wines in the world, we've carried this collaborative ethos into the next generation of regional stewards," says Lohr. "My brothers, Steve and Lawrence, and I are so proud to be a part of the fabric of this close-knit community of passionate growers and winemakers."
(Photo: Jerry and Cynthia Lohr, courtesy of J. Lohr)

Newcomers Anita and Varinder Sahi of Copia Vineyards and Winery say they were drawn to the region by the character of its winemaking community. "It's Paso's biggest advantage," says Anita, "and there is no other place like it." After time spent in Paso as students and then interning at a local winery, the couple put down roots and purchased a property in 2017. The support and encouragement of their new neighbors has been heartwarming for the Sahis. "Winemakers here have a maverick spirit, take their craft — but not themselves — too seriously, and have hearts of gold," she says. "Everyone is supportive of one another and knows that if each individual succeeds, then this very special wine region will continue to succeed."

A Brief History
Paso's pioneering spirit and sense of community was most likely handed down by its founders, three men who arrived in California in 1849 looking for gold: brothers Daniel D. and James H. Blackburn from Virginia, and Drury James, a native of Kentucky and uncle to infamous outlaw Jesse James. After finding success, they set up businesses and, soon after, Daniel Blackburn and Drury James bought land which would become, in 1889, the city of Paso Robles.

The late 1800s was also the time of California's first wine boom. Andrew York, a settler from Indiana, established Ascension Winery in 1882, the first in the region, known today as Epoch Estate. During this time, thousands of immigrants, many from Italy, arrived and began planting Zinfandel in and around the Paso Robles area.

The burgeoning wine industry was effectively destroyed in 1920 when Prohibition took effect and it wasn't until the 1950s when California's wine industry began to bounce back. In the 1960s new varietals were introduced to Paso Robles by Stanley Hoffman, a cardiologist from Beverly Hills. Under the guidance of consultant André Tchelistcheff, Hoffman planted some of the first Cabernet Sauvignon, Pinot Noir and Chardonnay. In the 1970s and '80s a new wave of pioneers arrived around the same time as Jerry Lohr: Gary Eberle, Cliff Giacobine, and John Munch, to name a few. They focused mainly on well-known European varieties like Cabernet Sauvignon and Merlot, offering familiarity to consumers who were fans of Napa wines.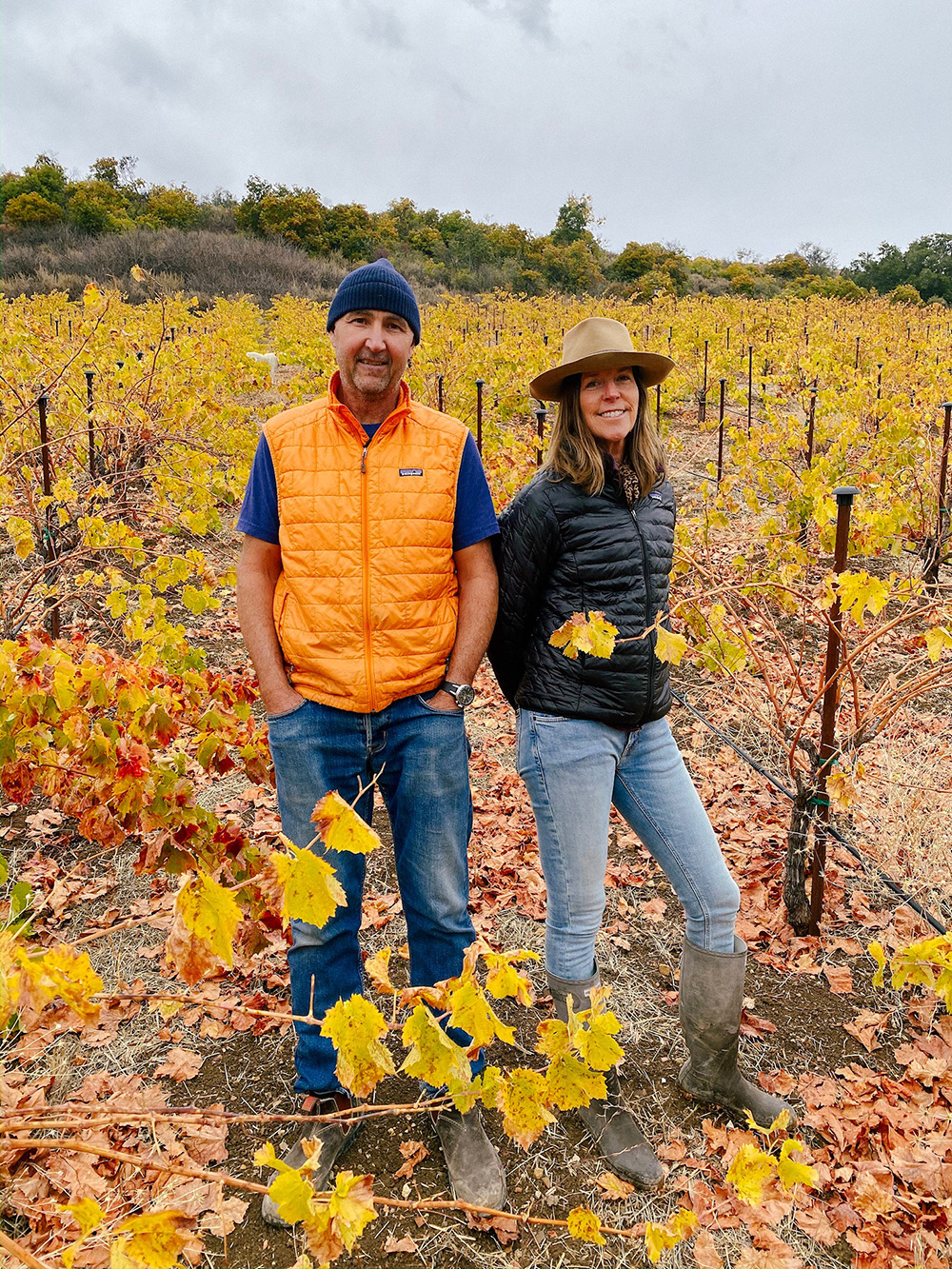 Each decade since has brought trailblazing pioneers to Paso's welcoming community. Chris and JoAnn Cherry, owners of Villa Creek and MAHA estates, moved to Paso Robles in 1996 to open a farm-to-table restaurant that became a staple of the community. Swept up in the area's winemaking scene, they started their own brand, Villa Creek Cellars, and eventually closed the restaurant to focus on winemaking full-time. Their first vintage was in 2001 and today they farm their own certified biodynamic and organic vineyards. "We were looking to stand out and raise the bar in a newish wine region brimming with potential," says Cherry. "Napa producers had been feathering in quality grapes from Paso Robles for decades and it was time for Paso to stand on its own two feet."
(Photo: Chris and JoAnn Cherry, courtesy of Villa Creek)
Paso's Future: Building and Preserving The Ecosystem
Increasingly, Paso's community is committing itself to sustainability. The influence of organic and biodynamic-certified wineries like Tablas Creek and Villa Creek is inspiring others in the community to practice sustainable methods in the vineyards and in the wineries. Several Paso Robles wineries are now using only natural products with the belief that it's not only better for the environment, but also results in better wine. Cherry cited a number of growers and wineries that are committed to farming without the use of synthetic pesticides, herbicides, or chemical fertilizers: Adelaida vineyards, Luna Matta, Six Mile Bridge, Bailey Ranch, and her own new project, MAHA. "I think that attention to detail in the vineyard — building and preserving the ecosystem rather than destroying it with chemicals via a 'one size fits all' farming system — is something more and more vineyard owners are paying attention to here," says Cherry. "And this, without a doubt, leads to higher quality wines." She added that they try different things to see what grows well, rather than changing the entire ecosystem to accommodate a grape that might not be ideally suited there.
Joshua Harp, winemaker at Jada, a winery in the process of converting to organics, says that since 2014 they have only been spraying teas and other organic preparations in the vineyards and that he feels better about his long hours outside. "It's really nice knowing that if I want to go out into the vineyard and I'm not sure if we sprayed that day or not, I don't have to have any fear," says Harp. "I can put grapes into my mouth or I can touch the vines without chemicals getting on my skin."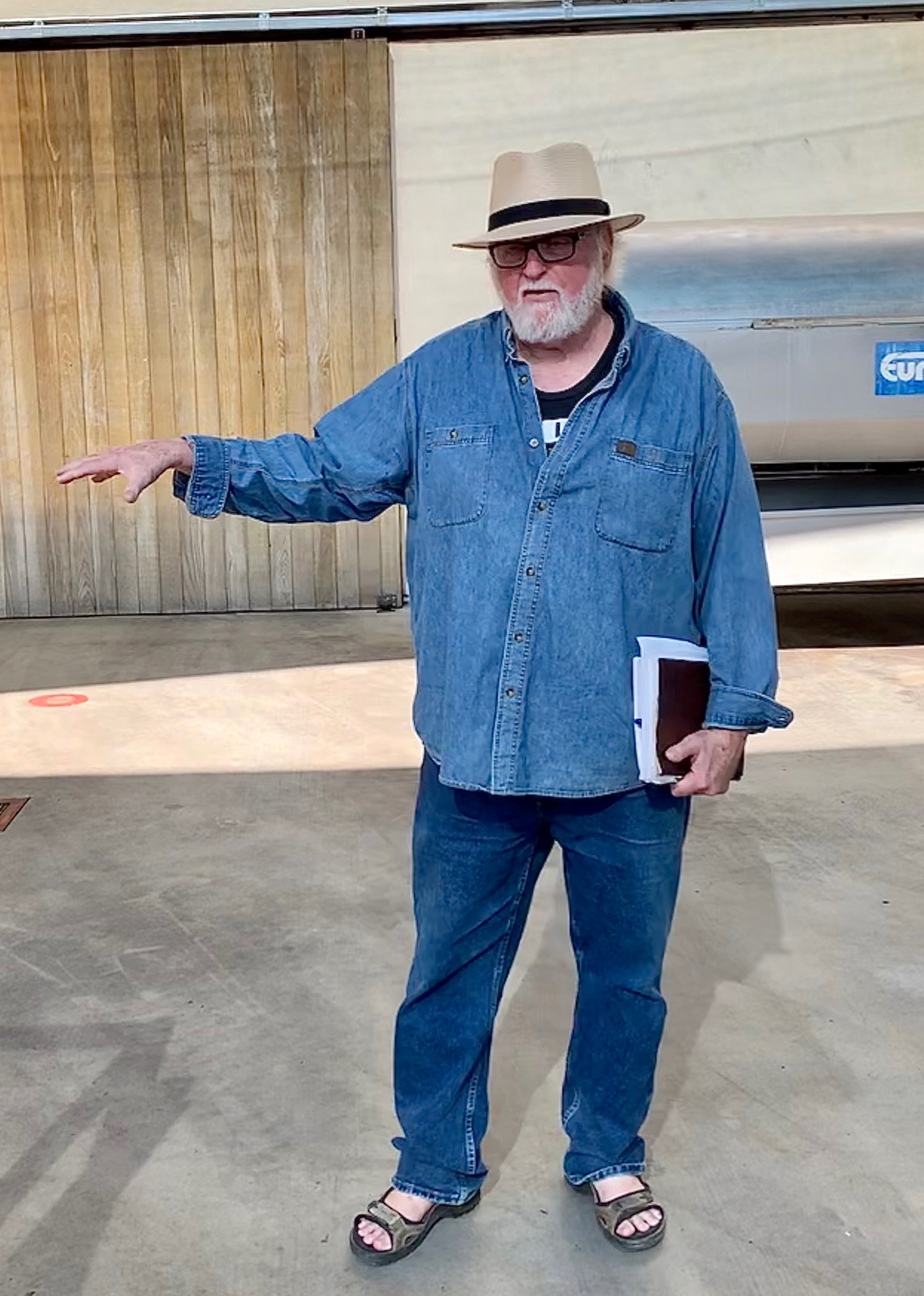 Another sustainable practice being supported in Paso is dry farming, in which the vines aren't irrigated and rely solely on rain. Not only is the method environmentally responsible, advocates are convinced that it yields more intensely-flavored grapes. John Munch, owner of Le Cuvier Winery and a legend of Paso's winemaking community, says that for years he has sourced all of his grapes from dry farmed vineyards. "I'm wedded to dry farming," he says, "even though the yields are much lower." Damian Grindley, owner of Brecon Estate in the Adelaida AVA, is another advocate of dry farming and about 30% of his grapes — everything from Syrah to Tannat and Albariño — come from non-irrigated vineyards. "You get a beautiful, bright acidity from dry farmed grapes." says Grindley. "The wines stay fresh for generations and are a lot more food friendly."

See, even the wines are friendly in Paso Robles!
(Photo: John Munch of Le Cuvier Winery taken by Lisa Denning)
Visiting Paso Robles
Wineries
There are many tasting rooms scattered across the AVA that welcome visitors, including the wineries mentioned in this article: Tablas Creek, J. Lohr, Justin, Eberly, Villa Creek, Le Cuvier, Jada, Copia, Brecon, Cass Winery, Peachy Canyon Road, and Six Mile Bridge. For more information, visit the Paso Robles Wine Country Alliance website.

Tin City
For an urban, walking wine tasting experience, consider a visit to Tin City, an industrial complex that has been transformed into a small village for small producers of wine, beer, spirits, ciders, pasta, ice cream, and more. There's even a one-of-a-kind, 14-course dining experience at Six Test Kitchen. Tip: Get a feel for what this special place is by watching Tin City, a recently-released documentary film that tells the story of these passionate Paso entrepreneurs. See the trailer here.

Where to Stay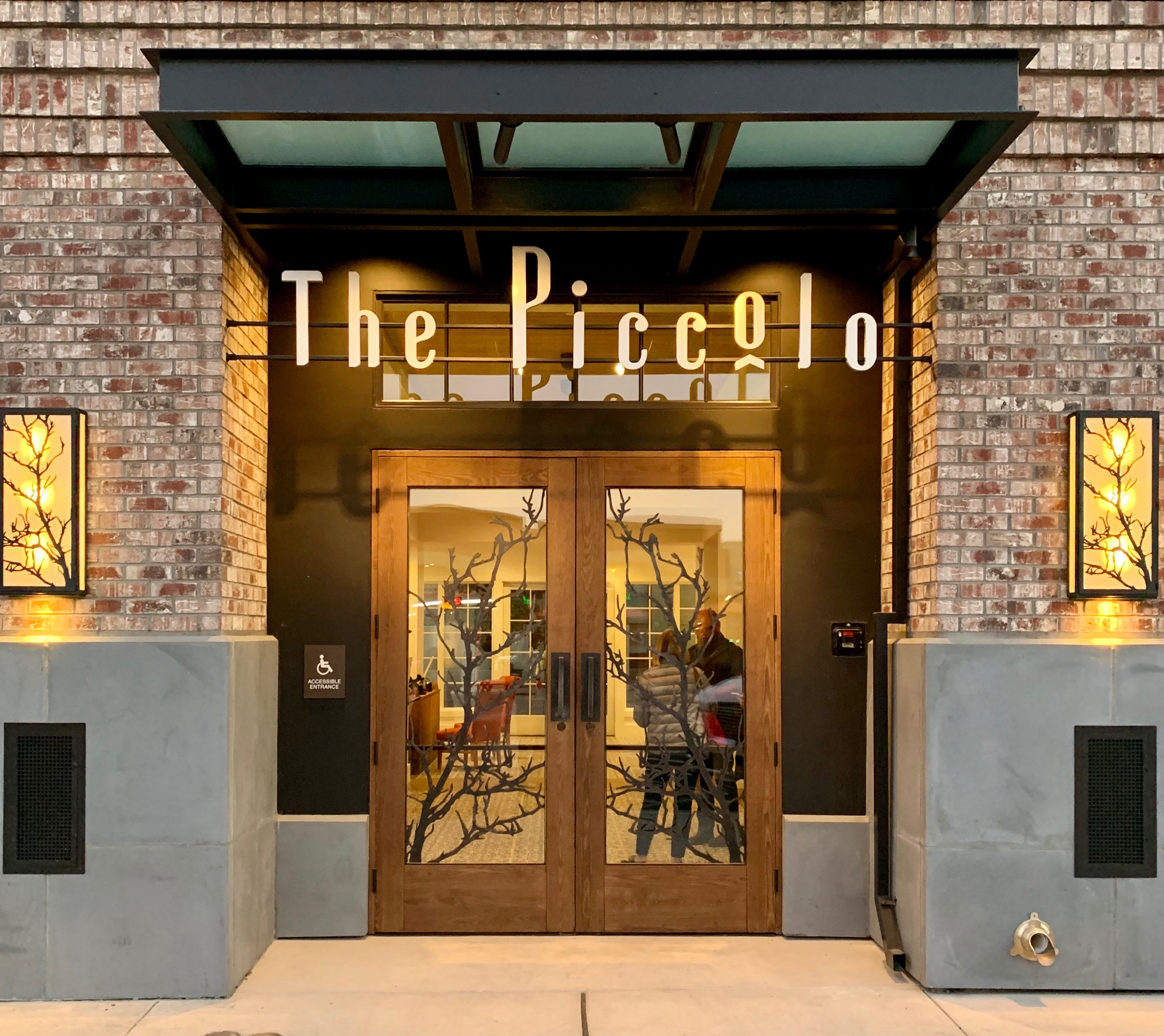 Piccolo Hotel. The newest boutique property to open in downtown Paso Robles, this 24-room hotel has beautiful rooms with floor to ceiling windows, and exposed brick walls. Enjoy bespoke cocktails in its spacious rooftop bar, the first in Paso Robles.
SummerWood Inn. This open, modern farmhouse inn is surrounded by vineyards. Across the street is the estate's winery where, as a guest of the inn, you will be hosted for a complimentary wine tasting. Enjoy the delicious afternoon snacks and sumptuous breakfast at the inn's charming dining room.

Geneseo Inn at Cass Winery. Set to open in the spring of 2020, the Geneseo Inn's unique accommodations are constructed from recycled steel and shipping containers. Each room has its own private deck with beautiful vineyard views.

Other recommended hotels: Inn Paradiso, Hotel Cheval, Courtyard by Marriott.

Where to Eat
Paso's downtown culinary scene continues to grow, offering a wide variety of cuisines, many of which use locally-sourced ingredients. Favorites include Les Petites Canailles, Thomas Hill Organics, Cello Ristorante at The Allegretto, Somm's Kitchen, The Hatch, BL Brasserie, Jeffry's Wine Country BBQ, Brunch, Goshi Japanese, and Il Cortile.

Getting Around
Leave the driving to Lars and Kristina Horton, owners of Toast Tours, who offer fun and informative tours of Paso's wine country and the surrounding area. Choose between group tours or private transportation.
Read more on Paso Robles
"A California Pinot Noir with History — Ours and Theirs," and "From Sex and Drugs Education to Zinfandel: The Peachy Canyon Story" by Dorothy Gaiter
"Paso Robles Evolves: Conversation with Mark Adams of Ledge Vineyards," by Christopher Barnes.
A special thank you to the Paso Robles Wine Country Alliance who sponsored the author's visit to Paso.