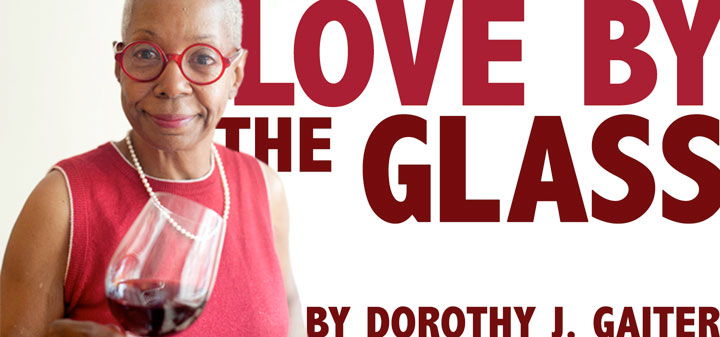 Last week, I encountered some old friends at the Dream Hotel in Lower Manhattan. There, at a portfolio tasting of several wineries, were two wines made from famed Hoffman Mountain Ranch vineyard grapes, in the limestone-rich hills of an area called West Paso Robles, California. After all these years, we remember so fondly the 1977 Hoffman Mountain Ranch Pinot Noir, made from some of California's oldest Pinot plantings.
We drank the 1977 on April 17, 1985. Our notes say, "Huge nose. Rich, red and chocolatey nose. Minerals very pronounced. Concentrated California Pinot. Color, brick. Dusty. Nice acidity. Drink now—end was a bit short, especially with time."
The wines that I tasted last week were the Adelaida Cellars HMR Vineyard Pinot Noir and Adelaida Cellars Estate Pinot Noir, HMR Vineyard, both from 2012. Both come from the same storied vineyard which, the winery representative later told me, contains eight different blocks of Pinot Noir that are farmed and harvested separately. While the Estate Pinot Noir is picked from several blocks, the HMR Vineyard Pinot is made from grapes picked from specific rows, what's called a block-specific selection. Both have blackberry-black cherry -like fruit, with mineral undertones. The HMR Vineyard version is richer. I'd serve either with salmon, roast meats, or hearty vegetable casseroles.
Adelaida Cellars, which is now owned by children's author Elizabeth Van Steenwyk, produces 15,000 cases of estate-grown wines in limestone-rich hills west of Paso Robles (or Pasco Robles' Westside), and its story is filled with adventurous souls, dreamers and hard-nosed entrepreneurs. The unincorporated town of Adelaida is about 18 miles east of the Pacific Ocean and the Hearst Castle in San Simeon. Rosebud, anyone?
In the early 1920s, Ignace Paderewski, a famous Polish concert pianist and diplomat, planted Petite Sirah and Zinfandel on his 2,000-acre Rancho San Ignacio vineyard in what is now known as the Adelaida District. In 1961, a Beverly Hills cardiologist named Dr. Stanley Hoffman traded 10 acres he owned in what became Thousand Oaks, an affluent area of Los Angeles, for 1,200 acres next to Paderewski's site. The Hoffman spread was thought unsuitable for grape-growing. Nevertheless, beginning in 1963, he started planting Pinot Noir and Chardonnay, built his winery, Hoffman Mountain Ranch, which was modern for its time, and moved full-time to the area.
He also, wisely, hired legendary enologist Andre Tchelistcheff as his winemaking consultant in 1973 and enlisted UC-Davis to help him plant more vineyards on a large swatch of his land. Today, Hoffman is credited with being a pioneer in the cultivation of Bordeaux and Burgundian varieties like Cabernet Sauvignon and Pinot Noir in California's Central Coast. His land, in one of the coolest parts of West Paso Robles at the southern end of the Santa Lucia Mountains, is high-altitude, rocky, and benefits from proximity to the ocean, with night-time temperatures sometimes dropping 50 degrees. The cooling at night after warm days assists in fruit ripening and acid retention. In 1977, his 1973 Pinot Noir was awarded one star in the Connoisseur's Guide to California Wines. The 1976 Pinot, said to be his favorite, showed well in a competition in France. But unfortunately, in 1981 his investors forced him out and he returned to cardiology.
Now let's back up to 1970, when Don and Elizabeth Van Steenwyk bought Hilltop Ranch, with its several hundred acres of walnut trees on Adelaida Road. The Van Steenwyks were "originally in the oil business," Elizabeth Van Steenwyk told me. Some years later, the Van Steenwyks went to a wine tasting in Paso Robles where they met John Munch, a free spirit who in 1981 had started making well-received Cabernet Sauvignon labeled Adelaida Cellars from purchased grapes at a neighbor's winery. Kismet. "He was a winemaker without a winery and we had fantastic land for grapes," Van Steenwyk told me. So in 1988, they became partners.
Over the years since Hoffman was forced out, the property changed hands several times and eventually fell into a state of disrepair "because no one had made a conscious effort to give it loving care," Van Steenwyk said. So in 1994, the family purchased "all of the original plantings, 419 acres of Hoffman Mountain Ranch vines, and gradually brought it back" to health, Van Steenwyk told me. "There were quite a few others who were after the same acreage," she said. '"The day before it was to go on the market, Don found out about it and said, 'Let me have everything that Dr. Hoffman planted.''' The Van Steenwyks bought all of the land planted to grapes, but did not purchase the winery facility.
In 1999, the Van Steenwyks bought Munch out. He is now winemaker and co-owner of Le Cuvier Winery in Paso Robles. Don Van Steenwyk, who had been a scientist and businessman and who was introduced to Elizabeth by her Methodist minister when she was 21, died in 2009. "Since he died, I've been trying to hang on to this place for dear life and I'm having a great time doing it," she told me. They have 13 grandchildren, a perfect audience for the 70 children's books she's become renown for.
As you might imagine, the name Hoffman Mountain Ranch became famous. With Hoffman out of the winemaking business—he's 94 and still living in California, Van Steenwyk told me—one owner of what was left of his property after the Van Steenwyk purchase named the winery Hidden Mountain Ranch. It has since been purchased and renamed by another family. Van Steenwyk said after their purchase they named the land HMR Estate Vineyard, "trademarked it and had to send out cease and desist letters" to those who tried to appropriate the name.
In addition to the HMR Estate Vineyard, Adelaida Cellars, which is sustainably farmed, has Viking Estate Vineyard, where Cabernet Sauvignon is planted, and Bobcat Crossing Vineyard , which grows Portuguese varietals Touriga Nacional, Tinto Cao and Souzoa, from which the family makes a Port-style wine and a dry Touriga. I had the 2010 Touriga and it was delightful, with rustic earthiness, zesty acidity and honest, bright, red-berry fruit. "We made it for the fun of it," said Paul Sowerby, director of sales and marketing, who was pouring at last week's tasting. "We also made it for the young sommeliers who want low alcohol—it's 12.5%--and high acidity and are always saying 'give me something I haven't tried.'"
Anna's Vineyard, named for Elizabeth Van Steenwyk's grandmother, is their Rhône vineyard and it's planted to Grenache Noir, Grenache Blanc, Syrah, Mourvèdre, Cinsault, Counoise, Picpoul Blanc, Viognier, Petite Syrah, and Roussanne. Most of the clones hail from Château de Beaucastel in the Châteauneuf-du-Pape region, according to Adelaida Cellars. It's an experimental vineyard, a laboratory with combinations of clones and rootstocks, planted with help from California Polytechnic State University's Wine and Viticulture Department.
I tasted the 2012 Cybele (its name for the New York market; elsewhere it's called Finder) that's a blend of Grenache Blanc, Viognier and Picpoul Blanc. It honors Don Van Steenwyk, who invented a directional drilling device called the Finder and held numerous patents for tools that assist the family's company, Scientific Drilling International (SDI). That's drilling as in oil drilling. The Cybele reminded me of white peaches, green apples and lychees and had a wonderful minerality. The 2011 Grenache had spicy, chewy, black cherry fruit. And lastly, Michael's Vineyard, next to the HMR Estate Vineyard, is named for the emeritus vineyard manager and is planted to Zinfandel.
In 2012 Adelaida Cellars welcomed a new winemaker, Jeremy Weintraub, who earned a master's degree from UC-Davis with the help of scholarships from the Wine Spectator and the American Society of Viticulture and Enology.
Although she wouldn't tell me her age, Van Steenwyk admits to being "old," but has no plans to slow down. She is, however, planning an event space on the property because, she said, "we're so crowded that we're sitting on each other," and she lists among her other goals conducting "a marching band performing The Stars and Stripes Forever, preferably on July 4th." You go, girl!
Dorothy J. Gaiter conceived and wrote The Wall Street Journal's wine column, "Tastings," from 1998 to 2010 with her husband, John Brecher. She has been tasting and studying wine since 1973. She has had a distinguished career in journalism as a reporter, editor, columnist, and editorial writer at The Miami Herald and The New York Times, as well as at The Journal.