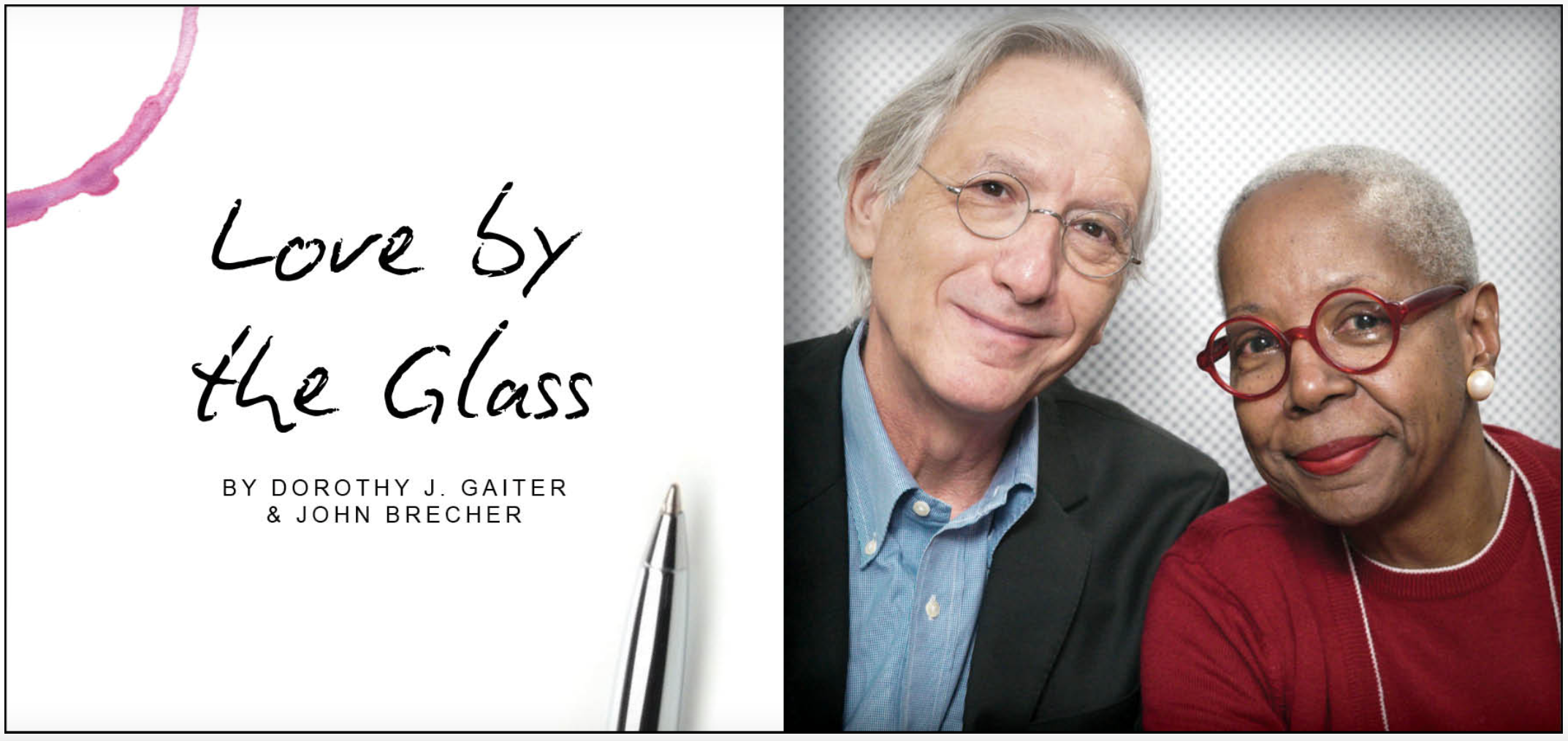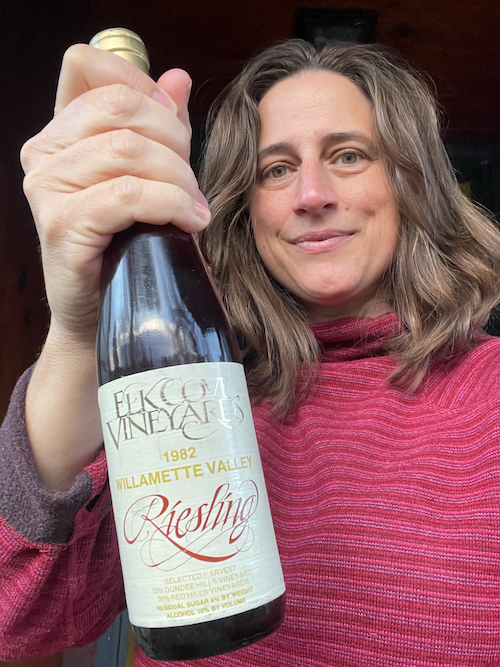 For Open That Bottle Night, Anna Campbell has her eye on a 1982 Riesling made by her pioneering family winery, Elk Cove Vineyards, in Oregon. "I'm thinking of Riesling because more than any other wine, they have such life to them as they age and the transformation is so interesting," said Campbell, the Willamette Valley winery's creative director and fifth generation member of the family. On the other hand, she is also thinking about a berry wine – honey, raspberry, marionberry and cherry – because she bought it on a trip to visit friends in Ohio.
(Anna Campbell with her Elk Cove Riesling)
In Chicago, wine expert and writer Chasity Cooper plans to open a Henriot Champagne Cuvée Hemera 2006. "I received this bottle as a gift, and upon seeing it I immediately thought, 'Oh wow, I was a senior in high school when these grapes were harvested!' I was hesitant to open it at first because I didn't have anything major to celebrate. But when I reflect on 2006, I think about how many important seeds were planted for me then to have the career I do now, and I think it's about time I celebrate that."
Champagne, fruit wine, Riesling from the family winery – what they have in common are memories. That's what Open That Bottle Night, which will be celebrated this year on Saturday, Feb. 25, is all about.
We created OTBN in 1999 for a simple reason: When we started writing about wine, the question we received most often was "I have this one special bottle that I got on vacation (or at my wedding, or at an auction…) When do I open it?" Our answer was always: NOW! But we realized it's not that easy. Sometimes, the longer we save a bottle "for a special occasion," the bigger the special occasion has to become and the memories and joy inside that bottle get trapped forever.
So we set a specific date – the last Saturday of February, when it's cold and yucky outside – to celebrate life together by finally opening those bottles. We still think the best time to open any special bottle is today, but we also recognize that just about everyone, including us, needs a shove.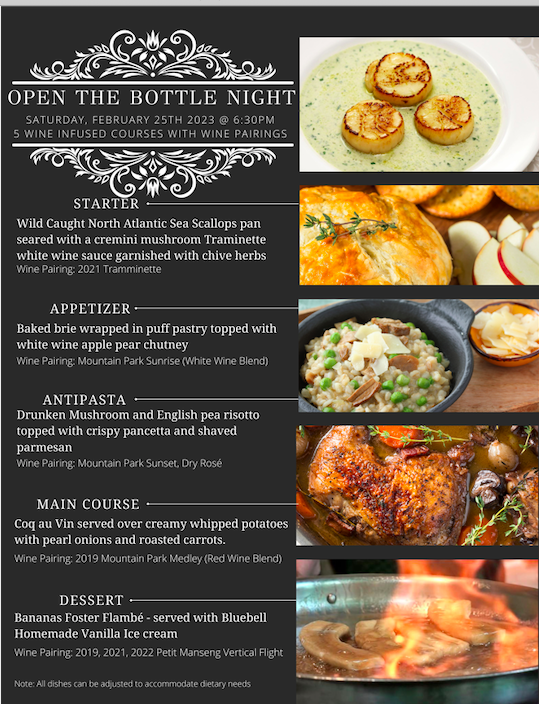 Over the years, a number of wineries have celebrated OTBN with their fans. Golden Road Vineyards in State Road, N.C., is once again offering an amazing five-course dinner (check out the menu), with wines paired with each course. The topper: A vertical of the winery's Petit Manseng, its signature wine.
On the other side of the country, in Dundee, Ore., Winderlea Vineyard and Winery is continuing its OTBN tradition. Diners can bring their own wines and share their stories with a menu that left us wide-eyed, including "halibut, potato & smoked eggplant, watermelon radish, Aleppo lemon cream."
From the beginning, OTBN has been an international event. This year, Tšepang Molisana, a wine writer in Johannesburg, plans to open a La Motte Syrah 2017 from Franschhoek, South Africa. She first had it during a vertical tasting and it spoke to her. "I finished high school that year and the years since have been turbulent -- between university, the heartbreaks, the triumphs and the trials." She will share it with her family.
Glengarry Wines is sponsoring a BYOB dinner in West Auckland. The store's management writes: "Many of our Fine Wine customers struggle to find the right occasion to open some of these wines, so this provides you the chance to bring along anything you like, and enjoy them with other wine lovers and collectors who will appreciate them… Some stunning highlights from previous dinners over the last few years include gems like 1990 La Grand Dame Rosé, 1989 Egon Muller Auslese, Stonyridge 1987 Magnum, 1982 Mouton Rothschild, Graham's 1977 Port, 1937 Talbot and 1918 Château de Rayne Vigneau Sauternes."
Over the years, OTBN has become an important fund-raising night for charities, and we're very proud to be part of that. Project Self-Sufficiency, a non-profit organization the serves low-income individuals and families in northwestern New Jersey, will be hosting its 11th OTBN and has raised a total of over $500,000. The event, with food, music and an auction, will be held at the Hudson Farm Club in Andover, a 3,800-acre private hunting preserve originally owned by railroad magnate John P. McRoy. who operated a dairy farm on the property. More than 100 people are expected.
"Guests travel from all over the United States to attend OTBN in support of Project Self-Sufficiency. …During dinner, guests are invited to relate the stories of their individual bottles of wine to the gathering," Lisa Bell Pachnos, the project's publicist, told us. "Open That Bottle Night has held a unique place in the hearts of Project Self-Sufficiency supporters since its inception; a major donor brought the idea to us after attending an event in Aspen and the concept was immediately embraced by the agency."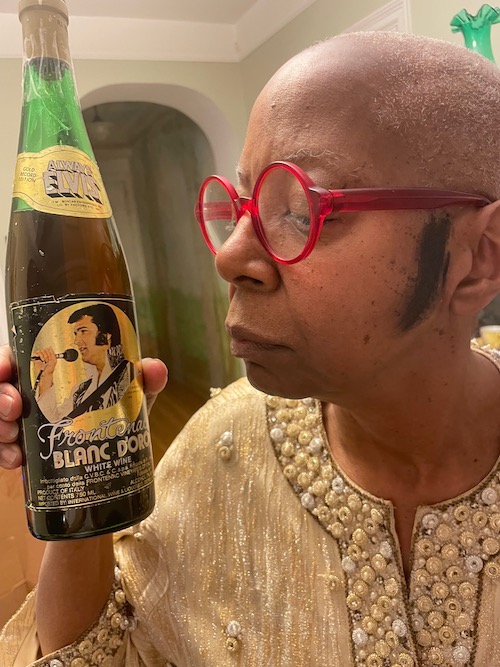 The wines shared on Open That Bottle Night don't have to be expensive or fine. In our case, we might finally open our bottle of Always Elvis, an Italian white that was likely bad when we bought it in 1980 for $3.29 and is certainly way past whatever might be considered its prime. However, it has this great picture of Elvis on the front and a poem from The Colonel on the back, so we have kept it – or we guess you could say we were caught in a trap. With all of the news about Elvis this year, his daughter's passing and the movie about him, we think the time has come.
Every year on OTBN, some amazing wines get opened along with the memories. Barrie McConachie, a Top Chef Canada top-three finalist who lives in Osoyoos, is going to combine OTBN with a celebration of his birthday and plans to open at least one, and maybe two, of our own favorite Bordeaux. He wrote:
"It was quite a few years ago that I started thinking about what wine(s) I would want to have on significant dates in the future. So I started to buy some special ones and have continued to do so. One such special bottle is the 2005 Chateau Pichon Baron that we plan to enjoy as we celebrate my 60th birthday. That was the specific purpose in mind when it was purchased. We also have a 2005 Chateau Gruaud Larose that we may open depending on the size of the dinner party.
"Of course buying these special wines led to more purchases, to the point where there's now a shortage of special days in a year so now we look in the cellar and decide, YES today is perfect for that one."
That is the true spirit of Open That Bottle Night. Today is the special occasion. As Anna Campbell of Elk Cove put it: "I love thinking about how wine connects you with a place (the vineyard) but can also take you to another time in your life. It's a way to revisit and reflect and just make a night special."
May you have many Open That Bottle Nights, all year long.
Dorothy J. Gaiter and John Brecher conceived and wrote The Wall Street Journal's wine column, "Tastings," from 1998 to 2010. Dorothy and John have been tasting and studying wine since 1973. In 2020, the University of California at Davis added their papers to the Warren Winiarski Wine Writers Collection in its library, which also includes the work of Hugh Johnson and Jancis Robinson. Dottie has had a distinguished career in journalism as a reporter, editor, columnist and editorial writer at The Miami Herald, The New York Times, and at The Journal. John was Page One Editor of The Journal, City Editor of The Miami Herald and a senior editor at Bloomberg News. They are well-known from their books and many television appearances, especially on Martha Stewart's show, and as the creators of the annual, international "Open That Bottle Night" celebration of wine and friendship. The first bottle they shared was André Cold Duck. They have two daughters.
Banner by Piers Parlett