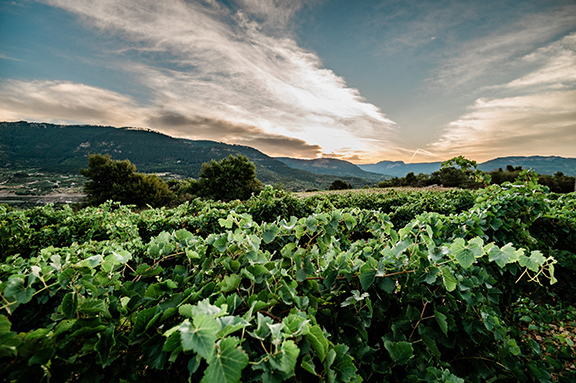 Pierre Caizergues started making wines in Montreal d'Aude west of Carcassonne in southwestern France in 2015. He was joined by his friend, winemaker Antonin Bonnet, full time in 2020.
The two friends specialize in low intervention wines (low or no added sulfites), with varietals like Carignan, and some resistant varietals such as Cabernet Cortis and Souvignier Gris. They also separately make a Mourvèdre in the village of Saint Jean de Fos in the Larzac region of France. Larzac is a bit further east in the Hérault region while all the other wines they make are made in Aude near the estate in Montreal d'Aude / Hameau de Stricou.
Grape Collective spoke with Antonin Bonnet about his journey into natural wine.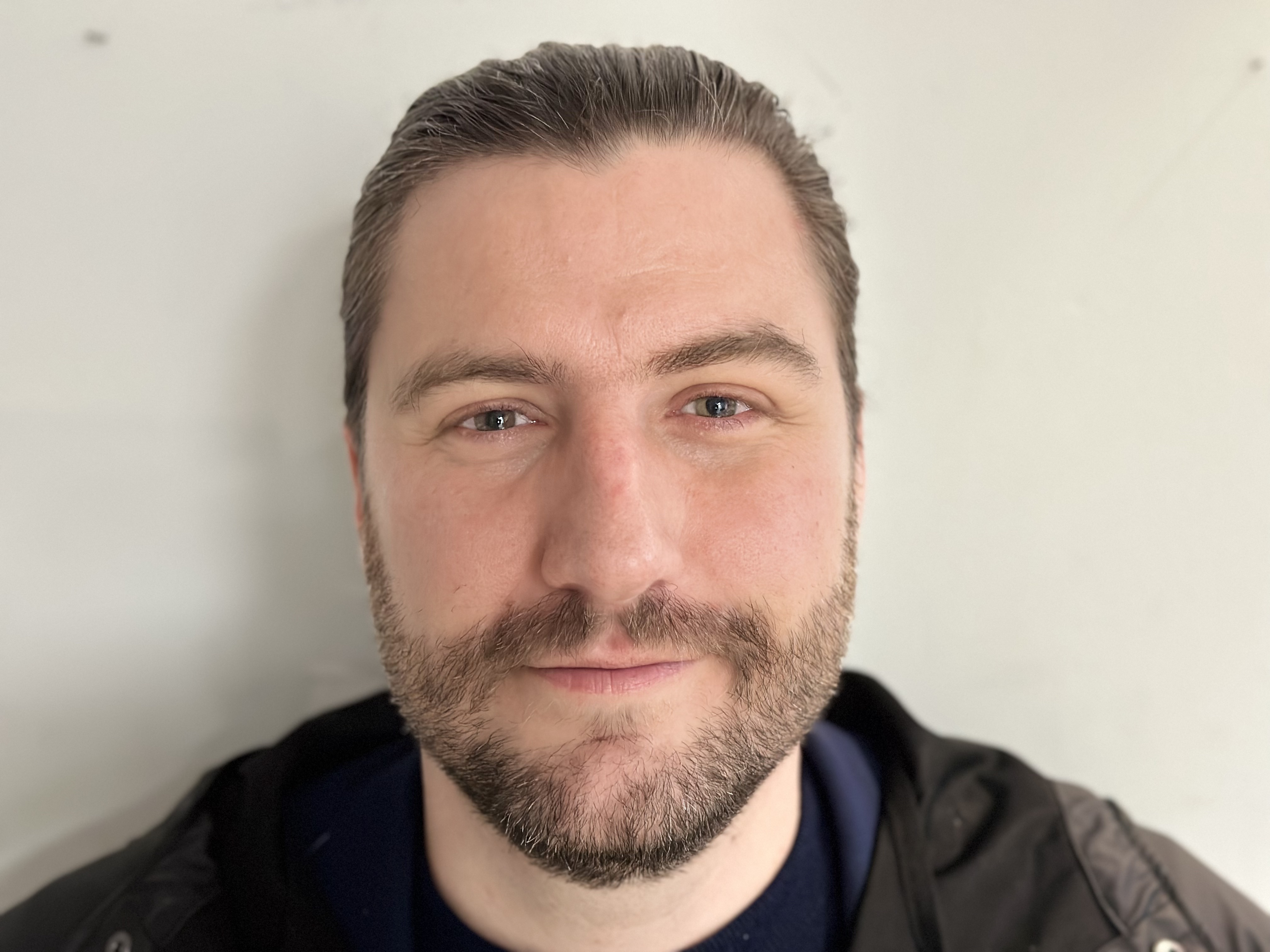 Christopher Barnes: Where is Pierre and Antonin located?
Antonin Bonnet: The estate is in the south of France in Languedoc, very close to the city of Carcassonne, that is known to be the largest medieval fortress in the world. We're on the western part, on the very first hillside of the Pyrenees. Over there all combined, we have six hectares of land. It's on limestone and slate. It's in Vins de France, but if it was on the denomination of appellation, it would be Malepere. So that's exactly where we are.
Talk a little bit about your background in winemaking.
So I started studying winemaking at the University of Montpelier, almost 15 years ago now. Got the diploma there, worked with my father who was a winemaker in Terrasse du Larzac (before retiring). But they never had vineyards, they were flying winemakers, they would work for others. So after almost 12 years working the market and selling the wines of others, we decided to buy our own land and establish our own estates in Carcassone. Started helping Pierre in 2015, then moved full-time for our company in 2020.
What is the philosophy of winemaking and the philosophy of viticulture?
So the idea at the very beginning is I learned to make wines as a classic winemaker, especially with my father. But the idea for us, we were surrounded by people that would work with very low interventions. So we work on the terroir, but we don't really go onto the appellation system. We try to do low interventions, meaning that we plant some very interesting varietals. Among others we plant some resistant varietals like Souvignier Gris and Cabernet Cortis. And we also work on classic endemic varietals such as Carignan and Mourvèdre mostly. And the idea is not to use any sulfur or copper in the vineyard and not to use any sulfites in the winemaking. The whites are made in cone-shaped vats made of white oak and the reds are made in concrete tanks.
What wines are you producing right now?
So at the moment we're making two pet nats, we call them Nature's Revenge, but they're made over there. It's just a play on word on the labels. So the white is made of Chardonnay, but we also have inside Souvignier Gris. Souvignier Gris is a resistant varietal, so basically resistant to oidium and mildew. So that allows us to really have no intervention in the viticulture and in the winemaking. That varietal was created back in 1983.
And talk a little bit more about the two varietal clones that were created.
So these were Souvignier Gris and Cabernet Cortis. We selected these two varietals based on a study that we had in south of France 'Agropolis' & INRA = Institut National de Recherche Agronomique. They were invented in partnership with the University of Freiburg in 1982 and in 1983. And basically they're resistant to powdery mildew, and to oidium. When we started planting vineyards back in 2015, we thought that they would be interesting because we think they will be the future of winemaking because on top of that, they also use less water. And as a result, the carbon footprint is also lower. We do not go as much in the vineyard equals less gas used, less water used, which results in a greatly lower carbon footprint.
So for us, the idea was to do that as a whole, to have all components in the packaging locally made. And we decided also that we had to make an effort with the viticulture. So that was the reason why one third of the wine we make is Souvignier Gris and Cabernet Cortis.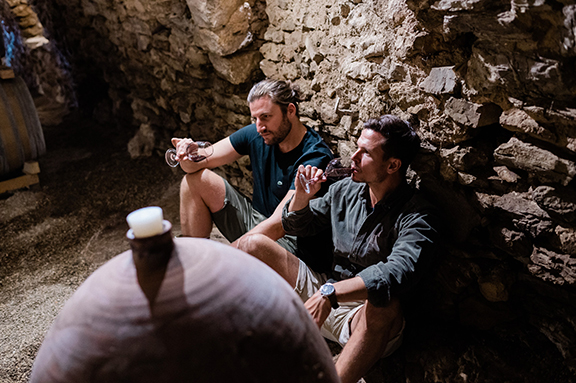 So would you consider these natural wines?
Yes, they are natural wines if we go by the RAW FAIR definition. There is no sulfur, there is no addition of copper in the vineyard. And then there's no addition of sulfites at the moment of the winemaking. So if you run the analysis, you'll be under 10 ppm or milligrams per liter, which is only what we call the natural sulfites that you find. Maybe you'll find seven, eight, depending on the cuvee. So yeah, we call them low intervention. We would rather use low intervention and natural. But they have, for the two pet nats, they have no addition of anything. And the same for the Nebuleuse that we tasted today. Nebuleuse, actually the analysis is 7 ppm, so it's a natural wine also because there is no addition of yeasts.
Talk more about the Mourvèdre.
So the Mourvèdre is a little different parcel. This is in Larzac, so this is north of Montpellier. This is a place that we inherited that we are working with Benoit Braujou who is already an established winemaker there. He runs the Fons Sanatis vineyard. And he was actually interested in making a cuvee with us, helping us. So we have the Decagon label. It's actually a tribute to him. If you look at his label, he has a Decagon (ten sided shape) on all his wines.
And then it's a Mourvèdre, a very, very dark and powerful Mourvèdre, a very peppery Mourvèdre, made in Larzac, very close to the Grange des Peres, very close to Saint-Jean-de-Fos. And that's a terroir that is very interesting also because you find a lot of slates as well. A lot of shale as we say in English. And, Nebuleuse is named after one of the two horses that there are on the estate. We have Unau, we call the Mourvèdre white, vinified as a blond and noir, and then we have Nebuleuse that is the other horse and is actually Ardennes, that's the breed of the horse. And the 163 is the size of the withers. So we named the two wines after the two horses, because they're doing all the heavy lifting.
The size of the withers. It's how we measure a horse in France. When you talk about the horse size, you usually give that number. So we decided to put the two horses on the front label. They're doing all the heavy lifting for us, so we decided to pay tribute to them as well. Yes, the story behind Uno and Nebuleuse.
Are the terroirs different?
Yes, it is a little different over there. We have deeper thicker soil in Nebuleuse. This is the Larzac, so we have way more. In Carcassone the bedrock is limestone, in Larzac it's much more slate, shale, with a very high proportion of iron. So yes, this is extremely different. And this is a place where we don't have a lot of water. So usually we have very, very low yield. It's a very draining soil.