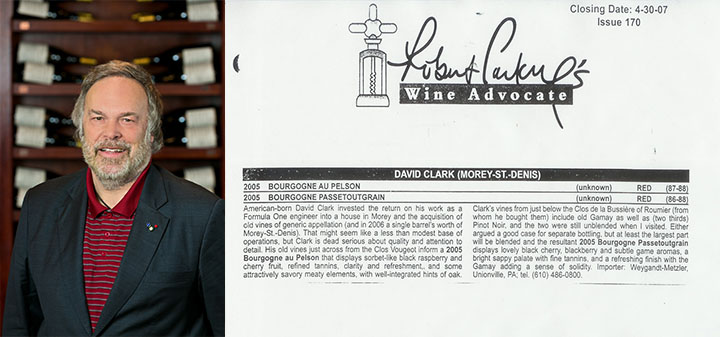 WHO
Robert M. Parker is a prominent and well-known American wine critic, considered to be one of the most influential people in the wine industry today. For more than 25 years he has been the author and publisher of the bi-monthly wine publication The Wine Advocate, one of North America's premier wine journals. He has also written and published a number of award-winning, best-selling books on wine, and has won countless prestigious honors for his contribution to the wine industry. Parker is a contributing editor for Food and Wine magazine and Businessweek, and is also the first non-Frenchman to serve as wine critic for the French magazine L'Express.
Parker is credited for introducing and popularizing the 100-point wine rating system. The system ranks wine on a scale from 50 to 100 points, based on the wine's appearance, color, aroma, flavor, finish, and general quality level and potential.
BACKSTORY
Robert Parker was born in Baltimore, Maryland on July 23, 1947. He attended the University of Maryland as an undergraduate, majoring in history and minoring in art history. He went to law school at the same university, and graduated with a Juris Doctor degree in 1973. As a student visiting his high school sweetheart (and future wife) during a month abroad in Alsace, France, Parker discovered his interest in wine. In 1975 he began writing a wine guidebook, and several years later in 1978 published a newsletter called The Baltimore-Washington Wine Advocate. This was later renamed The Wine Advocate, and today has over 50,000 subscribers in nearly 40 countries.
Although Parker had no formal training in wine, he felt there was a need for honest and authentic published writing about wine. He believed wine criticism was tied too closely to wine selling, and wanted to provide his own wine guides as an independent consumer and without any conflicts of interest. The Wine Advocate accepts no advertising.
OF NOTE
Mr. Parker began his professional career in the 1970s practicing law as an attorney, a senior attorney, and assistant general counsel with Farm Credit Banks of Baltimore. In 1984 he gave up his successful legal career to pursue his dream of writing about wine. His friends and family advised against this, suggesting that wine writing would be a fanciful and unprofitable profession.
DRAMA
It wasn't long before Parker's wine reviews began to cause a stir in the world's wine industry. He famously determined the quality of the 1982 vintage in Bordeaux to be superb, contrary to the opinions of many other critics who described it as too low-acid and ripe. The controversy garnered much attention for Parker and his writing, and remains a subject for debate even 25 years later.
PERSONAL
Robert Parker is married to his high school sweetheart, Patricia, and has a daughter named Maia who was adopted from a Korean orphanage as an infant. He lives in the small rural town of Monkton, Maryland, about 30 minutes outside of Baltimore, and not far from where he grew up.
NO JOKE
In William Langewiesche's profile on Robert Parker, "The Million Dollar Nose," Parker claims that he tastes 10,000 wines each year and remembers every wine he has tasted over the past 30+ years. Parker's nose and palate are insured for $1 million.
VITAL STATS
FULL NAME: Robert McDowell Parker, Jr.
DATE OF BIRTH: July 23, 1947
NATIONALITY: American
OCCUPATION: Wine Critic
UNDERGRAD: University of Maryland
RESIDENCE: Monkton, Maryland