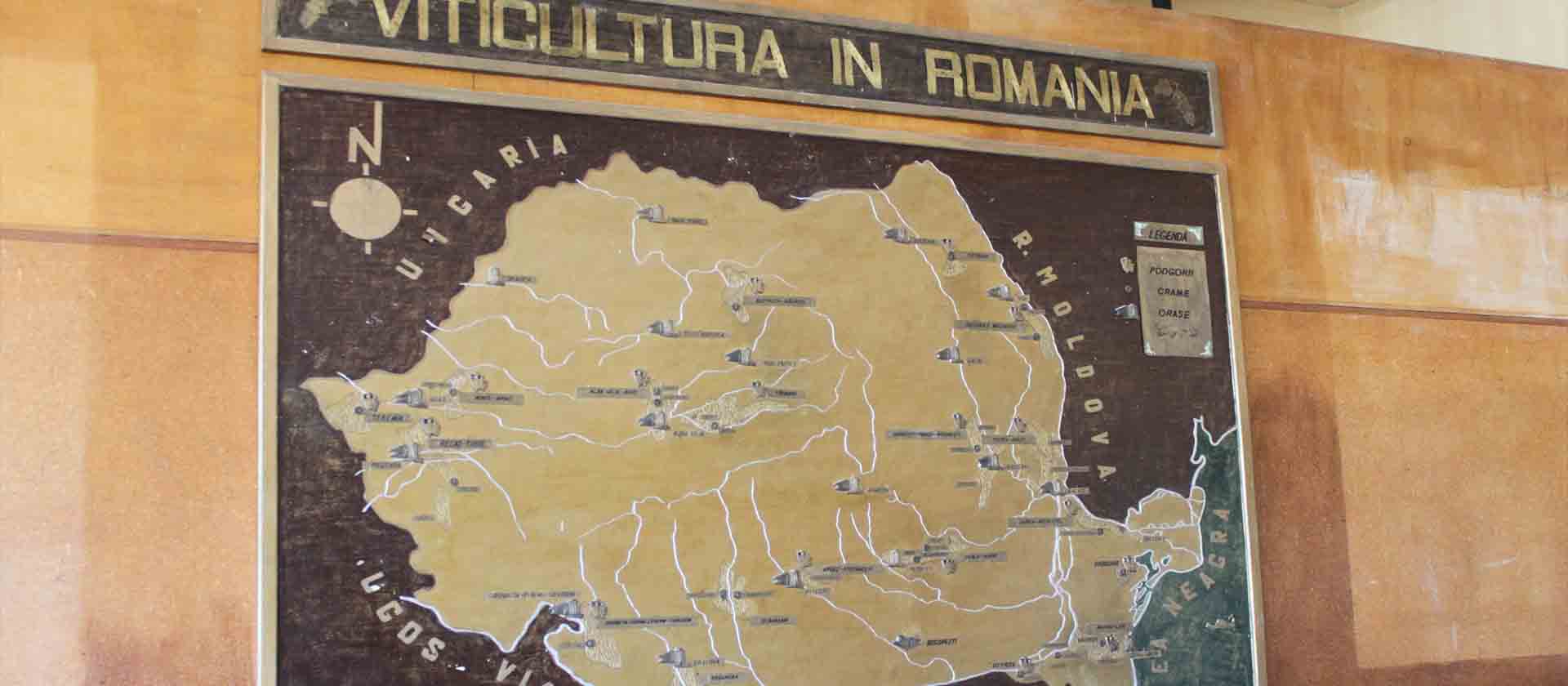 Romania is famous for being home to Count Dracula, and for producing top notch Olympic gymnasts. Few people think of Romania when it comes to wine. According to OIV (International Organization of Vine and Wine), as of 2012 Romania was the 13th largest wine producing nation in the world. It has more land under vine and produces more wine than each of Australia, South Africa and Chile. It also has a long winemaking heritage. Archaeological evidence suggests Romania boasts 6,000 years of winemaking history. Grape Collective visited Romania and spoke to several Romanian producers about the state of the industry.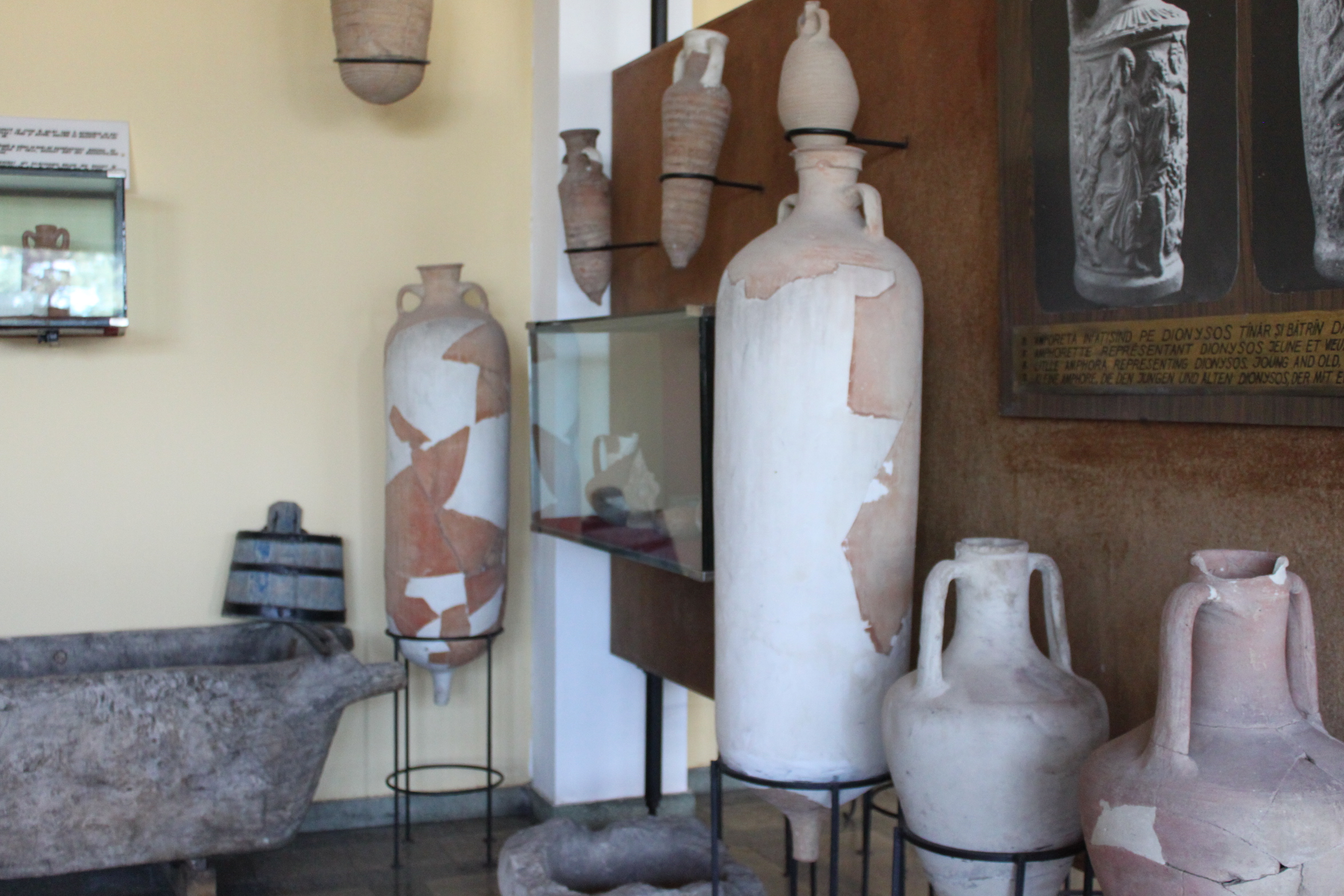 (Romanian wine relics at the museum at Murfatlar Winery)
Romania's wine industry has been severely impacted by the country's politics. Under Communism, there was investment in winery technology, and an increase in vineyard planting; however, the focus at the time was clearly on volume. Vineyard parcels were often a mix of different grape varietals, and winemakers focused solely on quantity.
We spoke to wine producer Daniel Guzu whose winery Panciu produces wine on 150 hectares in the East of Romania. Guzu's father was a driver who used to drive the tankers that transported wine to the Russian army; he was also an amateur winemaker. "

Communism made a lot of good things - planted a lot of new vineyards - made modern vinification equipment. But wine was used as a barter between communist countries and for export, mostly to Russia. Bottled wine in that time was sweeter, bulk wine was dry."
After the fall of Communism in 1989, and the overthrow of the dictator Ceausçescu, Romania fell into a downward economic spiral. The wine industry was one of many industries to suffer from neglect and decline. State-owned wineries had to be returned to their pre-Communism owners, and 180,000 hectares of vineyard land were handed back to their former owners.
Following the economic troubles that ensued after the end of Communism, many of the vineyards were under disrepair until Romania became part of the European Union in 2007 and was boosted by European funding, stimulating local and foreign investment. Romanian wine producer Stefan Ionescu, owner of the label 1,000 Faces, was able to enter the wine business solely because of the EU funds that were made available to wineries at the time. He is not alone; he says 100 or so similarly-sized wineries also owe their existence to the availability of EU funding.
Ciprian

Neacsu

is another Romanian wine producer who has seen EU funds significantly impact his business. His f
ather and uncle started

Senator Wine

in 1991. However, it was the advent of EU funds in 2007 that allowed them to focus on improved quality and really develop their business. EU funds helped them to replant vineyards with better vinestock, and to invest in modern winemaking equipment. These funds also helped them to develop an export market for their wines.

Neacsu

estimates that over 95% of Romanian wine is currently consumed domestically.

An article on

Winesearcher published in 2011 reinforces the comments of the Romanian producers that only about three percent of Romania's wine production is exported.

Neacsu

's company has used EU funds to attend trade fairs and target foreign markets alongside other Romanian companies. He is currently exporting to 20 countries, including

China, Russia, US, Canada, Mexico, Australia and Japan

.
Neacsu

and the other producers we spoke to all pointed to international marketing as a key area if Romania is to improve as an exporter of wine. There is a lack of a dominant marketing body to help Romania make a name for itself such as Wines of Chile or Wine Australia. Currently the EU funds are earmarked for specific producers who are responsible for spending the money themselves. On occasion, producers have banded together to combine funds but such efforts tend to be small and lack impact. Between 2011 and 2013

Neacsu

and

Senator Wine

banded together with six
other companies to market Romanian wine in the US with a combined budget of $1 million per year.
During our trip to Romania, we visited one the largest wineries in Romania,

Murfatlar

, which is located in the southeast of Romania. Murfatlar used to be a state owned winery and is now a private company. The vineyard stretches across a surface of more than 3,000 hectares. It is a massive operation with huge tanks (below right) made for the purpose of serving the thirsty Russian army. In 2000, a group of Romanian private investors became the major shareholders. Murfatlar is home to a museum with winemaking relics that are up to 6,000 years old. It is a large winery, and you can see the challenges of escaping the contraints that the communist infrastructure imposed on the operation and transitioning to a operation focused on producing quality wine.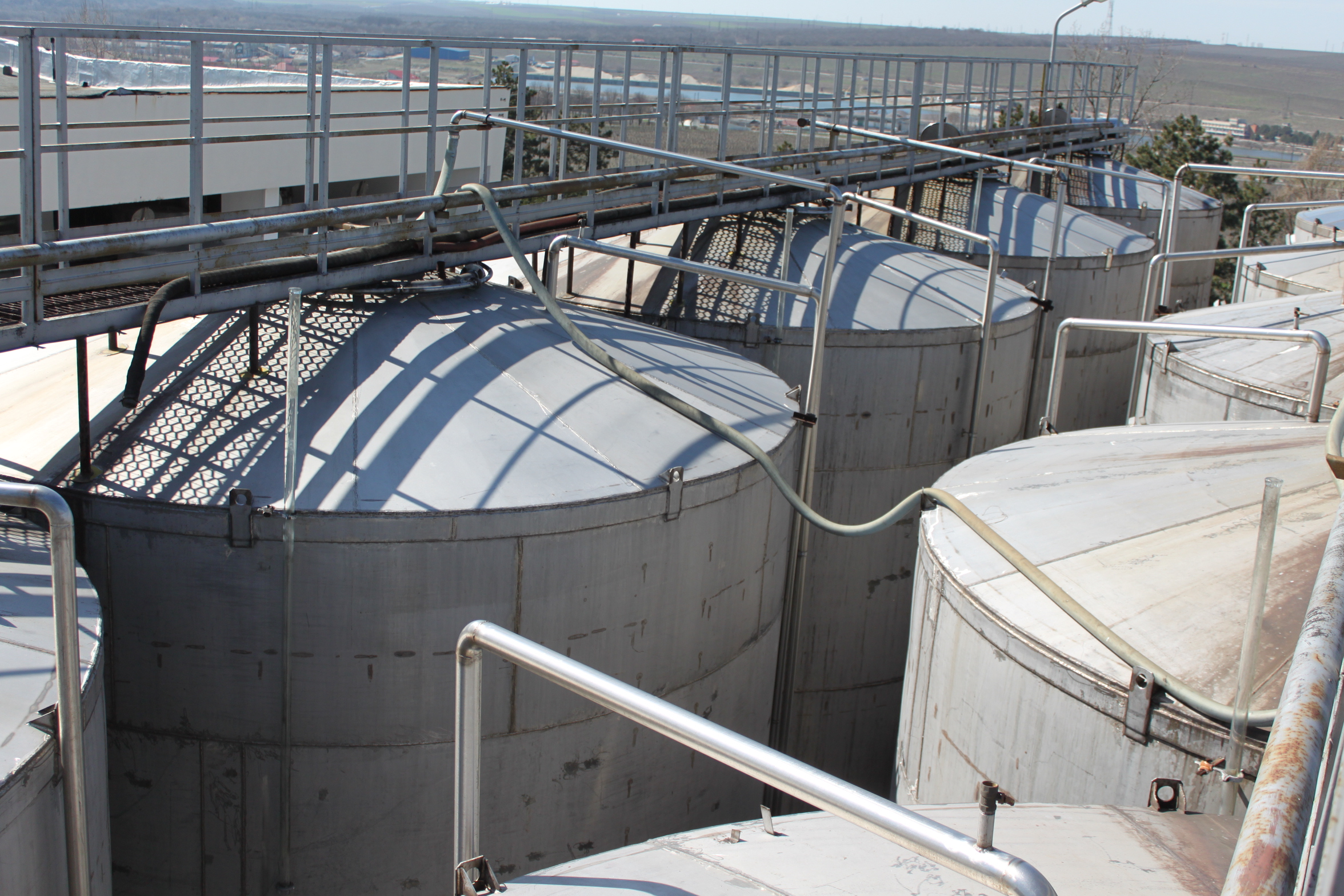 In a recent Financial Times column Jancis Robinson wrote about a visit to Romania where she attended a seminar focused on the local wine industry. Writing about Romanian wine, she commented: "There has been a dramatic increase in the area and efficiency of vineyards, as well as in the number of smaller, ambitious wineries." She quotes a figure of about 30,000 hectares of new, well-designed vineyards that have been planted since 2007, which account for 1/3 of total land under vine in Romania, as well as an increase of 120 new wineries.
Most of the grapes grown in Romania are familiar varieties as they have taken a strong lead from French pioneers, but Romanians do have several compelling varietals of their own. The chief grape variety indigenous to Romania is the Fetească grape which comes in several shades.
The word Fetească means maiden, and there are three distinct types: Fetească 'Neagră' or 'black' which is red wine, Fetească 'Regală' or 'royal', which is white, and Fetească 'Albă' another white.
According to official data, white varieties occupy about 85 percent of the total vineyard area, while red varieties account for the remaining 15 percent. Fetească Albă and Fetească Regală are the main white varieties, followed by Riesling, Aligote, Sauvignon, and Muscat. Leading red varieties are Merlot and Cabernet Sauvignon.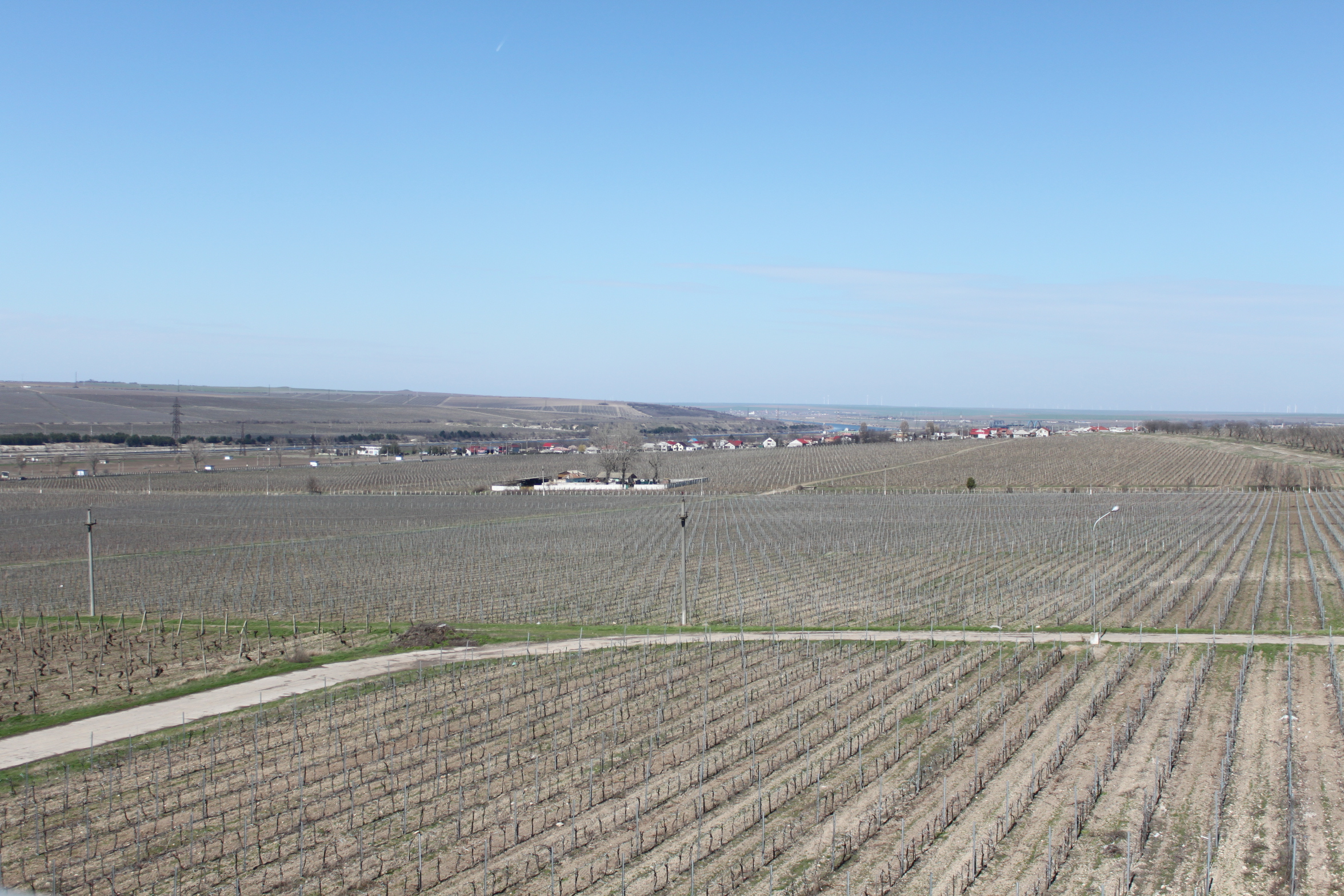 All of the producers we spoke to acknowledged the need to promote indigenous Romanian varietals abroad. No one needs a Cabernet from Romania, but a grape like Fetească Neagră can really showcase the unique terroir of Romania. One US importer that specializes in Eastern European wines who we spoke to off the record felt that quality Romanian wines are too expensive relative to wines from other Eastern European countries. It will be the challenge of the Romanian wine industry to band together to tell their story and get world tastemakers trying their wines. Getting a critic like Jancis Robinson to visit the region is a good first step.
Our interview below is with Romanian wine producer Stefan Ionescu.
Christopher Barnes: Tell me a little bit about how you got involved with wine and what your ambitions are?
Stefan Ionescu: I try to invest in things that I like. That was in the yard, for agriculture. I have a friend who said, "Yes, in our region there is something but it is for a vineyard." At that time, I was a little bit suspect about investing in a vineyard, but I decided to do it, I plant it. When you start to plant something and you take it from zero, it's like your own child and you learn to love it. You give something back, you see that right now, I'm from there. I am not living there, but when I think of something difficult and good, it's that land.
What kind of wines are you making?
The region where I make the wines, Dealu Mare is the name. It's very good for the red wines. I tried to give the possibility to the wine maker to make beautiful wines. That's why I put it the vineyard.
I put 3 hectares of Chardonnay, 3 hectares of Sauvignon Blanc, 3 hectares of Romanian Fetească Albă, and another Romanian grape Tămâioasă Românească. The other red grapes include Feteasca Neagra and some some international, Cabernet, Merlot and Cabernet Franc, Pinot Noir, Syrah, and some Romanian grapes that I think can be a possibility to make great wines.
Let me ask you, how many wine makers are there in Romania now? Do you have any idea how many people are there like you who are making wine?
I think there are almost 100.
Are these people, what are their ambitions, are they ambitious to make great wine?
Some, yes, they want to make great wines. But ... depends. Right now in Romania, this is the situation, there are big producers who have thousands of hectares, who need to sell a lot because they make a lot of bottles. There are small producers with 50, 20, almost 100 hectares who want to make very good wines, and they are very ambitious. They are young, they are going outside, they are seeing what is happening in France, what is happening in Argentina, what is happening in Napa, they are try to learn to make good wines.
Is there is an artisanal movement going on in Romania?
It is not like a garage wine because you need to invest ... when you have a garage wine, you have more vineyards, you produce less bottles. For me, when I make 50,000 bottles, it is not a garage wine, it is my wine and I love it. The vineyards that I have (64 hectars) gives me posibility to make 400,000 but I'm not sure that I can sell it.
Tell me a little bit about the marketing issues that Romania has as a country, how do you think that's affected the industry and what do you think the solution is?
There was no marketing in Romania until a few years ago about wine. You didn't even find quality wines at the Romanian market. When it's something you cannot find, you don't market it because you're not going to find it. That changed, I think, a few years ago, when some producers entered Romania, they start to make good wines and they want to promote and sell them. That is the beginning, let's say. That is the beginning because five years ago there were just 30 or 40 producers, right now there are more than 100. In the next period I think that there is going to be 500 producers.
How is becoming part of the EU impacted the wine industry?
I started and I made this vineyard with EU funds, without them I don't think I could have even started, because it is very difficult. You need to have your own money. It is very difficult to start something from nothing and to make a good wine. You need time. You need a lot of investment. Without EU money, I don't think that I could even think about starting.
How many winemakers are there that are in business now because of the EU initiatives?
Almost everybody is making wine because of the EU funds that came into Romania. When you have a possibility, when somebody gives you the possibility to make good wine, and you have everything else but you don't have the money ... something is wrong with that.
What grapes do you grow?
I grow Cabernet, Merlot, Pinot Noir, Syrah, Shiraz, those are the red ones. Chardonnay, Sauvigon Blanc, Tămâioasă Românească and Fetească Albă white wine.
And you also own a wine bar?
Yes, I opened one wine bar because I said that Romania needs to promote its wines and they need to be tasted.