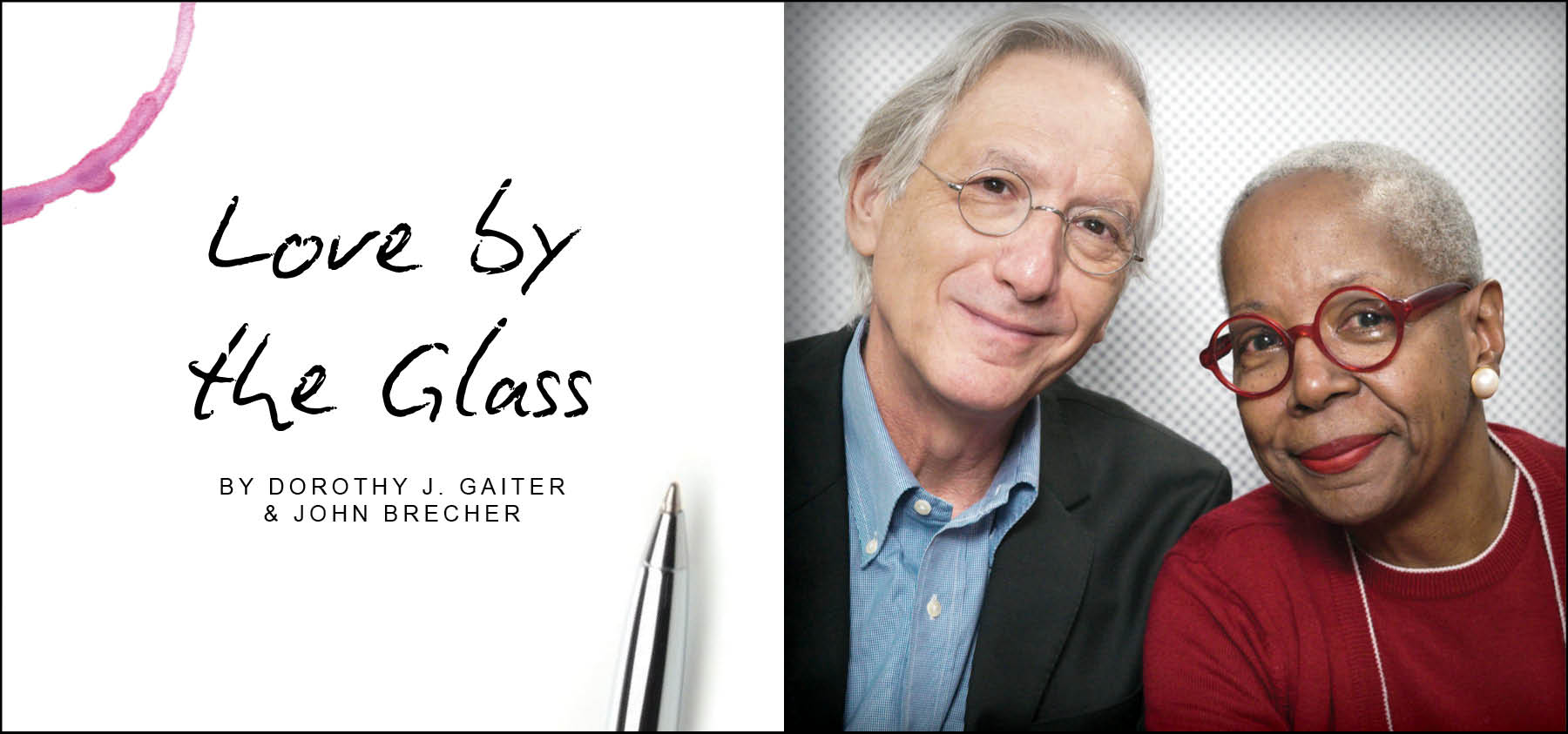 Over the years, when the girls were little and tired of accompanying us – again -- to Napa and Sonoma, we realized we needed a strategy. They were kids and we, Mom and Dad, worked together and were wine-obsessed in their view; talking about it, writing about it, drinking it every single day. So we met their demands. Duh. We stayed at places with pools, gave them riding lessons and spent hours at Scandia Family Fun Center. Sometimes, John kept the motor running while Dottie hopped out to ask the tasting room attendant if the winery had a pet, another prerequisite.
One day during a lengthy stay in 2005, we drove up the driveway of a winery on Route 29 in St. Helena that was lined with fruit trees -- apples, low enough for the girls to pick. And inside, the wines at Salvestrin Winery, well, they were a treat for adults.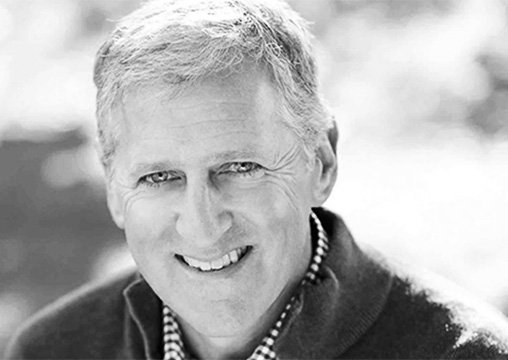 (Photo of Richard Salvestrin)

As we wrote in the first paragraph of our Tastings column in The Wall Street Journal about that trip, during which we visited 100 wineries in Napa and Sonoma: "After we sampled a lovely red wine, the young woman behind the counter said, 'This would be even better with food -- in fact, you want to see?' With that, she bounded out of the tasting room and led us outside, where we each picked a perfectly ripe, warm-from-the-sun cherry tomato, popped them into our mouths and then again sipped the wine, which was indeed even more delicious. Well, of course it was."
We came back to Manhattan, wrote about Salvestrin's Sangiovese, recommended visiting the winery (now by appointment) and didn't see Salvestrin's wines again until three weeks ago. At a Martin Scott portfolio tasting, John found Grant Bender, the winery's national sales manager, who poured what John called "a master class on Cabernet Sauvignon." We had split up to tackle the hundreds of wines assembled at Lincoln Center and John found Dottie and brought her over to taste the Salvestrins.
The three Cabernets, from the Napa to the Estate to the powerful Dr. Crane 3D, clearly showed a consistent vision, and each also had subtly different tastes that made them both delicious and fascinating. They had fresh fruit flavors, like blackberries and black cherries, with bright acidity like actual grapes. They had good structure, especially the 3D, minerals, a touch of chocolate and a dash of coffee. And the color. That was the first thing that grabbed us. The wines were actually purple, not black or red with blue rims or garnet, but purple like dark grape skins.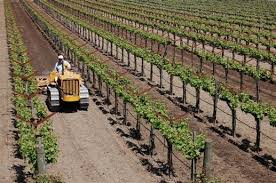 "I make wines I like to drink, and part of that is I need to find enough people to believe in what I do so that I can continue to do what I do," winemaker Richard Salvestrin, 54, the third-generation owner of the historic property, told us when we called him a few days later. He and his wife, Shannon, 46, have three daughters, thus the 3D in the name of their top wine. Hannah is 21, Emma, named after her great-grandmother, is 20, and Tessa is 15.
Longtime lovers of California wines know family names like Mondavi, Heitz, Wente and Martini, but the Salvestrins, who make about 6,000 cases of estate-grown wines and more than 15,000 cases of non-estate wines (including one actually called Cult, which costs about $22), have flown largely under the radar. This is despite the family having been a part of Napa Valley's viticultural development since 1932 and its ownership since then of part of a valuable, storied vineyard, long famous for exquisite grapes. (salvestrinwinery.com)
Next month, Richard and Shannon will be pouring their wines at the 40th Anniversary celebration of the Wine Advocate at a tasting in New York of wines that have scores of 95 and higher.
"This is the first time we've been invited to pour at Robert Parker's event. We're pretty excited," Richard told us.
The story of the Salvestrins' winery is especially notable now when small, family-owned wineries are facing pressures from competitors, domestic and international, and changes in the way wine is made and marketed. Richard told us he had always wanted to be a farmer, like his father and grandfather, but he hadn't planned to be a winemaker.
"When I was a kid I loved to play in the dirt and drive a tractor. Back then Napa was a lot less populated, more rural. My brother and I were raised outdoorsy. We fished, played in the woods. I knew I wanted to be here and to be here, I had to be in this industry. My dream was to be a farmer and grow grapes," he said.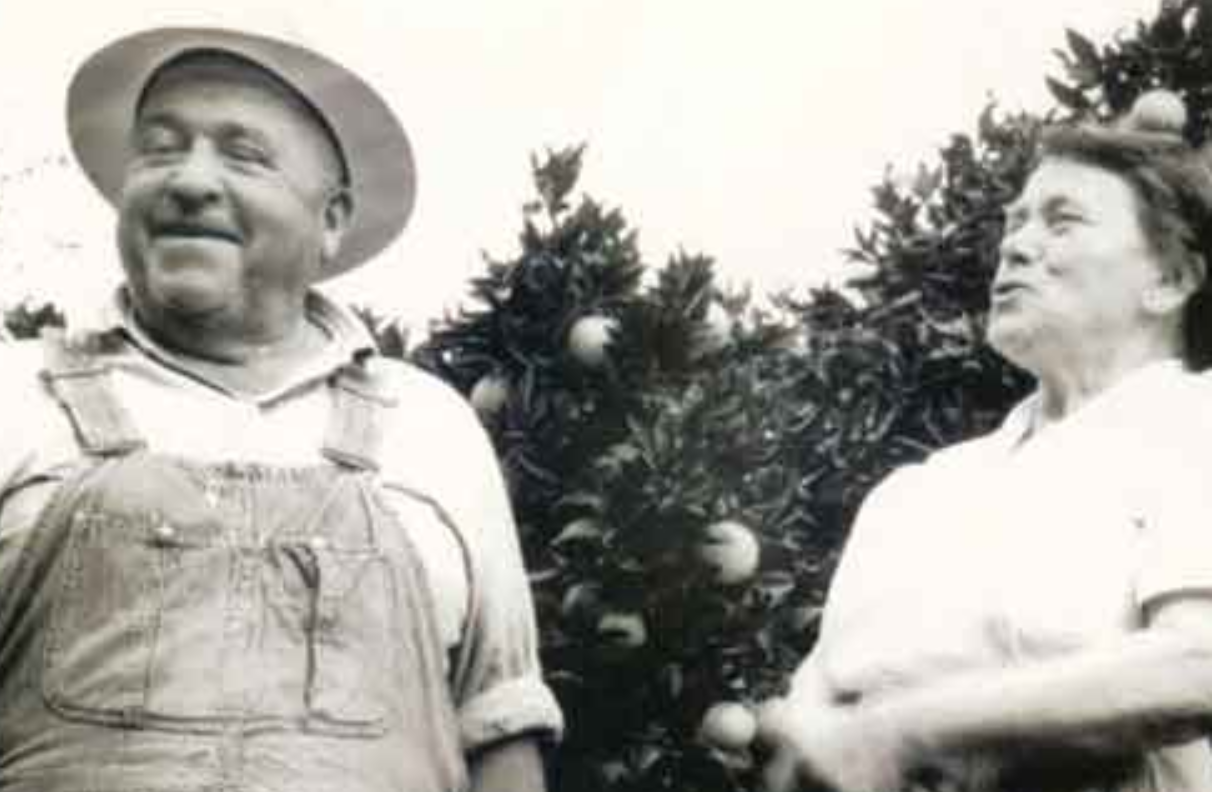 In 1932, just before Prohibition ended, Richard's grandparents, Italian immigrants John and Emma (photo right), purchased vineyards and the home of the late Dr. George Belden Crane. Crane, who began planting grapevines in St. Helena in 1859, is credited with being among the first viticulturists to plant European grape varieties in Napa Valley. He and Charles Krug were the first to make wine there, according to the Napa Valley Register. After Crane died in 1898, his large, high-quality vineyard holdings were chopped up and sold. The Salvestrins have continuously farmed their precious slice of it since that 1932 purchase. Others have different parcels of Dr. Crane's famous vineyards and charge far more than the Salvestrins do for their wines.
Richard's grandparents sold grapes they grew on the Crane vineyard, as did his father, Ed, who will be 82 in November, and his mother, Susanne, now 77. The family has lived in the doctor's home for three generations. In 1990, Ed and Susanne turned part of it into a bed and breakfast, where for many years Susanne's cooking was a huge draw. The family now operates that home, restored, as the Inn at Salvestrin, and Ed and Susanne live in a wing of it.
It was Richard, though, who decided to make and sell wine from their grapes after he'd earned a degree in plant science and viticulture and had worked at other Napa wineries. His first commercial release was in 1994, the same year he bought additional Dr. Crane land on which he and Shannon live with their daughters. He and Shannon built a winery in 2001. Their sustainably farmed Dr. Crane land and the winery are certified Napa Green, environmentally responsible.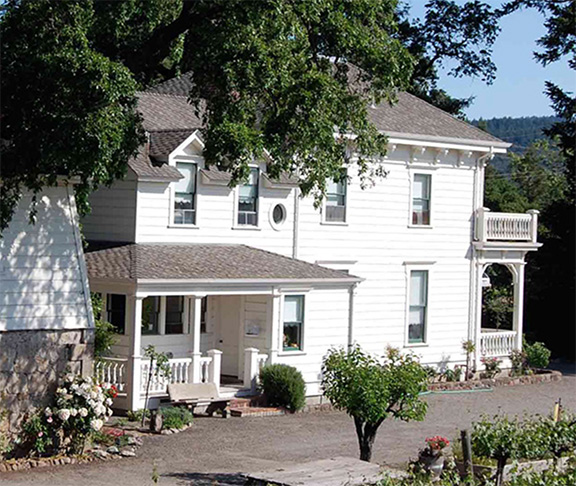 "We've been farming that way since 1932, which is why the vines are extremely healthy. The soil is alive. We live on the vineyard so we are really careful about what we do and how we do it because we live here. Our water supply is ground water," Richard told us.
Their estate vineyard is known now as Salvestrin-Dr. Crane Vineyard. The family also leases the LeBlanc Crystal Springs Road Vineyard in St. Helena for their Sauvignon Blanc and some of the varieties that, along with Dr. Crane fruit, go into their entry-level Napa Valley Cabernet Sauvignon.
"Until I got out and worked for bigger companies, I hadn't thought about making and selling wine," Richard said. "But look, we have a prime piece of real estate, my parents have the inn here. It made sense to transition to start selling wine, to build a brand that was sustainable."
We asked about the style, a pure fruit thread with stellar acidity, that runs through all of them.
"This is family property that's been passed down the generations. We control the grape source and understand the vineyard, block to block," Richard told us as he prepared to harvest the last of their Dr. Crane vineyard fruit the next day. "We let the grapes get ripe with their natural acidity. We get good ripeness, good aromatics and the fruit character is not pruney, not stewed, not jammy. The finish is really bright and ripe and it brings you back for another sip. When the wine is gone, it lingers. It's such a pleasant experience."
That it is, and we had missed it. Richard said the distributor for Salvestrin had been purchased by a larger distributor and that Salvestrin, being a small brand, had gotten lost. With Martin Scott currently distributing the wines, they now have a more significant presence in the market. Still, 60% of its estate wines are sold directly to consumers.
Now the master class: The 2015 Napa Valley Cabernet ($54.99) is one heck of an "entry-level" wine. Great structure. Classy. It's aged in 50% American oak and 50% French oak, with half of all the oak new. While it's positioned as the most approachable of the Cabernets, you never forget you're drinking a fine, well-made wine. It's 76% Cabernet Sauvignon, 21% Merlot and 3% Cabernet Franc and it's a well-balanced 14.8% alcohol, as are the next two. Only 850 cases were made.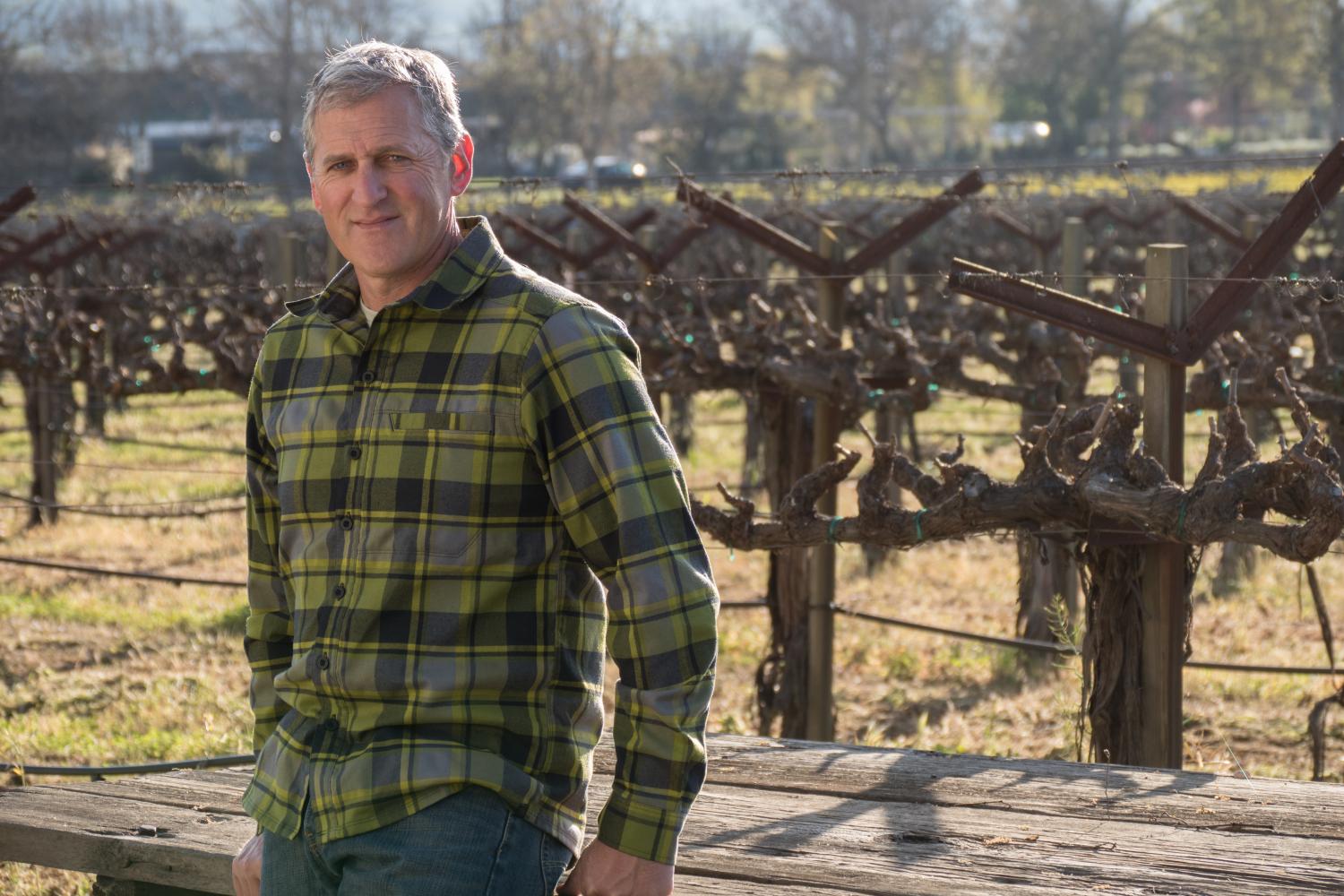 The 2014 Salvestrin-Dr. Crane Vineyard Estate wine ($64) has 92% Cabernet Sauvignon, 3% Cabernet Franc, and 5% Merlot. This is a wine of serious stature, bigger than the Napa Valley version and spicy. The Merlot adds juiciness and roundness and the Cabernet Franc grip. This is aged for 22 months in 65% French oak, 35% American, with 60% of all of the oak new.
The 2103 3D Dr. Crane Vineyard ($145) is an impressive, elegant powerhouse that should be appreciated in small sips. It is 100% Cabernet Sauvignon, from select 3D blocks and barrels, and is aged solely in new French oak for 34 months. It is built to go the distance, dense, with a long, long finish and a pleasing note of pepper.
Also in national distribution are a fun red wine called Cavaso, named after the Italian village Richard's grandparents are from, and a juicy Sauvignon Blanc. Other wines, like that Sangiovese we had years ago, are available from the winery.
Shepherding the business hasn't been easy, but the Salvestrins have been quick on their feet. The economic downturn about a decade ago shook grapegrowers and winemakers to their core. The price of great fruit dropped and wineries couldn't sell the wines they had bottled. That's how Cult Wine came to be.
"That's the project that we started in the economic downturn when everything started to crash, when people weren't going out to eat in restaurants and spending money and everybody had excess wine inventory," Richard told us, explaining that they thought it a sound financial move to make an "offshoot brand that would be more value-oriented.
"We didn't know what to call it for a couple months. Me and my wife and the sales manager at the time, we'd sit in the office and brainstorm. We went through a number of different options. I don't know how we stumbled on it but someone suggested Cult and we looked it up and nobody had it so we said, 'What the heck?'"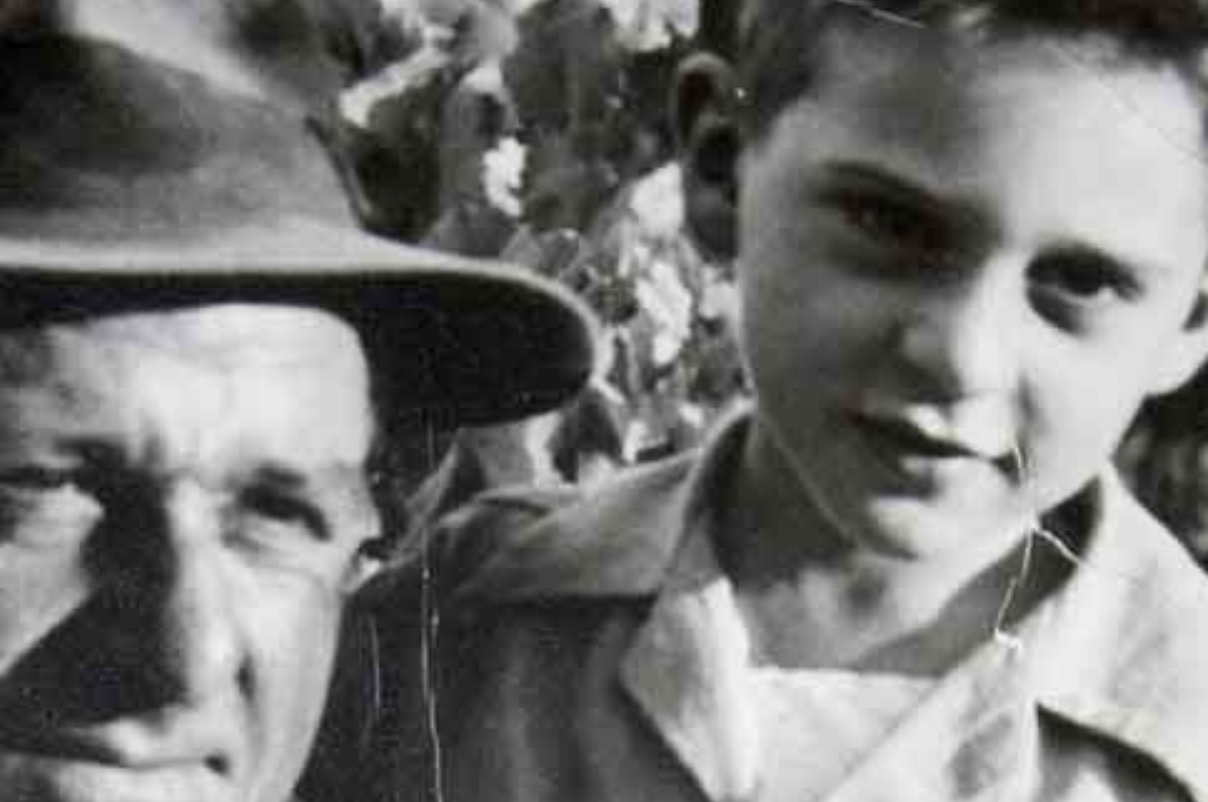 (Photo of John and young Ed Salvestrin)

However, when the economy recovered, "It didn't take too long to get to where the price of Napa grapes would not support a $25 bottle anymore," Richard said, so Cult Cabernet is now a blend of Cabernet Sauvignon from Napa, Mendocino and Lodi. Made by Richard and Salvestrin's General Manager Scott Lloyd, another Napa native, who has a master's degree in wine, it is the cash cow, clocking in at 15,000 cases.
And about that enticing purple color of the Salvestrin Cabernets. We asked Bender about it and he wrote: "It is true that other Cabs have over time and with enhanced winemaking techniques become darker in color and in some the black color is 'unnatural' in appearance. All Salvestrin Cabs are the truest expressions of the natural fruit. Fruit that travels, in most cases, only a few feet to the winery. The freshness of fruit and minimal winemaker influence is why these wines have a true-to-fruit color and can easily be aged due to the highest quality of this fruit.
"It's what Rich does not do to the wine that is the difference as opposed to what others are doing to the wine," Bender added.
Richard and Shannon, who, by the way, was the young woman who greeted us in 2005, have no plans to retire anytime soon. But, we asked, might their daughters one day continue the family's story in Napa?
"We've encouraged them to follow their hearts and their dreams. We've told them to go out and get an education and enjoy the world," Richard said. "This is what I wanted to do. This was kind of my dream. If they want to make it their dream, we want them to discover it on their own. I did."
Dorothy J. Gaiter and John Brecher conceived and wrote The Wall Street Journal's wine column, "Tastings," from 1998 to 2010. Dorothy and John have been tasting and studying wine since 1973. Dottie has had a distinguished career in journalism as a reporter, editor, columnist and editorial writer at The Miami Herald and The New York Times as well as at The Journal. John was Page One Editor of The Journal, City Editor of The Miami Herald and a senior editor at Bloomberg News. They are well-known from their books and many television appearances, especially on Martha Stewart's show, and as the creators of the annual, international "Open That Bottle Night" celebration of wine and friendship. The first bottle they shared was André Cold Duck. They have two daughters.
Read more from Dorothy J. Gaiter and John Brecher on Grape Collective