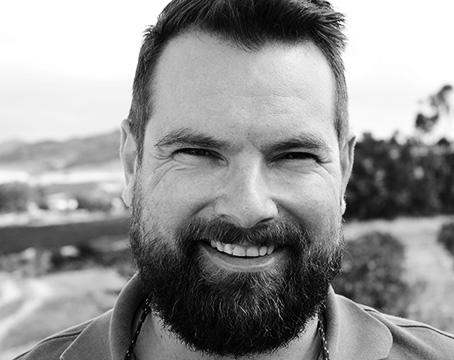 Lammershoek Farms & Winery is located in the Paardeberg winegrowing area of the Swartland in South Africa about an hour drive from Cape Town. Lammershoek translates to "lambs' corner" in the Afrikaans language, and legend has it that ewes sought shelter for their offspring in the forest alongside the farm when they were threatened by black eagles.
The Paardeberg Mountain region offers primarily decomposed granite soils and 80% of the vineyards are bush vines of which only 10% are under irrigation. Chenin Blanc is the most planted varietal. The winery has various microclimates and altitudes that range from 250 to 1,000 feet.

Established in 1718, it is one of the historical wineries having operated for over three centuries. Lammershoek is today owned by Andreas Abold, a German sports entrepreneur. Grape Collective speaks to Lammershoek winemaker Schalk Opperman.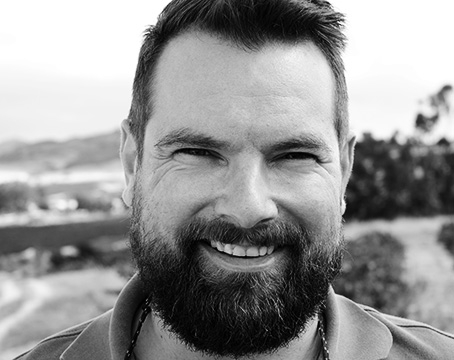 Grape Collective: Schalk, tell us a little bit about the history of Lammershoek.

Schalk Opperman: Lammershoek has a very long history, one that we are very proud of. It was one of the first farms here in the Swartland area. It was established in 1718 when then governor of the Cape gave the farmland to, first on loan, but later bought by a young man, Mr. van Jaarsveld. And it used to stretch quite a distance from here up to Riebeek Kasteel Mountain that we can see in the background and nowadays we are farming here on a 180-hectare farm, with what, 65 hectares of vineyards and the vineyard planting history dates way back to 1726. So, it's been around for a while.

What is the Old Vine Project.

Well this is where guys like Andre Morgenthal and his team of people created a right to certify wines that are made from a specific block. So, this is a single vineyard block of vines that's older than 35 years. Now, in Lammershoek you'll find many of these vines and we've got quite a high density concentration of old vines growing here. So, we're very proud to be part of it. I think it's a great vehicle to motivate the buyer to invest in that and pay a little bit of extra money because as farmers we pay quite a bit to keep it in the soil and it produces quite unique wines that we want to show to the clients.

Talk a little bit about the wines that come out of old vine grapes.

For us, our old vines generally produce quite a lower yield, but the main reason being as well, very small berries. So, in that very small berries we do get a lot of concentration. But the real value in it for me is, especially like you saw in our last few years, it's quite dry conditions. It's generally quite dry in the Swartland. But the last few years has been tough. These old vines were able to survive the test of time. And with the roots being so deep in the soil and all the sandy soils, they were able to reach that last bit of reserves of water and maintain themselves where a young vine would have struggled. So, we are happy with that because it also guarantees a certain level of consistency in our product.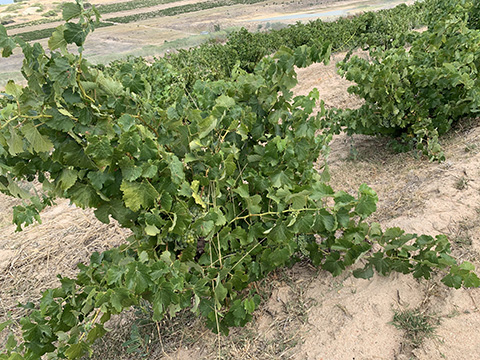 Talk a little bit about your philosophy of viticulture here.

We believe in farming close to nature. We are farming so we have an economical motivation as well of course like any farm does. So, to produce grapes, make good quality wine of it and sell it at the end of the day. I think with the Abold family that is heavily invested in Lammershoek over recent years and also the team here, we share a common philosophy that what we do is so that one day our children or their children or other people who come and work here will find the same.
That it's not just a barren empty land with no reeds, there's a place for everything including the farming but also nature. And that's a very fine balance and only something you really truly understand and can truly manage when you live and work around in this area and you learn that balance and become part of it. So, no real philosophy as such or a method or recipe, it's something you understand or you don't and that's what we try and do here.

And in terms of the winemaking itself?

Yes. Same philosophy. I think first of all, we want to show the terroir side of the wines. We want to show this beautiful Chenin Blanc. It's been years longer than I'm alive and planted in the '60s and I want to show what those vineyards are doing and how they stood the test of time and therefore just guided through in a cellar.
Obviously do what's necessary to produce a good quality, clean wine for the consumer. Guaranteeing consistency. But definitely what I don't want to do is influence it any way with oak or additives, what may influence the taste, profile, the acidity, et cetera. So, the natural side of it is very important for us, but again, there is a business principle also applied to it and consistency being one of the most important things for us in the wine styles that we make.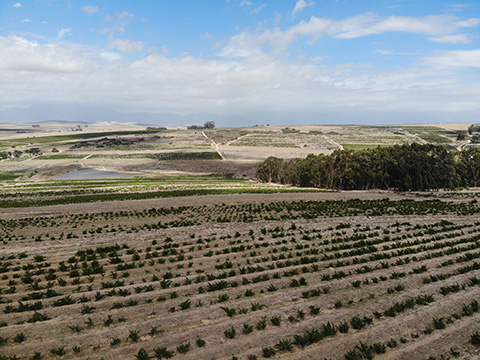 And talk a little bit about the farm here. You also have cattle.

Yes. We have about 38 beautiful cattle. I love driving around here and go and visit them every day. They're just beautiful to watch. It's called the Nguni cattle, it's a truly African breed of cattle. They are adapted to harsh environments, where there is not always an abundance of food. So, we also don't need to feed them so much and buy so much food. But we've got luckily enough open space on our 180-hectare farm where we can graze them. They've been doing well, this year each and every one of them had little calves. So, that's also exciting, during the year when you are in the office, somebody runs up, "A new one is born." So, that's always great, seeing new life is awesome.

So, talk a little bit about the Swartland and how the wine industry has evolved here.

So, the Swartland to explain it to international person, I always refer back to the southern parts of France where it wasn't always as popular, like Bordeaux and Rhône and Burgundy and those kinds of areas. Swartland was pretty much a lot of the same. It was all about volume, all kinds of cultivars, Merlot, Cabernet, Shiraz all across the ranges. And it mainly went to big cooperative wineries, and today you still get some of that happening, of course, and it's a part of the business that needs to happen and sustain the area and the economy. But over the years people realized that these beautiful vines are being pulled out, beautiful old vines doing some great quality stuff.

A group of young winemakers back, let's say about 10 to 15 years ago, I can't remember exactly, but over the last 10 years, people like Eben Sadie, Chris, Andrea Mullineux, Callie from Porseleinberg, Adi Badenhorst. They were the pioneers, and said, "Listen, let's start something. Let's try and pay the farmers enough for these little bits of crop that they produce but get them not to pull it out and lets produce some great wines from it." And they did, and they did very well and very quickly the wines were regarded as really high-end.

Today the Swartland is one of the places when people land in Cape Town International and drive straight here to come and visit and experience it, where in the past, Swartland wasn't much talked about. So, they did incredibly well for our area and Lammershoek of course being a part of it for so many years, we feel that we're in a perfect spot in a perfect time of Lammershoek's life. A lifetime to be a part of that and to help embolden it. We don't want to just ride the wave, we want to help grow the wave.

Talk a little bit about the terroir in the Swartland in your estate in particular.

Yes. So the terroir in the Swartland as you can see, it's more like a dry arid region. We have about, in good years, 400 millimeters of rain and as mentioned, in the last few years we've had very little. Luckily the previous winter we got close to that 400 mark and you can see the vines reviving, getting more growth. But in essence it ranges from, like our source, decomposed granite soils to mostly schist in other areas. Some areas are more sandy, some less, but it's not generally deep dark soils that give a lot of growth. Water is always a scarce commodity around here. So, I think in terms of the future, in terms of what really suits the terroir is Mediterranean climate grapes, but also a lot of experimentation has been done with new stuff, Assyrtiko et cetera.

Eben next door just planted some as well. We are looking at planting some stuff as well that really adapts to the region, and I think that where the Swartland differentiates itself from a lot of the rest of the wine community in South Africa, is that the guys are really forward thinking, they are pushing the boundaries sometimes maybe a bit too far, but in doing so finding the sweet spot, that perfect grape in a perfect soil and perfect farming. But everybody wants to make a perfect wine. So, it's harsh, it's difficult, but it's also so rewarding when you do get it right.
Take a 360-degree virtual reality tour of South African wine regions. This experience only works in certain browsers including Google Chrome. You can also experience the VR tour directly via the Youtube app.
Let's talk about old vine Chenin Blanc. Many people are familiar with Loire Valley, with Vouvray. What is special about old vine Chenin Blanc from the Swartland?

South Africa has some of the biggest plantings of Chenin Blanc in terms of our own productions in South Africa, a big chunk of it. And unfortunately Chenin Blanc in the past didn't have such a good name. A lot of it went into the cheaper stuff, but over the last 10, 15 years, people soon realized that, whoa, especially some of these old vine Chenin Blancs, they are producing some wines of incredible good value, good quality. And for us, here in a Swartland, one thing that stands out, the only thing I can really contribute to the real difference in anywhere else in South Africa, is the natural acidity that we find in our grapes here. And that's an important factor because you don't need to acidify it in a cellar, meaning that you don't strip the wine so much.

You can add tartaric acid, whenever you want to lower your pH and increase acidity, but a lot of the time, it can take a bit away of that special character that you want to protect and put in a bottle. Also the type of acidity you get from our natural grapes and the natural acidity in there. It's more like a sherbert. I'm talking specifically Lammershoek grapes, good sherberty salinity, salty influence that you have in it. At the end of the day, if you think about this being a warm climate growing area, the wine actually comes across more like a cool climate kind of wine, quite spicy, flowery, a lot of spice. And that for me is contributed by the old vines having the deep roots and also decomposed granite soils, giving a bit of that salinity at the end of the day.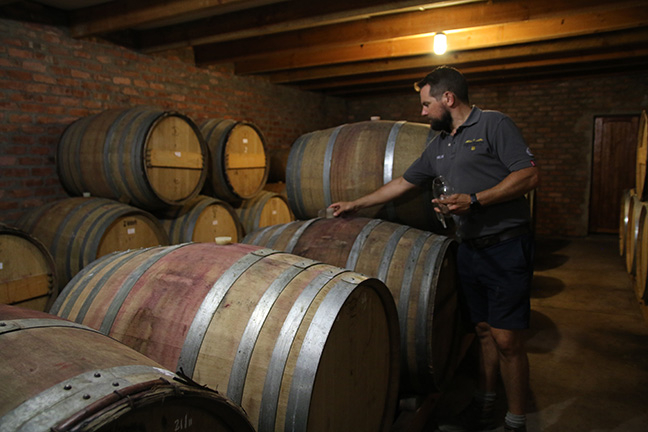 And you have some Tinta Barocca, that's quite unusual.

Yes. Tinta Barocca, there's a few places in South Africa where it's planted. So, we have this block, it was planted in 1969. It's a small little half hectare block and we try to produce at least one barrel a year from it. So it really produces very little amount of crop. But when we do get it right, we do get to make a barrel.

We do bottle it under our Mysteries range called the Tinta Barocca or "Die Ou Man" as we call it, referring to "the old man" in Afrikaans. And it's because it's one of the older blocks on the front. And yeah, it's quite a robust grape as you can expect from the Tinta Barocca, Portuguese grape and quite structured. So, it needs a bit of time in a bottle to soften and up, but lovely wine. I love drinking it.
With South Africa's apartheid past, what is the wine industry doing to enable greater diversity?

Well, it's a good question and there's a lot that needs to be done. But what I can tell you is we've got strong organizational bodies within the wine industry. One of them being VINPRO and there's various projects under that, in terms of responsible alcohol use and working on a farm with the parents. Also the use of alcohol by grown-ups, but more importantly skills development. Making sure kids have access to schools, all those kinds of things. It's not the responsibility of such a body like VINPRO, which is primarily there to look after the industry's research and development. But obviously with everything in South Africa, with the powers that we have, there's always that arm of organizations that needs to look after that.

And the same goes for Lammershoek. We also feel a strong urge to do things right, to look after our people, that each one of them can be proud of himself about what they do, to understand what they do, and that they can carry over the message and maybe spread it. If we'd do something positive here and do something well, it must spread in the community and other people want to do better and do good. Unfortunately, there's a lot of people that need a lot of help, so you can't be everything for everyone. But we do try in our little small patch of Africa, to do the right thing. There is a school here, it's not run by us, it's run by a very good trust private trust but they don't like to be named, so they really do it out of their heart.

We only provide the buildings, but it's a great thing to have here on the farm. Kids all over the community come here. And then it's about seeing potential in people, working with individuals, not with a group of farm workers. Work with the individual. And I think this way we have done over the past years quite successfully, quite well. My cellar assistant, he's a champion of a guy. He's been 15 years in a cellar. He's done his diploma, up to the third diploma, and we're looking to see if he can finish his school and yeah, small stuff, car licenses. We take it for granted but it's something that some people aspire to do something small, but it makes a big difference in their life. And then, also in the industry, I see a lot of farmers, a lot of big companies definitely investing big money, but money is one thing.

You can throw money at a problem, you need time, patience and you need really the will and the heart, I think at the end of the day, to want to help a person. If you don't have that, it won't happen. You see the government throwing money at BE projects and they fail, because there's nobody assisting and helping the people. It's a combined effort. It's not going to be done by whites or black or brown or Indian. It's us as South Africans that need to help each other. And that's our philosophy in Lammershoek. We do what we can, but we also are a small farm and unfortunately we can't help everybody. But we at least want to look after our own people.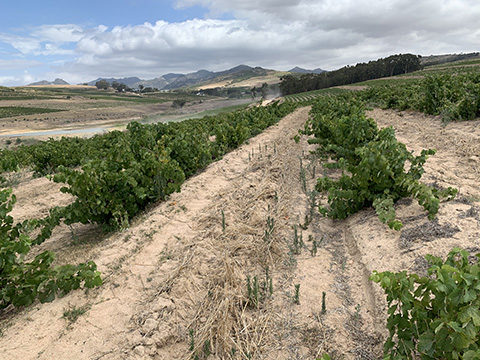 What do you think the South African wine industry in general needs to do to be more of a force on the international wine stage?

Well if I had the answer to that, I would probably have been the CEO of VINPRO already. Which is not a job that I want, by the way. But yes there's a lot that still can be done. I think first off, to avoid being the typical guy saying the government, but I do think we need a lot more government involvement, subsidies so that we can compete on equal level with other countries like Chile, like Argentina for instance. Exports to China from South Africa are growing quite a bit. But still we're not a major playing factor there. And it's primarily because you know Australia is across the water and they import basically with no tax. So we immediately landed as quite expensive for the market. So, if the government does a bit more work in treaties and seeing how to trade better with other countries that can help.

And then also to assist farmers. Especially if you think about all of this drought that's been through, there's a lot of guys that suffered that need assistance so that their farms can do well, so that they can keep people employed. We're at this stage actually we see from the government actually a very aggressive attitude towards farmers. And this needs to change. The farmers are more than this. Obviously that one or two persons that don't want to change and want to keep up the old stuff and whatever. I'm one of many, many thousands of young farmers that do want to make a change and is willing to put all the energy, love and knowledge into it and if we have a partner like the government, there's nothing that can stop us. So, it gets back to that. We're willing to do it. We just need some backing.
Videography and photos by Piers Parlett