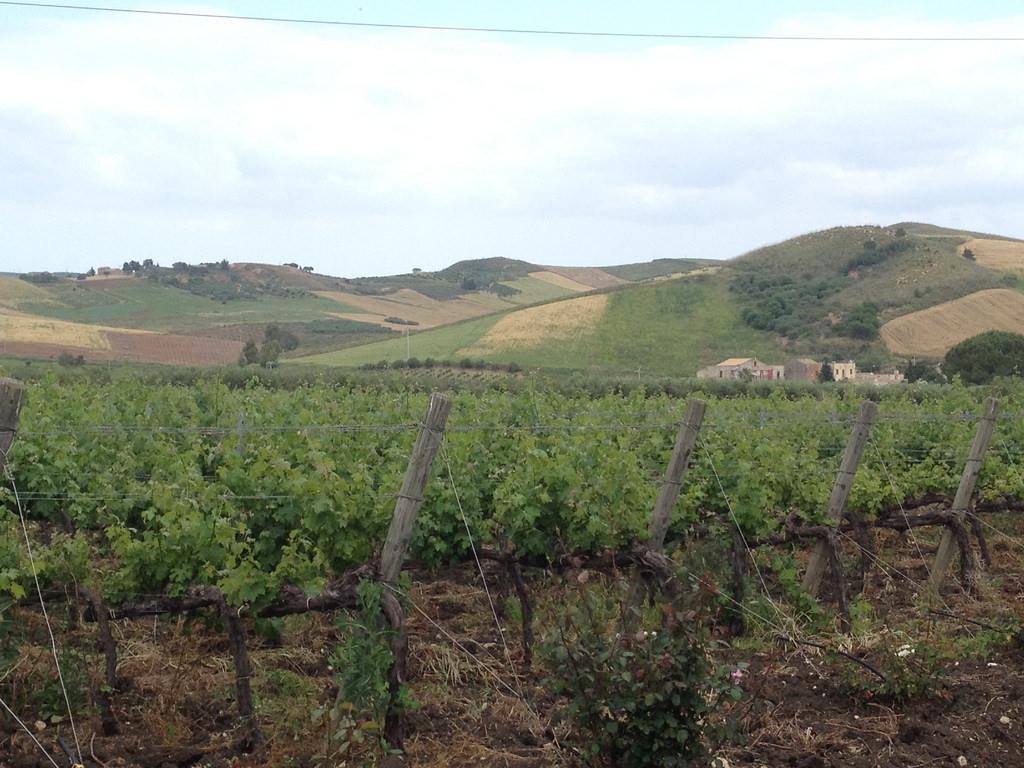 Located in the central Mediterranean Sea and one of Italy's first inhabited areas, Sicily has been an important center of viticulture for over 2500 years. The island extends from the tip of the Apennine peninsula, separated by the Strait of Messina, towards the coast of North Africa. Roughly triangular in shape, Sicily stretches 175 miles at its widest point from east to west, and measures approximately 58 miles from north to south. The most prominent landmark in Sicily is Mount Etna, which at close to 11,000 feet is the tallest active volcano in Europe.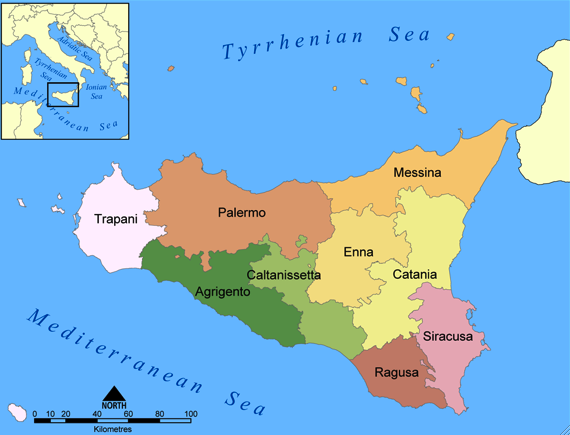 Sicily is marked by a classic Mediterranean climate, characterized by consistent bright, sunny days, mild winters, and moderate levels of rainfall. The warm, generally dry weather and coastal breezes provide ideal grape growing condtions, and Sicily has more land under vine than any other Italian region. In fact, it is in close competition with Apulia for first place as the largest wine producer in the country. Ironically, Sicilians consume less wine per capita than any other Italian.
When it comes to viticulture, Sicily's soils and the surrounding mountains and hilly terrain have a large impact on winemaking. Mount Etna, located on the eastern side of the island, contributes mineral-rich, dark soils to the Etna DOC vineyards, and vines are now being planted further up the volcanic slopes to benefit from the cooler air and fertile soils. Located about 50 miles south are the Iblei Mountains. On their lower slopes and the coastal plains below them are the DOCs of Siracusa, Noto, Eloro and Vittoria. The western portion of Sicily features less dramatic volcanic hills but soil that is still heavily influenced by the mountainous terrain of the island. This area features the Marsala DOC and includes the DOCs of Alcamo, Contessa Entellina, Delia Nivolelli, Erice, Menfi, Monreale, Salaparuta, Santa Margherita di Belice, and Sciacca.
The primary grape varieties found in Sicily are the native Nero d'Avola and Catarratto, occupying more than 16% and 32% of vineyard area respectively. Much of the juice produced from the Catarratto grape is shipped to cooler Italian regions where it is commonly used to add body and weight to wines that are thin and over-acidic. Most of what remains on the island is combined with the white varieties Grillo and Inzolia to make Marsala, Sicily's famous sweet wine.
Other noteworthy grape varieties cultivated in Sicily include Grecanico, Alicante (Grenache), Perricone, Nocera, and Frappato; the primary grape in Cerasuolo di Vittoria, Sicily's only DOCG wine. Nerello Mascalese, Nerello Cappuccio, are also grown but not in large volumes.
INTERESTING FACTS
The Greeks are normally given credit for introducing winemaking to Sicily around 600 BC, and the Phoenicians likely cultivated grapes in the flat coastal areas of the island too.

Dessert wines account for about 90% of the total DOC production in Sicily; they require a higher concentration of grapes and are generally consumed in smaller quantities.

Sicily's most famous wine, Marsala, was first made in the city of the same name on the western coast by the Woodhouse estate. Like Port and Sherry, Marsala is a fortified wine with an alcohol content of around 20% and is usually made from native Grillo, Catarratto, or Inzolia grapes.


The Primitivo grape is hardly used on its own anymore and is actually quite rare in Sicily these days. Some interesting genetic research in California suggests that the grape Americans call Zinfandel is actually Primitivo, a Sicilian variety that may have been introduced by the Albanians who settled some Sicilian communities in the 1500s. It was likely taken to California in the 1700s by Spanish colonists or later by Sicilian immigrants.





Sicily's warm, dry climate keeps mildews and rots at bay, which means chemical sprays are rarely necessary and much of Sicilian wine is produced using organic grapes.




Although about 75% of Sicily's wine is made by co-operatives, the number of privately owned estates is rising.





November 11 Sicily celebrates the "Festa del Vino," or "Festival of the Wine." It is believed that on this date the new wine is ready to be consumed.




Many grapes grown in Sicily are made into raisins or used for cooking rather than winemaking.




In addition to grapes and wine, Sicily exports cereals, olives, and citrus fruits.