"Box wine" conjures up numerous connotations, most of them unfortunately negative*, but one company, Andegavia, is betting on offering luxury by the (three) liter. Sourcing wine made from Napa Valley and Russian River Valley fruit, it's going into packaging that they refer to as "casks" and being shipped all over the country. I asked Founder Gavin Macomber to talk about the quality of the wine, the environmental benefits of eschewing the bottle, and Andegavia's future expansion.
The quality of wine in 3L packaging has increased significantly over the last few years. What makes Andegavia distinct and how do you define the wine's "luxury-class" quality?

In addition to being the first sustainably-packaged wine that's available directly to the consumer, we think the quality of our wine truly sets us apart. Andegavia's initial lineup of cask wines, including our 2011 Ruthven Napa Valley Red Blend, 2012 Ruthven Napa Valley Chardonnay, and our 2012 Merrill Russian River Valley Pinot Noir, are sourced through top wineries and vineyard partners whose core focus is to supply ultra-premium and luxury-class wines. So we've set the bar pretty high for ourselves in terms of quality. And in addition to sustainability, the major advantage with modern packaging means a substantially larger share of production dollars goes toward great quality wine, rather than expensive glass bottles and shipping. As a result, Andegavia's wine casks are generally 30 to 40 percent less expensive than bottled wines of comparable quality. Our wines, if bottled, would easily retail in the $25-30 range.

Did you consider packaging in lighter glass to avoid using plastic (though recyclable)? Or do you feel the cardboard/plastic combination is the best of choices regarding impact on the environment?

For Andegavia, the brand intersects at sustainability and quality – if we packaged in lighter glass, we might reduce the shipping costs versus traditional glass, but the quality of the wine would still be sacrificed once opened. The main advantage of the recyclable vacuum-sealed bladder is preservation; the wine stays fresh for a month.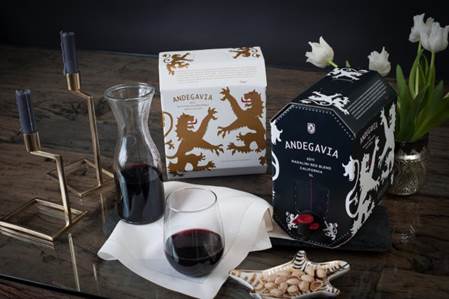 I've never seen 3L casks shipped before. What are the challenges with delivering wine packaged in such a manner? And how much does shipping in this format versus glass bottles save the consumer?

Each of our 3L casks is packed in a protective, branded shipping box that safeguards the product during shipment. We're utilizing an industry-leading, direct-to-consumer fulfillment partner so the shipping process is pretty seamless.

In terms of savings on shipping, 3 of our casks, which equals a case of wine, weigh approximately half the weight of a case of glass bottles. Because it's more cost effective to ship this way, we can allocate more dollars into wine production and still offer consumers a flat shipping rate of $10 per cask, which is quite a bit lower than bottled wine.

Will we see Andegavia offered by the glass in restaurants?

For our launch, we're focused on providing wines directly to the consumer in 35 states, but we think Andegavia is a great option for wine-by-the-glass programs so we're open to on-premise expansion. In fact, in states we can't ship to such as Massachusetts, we are beginning to work with local distributors to get us into traditional retail and possibly restaurants.

Right now the lineup is all California wines. Can you give us a sneak preview of what international offerings you have planned?

We're currently developing a Rhone-style dry Rosé and an Italian-style crisp Pinot Grigio for the summer season, both of which are California wines. However, we plan to produce up to a dozen varietals within the next 12 months or so, including varietals from France, Italy and Spain.

What's a favorite food pairing with your Ruthven Napa Valley Red?

A tender filet mingon or a hearty Bolognese are my favorites.
*Author Note: I have a box of rosé from Provence in my fridge right now. I am pro-3L!