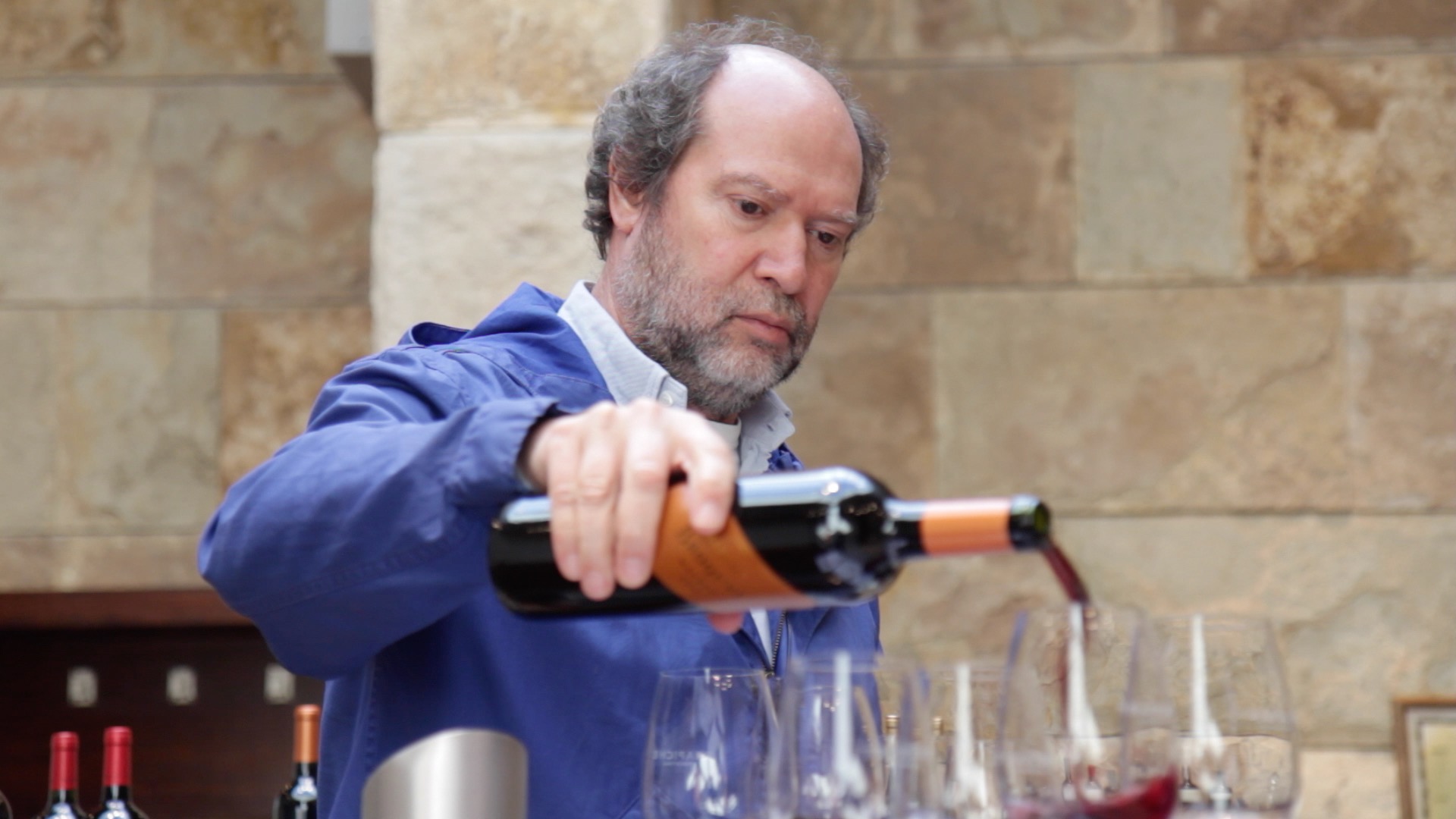 Trapiche is one of Argentina's oldest wineries. It was established in 1883 at the foothills of the Andes in Mendoza. It is the largest exporter of Argentine wine by volume and is in over 80 markets. Led by winemaker Daniel Pi, Trapiche sources grapes from Argentina's best winegrowing sites, including more than 2,400 acres of proprietary vineyards and a stable of more than 200 independent growers.
There are few wineries out there producing wine at an $8 price that can compare to the quality of Trapiche. And with their single vineyard, Icsay, Finca Las Palmas and Gran Medalla series, they are also making interesting wines at the higher end. We talk to winemaker Daniel Pi about making value wines and the history of Argentine Malbec in Argentina.
Christopher Barnes: Daniel, tell us a little about Trapiche.
Daniel Pi: Trapiche was founded in 1883. It's one of the oldest continuously running wineries in Argentina. When it was founded, the Argentine wine industry was very robust due to the establishment of a railway line to Mendoza. Many immigrants arrived from Spain and Italy. Some came from France as well. That was the beginning of the wine industry in Argentina. We became one of the biggest wine producers in the world. Actually, Argentina is the fifth largest wine producer in the world.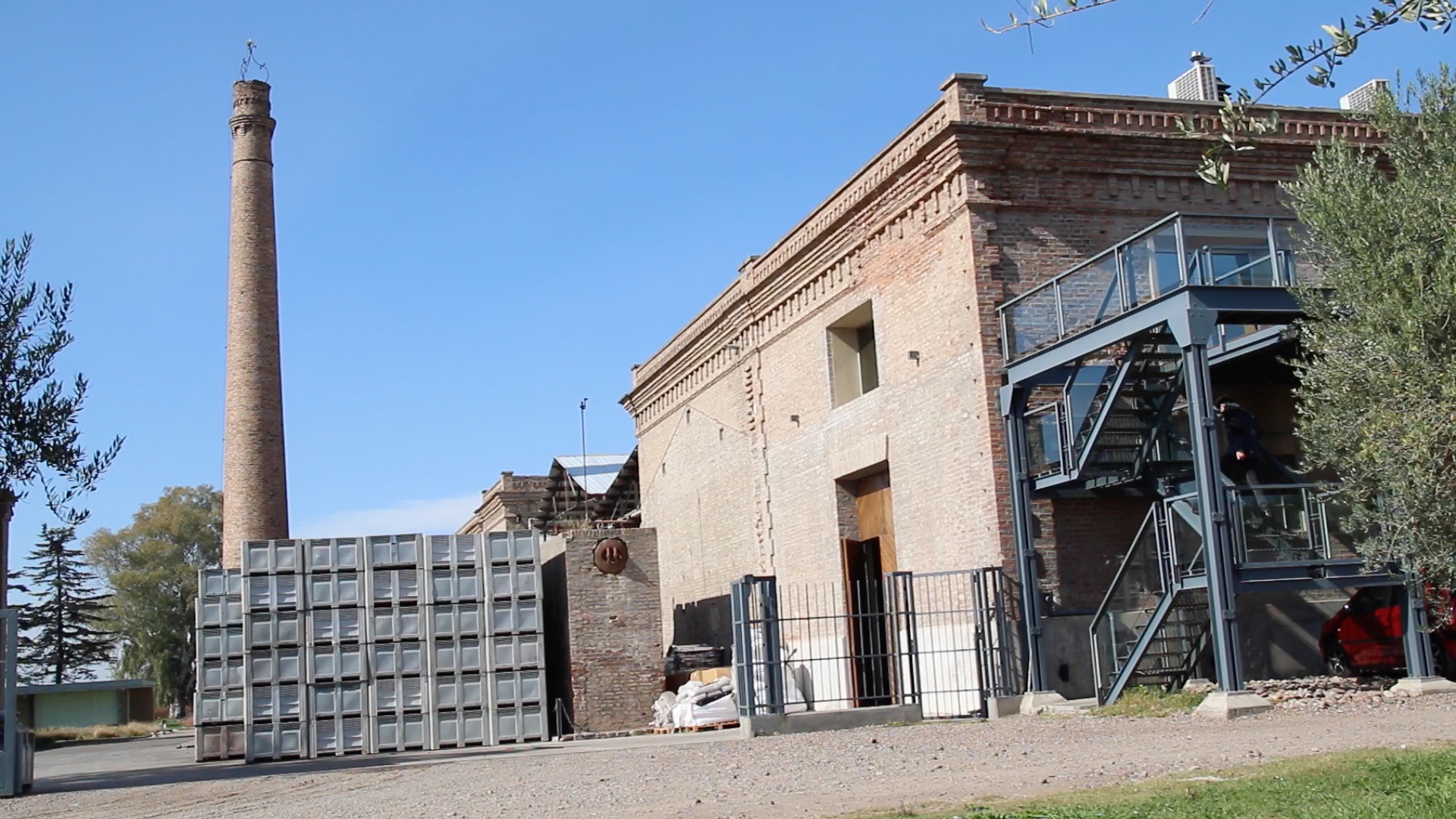 Wow.
Also, we are one of the best wine drinkers in the world. That's why Argentina is so well known in the world today…because of Malbec. Malbec came from very old vines in Argentina. The industry began more than 130 years ago.
Has Malbec always been an important grape for Trapiche? Or is it something more recent, since the explosion of Malbec on the international scene in the last 20 years?
Malbec was our main grape variety for many years. The main reason was at that time the government rulers decided to give a boost to the wine industry and they hired French viticulturists. One of them was the youthful agronomist, Miguel Pouget, who was highly influential in developing the wine industry in Mendoza. He thought that the best wines came from Bordeaux and he imported the first French Malbec varietals. All the pre-phylloxera Bordeaux blends were made basically with Malbec. In Bordeaux Malbec was very important. After phylloxera, it wasn't as important as it is today.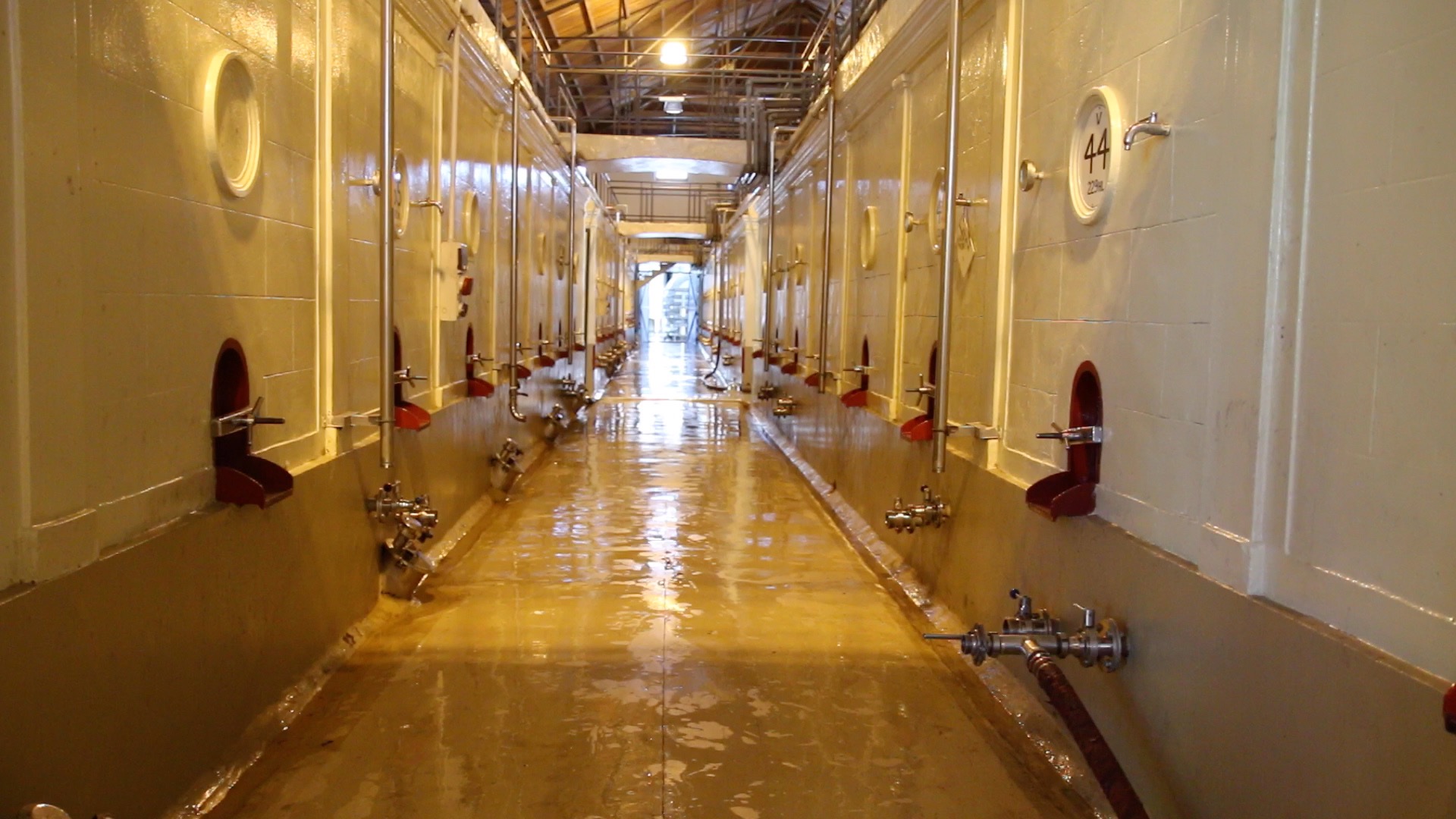 Merlot took the place of Malbec. For us it was very important because, we took all the vines, all the shoots from Bordeaux cuttings at that time. We replicated what those viticulturists did 130, 140 years ago. Malbec was important. Cabernet Sauvignon was important. There was some Petit Verdot as well that we can find in the oldest vineyards here in Mendoza. We had the good fortune not to get any of the diseases that attacked Europe in those days. We survived, and we kept the original DNA material from Bordeaux from many, many years ago.
This was something that we found out 20 years ago when we had to plant more and more Malbec. We did it in another way because we used to have flood irrigation or furrow irrigation. All the consultants said if we go into drip irrigation we would have some problems, or if we go with unrooted vines which was very popular in Argentina that time. We had to graft vines onto American root stalks. I said,"Why can't we buy the ripe Malbec from France?" We imported vines from France at that time, 20 years ago. After five years, we said okay, but this is not our Malbec. This is something different, because it's big clusters, big berries. It's not the same as we have, small clusters, small berries. The shape of the leaves is the same, but the clonal selection that the people in France made was based on productivity instead of quality. We didn't get the right quality from those grapes.
At that time, 20 years ago, we tried to replicate our old material, grafting on American root stalks as well. Instead of having clonal we, at Trapiche at least, wanted to have some other selections. Some from populations of high quality vineyards. We replicated those vineyard selections that we made on our own. We kept all the old vines that we got from France at that time. We called it the synonym of Malbec, which is Côt. We used the term Côt in Mendoza for the French clones that we imported during the 1990s. For the material that we got from the original vines from 130, 140 years ago, we called Malbec. That makes our Malbec unique compared with other Malbecs that you find in other areas.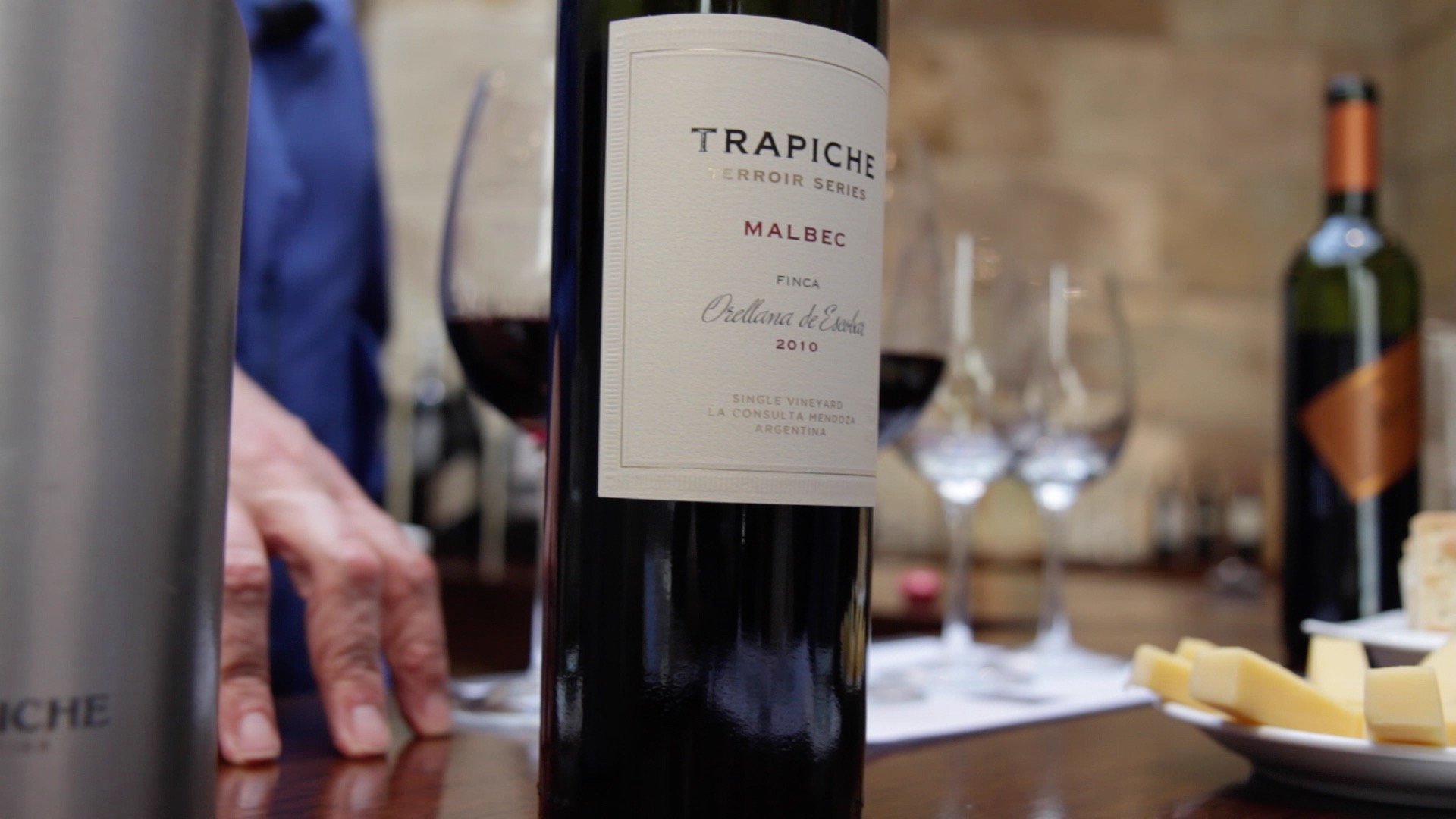 How old are some of your vines? And, were you able to keep a lot of the original vines?
We have some of our old vines that we call the first growing area. Trapiche is located in the surroundings of Maipú and Luján. It's the place that is known as the first growing area, because it was the first place the immigrants settled their vineyards. The main reason why we are here is because of irrigation. We have the channels of water melting from the Mendoza River in the Andes Mountains. All the water comes into the Luján de Cuyo area. There is a dam there for all the channels of irrigation. So one of the reasons is water. We have water availability.
The other reason the immigrants settled the vineyards here is because we are quite close to the city. The main reason, as I explained, is the railway. We are near the main railway that goes from Santiago de Chile to Buenos Aires, which is called Buenos Aires to the Pacific Railway. Before the railway, the only way at that time to reach Buenos Aires - which is the main city of Argentina, where half of the population lives and drinks wine - was by big cars pulled by bulls. It took about two months. From Mendoza, it was 1100 kilometers to Buenos Aires. At that time the population of Buenos Aires drank French wine, because it was cheaper and in some ways better as there was some spoilage from the Mendoza wine traveling two months in very bad conditions.
At that time, people in Buenos Aires also used to drink more French wine because we shipped beef to Europe as well as some grains, like wheat and all those commodities from the Pampas. From Europe to Buenos Aires you have to ship something back. There were many Bordeaux wines coming here. Mostly we were drinking Claret. When our wine industry got a boost, and the railway arrived, it only took two days to get to Buenos Aires. Sorry France, but we started to drink our own wines. The quality was very good. We were happy. There were a lot of immigrants coming from the Mediterranean countries. Spain, as I told you. France, Italy. They know how to drink wine. They used to drink a lot.
With the old vines that you still have, can you tell the difference between the wines that are made from those plots and the wines that are made from the more recently planted plots?
Yes. Old vines are like old guys. They don't produce a lot of fruit. They have been producing a lot of fruit during their lifetime. The small quantity of fruit the old vines yield is perfect in quality and balance within the capacity of the vines. We have vineyards that are over 60 years old still running, especially in the Mendoza bed of the Mendoza River. They are mostly Cabernet Sauvignon and Malbec. I love them because those old vines have very deep root systems of more than three meters. They are about 10 feet deep. They are in good shape and they produce less than one bottle per vine, in very nice equilibrium and concentration.
Compared with young vines, less than 20 years old, we have vines that we usually have to trim. You have to trellis them. You have to educate, in some way, in order to produce good quality. They can produce, and they do produce, very good quality. It's like when you are young. You make a lot of mistakes if you don't have some education. It's the same with old and young vines. We are lucky to have these old vines.
The problem is, most of these old vines are located in this area where we have transportation and water, but not the climate. Most of the young vines are located in better growing conditions for high quality. That means that we are more on the slopes of the Andes. A little bit south and west in the Uco Valley. Most of the good quality Malbecs and Cabernet Sauvignon today come from the Uco Valley, where there are younger vines and very high quality vineyards. The old vines are located in this surrounding area, which are also producing very good quality wines as well.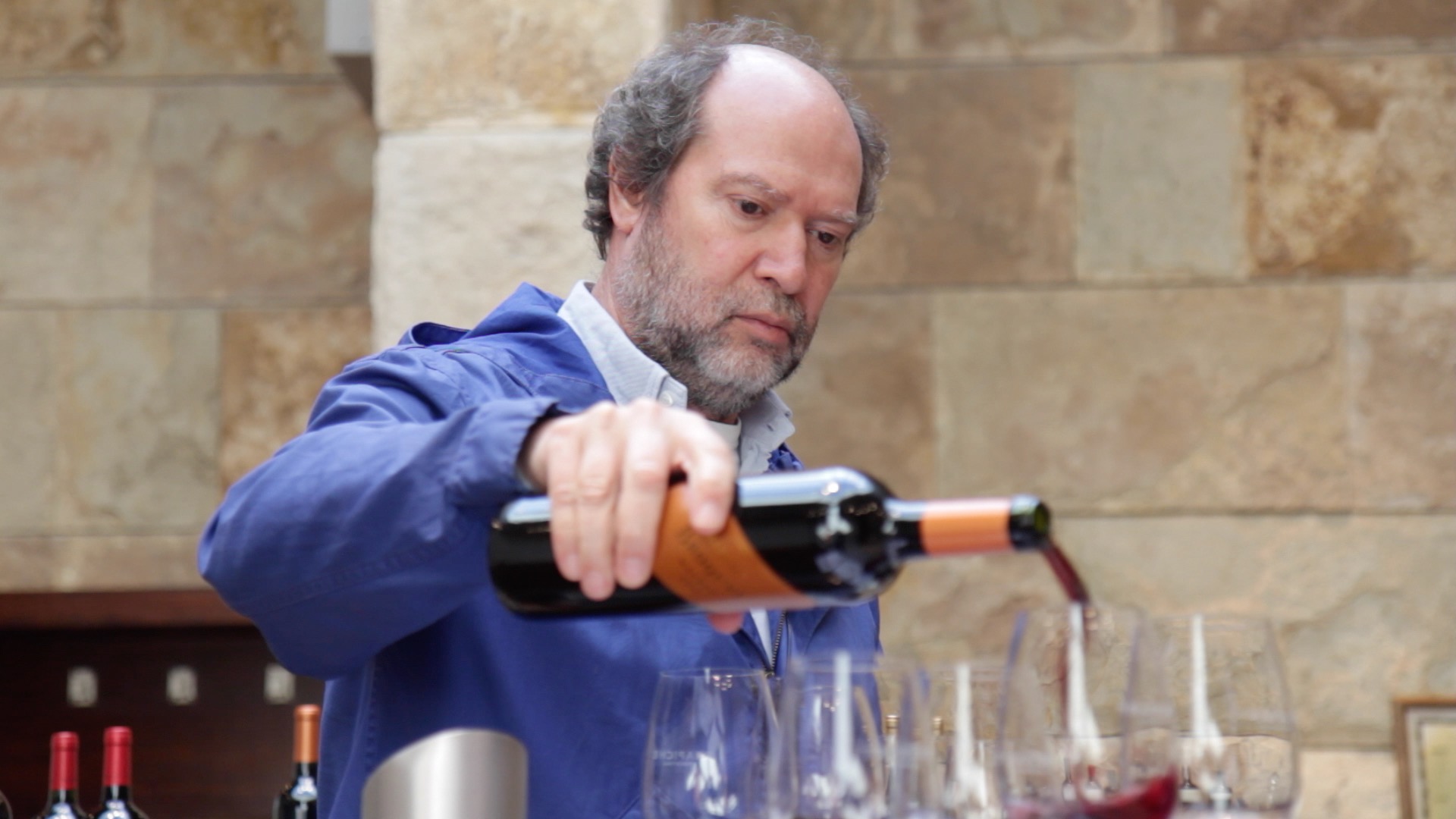 Tell us about your philosophy of winemaking, Daniel.
It has been changing. I have been a winemaker for the last 30 years. At the beginning, the wine industry was more dedicated to making wine in the style that the market required. It always was the same. If I had to review my life as a winemaker, my philosophy is more consumer orientated. The tastes of the consumer have been changing. Demand also has changed in the last 30 years. I remember when I started, white wine was more popular than red. Today it is the opposite. My main objective, always, is to respect the consumer. To produce a proper quality and price relationship. I think this is also something that Trapiche agrees with. For us the main target for our design of the wines is respect and value. I think that is something people know about at Trapiche. Every time people open a bottle of Trapiche they know the value of the wine that they are drinking. It's amazing. This our philosophy.
Obviously, when we go up in the pyramid of our portfolio and we are up to the very top end, these wines, which is, for us, like the Formula One wines, we try to show what Argentina can produce in terms of outstanding quality. The value is the terroir, the place where the grapes come from. We are not trying to manipulate them in any way. We are trying to give more respect, in this case, to the place where the grapes come from, in order to communicate the value of Argentine wine. This is more or less my philosophy and the Trapiche philosophy as well.
Are there other regions or other winemakers that have influenced you in terms of the styles of your wines?
In the beginning I studied in Mendoza. At that time, it was the only university in South America or Latin America in general, where one could become a winemaker. There were a lot of self-made winemakers that taught us. It wasn't very easy 30 years ago to travel and to have experiences in other places. Everything was communicated by these self-taught winemakers and magazines and books. Today, everything is easier. We have the internet. We know immediately what is happening. We have better communications.
Then I had the opportunity to go abroad and make wine. Specifically in North America, in Washington State, and in California. I learned more about the wine industry in a young country such as the US. The value and the respect that the consumer in the US was getting in the wines and the revolution that occurred in those days, in the early 1980s, was impressive. It was something we winemakers always dreamed about in Argentina; to reach this point of recognition that the wines in North America had.
During the 1990s we had the opportunity to interact with some flying winemakers. I had a chance to work with Michel Roland. Today we are working with Alberto Antonini. There were a lot of investors in Mendoza from Italy, France, and from Europe in general. Also there are people from the US. We are always learning. We are always open-minded. The wine industry in Argentina is well-known because we share everything among the winemakers. Because we want to take the wine industry, in a short period of time, to the next level.
Today we can truly say that Argentina has made it in a very short period of time. It's well-known for its quality wines. I think it's because we have a mixture of influences. I think in the beginning, a lot of influences came from the flying winemakers. Today we are confident. I think we don't need them anymore. In some way we've grown up. We know better than anyone the capabilities of our place, and how to make great wine. Today, I think, we have our own DNA. We practically don't need them. We share a lot of wine with them, of course.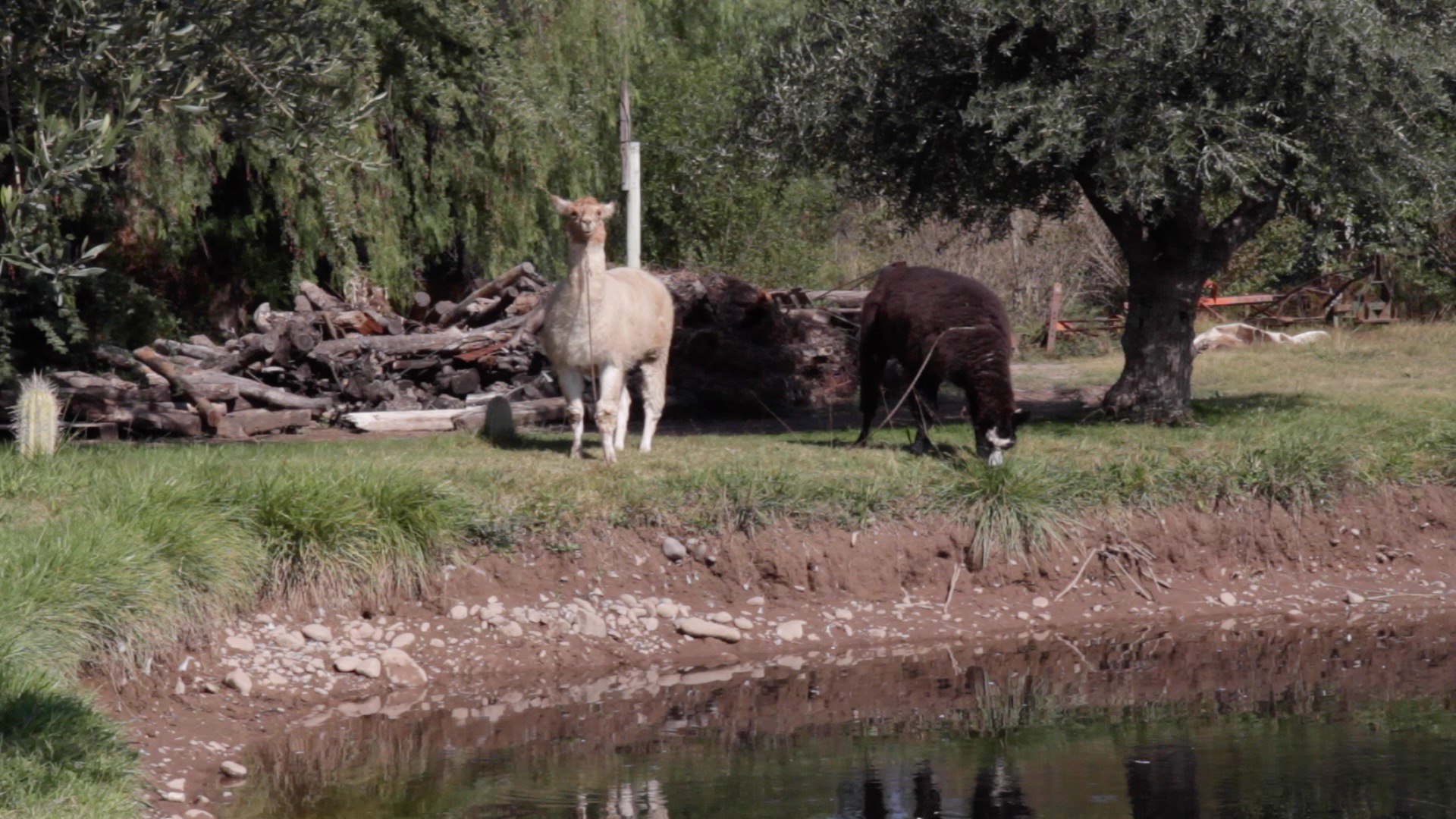 Tell us a bit about your terroir. You have multiple growing zones. You've mentioned that you've focused more on your high-quality wines in the Uco Valley and your value wines are on the Valley floor. Is that correct?
Yes, that is correct in general. Again, going back 20 years ago, we said okay, Mendoza is the place. Depending on the year, 70 to 75% of all the wine in Argentina is produced in Mendoza. San Juan is the second largest growing area, going up the western side of the Andes of Argentina. We have Catamarca and the Calchaquí Valley and also Patagonia, but Mendoza is still the most important place.
Over a period of time, we were focusing, we were zooming, finding out which are the best places for growing grapes. We moved up in the Andes for quality. Today we are in some places that also produce high-yield vines, specifically in the floor of the Uco Valley. We have a very nice map that I can show you.
The floor of the Uco Valley, say 650 meters to 758 meters high, is where we have a lot of sun. We have deep soil and enough water to cultivate vines and get high yields. For value wines it is very important. Then we move to the first growing area which is 850 to almost a 1000 meters. In Luján and Maipú we get the old vine quality and very nice, supple Malbecs and intense Cabernet Sauvignon from the river bed of the Mendoza River.
The area of the Uco Valley, in the southwest of the first growing area, where we have Tupungato, Tunuyan, and San Carlos, that area 30 years ago was a place mainly dedicated for fruit and some grapes as well. It produced high-color red wines with good acidity to blend with the valley floor grapes, which are lower color and lower acidity, to get some good blending components. Today we are going farther west and drilling wells in order to get the underground water. We have started to explore areas we call border places for growing grapes. We are getting very outstanding quality. This area, which has state-of-the-art new vineyards with very appropriate use of water, very high quality, high-tech vineyards, is today the best place for me to showcase the potential of Argentina.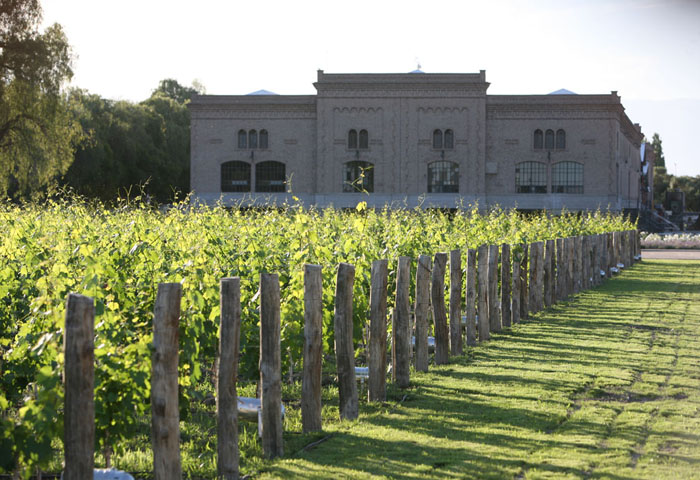 How big is Trapiche in terms of how much wine you are making right now? Is this something that has dramatically changed over the last 20 years?
We can say that we were always the first export winery. We started exporting, say 100 years ago. In some way, we got a boost during the '70s, but always in terms of simple wines. In the beginning of the 2000s, say 10 to 15 years ago, Trapiche was a million case operation in which 800,000 cases were dedicated to the domestic market, and 200,000 for export.
I've been a winemaker for Trapiche since 2003. Today, at Trapiche after 12 years, we are a three million case operation. We have multiplied by three from where we were. We are half domestic and half export today. It's 1.5 million domestic and 1.5 million cases export. Also, the quality has been growing. We made a dramatic change at Trapiche in terms of quality and volume. It was a very good challenge for winemakers and for growers. We work with a lot of growers, viticulturists, and engineers in order to expand quality. I think we are in that process. Still we are growing much more with our wines of high value, which is, as they say in America, "the sweet spot," or something like that. I learned that! Which is something like 15 to 20 dollars retail. We are offering, I think, good value for the money. This price point is Trapiche's core business in America and in Argentina as well.