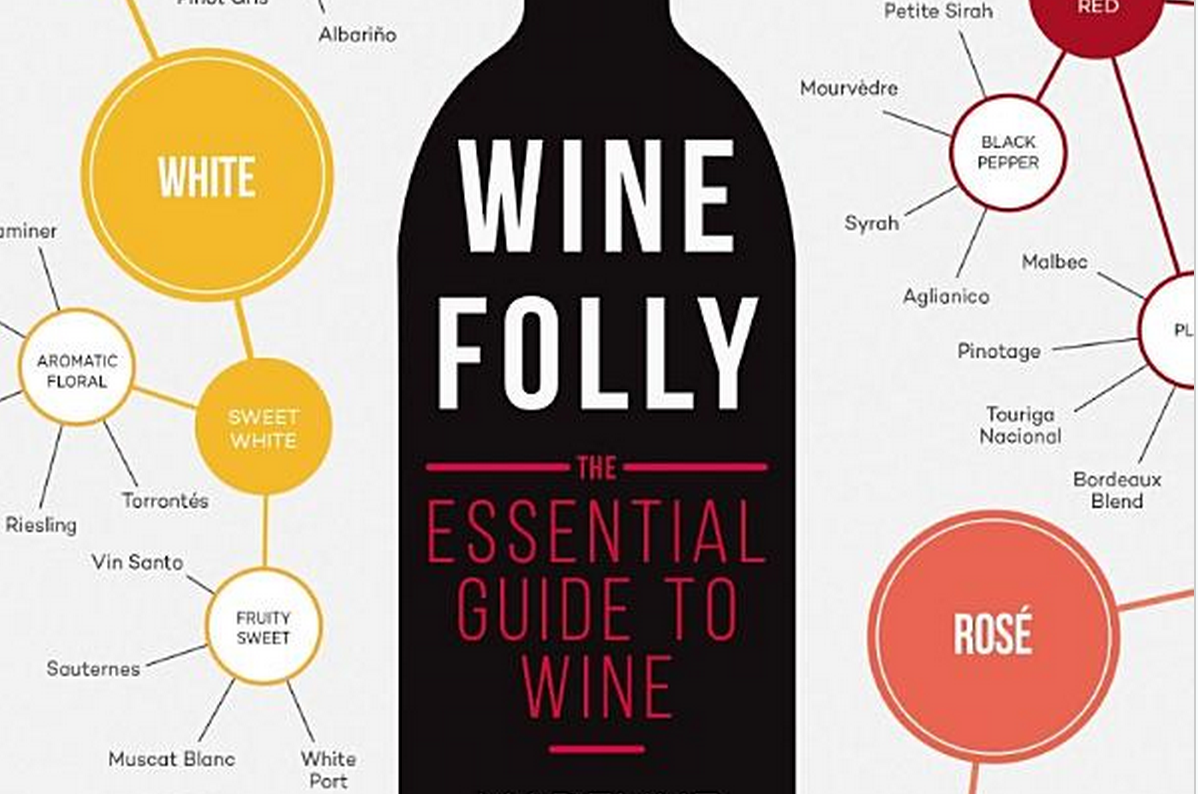 Certified sommelier Madeline Puckette changed the way people view wine education. It all started with a blog called Wine Folly, a knack for creating eye–catching infographics and a love of wine.
It's obvious that story packaging matters from just a quick browse on Wine Folly. Wine is talked about in language easy for novice wine drinkers with colorful graphics that point out wine subtleties, value picks and wine regions to know rather than lists of numbers and ratings. Since 2011, Wine Folly has only lived online, but as of Sept. 22, Puckette's style of teaching basic wine education is finally in book form.
"Wine Folly: The Essential Guide To Wine" by Puckette and Justin Hammack was released on Sept. 22 and made it up to number 85 on Amazon's top 100 best–selling books before all available printed copies sold out in the first hour. Presale orders by people wanting a cleanly designed physical version similar to the content read on the Wine Folly blog scrambled to buy the book. For the rest of us, a second print–run will put the book back on Amazon's shelves by Sept. 27.
Grape Collective had the chance to ask Puckette a few questions about Wine Folly, the book and all of the hype around producing such popular content.
What has been the motivating factor for transitioning to a full book rather than just a website?
It all started with an email in our inbox from a serious publisher. Even though we didn't go with that publisher, it was compelling enough for my partner to strategize whether or not the book was a wise business choice. I, of course, wanted to do it right off the bat–I've always been one to dive into the deep before testing the water! In the end, it came down to working with Avery books to get the deal we wanted. The benefits of a new potential audience and the credibility of being a published writer are pretty astonishing.
Wine Folly focused on high-quality graphics, what was behind the decision to be graphic oriented?
I've always used pictures or hand gestures to describe things! This is just the kind of communicator I am. With Wine Folly, this methodology translated really nicely into infographics even if it started as a way to indulge the creative geek within me. I did go to art school (CalArts).
What have you found to be the biggest contributor to your popularity as a destination for wine information?
While there are plenty of analytics available that show exactly what articles and infographics have made the site popular, I would say that the overall gestalt is useful, pragmatic, content that actually addresses people's struggles getting into wine.
Have you had any mentors or education that has been particularly useful for helping you digest large amounts of information into a readable format?
I really like Ed Tufte's book Envisioning Information (also a CalArts Grad!), Joseph Müller-Brockmann's Grid Systems and I follow many amazing designers/design houses like Bureau Oberhaeuser and Francesco Majno who touch data visualization frequently in their work.
What is the wine that you lean toward recommending for someone who doesn't know anything about wine and why?
Most true wine beginners aren't used to dry wines so I usually lean towards something a little sweeter. These wines are easier to swish around and give the neophyte the opportunity to familiarize themselves with wine's fundamental characteristics (sweetness, tannin, acidity, etc) without being put off. Besides this, I always lean towards single-varietal wines. A single-varietal wine has much more distinguishable flavors (e.g. "red fruit," or "licorice")–I have to admit, it's delightful to see someone pick out a flavor for the first time!
What have been the biggest struggles of building the Wine Folly brand?
Time management. We are 2 full-time people and a few part-timers and we run on a pretty modest budget from our posters, maps and now: the book!
Did you expect to be writing a book when you started the website?
Nope! Originally, Wine Folly was going to be a wine club… I'm really glad we stuck it out with content, I would have made a terrible fork-lift driver.
What advice do you have for people who want to learn more about wine?
For starters Wine Folly has a great beginner's section that contains incredibly useful content (Found here). I would also recommend getting a book, and trying the wine tasting challenge which is a 4–6 month tasting challenge to get you to try new wines from new wine regions.