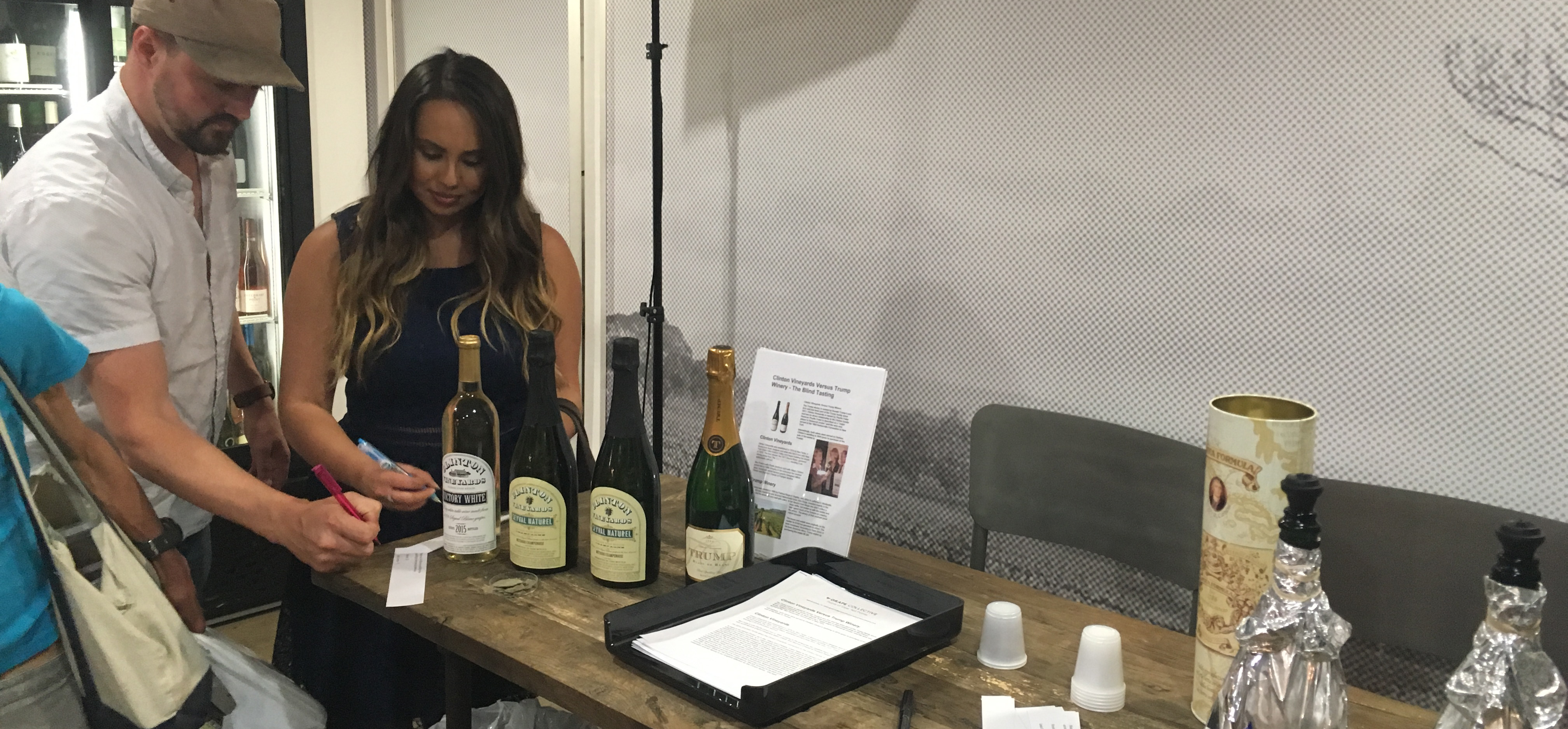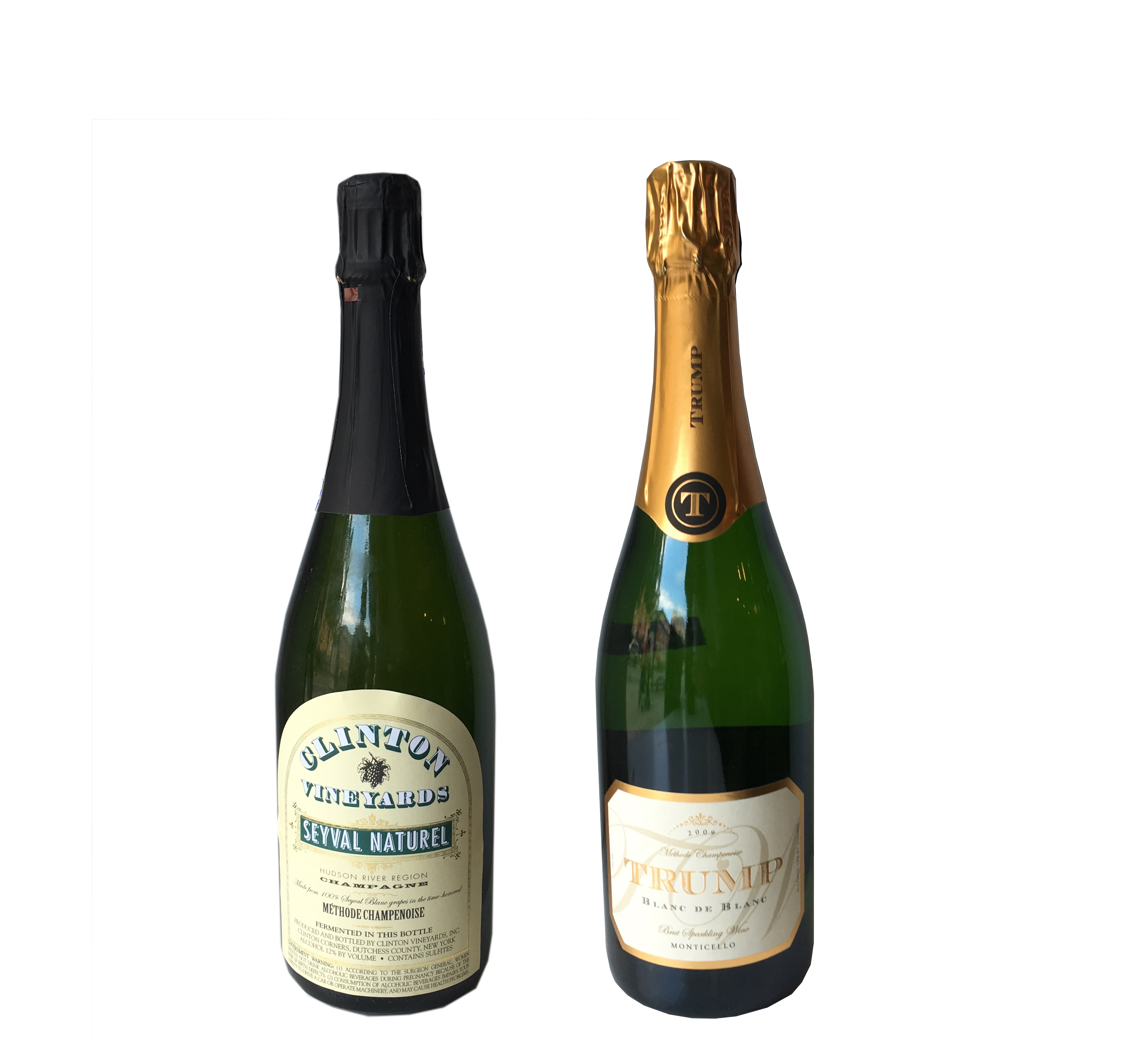 Last Saturday August 6th, Grape Collective held a blind tasting of sparkling wine at our offices on the Upper West Side. A Trump 2009 Blanc de Blanc from Virginia was tasted blind against the Clinton Vineyards Seyval Blanc Naturel from the Hudson Valley in New York.
Sixty people participated in the blind tasting and the winner was...the Trump Blanc de Blanc. The vote was 63% for Trump and 37% for Clinton Vineyards.
The Trump Blanc de Blanc is 100% Chardonnay and has a strong backbone, good acidity and a lemony, grapefruit profile. The Clinton Seyval Blanc Naturel has a touch of honey sweetness and apricot notes combined with a hint of fresh baked bread.
The Trump Winery is owned by Donald Trump's son Eric and has been part of the Trump family since 2011 when it was bought out of foreclosure. Clinton Vineyards is owned by Phyllis Feder and has no direct ownership ties to the Clinton family. The owner, Phyllis Feder, does have a relationship with the Clinton family and is described by the Wine Spectator as a "major player in Democrat circles" who has had a long relationship with the Clinton family.
Interestingly, both wines were included in Chelsea Clinton's wedding in 2010 (prior to the sale of the Kluge Estate to Trump).
About Clinton Vineyards
Clinton Vineyards was established in 1976 by Ben Feder, a Bronx-born book designer and artist who fell in love with New York State's mid-Hudson Valley. Ben Feder's wife Phyllis joined him in the venture in 1988.
The Wine Spectator wrote about the Clinton Vineyards' connection to the Clinton Family in July 2010:
"The fortuitously named local wine was an obvious choice to be uncorked at the first Clinton inaugural dinner in 1993 and now, 17 years later, it will play a part in the festivities surrounding the wedding of Chelsea Clinton and Marc Mezvinsky Saturday. Wedding guests staying at inns and hotels in the region will find a bottle of Clinton Vineyards Tribute, a Seyval Blanc, in their rooms."
About Trump Winery
The winery was created in 1999 by Patricia Kluge in Virginia, very close to Jefferson's Monticello. Kluge, who was married to and divorced billionaire Metromedia boss John Kluge, invested heavily in the property and the wines did very well with critics. In her divorce from Kluge she didn't collect a large settlement, but ended up with the estate and later spent much of her fortune on creating the winery. The winery at first received great critical success.
Forbes describes the circumstances that led to the sale to Trump:
"Perhaps intoxicated by her success, Kluge decided to expand aggressively. Over the past five years she took out $65 million in loans, according to public records. The money went into expanding wine production and building a super-luxury subdivision called Vineyard Estates, which was to include 24 multimillion-dollar homes with pools, outdoor kitchens, tennis courts, horse trails–and even space for private vineyards.
That's when the housing crisis hit. Vineyard Estates failed to draw buyers. Property values plunged."
The house and estate were originally on the market for $100 but garnered no offers. The bank foreclosed. According to Dann Dunn in his book American Wino, Trump ended up purchasing the estate for $6.5M.
---
Grape Collective: Points of View. Not Points.
--
Buy the Trump Blanc de Blanc for $27.99 here
Buy the Clinton Vineyards Seyval Blanc Naturel for $29.99 here