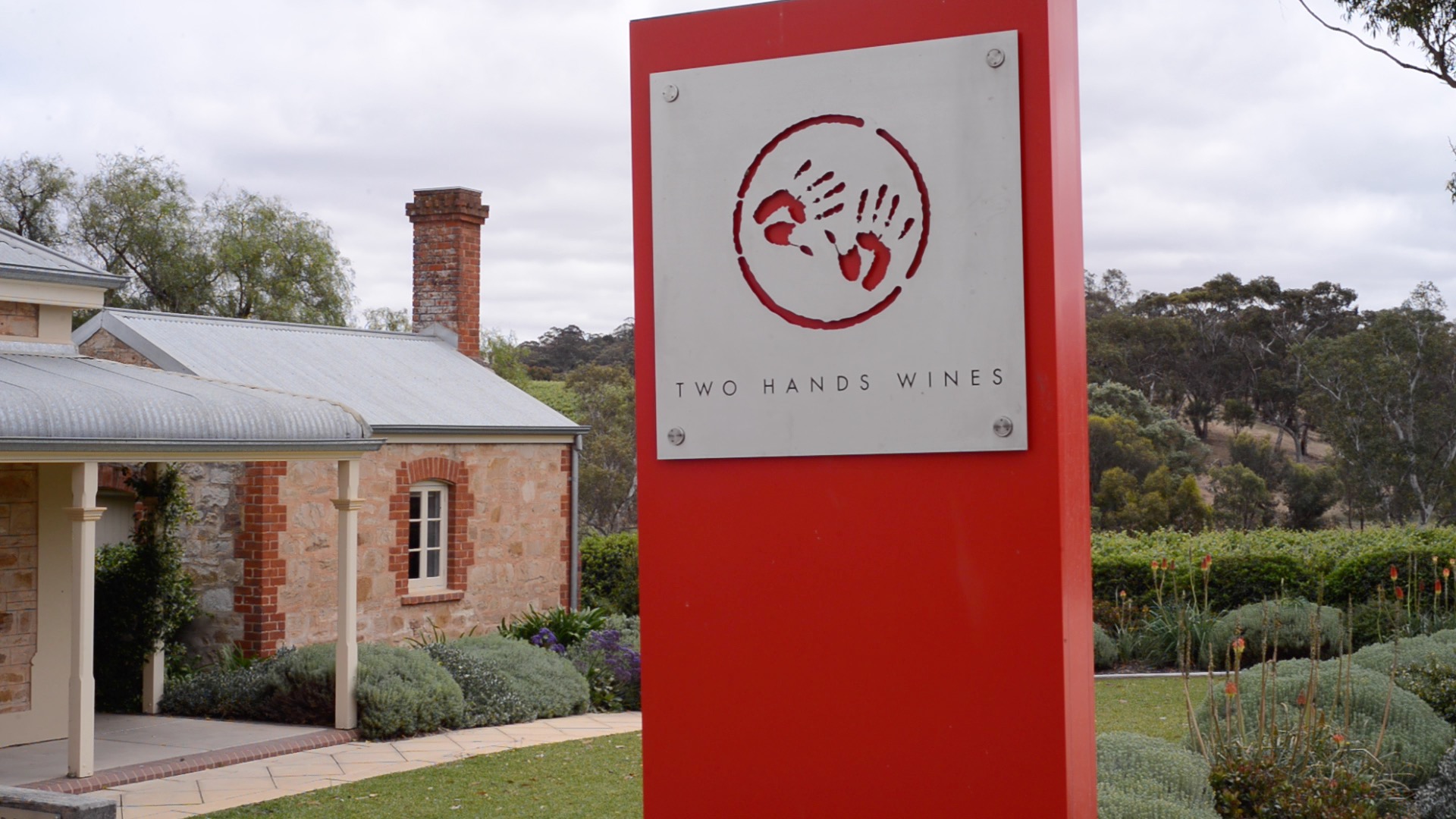 Two Hands Wines was launched in 1999 by Michael Twelftree and Richard Mintz. Their focus was to showcase the diversity of Australian Shiraz by highlighting regional characteristics. Two Hands is a negociant in that they buy their fruit rather than grow their own grapes. They have achieved tremendous critical success ending up on the Wine Spectator's Top 100 list over ten times. We speak to Cellar Door Manager Shannon Kruschel about the Two Hands philospohy.
Christopher Barnes: Tell us a little bit about how Two Hands started and the philosophy behind the estate.
Shannon Kruschel: The Two Hands started back in 1999 when the Two Hands, Michael Twelftree and Richard Mintz popped a bottle of Australian Shiraz on the table and they said to each other, "How are we going to do this?" The boys then came up with the concept of really focusing on original Shiraz from six of the best Shiraz growing regions in the country bringing them all back to the Barossa and showcasing them to the world from there.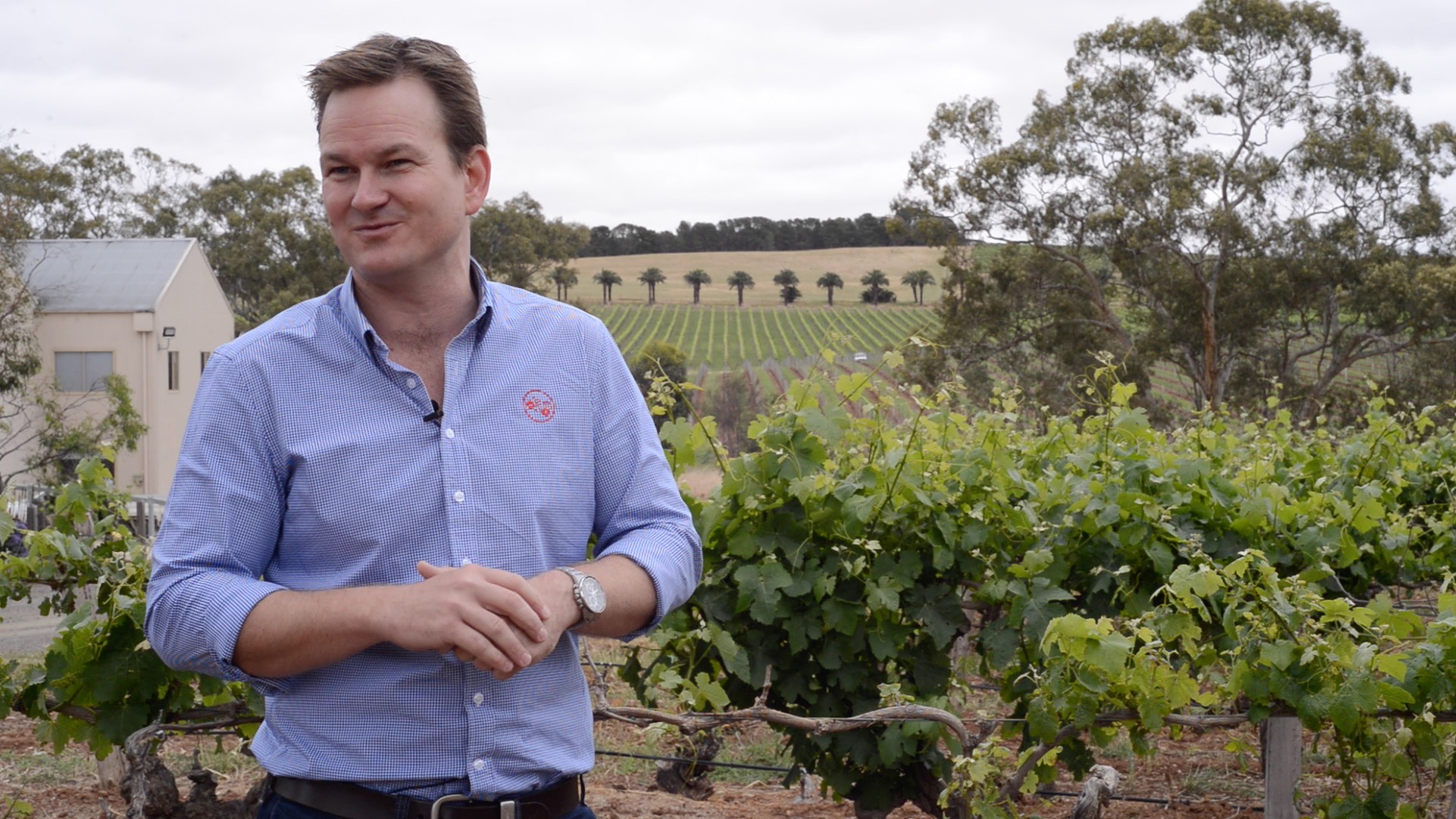 Tell us a little bit about your agricultural philosophy. What's unique about how you grow the grapes here?
I think the most unique thing for Two Hands wines is really when it comes down to fruit selection, sub-appellations, and regionality. I mean, you've got to have the best soil to be able to create great wine. The wine is made using minimal additions and finings, filtration, and just putting it under wood, and really trying not to be that cookie cutter of Australian Shiraz and creating the same thing again and again and again. I think that the philosophy behind Two Hands is always sorting the best quality fruit, keeping it simple, putting it into barrel and having a range of different styles.
Now, one of the things you mentioned was, when we were talking earlier, was that you buy 95% of your fruit from other producers and that kind of gives you an advantage and that you are not reliant on just one vineyard to produce the fruit, but you're able to produce the best fruit in the valley.
I guess one of the great advantages of being a negociant is we source 95% of our fruit directly from growers across the regions and that gives you a monopoly of some of the best fruit in the valley. You know, we could have a thousand acres, rely on it, and hope for the best or we can go out and actively source some of the best fruit you can find. I think that in this day and age, a very smart way of wine making.
Why is the Barossa so special?
Yeah, I guess the Barossa is so special because of its diversity of micro-climates. It's a Mediterranean climate, but it's so varied within the different sorts of sub-regions of the Barossa. You've got East Barossa which is all Eden Valley and over on the hillside you've got the valley floor which is going to taste completely different to what's grown on the western range, so out here you've got those deep red soils that the Shiraz just thrives in. Most of our Barossa Shiraz out of the portfolio of six really comes from the western ranges.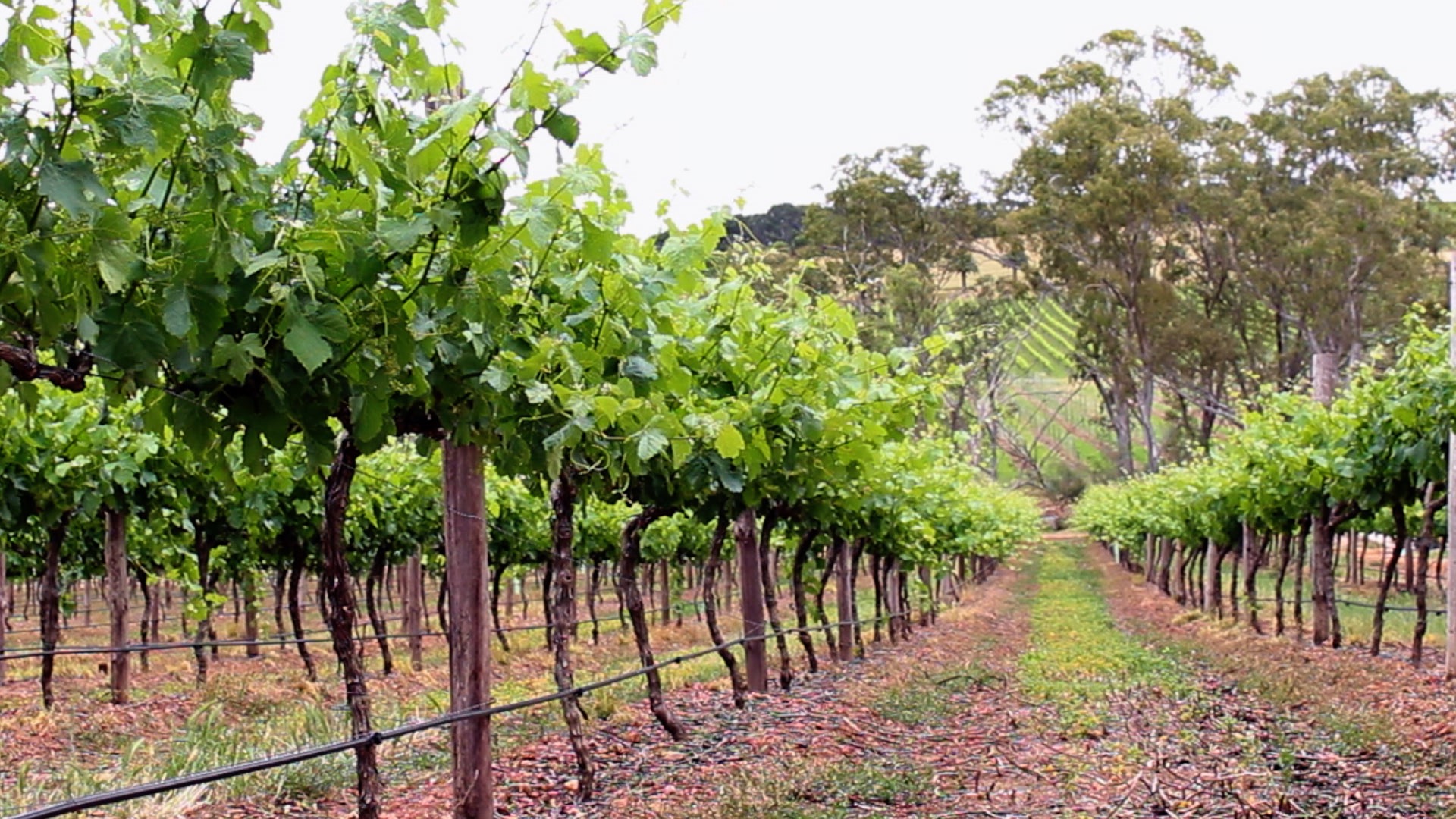 Why don't we talk about the brand a little bit?
Yeah, sure. I guess what makes Two Hands so unique is when Michael took a gamble and brought five other regions into the Barossa and just to basically show the world how varied the six regions across Australia that we source can be. We've got Clare Valley, obviously Barossa, McLaren Vale and Langhorne Creek in the South, Padthaway in the South East, and Heathcoat just north of Melbourne. If you were to line up all six in a row, they are so uniquely different and I think it was a bit of a gamble that has definitely paid off for Two Hands' wines in the last twelve years.
Why don't you give us a little overview of the different types of wines you have here at Two Hands?
Even though Two Hands' philosophy has always been about regional difference and regional styles of Shiraz from across Australia, the fun thing about creative wine making and not being too of the norm is we do experiment every year. We start dabbling in different varieties all over the world. We love to reinvent ourselves. A couple of years ago we started a project on Saparavi, which is Georgian variety that hardly anybody would've heard of in Australia. We love to have a little bit of fun with our Picture Series of wines.
So how many different wines are you making right now?
Currently, on a portfolio of just the 30 wines, majority being Shiraz, we also love single Vineyard Grenache from the McLaren Vale. There's quite a lot of interesting blending going on with a lot of northern grown varietals, especially for one of our our series called the Twelve Tree wines.
Tell us a little bit about what's going on with the Australian wine industry. We've seen the critter wine in America and then there was sort of this period of over-extracted not-so-good Australian wine, and now there seems to be a sort of renaissance where you're seeing more artisanal winemaking.
I think you've hit the nail on the head. It's always that artisanal, very small batch looking at different appellation, really changing the wine making style to what a lot of big blockbuster Shiraz was. Critters had their time, I don't think you'll see a critter pop up on any of our labels anytime soon, but I think that the new world wine making and different wine making techniques and pretty much what the fruit is telling you is depicting this story of Australian wines at the moment.
Maybe we can talk a little bit about some of these specific wines you have here and how they're interesting and unique.
I think one thing that's really set us apart is the different series that we launch at Two Hands. You know, as always we have our flagship wines, which are the epitome of the best barrels in the winery. Single vineyard wines really come down to iconic vineyards from some of their growers and might not be the entire vineyard, it could be a few rows here, a few rows there. The Garden series is that regional aspect of the six regions and then where a lot of fun begins or really a benchmark or entry level for us in the Picture series. We've got the Gnarly Dudes or the Sexy Beast, the Bull and the Bear, the Love or Money, so really a lot of irreverent wines that are just quite intriguing and a lot of fun to make.
And what is a great food to have with Shiraz? One of the knocks I think that are on Shiraz is that it's a very high alcohol wine, or can be. What do you like eating with Shiraz?
I think typically some of the Shiraz can be a meal in itself. It's not necessarily made to dawn it out with too many dishes. Some of the rich meats and a bit of game and things like that are fantastic with Shiraz. Maybe look to some of the raw varieties with the gnash or gnash blending for pizza and pastas. It just sort of can be a very food friendly wine.
I guess one of the wines that does stand out on a bit of a global scale for us is Bella's Garden. We are now one of the only wineries listed as ten years running in Wine Spectator's top 100 and Bella's Garden is responsible for that. As far as number two in the worlds, a lot of people come through the door looking for Bella's Garden and it really has set us up on a world stage.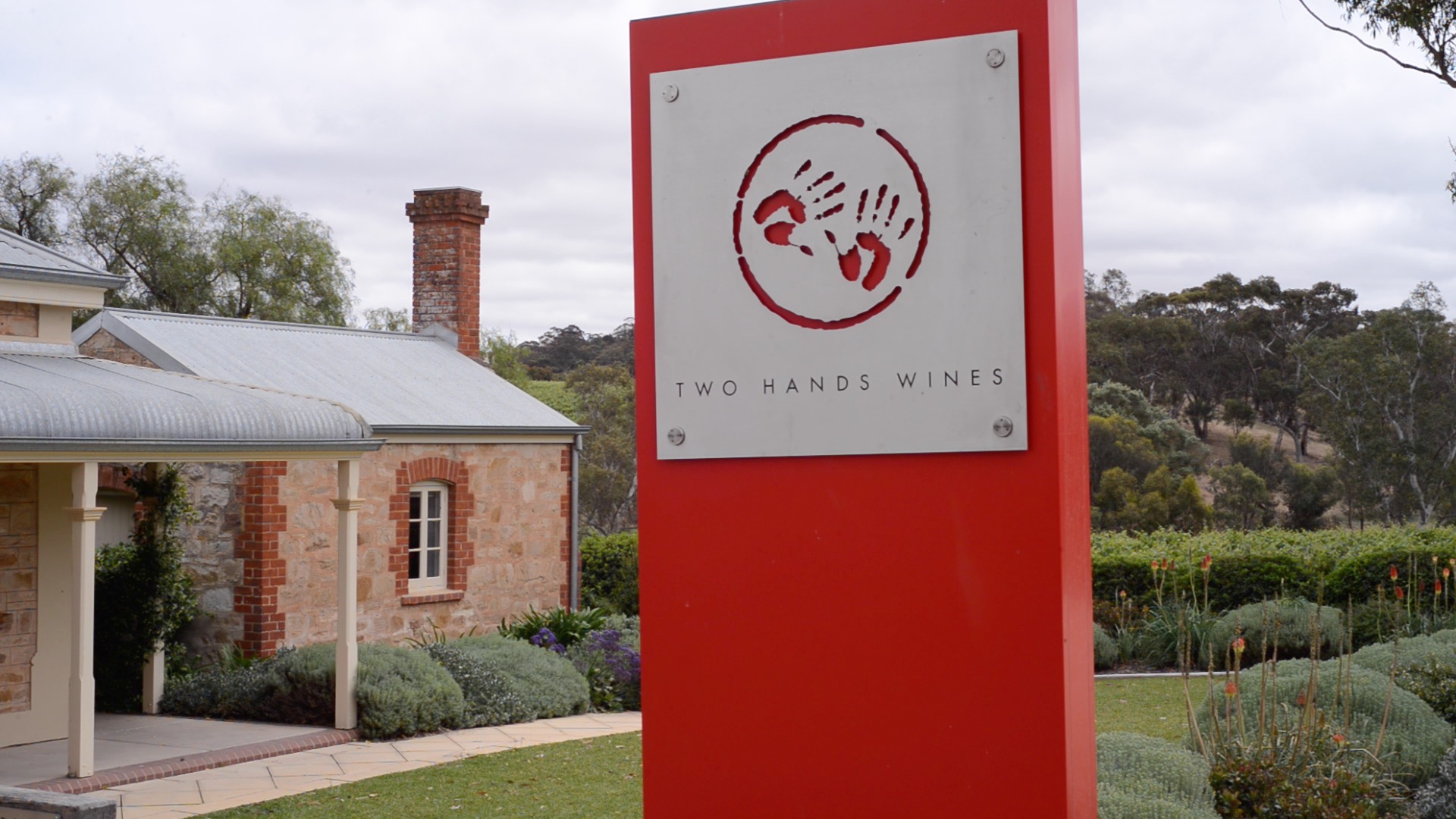 What is unique about Two Hands?
I think that the unique aspect of Two Hands is that we're always evolving, we're always striving, always trying to do something a little different or a little better. Every vintage. We might find different parcels of fruit and create them, but I think the core focus for us is that it's always about quality in the vineyard and how we can make the next best wine.
Talk a little bit about your style of winemaking.
One of the key successes to our wine making style here is not to manipulate the fruit throughout any process of the wine making, so a lot of hand selection and a lot of hand picking. Keep very minimal cropping levels, look at a lot of open top fermenters, and basket press. Even at entry level for us, that sort of 25 dollar wine will still see wood for twelve months in a barrel. It's just a real credit to back to basics wine making for us, letting the fruit run the whole way through the series.
I think a lot of Two Hands' success, again, really comes down to the fruit selection. I mean, we might have a higher price bracket for some of our wines, but it really does reflect those well made wines that turn out to be absolutely outstanding, although they already are a very approachable style as well.
Look to some of the best oak and some of the best soil in the valley or any valleys, actually, and really strive to put some amazing wines out on the table. I think what Two Hands might look to in the future, is we're really going to focus ourselves on a lot of different regions, a lot of regionality still, but come into sub-appellations within these regions. So start picking the bits out of hillsides within the valley.