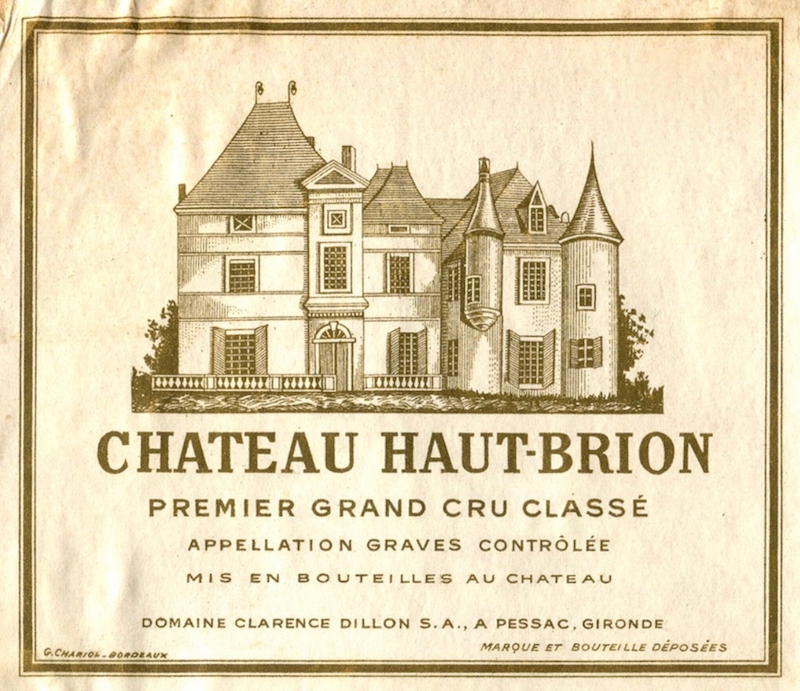 Well, tonight I drank 1947 Chateau Haut-Brion. It was from the collection of a Dupont family widower, which following her death, sat neglected in the stairwell of an architectural office in Delaware, then was finally entrusted to the stewardship of my friend for caretaking and auction.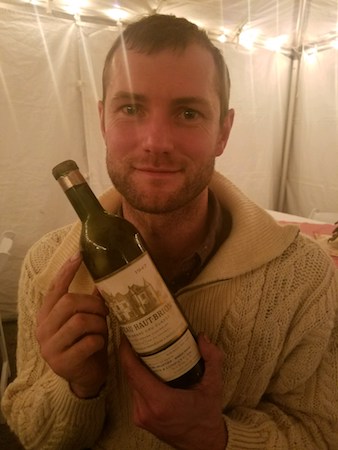 Apparently the widow didn't really drink, though she bought nice wines for her dinner guests. Dillon Buckley, the man of the hour and assistant winemaker at Hermann J. Wiemer, surmised she probably bought the '47 in the 1950s, when it was in current release. She has a whole case. Or he does. Or did. Now he has eleven bottles.
(Photo, left: Quinlan Corbett cradling a bottle of 1947 Chateau Haut-Brion, by Jenny Menges)
Fred Merwarth, head winemaker and co-owner of Wiemer, did the honors of delicately extracting the seventy-year-old cork, which he did with his usual precision and intensity, slowly dancing around the copper-tinged lead foil with his knife, rotating with his whole body rather than spin the bottle and risk agitating its contents. When it was at last peeled, the cellar mold atop the cork retained the foil's imprint, reading CHATEAU HAUT-BRION • PESSAC. The seal looked moldy, but good. There was no bubbling or discoloration, and little ullage. He twisted the worm into the meat of the cork and pulled gently, from directly above, slowly building pressure. The cork began to lift and everyone became quiet. Millimeter by millimeter it rose, until air sucked softly in and it lifted free. The room let out a collective sigh of relief as the wine took its first breath in seventy years.
Fresh stemware was fetched, the wine was poured. At first the aroma was extremely musty, not corked, though redolent of a dank cellar. Before we had opened the bottle Fred noted that very old Bordeauxs sometimes have this initial mustiness that will blow off, which is exactly what this one did. The wine suddenly shrugged off its cellar notes, as if extricating itself from old, used clothing, and strode naked into the room. It began singing and accumulating complexity, like a runner I suddenly couldn't keep up with. Wafts of tobacco, dried fruit compote, tea leaves; beauty, just ephemeral, fleeting beauty. And the color! There was so much less bricking than I expected. The center of the glass showed a vital, translucent red. There were a series of aromas I couldn't pin down, odd beautiful things which triggered a series of very personal reactions—my aunt June's house, red carpets, potpourri maybe, old staircases at my grandparents, woodspice, and then exactly like sautéed, sweetly caramelized carrots.
This wine predates my parents. It outlived my mother, who died of cancer in 2012. I cradled it and cradled it in the glass, trying to catch as much of its quick, fleeting life as I could, and then it was gone. The aroma began to disintegrate and I hastened to drink it, to hold on even as it slipped away. I watched Dillon pour the last of it in his glass, swirl it, lift it to his lips, and that was that.