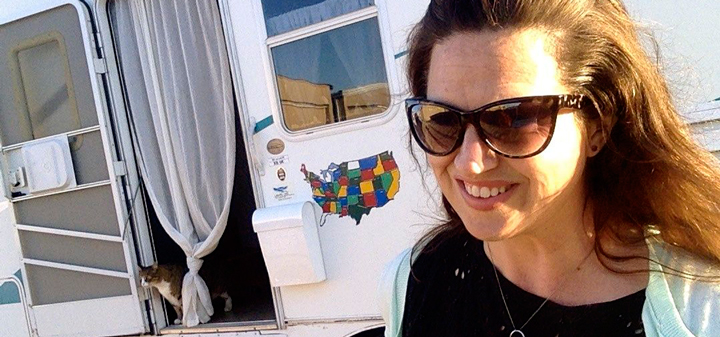 What kind of person chooses to live in an RV trailer? To be honest, I didn't always understand either.
Sonoma Wine Country is not an easy place to make a living. When I first moved here in 2008 from San Francisco, I had no idea how hard it would be to thrive. At the time, I had zero intention of breaking into the wine business —
I was a freelance writer, thanks very much. Yet as the Recession and increased tourism drove Sonoma rents sky high, I needed supplemental income. So I rolled up my sleeves to work at a local winery.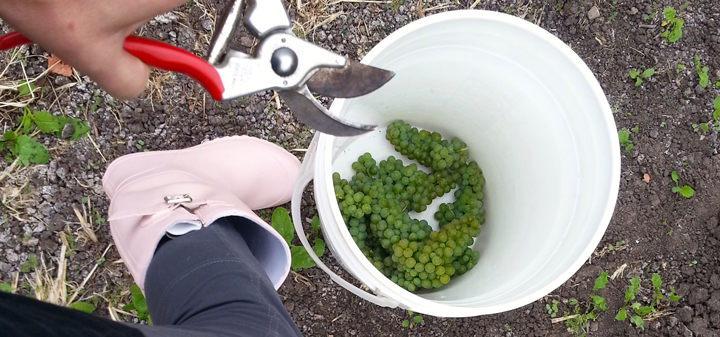 Above and Right: Rolling up my sleeves to work in the wine industry was one of the best career and lifestyle decisions I've ever made.
My day job began paying bills better than freelance writing, but not by much. That is no slight on my employer, who is more generous than most. The cost of living in Sonoma is impossibly high. Many of my friends and colleagues, approach this problem by commuting, getting roommates, or beating a hasty path to the altar. (Marriage is plainly more cost-effective than being single.) My lifestyle solution was to live alone in an RV trailer, beholden to no one.This allows me to live in one of the most beautiful places in the world while slowly saving for a house or land of my own.
Since I made this choice, the housing market has become increasingly erratic. A report from the U.S. Census Bureau reveals that homeownership, at around 64.8%, is at a 19-year low. So, I proceed with caution.
The first person I knew to live in an RV was Paula, a fiercely independent woman who ran the volunteer center where I worked in college. After decades of selfless, underpaid service work, Paula gathered the resources to buy her ow
n land. "I'm building a house," she claimed
, but we wondered
. Paula showered at the university fitness center because the pop-up trailer where she was living in didn't have running water. Among us (fairly spoiled, fairly clueless) college students,
we respected our mentor, but couldn't help asking
: What kind of person lives in an RV trailer?
Several weeks before graduation, Paula invited us to a luncheon. Her finished home welcomed us, a stunning expanse of fresh pine with a deck overlooking soft mountain vistas.
With a bit of sacrifice,
she had made her dream come true —

"No dream comes true until you wake up and go to work," says the Amish proverb.
And wine country is full of dreamers.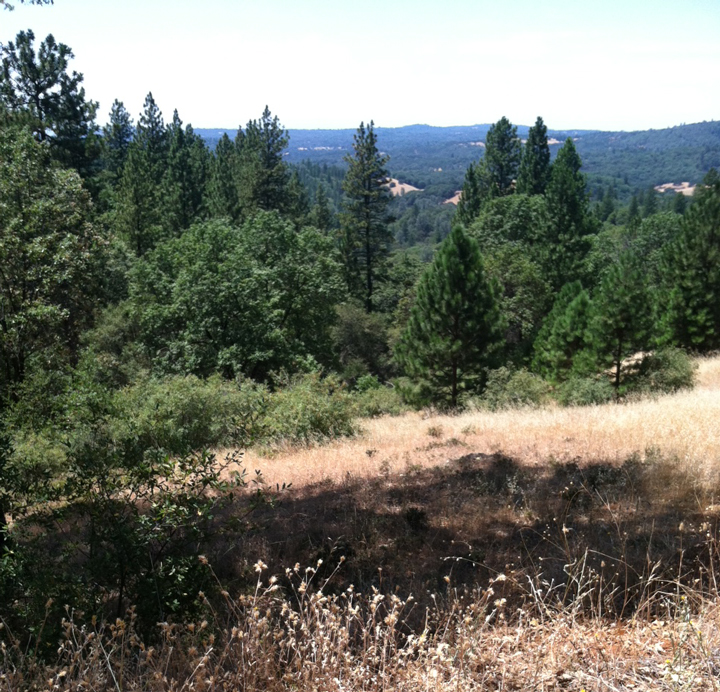 Take Tim Keane.
Tim worked in real estate development before moving from Atlanta (where he was once my landlord) to Calistoga, where he rented a quaint cabin on 18 acres.
Left: Where dreams are made: the site of Tim and Charlotte Keane's future vineyard in the Sierra Foothills of California. (Tim Keane)
Years passed as he tried his hand at a garagiste winemaking, then farming Zinfandel. Soon, Tim was ready for a bigger commitment — and for a more permanent home. Recently, he and his wife Charlotte purchased acreage in the Sierra Foothills, where they will raise their children and plant a vineyard. If that's not a dream, I don't know what is.
Tim's background in real estate and future in winegrowing, combined with his recent land purchase,
see
m
to qualify him
as the perfect
person to consult about my own
goal.
Is owning a home or property still a viable dream?
Me: In today's market, and in light of the shifting American Dream, why did you and your wife decide to buy land for your home and business?
Tim: The crash of real estate market definitely made us realize that ownership can be overrated. We used to feel that owning was better than renting 100% of time. Certainly our opinion has shifted. I've learned that there are definitely times when renting is the best possible decision you could make.
That said, winegrowing is very long term proposition and requires a lot of hard work and, of course, a financial commitment. While leasing land is an option, we could not see pouring ourselves into land that could, at the end of a lease, be taken away from us.
We also see the land as a classroom for our children. We hope working the land will be an invaluable experience for them. Given that, ownership seemed like the easy decision.
Having played (and worked within) the housing market previously, how did it feel to make that purchase? What do you see as the primary risks and benefits?
I think we both knew we had made the right purchase because we didn't really experience any extreme emotions in either direction. The transaction was smooth.
Heading off into the Foothills is a bit of gamble from a wine perspective. But I think it is clear that Sonoma and Napa winemakers are looking beyond the North Bay for interesting grapes that will express a different terroir, and thus a different wine.
I think the primary benefits are simple: our low cost basis in the land will allow us to experiment a little with different varietals. We can start slow and see what works and what doesn't. And I will have full control over the farming practices as opposed to leasing someone else's vines and being subject to the owner's approval.
How do you feel about entering the wine business?
There is a great deal of excitement in being able to write your own story. Of course, there are some principles of business generally and the wine business specifically that must be adhered to. We are going to just keep an open mind. We only hope that we are able to grow wines that open up people's perception of what California wine can be.
As you build your house and crush facility on the property, you will need a temporary living structure. Have you considered living in an RV or tiny house?
This is a tricky subject. Technically, we are not supposed to use a trailer on the property. There are some deed restrictions that were set up on the surrounding 20 or so parcels intended on keeping the neighborhood free of the dilapidated trailers and temporary structures. I am told by a neighbor, however, that there are a few folks who are in fact living in RVs on their property.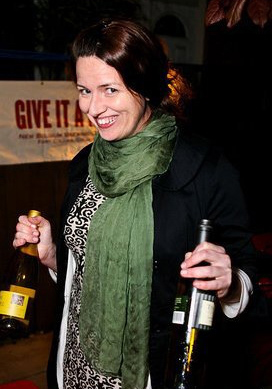 There seems to be no question that ownership remains a worthy goal. While I am still a few years away from taking that step, Tim's experience reinforces my vision and helps keep my eye on the glittering prize. If Peggy can do it, so can I!
Meanwhile, as I continue to rent the land on which I park my trailer, how can I feel a greater sense of control (and indeed, ownership) over my surroundings? I found a quote recently, attributed to Lee Ann Taylor: "There is no ownership. There is only stewardship." When I share this with Tim, he digs it:
In the end, we are all really just "renters" on this planet. We are just caretakers for this small slice of earth and we want to make sure in the end what we take care of the land in a way that it can continue to give to those who are fortunate to take over the reigns when we are gone.
It's a lovely idea, really — whether we own or rent, run a business or work for others, we are here to make the world better.
It's a concept that my college mentor Paula, with her life of devotion to service, would certainly embrace. So I try to embrace it, too.
House Wine
What exactly does ownership taste like? Ask Katy Wilson of LaRue Wines, who recently struck out on her own after years as assistant winemaker for other producers (including Flowers and Kamen). LaRue 2010 Sonoma Coast Pinot Noir earned Katy acclaim as a 2013 San Francisco Chronicle "Winemaker to Watch". When I recently asked her about the joys and pitfalls of her business endeavor, she was emphatic: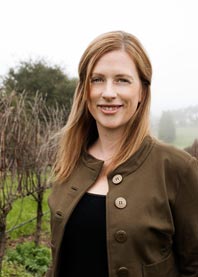 Most people would say that the most challenging part of running your own business is losing the structure of an organization or the security of a full time position. Those things do not worry me; it's been freeing to be on my own. I would say that having my future completely dependent on myself has been the most gratifying part.
Left: Katy Wilson, winemaker, founder of LaRue, and fellow dreamer. (Courtney Dawn Photography)
Katy named the wine for her great-grandmother, Veona LaRue Newell, who she describes as "strong", "mindful", and "resilient". Imaginably, these are qualities Katy—and anyone else wishing for the strength to realize their dreams—must also summon. Perhaps we should drink up, then. Consider starting with the 2010 vintage, sourced from Rice-Spivak Vineyard and bearing notes of cherry, cinnamon, and rose petals.