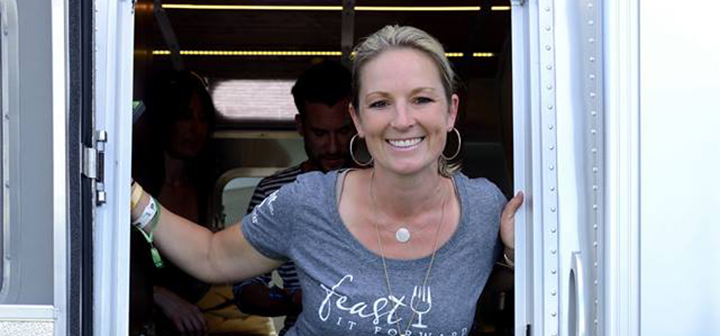 Editor's Note: Vardo in the Vineyard is a series following Amy Bess Cook's life as she resides in an RV parked atop a vineyard in Sonoma County.
Author's note: The subject of this latest installment of the Vardo column is not a story about my own vineyard trailer. Instead, it's an introduction to "Sophia," an Airstream that's the site of regular Napa fundraisers; and to Katie Hamilton Shaffer, its dynamic event organizer. Keep reading for more about her inspiring work in wine country.
Can hedonism save the world? According to businesswoman Katie Hamilton Shaffer, it's a fine start. Feast it Forward, the lifestyle brand founded by Shaffer, celebrates the bounty of wine country while promoting charitable giving.
"Throughout my career," says Shaffer, "I've been struck by what incredible things can be accomplished when you bring together amazing people over fantastic food and wine."
Acknowledging the wealth of her Napa Valley surroundings, Shaffer asks, "How can we live beyond that [luxury] in our daily lives?"
Feast it Forward, with the motto "All Things Food. Wine. Philanthropy." offers wine and food lovers the opportunity to do just that. Philanthropy in the wine biz is nothing new. Survey the scene, and you'll find wine brands that give back, such as One Hope (a Rob Mondavi, Jr. company) or the iconic Newman's Own . You'll find nonprofits that peddle wine to raise funds, such as Wine to Water. And you'll find countless culinary festivals benefitting various causes, from L'Ete Du Vin in Nashville to Carnivale du Vin in New Orleans.
When, though, do all these philanthropic models merge seamlessly together into one organization led by a single, spirited person? Over the past six years, Shaffer's vision for Feast it Forward has grown to encompass a dizzying array of elements:
In cooperation with strategic partners City Winery Napa and Bay Area Airstream Adventures, Feast it Forward invites handpicked guests to gather in a sleek, silver bullet trailer (dubbed "Sophia") with such renowned musicians as Brett Dennen, Jackie Greene or Ozomatli. Shaffer hosts an intimate acoustic live stream set with partner Gibson Guitar, while learning about the causes each musician is inspired by. Internationally acclaimed sommelier Christopher Sawyer, a Feast collaborator, is on hand to provide wine education and insight.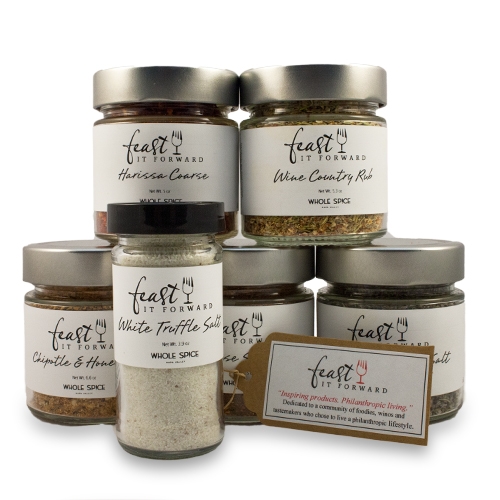 A Feast it Forward house wine generates charitable dollars. Working with Maroon Vineyards, Shaffer offers a $60 Cabernet Sauvignon.
Complementing the Cabernet is a line of Feast it Forward proprietary spices, which earned Shaffer a Martha Stewart American Made Award in 2013. Billed as "products with a purpose" the spices generate sales dollars that support a range of charitable causes.
These efforts are enough to make one's head spin with feel-good bliss. But Shaffer doesn't stop there. Believing that sharing the message of goodwill is key, she's launched a media network.
"Many lifestyle and portal sites," she writes, "lack any focus or true reflection on a modern philanthropic lifestyle. Feast it Forward serves as a guide to the conscious consumer searching for a better and more philanthropic life... from the source, to the taste, to the effect it has on the health of our bodies AND the environment."
How did this ambitious endeavor come into being? It's no fluke.
"I'm competitive," Shaffer says, "and I go after what's important to me."
A born athlete, she says, "I wanted to go culinary school, but they didn't have a soccer team."
Landing a Division-I soccer scholarship out of high school, she went on to play semi-pro circuit. Afterward, she sought work in Napa wine country. Her wine career began at Cuvaison, where she parlayed her job as events manager into a fundraising opportunity for Children's Hospital Oakland. Following that overwhelming success, she went to work for the charitable events organization Wine, Women, and Shoes. By 2009, her knack for forming creative alliances in the wine industry had spawned her own collaborative wine brand, which she sold several years later.
Feast it Forward, then, is the natural outgrowth of years Shaffer's charitable work and networking. Its primary business funding comes from winery and corporate sponsors, the sheer number of which is testament to Shaffer's charisma and competence. Coravin, Miner Family Winery, Sullivan Vineyards, Chef Works and American Truffle Company are just a few such sponsors. Inspired by the work of such leaders as Bill and Melinda Gates and such artists as Michael Franti (whom Shaffer names as a friend) she runs the company from her home office, while simultaneously raising a toddler.
"Work amps me up," says Shaffer, "but cooking and drawing soothe me. I draw all my business plans... I was an art major."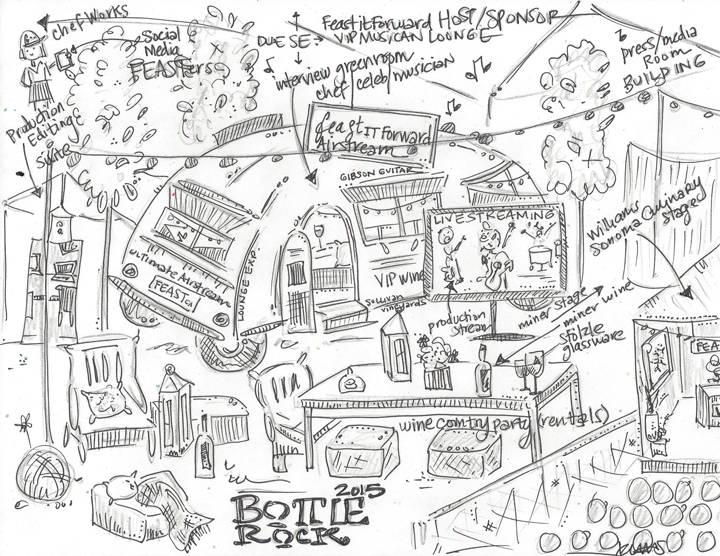 Above: A former art major, Shaffer relies on elaborate doodles to help her plan events and business schemes. This drawing helped make her collaboration with Bottle Rock 2015 a success.
Her complex doodles are as dynamic, fun, and complex as Shaffer herself. Recently, she partnered with Stolzle to create Feast it Forward branded glassware, its box covered in Shaffer's own "gourmet graffiti." Launching in the fall of 2015, "The Glass Does Make A Difference" campaign is an affordable luxury line of glassware, which will also raise funds and awareness for charitable causes.
During evenings in the Shaffer household, she's bustling around the kitchen with a glass of wine.
"I never get sick of wine," she says.
Lately, she's enjoyed exploring Rhône varietals. On her blog are page after page of recipes: Shaffer's own; and those of Feast it Forward's collaborating chefs. Shaffer recommends this one for Wine Country Rub Meatballs with Herbs des Provence Pasta. Developed by her business partners after a stint in Italy, the dish pairs beautifully with Feast it Forward Cabernet, for a meal that satisfies both body and conscience.
The Feast it Forward project taps our collective celebratory spirit, while reviving in participants a distinctive sense of goodwill.
"I knew I was meant to do more in life," Shaffer says with a glint in her eye.
With Feast it Forward, she seems to imply that we can each do a little more — and in the process eat, drink, and be merry.
For more from Feast it Forward, be sure to head on over to the website.