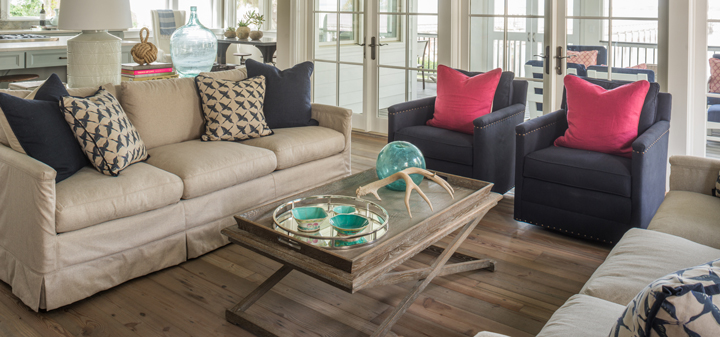 Editor's Note: Be sure to read the main feature on "Mondavi's Second Act" by Mary Orlin on GrapeCollective.com.
The lowcountry is about as different as you can get from wine country, but Rob and Lydia Mondavi are blending the two into a unique lifestyle. Their tips can help you bring the graciousness of southern living and the wine country lifestyle into your own home, no matter where you are.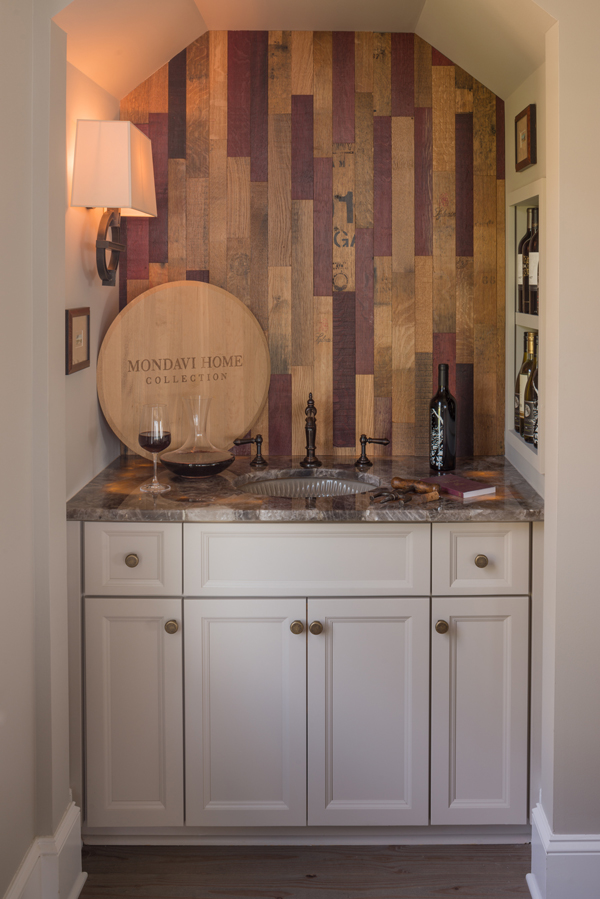 1. Look for interesting ways to use reclaimed wine barrel wood. Why not build a wine cellar out of decommissioned oak barrels for flooring and racks, or create a bar or kitchen backsplash from old oak casks? You can do so much more with reclaimed wood. Repurpose it as doors, fireplace mantles, even furniture.
2. Bring the outside in with paint colors that echo the scenery. To bring the outdoors in for their home in Beaufort, SC, Lydia's mother, interior designer Anita Wilbanks, collaborated with Benjamin Moore to create colors "reminiscent of low and high tide, views of wet sands, glistening waters of the Atlantic Ocean, oyster shells on the beach and Spanish Moss draped in the oak trees," Lydia says. (These paints are now available through Benjamin Moore.)
3. Consider lighting and candles. Lydia says ambient lighting is a very important feature in their home. You want lighting to be warm and you want to place it so that it shows off the wine and food you are cooking and serving. Candles help set the mood with soft, glowing lights, but too often scented candles can clash with wine and food. So Lydia and Rob created Mondavi Home Candles, designed to pair and enhance wine tasting and cooking. Based on Rob's winemaker palate, one candle is inspired by southern porches and a glass of crisp white wine, the other is inspired by wine country. Candles are hand-poured into their recycled wine bottles.
4. Reclaim and display your family heritage. You don't have to have a winemaking family to find meaningful items to bring into your home. Family heirlooms are the obvious choice, but think about displaying artwork, or bringing in architectural details or fabrics from a family home. Or create features that tie you to your upbringing, like a sun room, butler's pantry or veranda.
5. For gracious entertaining, set up ahead of time. "Entertaining is in my blood," says Rob. He recommends setting yourself up for a successful evening where you can enjoy your guests. "Prepare the meal and home early. I plan the menu, select the wines, lay out the cutlery and stemware a few days in advance."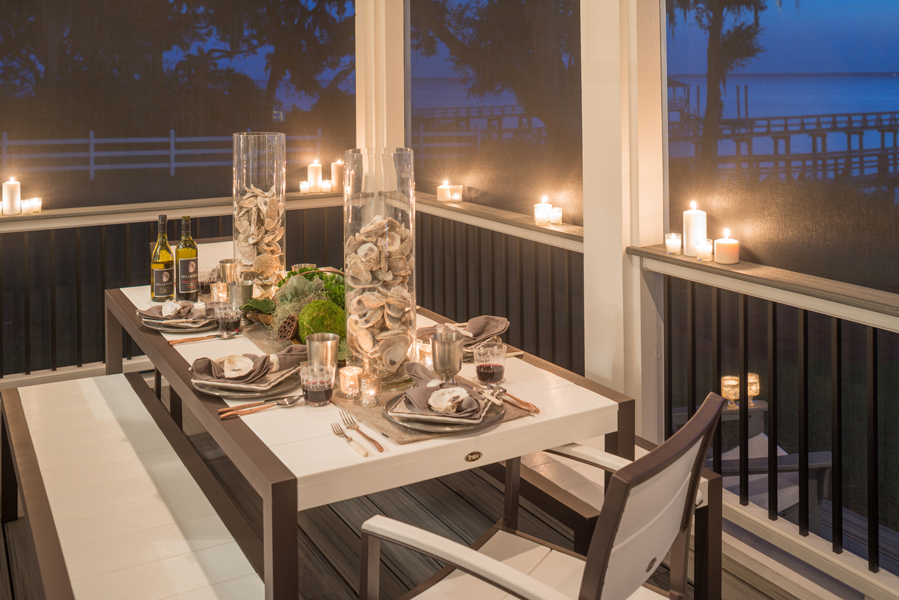 6. Select your wines first then pair the menu around it. "As a winemaker I selfishly enjoy selecting the wines for the meal," Rob says. This ensures the wine will always shine.
7. Always keep sparkling wine and Chardonnay chilled and on hand. Choose Champagne or the more approachable Italian Prosecco and Chardonnay because it's the most popular varietal in America. Rob suggests having two bottles of each ready to go any time.
8. Have appetizers ready for guests as they arrive. They can hang out, nosh and sip wine while you are cooking, since everyone always seems to gather in the kitchen.
9. Make your overnight guests feel at home. Set up coffee, tea, water, snacks and wine that they can grab any time without feeling they are disturbing anyone.
10. Put the mobile phones, tablets and other devices away. Stay social by connecting in person and invite friends and family into the kitchen to share a glass of wine.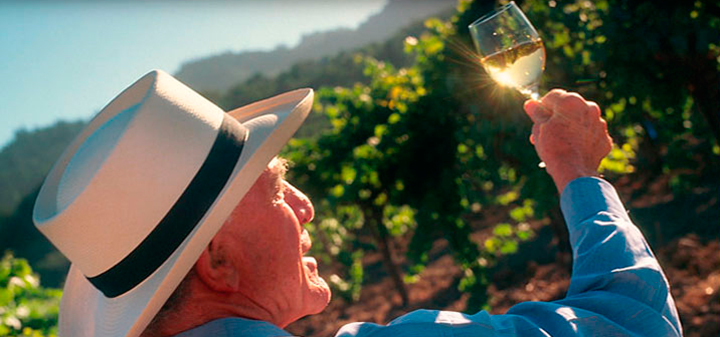 For more wine country stylings, be sure to check out MondaviHome.com.