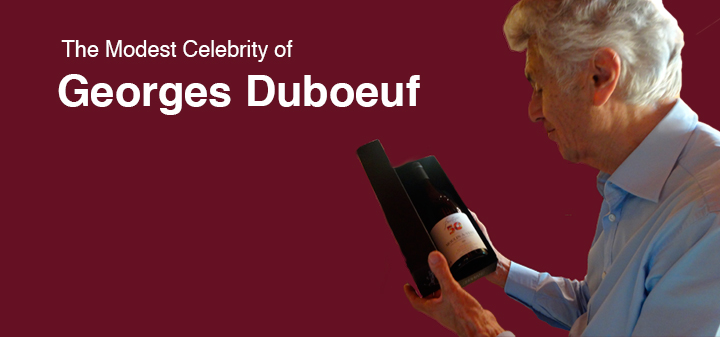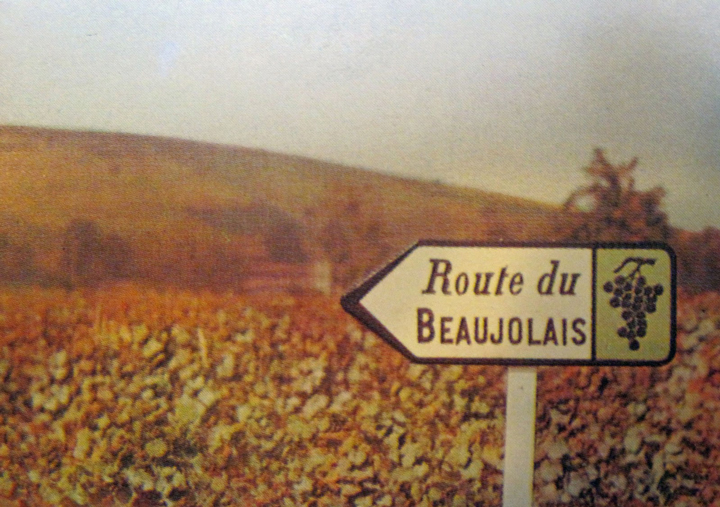 Georges Duboeuf is a modest man. He is modest in stature and rather reserved, in an elegant, French way. He is extremely modest about his contributions to the international wine world, of which championing Beaujolais — the region and the wines — will be his legacy. He is also modest about his success with promoting Beaujolais Nouveau, even though it has become a an overhyped caricature of itself. The king of Beaujolais Nouveau lives modestly as well, within his winery's headquarters compound in Romanèche-Thorins, home to Le Hameau du Vin. Duboeuf's "hamlet of wine" is a museum celebrating the history of Beaujolais and its wines, which opened in 1993, drawing millions of visitors every year. Duboeuf is even taking the 50th anniversary of the founding of Les Vins Georges Duboeuf in 1964 rather modestly. There was no formal shindig, no big media campaign or otherwise to celebrate the man who put quality Cru Beaujolais on the map. Again, Georges Duboeuf is a modest man.
I recently met the man behind the flower label, visiting the many vineyards and winemakers within Beaujolais and the Maconnais with whom he has worked with for years, if not decades. What I didn't expect was for him to invite us into his home, where he has lived since 1960, into the very room where he created his first Beaujolais Nouveau and the ensuing celebrations surrounding it. Nor did I expect to taste more than a dozen wines with him and to spend nearly 90 minutes hearing his personal story. (Author's Note: Duboeuf spoke to us through one of our hosts, Romain Teyteau.)
During my career as a wine writer and TV producer, I have had the great fortune to meet and interview some of the icons of the wine world: Robert and Peter Mondavi, Warren Winiarski, Miljenko Grgich and Nicolás Catena. All knew and greatly respected Robert Mondavi. Georges Duboeuf is in the same category. He did for Beaujolais what Robert Mondavi did for Napa Valley wines. Duboeuf worked and continues to work to spread the gospel of the Gamay grape in all of its forms: Nouveau, Villages, and Cru.
Georges Duboeuf was born in 1933 in Chaintré in the Maconnais. Here, Chardonnay rules. The region is also very close to the boundary of Beaujolais. Duboeuf's big break as a wine producer came when he rode his bike, carrying bottles of his family's Pouilly-Fuissé, to visit the legendary chef Paul Blanc at Le Chapon Fin, a two-Michelin star restaurant. The chef tasted the wine, agreed to buy the bottles, but asked for red wine too. That kicked off George's pursuit of Beaujolais.
Today, Duboeuf is a negociant, buying wine from many vineyards and up to 400 winemakers. He is always involved in tasting barrel samples and making decisions on the final blends. "The aromas, the nose of the wine is what counts," he says. "It's where the negociant can put his stamp on the wine and produce the style of wine he likes."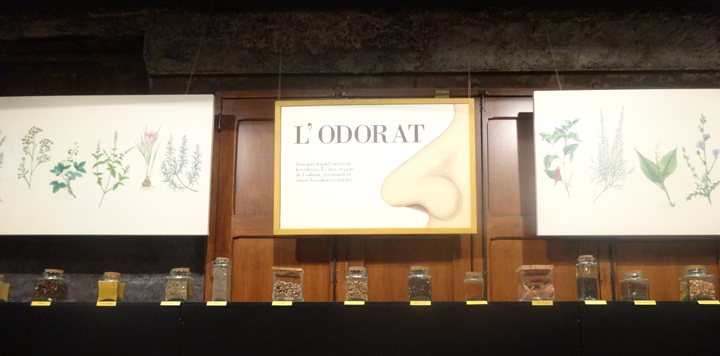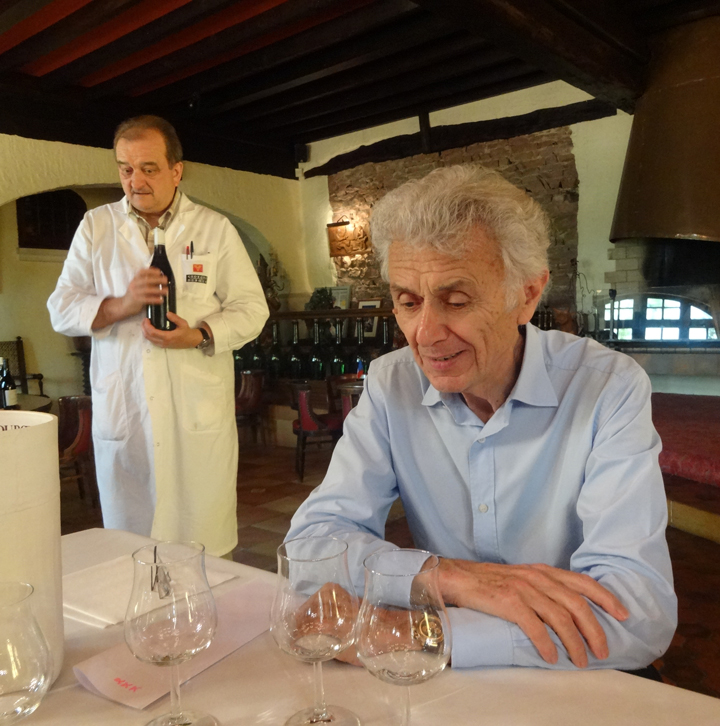 During our tasting with Georges Duboeuf, we learn that he and his oenologist Guy Marion spend two and a half hours a day tasting wine from barrel in the morning and in the evening. During the blending for Beaujolais Nouveau, they spend up to four hours a day tasting tank samples. That translates to tasting 6,000 to 8,000 samples before deciding on the Nouveau blends. Nouveau is not a simple wine, at least in the hands of Duboeuf. In fact, at the Hameau du Vin, there is an entire exhibit devoted to L'Ordorat, or sense of smell.
Famous for his fine-tuned palate, of his works as a negociant, he says, "It is to know very well and follow the winemakers. I know the characteristic of every Beaujolais village so I can assemble them to blend a very harmonious result."
He also tells us that deciding when to bottle the wine is one of the most important decisions he makes: "When you bottle the wine, it should always be on the rise. If it reaches its peak and starts going down then it's too late to bottle. When you bottle wine you can give it spirit or take away all intelligence." In fact, it is so important that awhile back, he wanted to start bottling wine at each winemaker's estate — something not done at the time, as wine was sold in bulk. He had to go to the local administration to register as a bottler, but there was no formal category for such a business. They had to make it up for Duboeuf.
His winery's headquarters are right across from a railroad track, as Duboeuf is a train enthusiast. The main hall at the Hameau du Vin is inspired by the Gare de Lyon in Paris. "The negociant were always located close to the railroads there was much traffic with the negociant on the railways," he says. "That's how I was receiving bottles and shipping bottles."
This sort of access is important to Duboeuf, especially in maintaining and cultivating the many close relationships he has with famous French chefs. His passion and desire to sell his wine to Michelin-starred chefs has been a lifelong obsession.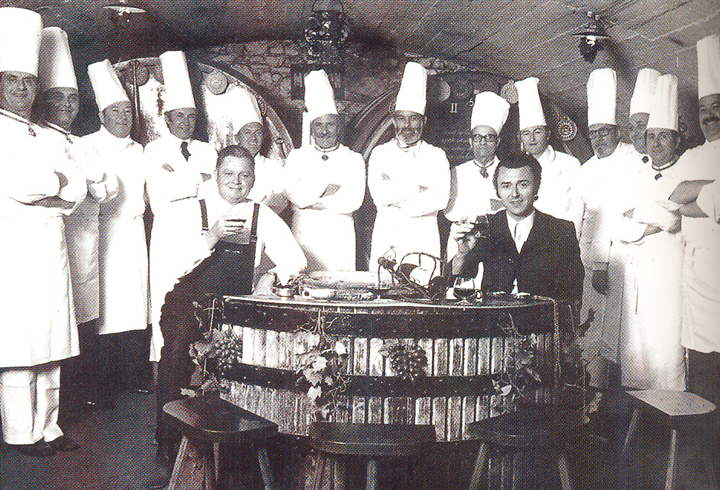 "When I was very young the one book I knew by heart was the Michelin guide," he says. "I knew every chef who had one or two or three stars. That was my bible. I wrote letters, I called restaurants, that's how I was able to meet the chefs."
Paul Bocuse is one of those chefs, and together they created a wine under the Bocuse label which he sold in the United States. He also created a signature ice bucket in the shape of a chef's toque with Bocuse in mind.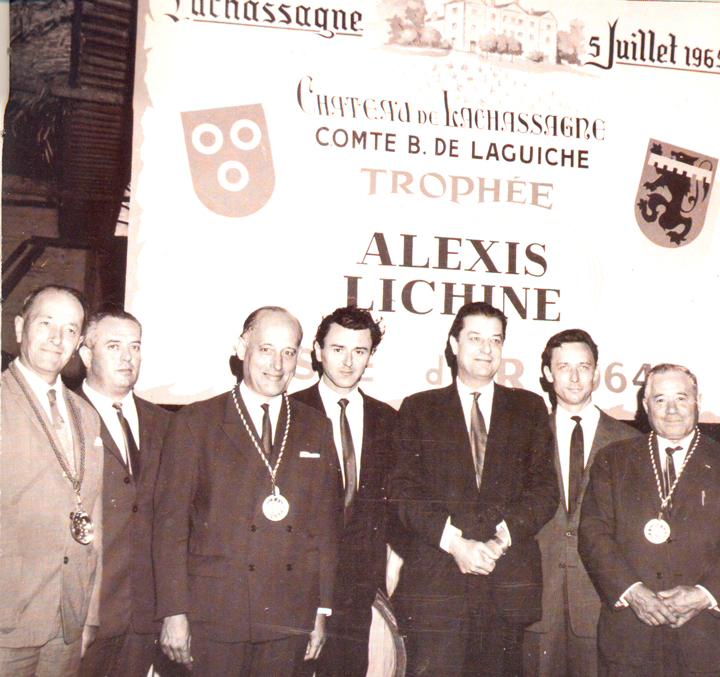 Relationships, not just with chefs but in general, are a big part of Duboeuf's operations. And he's had quite a few over the years, some introductions to buyers more conventional than other. During his military service during World War II, Duboeuf sold 36 bottles of his Pouilly-Fuissé to his colonel One time when he was delivering wine to the great importer Alexis Lichine, the buyer told Duboeuf that Alexis wanted to him to wait so he could meet him. Duboeuf replied that he had a bed in his truck and he would sleep in that. The buyer said no, that Duboeuf would dine with Alexis and also spend the night at Chateau Lascombes which Lichine owned. "That's how a great adventure started with Alexis Lichine," he says.
From the beginning, Duboeuf has always been hands-on, doing whatever needed to be done. As he was buildig his wine business, Duboeuf discovered one account selling less of his Pouilly-Fuissé than others. The restauranteur told him he was selling more of a wine from Provence, largely due to the beautiful bottle it was offered in. The wine was Domaine Ott, known for its distinctive bottle shape. After examining an empty bottle Duboeuf decided he must design his own bottle.
But he needed 500,000 francs to fund the project. He told one of his producers about his wine bottle. "He told me, 'Georges if you want new clients I will bring you to Switzerland and I will help you,'" Duboeuf says. "But I always came back to say I need this 500,000 francs."
The producer told him he shouldn't try to do a special bottle. "But that day he wrote me a letter that says 'Georges here is a check of 500,000 francs. Make your dream and give me the money back when you can.' That's how I was able to create this project and this bottle was a big success."
The bottle was called Le Pot. He created it in 1956. Duboeuf sold the rights to these bottles in 1962 to Maison Piat and that's how he was able to start his own business in 1964, Les Vins Georges Duboeuf.
Though his name was never attached to that original bottle, Duboeuf remains proud of it though. The balustrade in his home is made of those bottles. Duboeuf's hand is also in his famous flower labels, which he was inspired to design after seeing a beautiful bouquet at a London Hotel. He also drew the labels for the wines he bottled because none of the domaines had their own labels. Duboeuf loves to draw and still does so today.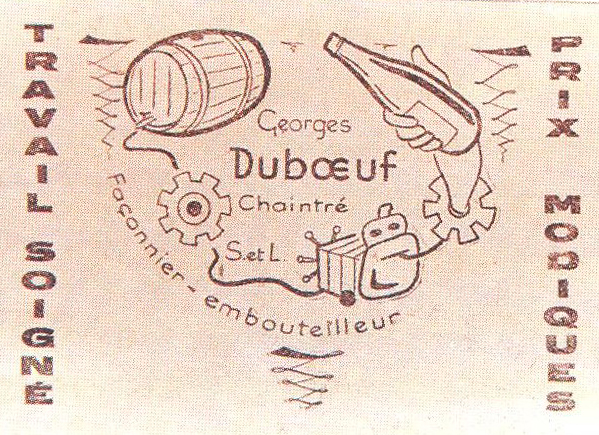 And it isn't only the bottle that receive attention. Duboeuf thumbs through a book to show us photos of an advertisement he drew for his wines. His motto: "Travails Soigné Prix Modiques," or "Careful Work and Modest Prices."
While Duboeuf is widely credited with bringing Beaujolais Nouveau to the United States in 1982, he was not making it when he launched his business in 1964. That would come later in 1975. Duboeuf was not the first to create hoopla around the release of the new wine. The distinction goes to two British journalists, who would race each other back to London to claim bragging rights for beating the other. The momentum grew from there and Duboeuf was smart enough to capitalize on it. One famous stunt took place in 1988, when American actor James Coburn led the departure of 100 trucks from the Duboeuf winery in Romanèche-Thorins on horseback at midnight, holding a bottle of the '88 Beaujolais Nouveau, with Georges Duboeuf right there helping lead the charge. 2012 marked the 30th anniversary of the wine's debut in the United States. And like that bold announcement, over those three decades, the Georges Duboeuf Beaujolais Nouveau bottles have become known for their colorful, distinctive artwork on the label which changes with every vintage.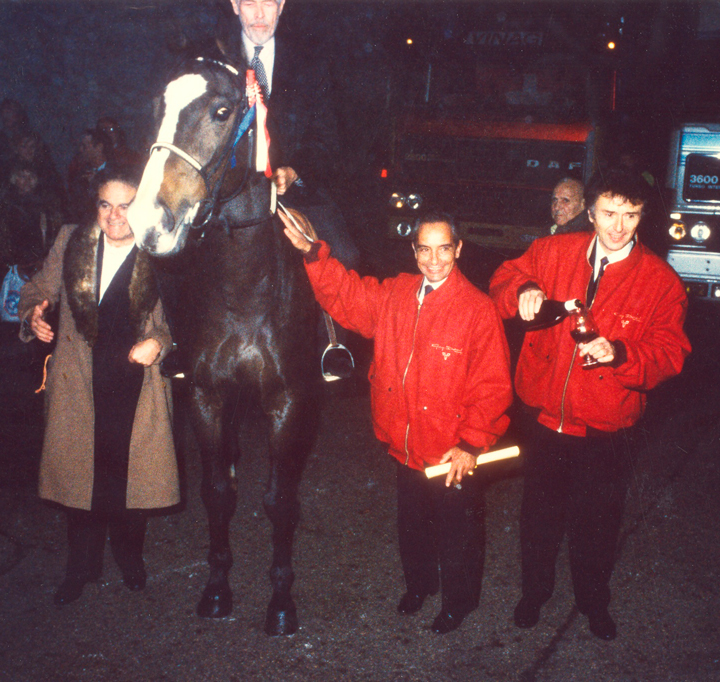 When asked about all the innovations and contributions he's made to the wine industry, Duboeuf remains modest. "Pfff. Our contribution is only to Beaujolais and the Maconnais region," he says. "My family, they have this way of looking at things. Wine is a pleasure that you share since I was very young until now. We like to communicate that. We have this wonderful place, the museum, the Hameau, and it is because from when I was 13 we have always wanted to share, to help people discover wine. It's not a contribution — it's just the way it is, absolutely a philosophy."
And a very personal philosophy it is; the champion of Beaujolais is simply enamored with the wines.
"Whether you like it or not, it's very unique," he says. "There is elegance from the fruit. It's pleasing and charming. The charm of Beaujolais, of Gamay, is it is a wine that's ready right after harvest, but with the same grape, the same varietal it's a wine that can age for 10, 15, 20 years."