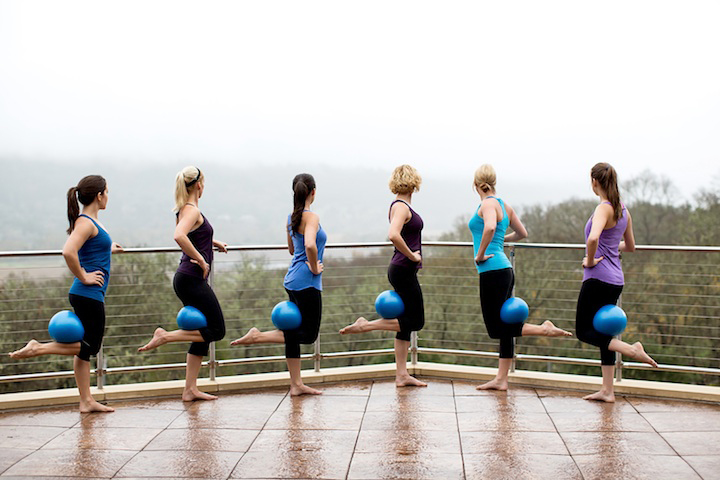 The health benefits of a glass of wine, in moderation always, are well documented. Yet a growing trend in wine country is wellness, and it's more than imbibing an antioxidant rich Cabernet Sauvignon. Instead of sipping and spitting, visitors to wineries and wine country spas and resorts are now detoxing, with a little retox involved, natch.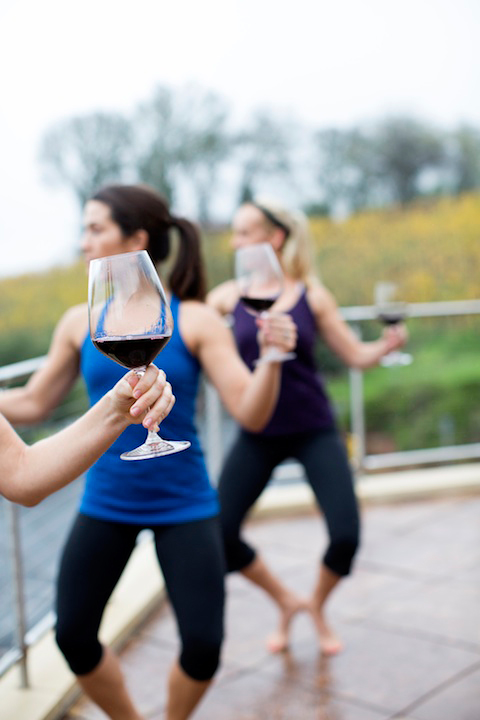 Boost Your Endorphins
Vineyard 29 crafts critically acclaimed Cabernet Sauvignon in Napa Valley via high tech winemaking equipment. The winery also offers Pilates Essentials, a half day of Pilates and barre training, followed by a winery tour, tasting and alfresco lunch.
The morning starts with an hour long workout led by Robin Monette, owner of the Pilates Reserve, with the backdrop of vineyards. The workout boosts endorphin levels, feeding that mind body connection. Cool down sipping house-made green juice as you stroll through the caves and state-of-the-art winery. Next, put those endorphins and your heightened senses to work in an hour Tasting Essentials class with food and wine pairing tips.
After class you'll be served a spa lunch, prepared from locally sourced ingredients, paired with Vineyard 29 and CRU wines.
The Pilates Essentials experience can be tailored to you and your group's skill levels and dietary preferences. At the end of the day you receive a mixed case of CRU wines for your group to take home and share, uncorking memories of your day of wellness among the vines.
Get Eco Fit
Challenge all of your major muscle groups with Meadowood Napa Valley's Eco Fitness Class. It is offered both as part of the "Healthiest Year Yet" package, or by request when you are a guest of this wine country resort.
For your "Healthiest Year Yet," there are two main programs, Eco-Fitness Classes and Prescription.
Eco-Fitness gets you out of the gym and into the woods of Meadowood's 250 acre property in the eastern hills of St. Helena. During a 90 minute hike, you'll come upon interval stops along the way, where you'll pump weight (shoulder presses, bicep curls), do sprints, lunges and interval training, all designed to bring out your inner athlete. Think circuit training in a peaceful, alfresco setting.
At the end of the workout sip a cold pressed Meadowood Garden juice, made from fruits and veggies grown in the resort's garden.
Prescription is a session with a personal trainer designed to assess your fitness level and to "prescribe" a plan to help keep the wellness momentum going after you return home.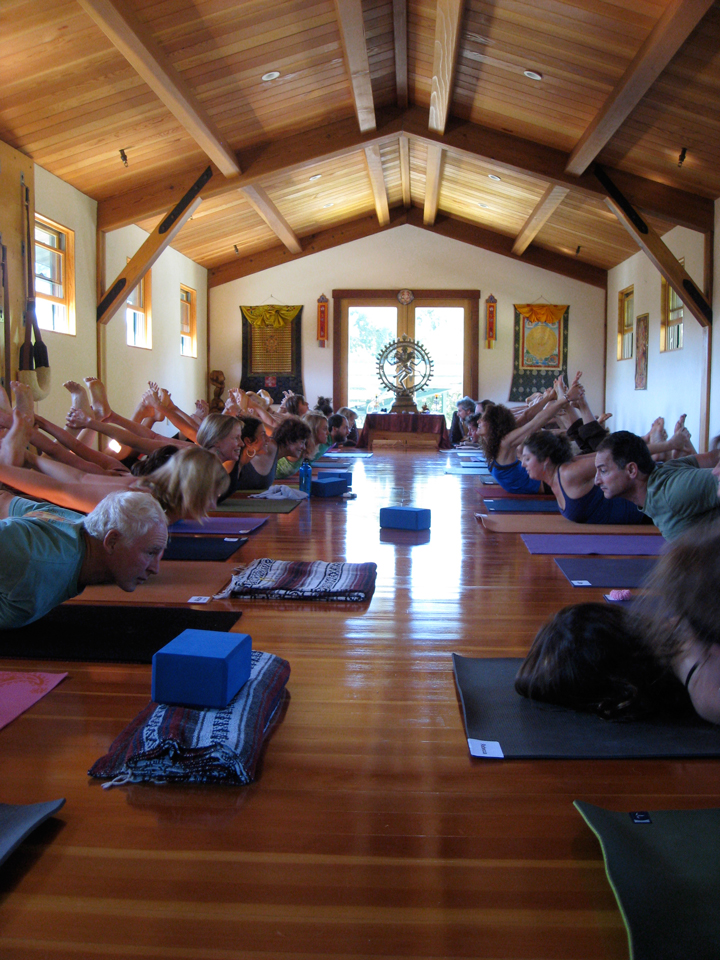 Om Among the Vines
Shala is the Sanskrit word for "sacred space," and Samantha Brown says that's what you'll find on the top floor of the Big Basin Vineyards winery in Boulder Creek, CA, in the Santa Cruz Mountains wine country. "Sanskrit is the language of yoga, and shala also means the place where yoga is practiced." Brown and her husband, Big Basin founder and winemaker Bradley Brown, created the yoga studio together, theShakti Yoga Shala.
Brown says "the land manifests itself into the building. Windows on all four walls bring the outside inside. You see the line of vines of the Homestead Block going uphill, which is part of the original vineyard." She says the space is important to a yoga practice and upon entering the studio and seeing the vineyard views, "people decompress and de-stress when they walk in the door," she says. "It's wonderful to be in a place where the yoga practice is so connected to the earth."
People find their way to the yoga Shala through the Big Basin wines, says Brown. "It's all part of a holistic lifestyle. We farm sustainably and grow organic grapes. People are looking for that balance."
A Blend of Wine and Yoga
At the Naked Wines Tasting Lounge in Napa, the motto is "open your heart, we'll open the wine and our yogis will lead us to namaste."
Each two hour session starts with fellow yogis meeting up for a sip of wine before heading upstairs to the yoga studio. An hour long class of vinyasa yoga is led by certified instructors. After namaste, the cork is popped on bubbly, to celebrate the bliss achieved through the practice. All participants can also try other wines on hand made by winemakers in the Naked Wines artisan portfolio.
The Naked Wines philosophy is to make wine less intimidating and fun, and they take that same approach to yoga, which can often be intimidating. Blending wine and yoga can help you reach a more relaxed mindset.
Pedal Power
Sure there are many outfitters offering bike tours throughout wine country. But at Ladera Vineyards on Howell Mountain in Napa Valley, you can pedal at your own pace. The winery offers a self-guided bike tour, Cycle the Road Less Traveled, through six miles of quiet, mountain roads. Not to worry, the route is mostly flat terrain.
"We believe it is important to maintain a healthy and balanced lifestyle," says Nicole Stotesbery Duncan of Ladera. "We have also found that fitness plays a primary role in the lives of many of our guests—for those who value health and wine, what better place to enjoy both than in the Napa Valley."
You'll pedal past vineyards, the tiny, charming town of Angwin and views of the valley below. Upon arrival back at the winery, you'll find a picnic lunch waiting for you in Ladera's gardens. Then you'll tour the winery, one of Napa's historic "ghost wineries," built in 1886 as the Brun & Chaix Winery. A ghost winery is one that was established in the mid to late 1800's but then was abandoned in the early part of the 20th century, succumbing to phylloxera, the Great Depression, Prohibition or a combination of all three. The winery was purchased by the Stotesbery family in 1996 and reopened as Ladera Vineyards in 2000. You'll also have a tasting of Ladera's powerful hillside Cabernets.
Beyond the Traditional Spa Massage
You can Adjust Your Frequency when you step into the jewel box of a spa at The Spa at Napa River Inn in downtown Napa. Owner Jeanette O'Gallagher has designed unique treatments to address wellness issues such as lowering stress and rebalancing the body from jet leg after a long journey.
The treatment is 75 or 90 minutes of aromatherapy, guided mediation, tuning forks and chakra therapies, combined with massage. It works to relieve tension, reset and restore your body, mind and spirit and put you back on the right frequency.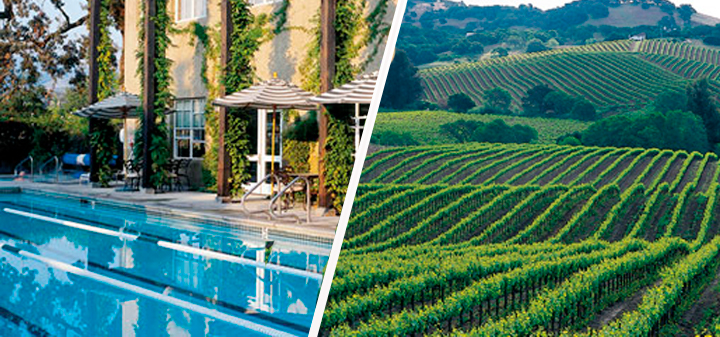 The Mind and Body Connection
At Health Spa Napa Valley, "we want people to focus on the moment, which is relaxing, healing the body and spending quality time on yourself," says Director of Operations Stephanie Iacobacci. That's why the staff encourages you to not just book a spa treatment, but to set aside time to come in and work out with a personal trainer, take a private yoga session or spend an hour with a personal coach.
That's a right, a session with a personal coach, to help you "figure out what you like doing and how to focus your energy on things," Iacobacci says. She adds that people request coaching sessions for anything from dealing with divorce to a death in the family to career changes. The coach helps find positive and healthy ways for people to move forward.
"People are seeking a balance that is healthful," says Health Spa Napa Valley co-founder Eric Chesky. There are plans to add new fitness classes to meet demand for a wellness experience. "What's also happening is we're seeing more people want to send other people here for the experience," says Iacobacciwho says gifts of a day of wellness are also in demand. "People are understanding how important wellnessis and they want to treat others to that."
Detoxing
While there's always the temptation to overindulge in wine country, now there's no excuse to not spend a little time focusing on your wellness too. A little detoxing can go a long way to balance all the rich food and flowing wine.