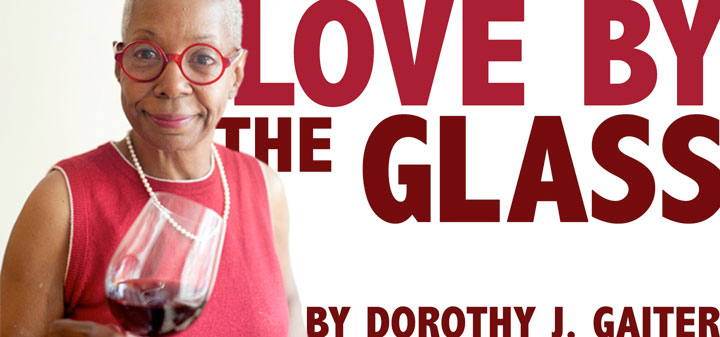 It's hot as blazes outside. At our country cabin, that means at the end of dinner, we're more likely to fill my pretty little vintage glasses with an after-dinner wine than to pile on a heavy, baked dessert.
For years, our go-to dessert wine was Muscat de Beaumes de Venise, a rich, golden elixir in an oddly shaped bottle. We were so smitten with it that we once drove for hours in the Rhône Valley, buying a bag of cherries along the way, just to taste it at the source.
Several days ago, to immerse myself in research on the wines of Roussillon for French Restaurant Week, which just ended, I revisited another dessert wine that John and I like, Banyuls, the famous sweet wine of Roussillon, in far southern France. Specifically, the lovely, tiny-sips-only Domaine La Tour Vieille Banyuls Reserva from the hills behind Collioure, the Catalan seaport town on the Mediterranean coast, north of the Spanish border. The wine was brought to the United States by the legendary Berkeley, California-based importer Kermit Lynch. Lynch, whose portfolio focuses on artisanal winegrowers in Italy and France, brought in 200 cases of this chocolaty, raisiny, spicy gem, a spokesman for the importer said.
Like the Muscat, Banyuls is a vins doux naturels, which is really a misnomer since both wines are fortified. There's Banyuls Blanc, Banyuls Ambré and the more common Banyuls Rouge, as well as other Banyuls whose names indicate their aging process. Some Banyuls are vintage or rimage, and some are highfalutin Banyuls Grand Cru. The predominant grape is Grenache Noir, from old vines grown in the hot, steep, rocky schist terraces of the Catalan Pyrenees. The aggressive northerly winds off the Mediterranean stress the vines even further, keeping the yields low. A network of irrigation canals channel rainfall. The Banyuls and Collioure appellations overlap, with the latter producing blow-your-head-off-powerful, spicy, dry wines called Collioure. Other sweet wines from nearby appellations include Maury, from Grenache, and Rivesaltes, from Muscat.
The couple who own Domaine La Tour Vieille, Vincent Cantié and Christine Campadieu, fashioned their domaine by combining two family-owned properties in Collioure (his) and Banyuls-sur-Mer (hers) in 1982. Christine is a fourth-generation winegrower, and Vincent, a third-generation winegrower. Besides Grenache Noir, they also grow Carignan, Grenache Blanc, Grenache Gris, Macabeo, Mourvedre, Roussanne , Syrah, and Vermentino and make white and rosé wines, and several Banyuls and Collioure.
"I was impressed by the wines themselves, as traditional as you can find in Collioures and thoroughly typical of their Catalan origin, and also by the personalities of the owners, " Lynch said. "We think alike and they've become friends."
Little has changed since their ancestors made wine. Everything is still done by hand. Filmmaker Yasha Aginsky followed the couple's tense and exhausting work for his 2002 documentary, Wine From the Heart or Les Raisins du Coeur, which won awards in France, where it was broadcast nationally, and the Ecology Award at the Sonoma County Wine Country Film Festival. (Here's a five-minute preview).
Banyuls AOC laws prohibit the listing on the label of the wine's composition unless it is entirely from one grape, but Lynch's website says that this Reserva is 35% Grenache, 35% Grenache Gris and 30% Carignan from vines that are at least 45 years old. Like Port, Banyuls wines are fortified with distilled pure alcohol that is calculated to stop fermentation before the yeasts can convert all of the grape juices' sugar into alcohol and, thus, a dry wine. This process, which results in the retention of some of the juice's sweetness and ups the alcohol, is called mutage.
With the couple's Reserva that we had, the goal was 16% alcohol. The pressed juice, minus the skins, seeds and stems, is then separated and aged in foudre, giant wooden barrels, regular-size barrels, and large glass jars called bonbonnes or demijohns. The jars are left open and outside for a year, allowing the sunning, heated wine to oxidize, which affects the color and can contribute nutty and dried-fruit flavors. The Reserva's final blend contains wine from the jars and wines from other vintages that were aged in foudre and regular-size barrels, according to Lynch's website. The youngest component is one year old and the oldest, 13. The final blend has an average age of five years, and a residual sugar level of 90 to 96 grams per liter. The high sugar content means that it'll keep in the refrigerator for weeks, so it's also a great bargain.
Some people enjoy Banyuls as an aperitif. We like it with a slight chill during summer, after the dishes are done, when we can savor those tiny sips and each other as we watch the blinking of fireflies and listen to the hooting of owls.
Santé.
Dorothy J. Gaiter conceived and wrote The Wall Street Journal's wine column, "Tastings," from 1998 to 2010 with her husband, John Brecher. She has been tasting and studying wine since 1973. She has had a distinguished career in journalism as a reporter, editor, columnist, and editorial writer at The Miami Herald and The New York Times, as well as at The Journal.
As of publication the Domaine La Tour Vieille Banyuls Reserva is available at the Saratoga Wine Exchange.