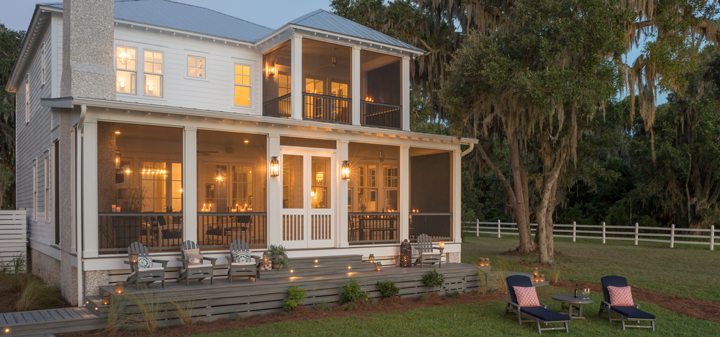 Second acts in the wine world are nothing new. Becoming a vintner is a move people usually make after a successful career in the world of high tech, finance, or medicine. But what if you are a fourth generation vintner, born into the most well-known wine family in America?
You do what Robert Mondavi, Jr. has done — launch a home collection. But you don't launch any home collection. You make it personal, blended with that signature wine country your family was a big part of building, with a dash of the Carolina lowcountry for spice for good measure.
"I just love the colors of the wood inside the wine barrels," Rob says. "Not many people get to see inside them"
Rob's not talking about the barrels in a wine sense. Instead, he's waxing poetic about decommissioned wine barrels from his winery, ones he has turned into flooring: "Sauvignon Blanc can be more silver, the Chardonnay gives a little more golden hues, Pinot Noir these raspberry colors, and Cabernet's just brooding and angry and beautiful."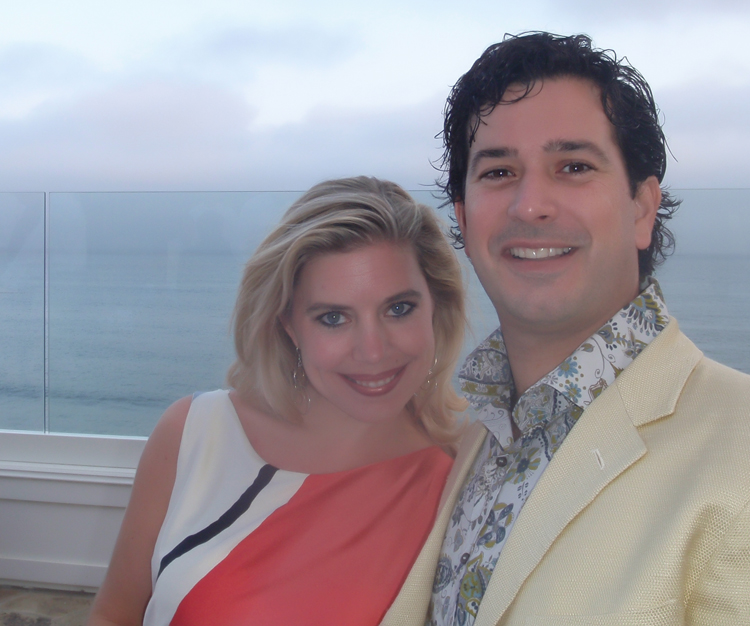 Rob's latest project isn't in a vineyard, or even in a winery. He and his wife Lydia, founder of 29 Cosmetics, have just launched the Mondavi Home Collection, a line of wine country-inspired flooring and home accents. Does it work? It does for them. These are all design elements you'll find in the house the couple recently built in Beaufort, South Carolina, between Charleston and Savannah.
The inspiration comes from the Mondavi's Napa Valley home, an English bungalow that they renovated and added a wine cellar 10 years ago. "We built the cellar exclusively from reclaimed wine tanks," says Lydia, explaining that Rob found gorgeous oak wood from a red wine fermenter. "The wood was incredible, heavy thick planks beautifully stained with years of red wine fermenting and aging."
As the couple was planning to build their home in South Carolina, they wanted to incorporate reclaimed oak barrels into their home not just for looks but to "add a personal piece of history to the home," Lydia says.
That sense of history is strong in both Rob and Lydia. An Atlanta native, she grew up in the south and has strong family ties here. Her ancestors, John and Edward Rutledge, signed the Declaration of Independence, as well as the Constitution for South Carolina — a heritage that is firmly rooted in the area and ultimately brought Lydia and her family back.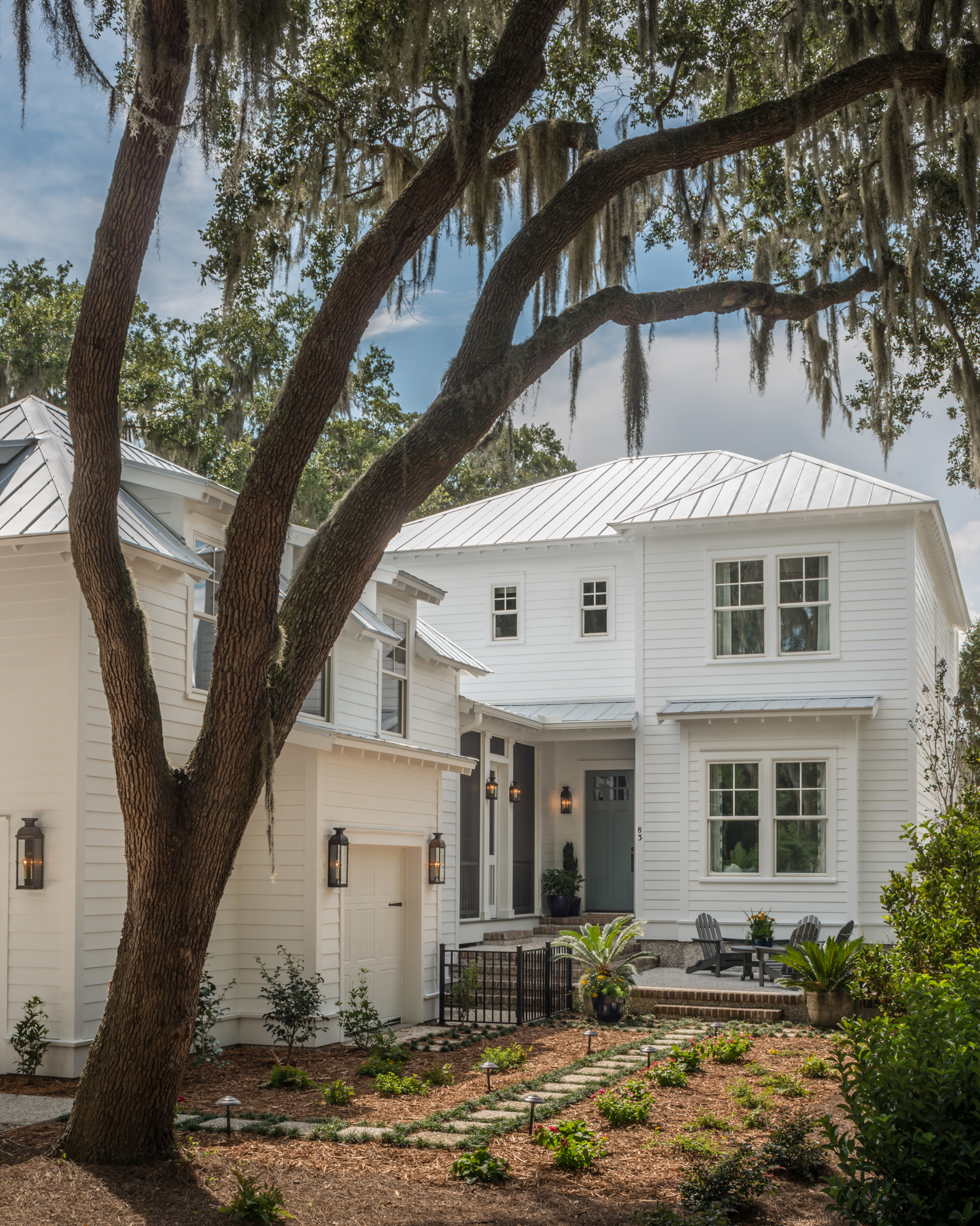 "This is a summer house, a retreat for us," says Lydia. Now that they have a young son, Lydia wanted him to grow up experiencing all the things she grew up with: lightening bugs, thunderstorms, shrimping and crabbing on the beach, and Spanish moss dripping from live oak trees. Thus the beach house in Beaufort, with views of the Atlantic Ocean. They can also see Hilton Head and Parris Islands, along with a boat dock and beach.
It wasn't always Rob and Lydia's intent to create a home collection of flooring when they started the design process. But given Lydia's background, it was a natural.
In college Lydia was very interested in design and she wrote a business plan "for a home collection line based on the comforts in the home with the hopes of creating this one day," she says. Her mother, Anita Wilbanks is also an interior designer, and Lydia grew up learning about design from her. Lydia has also designed and developed spas across the country.
Design runs through Lydia's blood, while wine runs through Rob's.
Since the couple wanted to use reclaimed wood again, that was the starting point for designing the house in Beaufort.
"We obviously have a lot of barrels left after we use them for our wines so we looked at how we can reclaim them," Lydia says.
Their builder referred the Mondavis to Authentic Reclaimed Flooring in Locust Grove, Georgia. Working with owner Shelley McMurray to develop the floors gave the couple the idea to create a home collection based around this reclaimed oak wood flooring.

Those decommissioned wine barrels, with the different colored "stains" if you will, from the wine, have become the Mondavi Reserve Barrel collection. It's made by milling French oak barrel heads that Rob personally selects after each harvest.
"Where else do you get trees that have been forested specifically to grow straight without knots and are anywhere from 80 to 120 years old that are then milled for barrels?" Rob asks. "The grain, the textures are very different from anything else, and then you add the element of wine stained deep into the core of the wood — the tannins and the color of the wine creates something so signature."
The Reserve Barrel Collection can also be used as a home accent, as Rob and Lydia did, creating a bar backsplash from the wood. One cool detail, Rob says, is the cooperage mark from the barrel makers.
"What it means for the wine business," he says, "is that we have a creative and green outlet for our oak barrels and tanks as they come to the end of their serviceable life. For me as a winemaker it feels wonderful knowing that there is life after wine for these gorgeous barrels." A second act indeed.
Soon friends, family and business colleagues were asking the Mondavis where they could buy the flooring and backsplash. Rob had also introduced the Mondavi Home Collection at a builder's show. "We had people coming up to us, even people who don't love wine saying they loved the grain of the wood and the colors. It wasn't like anything they've seen before." That was the inspiration they needed to expand the line to meet demand for the wine country flooring in homes, restaurants and cellars.
For example, the floors throughout the Mondavi's new house are made of pine wood from an old Kentucky Bourbon distillery, which brings in an element of southern heritage. "Both Rob and I love Bourbon. That particular wood is called Mondavi's Choice," says Lydia. "We washed them with a beautiful wine stain. Rob describes them as this Chardonnay floor with warmth and richness and a cool refreshing feel."
In mid-September, the Mondavis opened their home to showcase this signature flooring and other features they developed to reflect what Lydia calls "the art of living well and the art of entertaining well with wine and food."
"Living in Napa Valley the farm-to-table concept is simply a way of life," says Lydia. "At the beach house the neighboring farmlands and estuary at our back door provide the opportunity to teach our son, hands-on, the value and deliciousness of eating locally here. They joy of finding a clam on the beach and the giggles from our son as he tries to capture the shrimp jumping about like popcorn cements our family together while teaching seasonality, conversation and the ultimate pleasure of eating this way."
The wine country lifestyle revolves around wine, food, entertaining, and cooking. "I love being in the kitchen with friends and family," Rob says.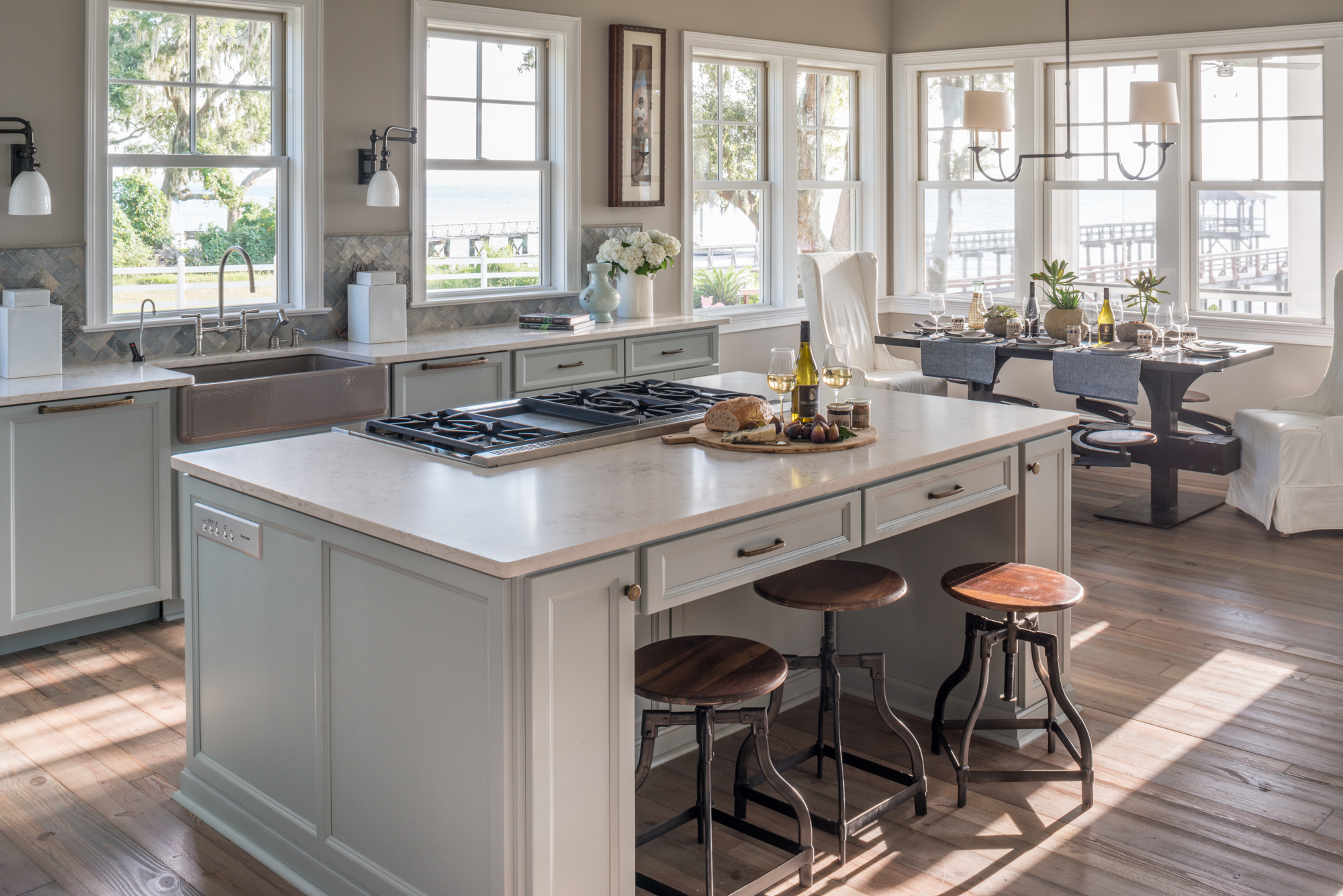 What he didn't love is the sound from the stove hood while he was cooking and trying to have a conversation. He also didn't like the food aromas masking the bouquet of his wines. He turned to Thermador and collaborated on a design that ventilates a high volume of air but is super quiet thanks to putting the blower motor on the roof.
The kitchen is the center of home entertaining, Rob says. "People are engaged in cooking because we've learned so much. Thank god for Julia Child who has made this accessible."
He tells stories of growing up around legendary chefs such as Wolfgang Puck, Alice Waters and Child. "When I was 11, 12 years old I offered Julia Child a ride on my new 10 speed bicycle," he says, "which she of course got a great chuckle out of. But food and wine have been hand in hand in my life. I love how Julia made food more accessible."
And wine is more accessible thanks to Rob's family. You can imagine they must have a great wine cellar, but in this house, they decided to forgo one big cellar in favor of built-in wine storage. There are four Thermador wine columns including two in a wine pantry off the kitchen and one in the butler's panty. The butler's pantry may not be a new design idea, but Lydia and Rob's did it with a twist. It's located on a screened-in porch connecting the cottage house with a guest room to the main house. There's a separate entrance so guest can come and go as they please and help themselves to coffee from the built in coffee maker, snacks, and a bottle of wine. The Mondavis also have a wine column in their master bedroom closet. Forget the standard walk-in closet, this is the one to covet.
Rob says the house is a strong reflection of Lydia's family and her southern roots. But he also brought some authentic wine country history into the home. He had access to redwood from the old redwood wine tanks at Charles Krug Winery, owned by Peter Mondavi, Sr. and his family, who just happens to be Rob's great uncle.
No doubt the Mondavi name is the most famous in American wine. Rob's grandfather is Robert Mondavi and Rob continues that legacy, as winemaker and president of Michael Mondavi Family Estate. His great grandparents Cesare and Rosa Mondavi purchased the Charles Krug Winery in 1943, which at that time had 172 of these 10,000 gallon redwood wine casks. They were decommissioned and taken apart in the 1950s when the Mondavis replaced them with stainless steel tanks and French barriques. But Peter Sr., and his sons Marc and Peter, Jr. saved all that wood.
Rob had the wood milled down and turned it into beams, a sliding barn door and fireplace mantle in his new home. "There's that richness of the beams and that history of wine country." he says. "Here's that beautiful winemaking history from my great grandfather and my grandfather and my uncle when they were all together at Charles Krug. So we have a little taste of my history in the house."
The redwood barn door is on rollers so it can close off the stairwell leading to the upstairs bedrooms from the great room. It can also slide into position to hide a flatscreen TV.
Screened-in porches are a necessity in the south (to keep pesky mosquitos away at night), and the Mondavis have put them on the entire backside of the house, where they can enjoy the view, or have easy access to their dock and beach. The simple, rustic fireplace mantle is made of the reclaimed redwood from the Charles Krug Winery.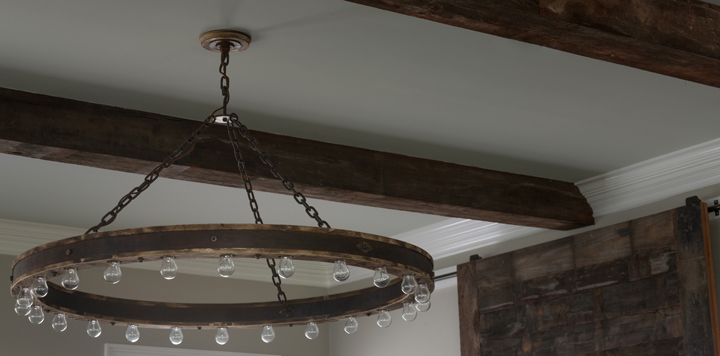 "The features in the house are from all our family heritages," Lydia says.
Think of this beach home as an idea house, an inspiration for combining the casual yet graceful southern hospitality with the indoor-outdoor wine country lifestyle. The Mondavis made the kitchen and great room the main part of their dwelling for a reason, to encourage being together and hanging out, instead of being engrossed in smart phones and social media. "What I hope people gleam from the home is how we enjoy our time together with wine and food and friends and family," says Rob.
For the Mondavi's this is not just a show house, it's their escape too. "Our beach retreat has wonderful grounding influences," Rob says. Lydia says "creating a space of serenity" was important, as the couple is constantly on the go. "It's one of the only places that Rob, within 15 minutes of being there, has no idea where his phone is. He is completely able to shut down and relax."
"I decompress on the beach and gain further objectivity as to the wines we are creating and how they look, taste and feel outside of Napa Valley," says Rob. "Napa Valley embodies friendship, gracious living and camaraderie with wine as the center. Lowcountry embodies the art of living well yet wine part of this and not the center. It has been important to see how wine is a different character in both parts of the country."
How does that influence his winemaking style? "The parallel I find between my winemaking and lowcountry is the honesty and purity of both," Rob says. "As a winemaker when I decide to harvest I then contemplate the fermentation, the aging. I look to how I can help the grapes find their voice in the wine. When this happens wine has the distinctiveness of location and the grape speaks with honesty of who and what it is. With our South Carolina retreat when we are with family and friends, the comfortable pace allows the purity and honesty of being together to create authentic and lasting relationships."
After all, wine blends are often better than single varietal, when the sum of the components meld into a new wine. And here in Beaufort, Rob and Lydia are blending a personal design aesthetic to create a modern lifestyle. "To me," Rob says, "it's the essence of wine country — but we did it in lowcountry."