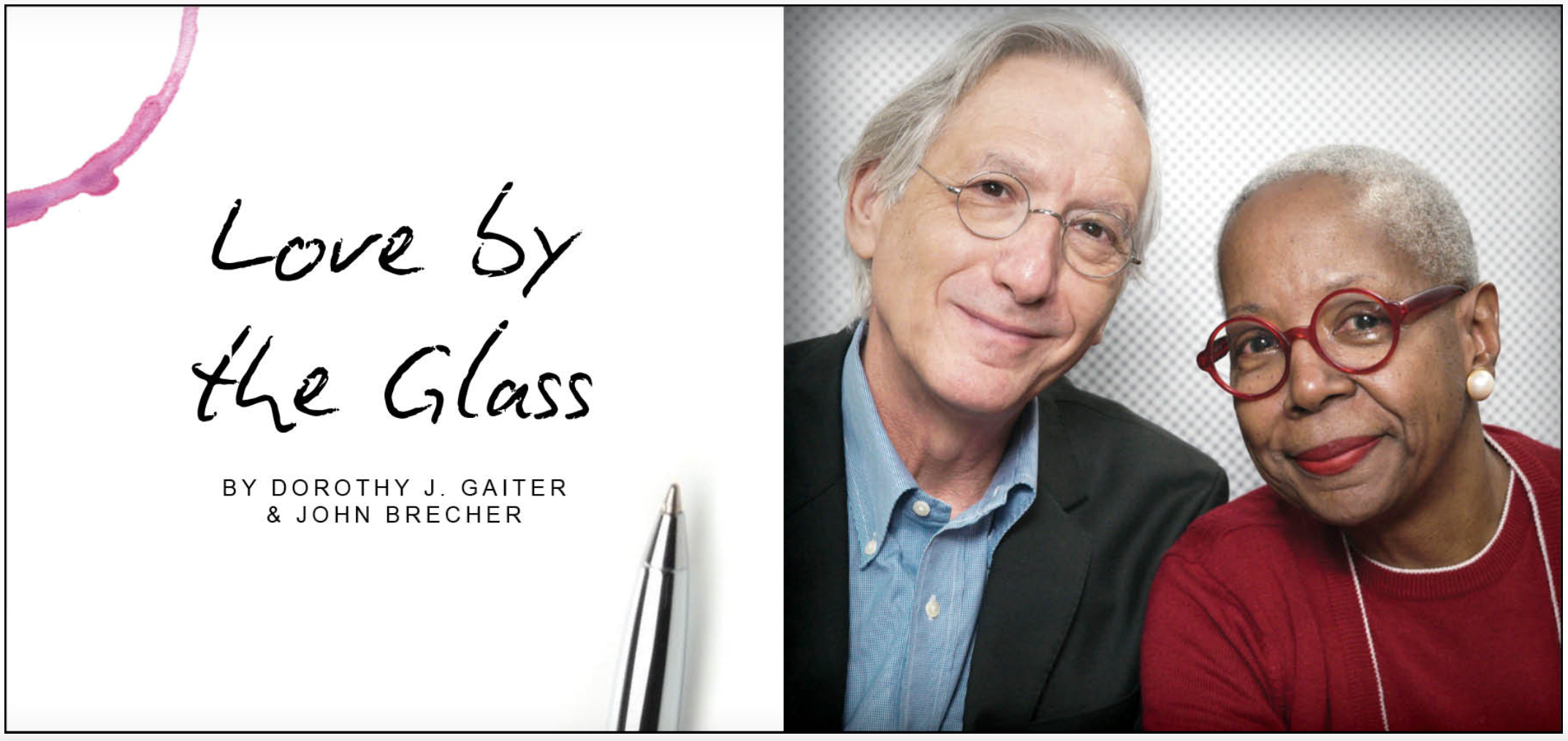 Wine should be joyful. If you ever think it becomes routine to people in the industry, we'd urge you to look at the picture of Marcus Notaro as he celebrates Open That Bottle Night. Notaro is the head winemaker at Stag's Leap Wine Cellars and quite famous, but when it came to OTBN, he was like a kid in a candy store and it shows on his face.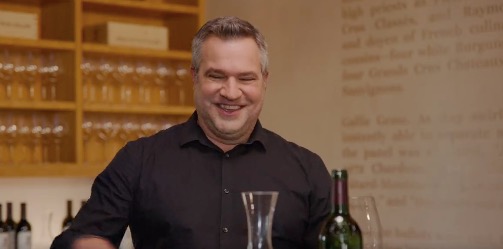 "I enjoy celebrating Open That Bottle Night each year. I chose the 1997 S.L.V. as it's from a benchmark vintage in Napa Valley and the wines in the mid-'90s are in a sweet spot right now," he told us. (His lovely video of tasting the wine is on Twitter @StagsLeapCASK23.)
(Marcus Notaro)
Winemakers from all over – Singlefile Wines in Australia, Domaine Gayda in Languedoc – opened special bottles, too. And it wasn't just winemakers, of course. OTBN was celebrated by regular wine-loving folks from El Salvador, to Chicago to South Africa to Osoyoos, Canada.
We created OTBN in 1999 for a simple reason: When we became wine writers in 1998, the question we were asked most often was "I have this one special bottle of wine I am saving – when should I open it?" Our answer was always "Now!" But we realized it wasn't that easy, so we set a date – the last Saturday in February – when we'd all grab a corkscrew and do it together.
OTBN had more worldwide pop this year than any year since the beginning and there were also, it seemed to us, more first-time celebrants. We are not sure why. Maybe it's because people are ready to party after the pandemic has eased or that events of the past three years have emphasized the idea that there are no guarantees. Maybe the one thing many of us have in common, despite our differences, is the power of warm memories. Or maybe it's simply that social media has brought OTBN to a whole new generation, in which case we say: Yes!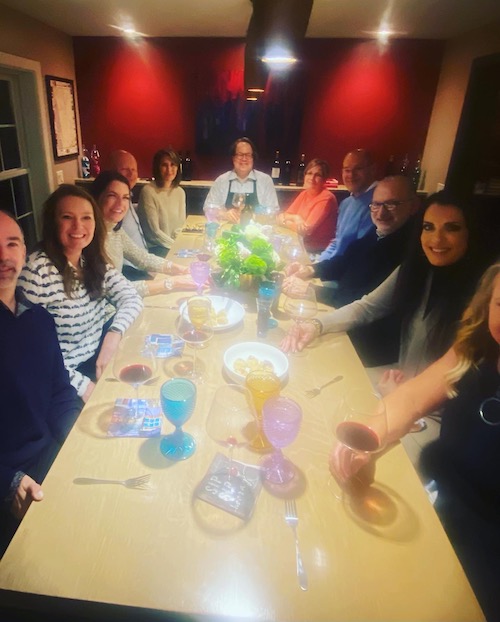 Long-time OTBNers (we just made that up) were ready to get back to one of the fundamental ideas of the night: It's lovely to make friends over bottles of memories. In Canton, Ohio, Elizabeth Russ, a physician, and her husband, Mark Butterworth, shared dinner with several other wine-loving couples, hosted by surgeon Dave Linz and his wife, Amanda.

(OTBN in Canton)
"My bottle for OTBN was a bottle of Shafer 2014 Firebreak. We visited Shafer on our first trip to Napa," Russ wrote.
"This year was a mixture of six couples with almost everyone new to one another," she wrote. "By the end of the night after sharing a love of wine and stories, however, we all left as friends."
She added: "In my line of work, I see that every day is a gift and life is too short to not drink the good stuff."
OTBN has always been as much about the food as the wine and we always love reading what people prepared. Lauren McPhate, director of sales at Tribeca Wine Merchants, and Peter Krase had this on OTBN in Los Angeles: "Roast chicken over sweet potatoes, tomatoes, fennel, onion, garlic, with a side of turmeric spiced rice." The wine: Château de Beaucastel Châteauneuf du Pape 2009. "The 2009 was stunning," McPhate wrote. "In its peak with lush red fruit that has just started to turn dried, with wild garrigue herb notes, and punchy alcohol. It was the perfect bottle at the perfect moment."
She added: "OTBN is our favorite night!"
OTBN is an important fund-raiser for some organizations, including Project Self-Sufficiency, a non-profit that serves low-income individuals and families in northwestern New Jersey. It hosted its 11th OTBN and raised $110,000. At the event, held at the Hudson Farm Club in Andover, 110 supporters brought their own wine, told its story and shared it over dinner. The organization now has raised a total of more than $600,000 at its OTBN events, which is simply awesome.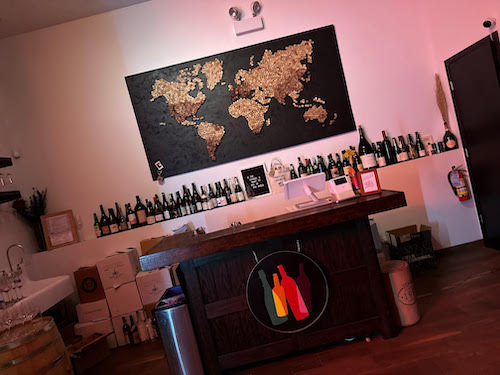 One of the biggest OTBN bashes for the past four years has been at Bottles Up! In Chicago. About 60 people celebrated this year. We asked Marie Cheslik, who works there a few times a month and runs her own consulting business that focuses on wine (Slik Wines), what she brought.
"I took a Riesling from Cathy Corison because it's a nerdier pick for Napa Valley," she responded. "I've been a long-time fan of hers but when I went to visit Napa for the first time back in August she was one of the few wineries I visited and bought that bottle there."
(Bottles Up! Chicago)
Martha Cisneros, founder of Latinas Wine Club, opened a bottle with special memories of buying her first home in Long Island. "It still was tough for an immigrant to get that credit and settle everything in, but the stars aligned, and we got that house," she wrote. "At the time, I was looking forward to having that extra space with a baby-soon-to-be toddler. Unfortunately, when we signed and got the keys to the house, we didn't have money for Champagne since all the savings were gone for the down payment. Still, we had 20-bucks for the well-known forerunner of Champagne, originating in Limoux, in the southwest of France's Languedoc; we toasted with a Cote Mas Cremant de Limoux NV." On OTBN, she opened the same wine.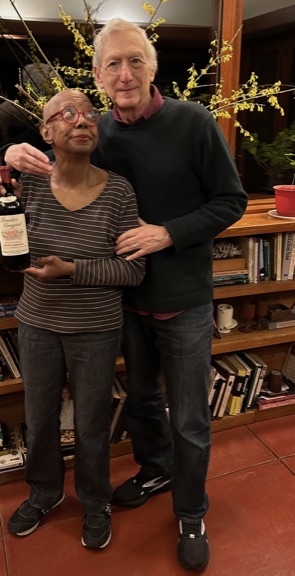 Every night should be Open That Bottle Night, of course, but we understand it's tough. Tim Ford, the managing director of Domaine Gayda in Languedoc, captured that duality well: "Our policy is quite clear: We will open a special bottle on any special occasion. A special occasion might be OTBN or just the fact that I could still get out of bed and get to work.
(Dottie and John on OTBN)
"However, having a special recognized day is a little more structured. Our biggest challenge on OTBN is choosing the wine. We have library stock of a whole range of our wines. But I leave it up to the winemaker to see a wine that on that day, in that moment, means something to him and we share it with the team after work." This year, they opened their "ALTRE Cami 2020 Grenache Noir as this was the first wine of this new range."
What did we open? A bottle that spanned generations for us: 1968 Beaulieu Vineyards Georges de Latour Reserve Cabernet Sauvignon from Napa. We bought the same wine at the winery on our honeymoon in 1979 and drank it while sitting in vineyards nearby while the sun set. It will always be the best wine we ever had. We had this bottle on OTBN with our grown daughters during our last night together at our country cabin north of New York. (We are moving back to the city.)
The wine was simply remarkable – still a significant presence. We could still feel the weather, decades later, turning cold as the sun set over Napa Valley, the red wine warming our throats and our souls. We didn't have Media and Zoë for another 10 and 11 years, but they were there, and all these years later, too, with us at our beloved house.
Dorothy J. Gaiter and John Brecher conceived and wrote The Wall Street Journal's wine column, "Tastings," from 1998 to 2010. Dorothy and John have been tasting and studying wine since 1973. In 2020, the University of California at Davis added their papers to the Warren Winiarski Wine Writers Collection in its library, which also includes the work of Hugh Johnson and Jancis Robinson. Dottie has had a distinguished career in journalism as a reporter, editor, columnist and editorial writer at The Miami Herald, The New York Times, and at The Journal. John was Page One Editor of The Journal, City Editor of The Miami Herald and a senior editor at Bloomberg News. They are well-known from their books and many television appearances, especially on Martha Stewart's show, and as the creators of the annual, international "Open That Bottle Night" celebration of wine and friendship. The first bottle they shared was André Cold Duck. They have two daughters.
Banner by Piers Parlett