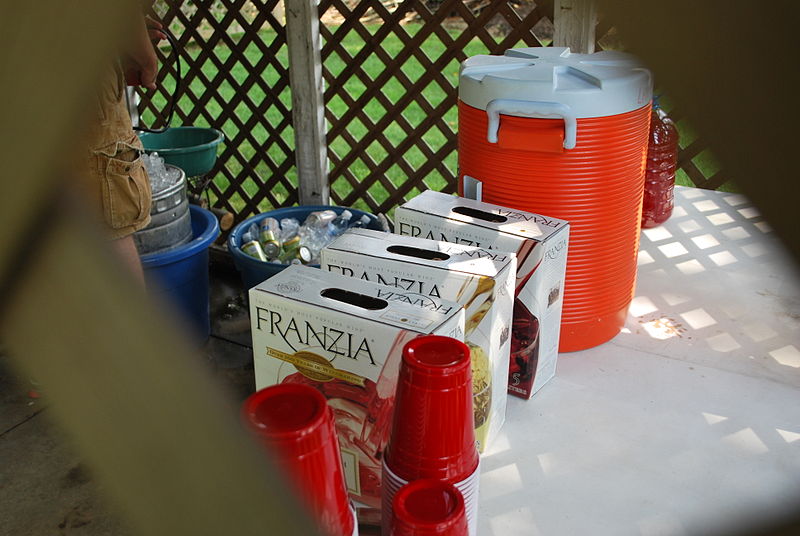 It's a heavyweight boxing match when a duo of sommeliers go toe-to-toe (or tap-to-tap) with 7 varieties of Franzia wine. Thrillist enlists the talents of Veritas Wine Bar's Jamie Smith and Tel'Veh Wine Bar's Cesar Varela to taste and opine.
"Sunset Blush" is one of the poorest performing 5 liter offerings, provoking Smith to say, "On the nose are those awful love-heart candies, but the palate is nothing but NESQUIK strawberry powder. This alcoholic Powerade is what gives box wine a bad name." Varela concurs, stating, "NESQUIK is dead on, and some watermelon. It's nasty, but give Grandmother another glass because it's only 9% alcohol." Geez, why would you want to treat your Grandma so mean? That's cold.
One the flipside, "Burgundy" gets the number one nod. Smith: "I'd cook with it and I'd have a glass." High praise, indeed. Varela's take? "If you want to lie to your girlfriend and pretend you got a nice wine, this works. Just throw it in a decanter before she arrives and say French-sounding words." Apparently it's tough to be his Grandmother or his girlfriend.
Are you inspired to try Franzia Burgundy based on the recommendations of these two sommeliers?