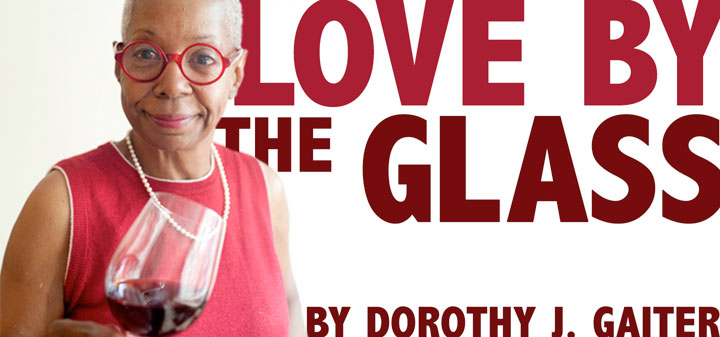 If you're reading this, you have survived Election Day. Congratulations! Now, see, that's something to be thankful for, right?
Time now to reach across the aisle, walk next-door with a bottle of wine for that neighbor you've been intending to meet, call that person you used to like but haven't spoken to in ages. It's time to try to understand "the other" and help those who need our help.
Below are notes on a dozen wines that have made me happy over the past few months. Some are wines I've wrestled with in the past but that seem to be in a good spot right now. Others are old friends still on the straight-and-narrow, and some are new to me. Almost all are under $30, so you can try them during meals at your home, or share them when you're asked to bring the wine to someone else's house. Some will also be great for tailgating feasts. I'll have more wines like these to suggest for these occasions in the coming weeks. What else is a body to do? I can't believe baseball season is over! I can't believe the Cubs won the World Series! Is the Earth still turning?
First, the resurrected ones. We're old fans of Louis Martini wines, especially the ones when the family owned the business in Napa. They were so well-made that we could lose them in our cellar, discover them years later, and some would give impressive Bordeaux a run for their money. Some of the newer wines from there have seemed simple and sweet, uninspiring for sure. The 2013 Louis Martini Cabernet Sauvignon from Alexander Valley, $28, (made by winemaker Michael Eddy) and to a lesser degree the one from Napa Valley, made us sit up and pay attention again. "Eucalyptus on the nose, mint, gravel, earthy. Soft tannins, structure, nice acidity, mouth-drying," we wrote in our notes about the Alexander Valley. "A touch of pleasant bitterness at the end. What a surprise." The 2013 Napa Valley, $30, was darker, and while enjoyable was not as taut as the Alexander Valley wine. "Both were really lovely. Herbal." These stately wines would be great with turkey.
2015 Don Miguel Gascón Malbec, $15, from Mendoza, Argentina. Winemaker Matías Ciciani. Our daughters love Malbec and it's been a while since we could serve them one for which they accepted a second glass with a smile. This one was lovely and true, with good fruit, some herbs and earth, but not sweet or too oaky. We liked it more than the 2014 Reserve, at $25, which has been a trend in our tastings of regular and reserve Malbecs.

While I've enjoyed the strange labels from Chronic Cellars of Paso Robles, California, more than I admired the taste of some of its wines, these two, each $15, rang my bells: Chronic Cellars 2014 Purple Paradise (77% Zinfandel, 14% Syrah, 8% Petite Sirah, 1% Grenache) and 2014 Suite Petite (87% Petite Sirah, 13% Syrah). Brothers Josh and Jake Beckett make these wines – well, Josh is the winemaker and Jake the grower -- and their childhood friend Joe Kalionzes designs the labels. The Purple Paradise is the best Zinfandel-based wine I've had in some time. It had the power and depth of good Zin without the heat and sweetness that some can have. I love Petite Sirah and this was black as night and nicely mouth-drying, with great tannins. Super with ribs or with brats outside the stadium.
While we're talking reds, here are a handful of Pinot Noirs that earned the noble name. Some very smart marketers in Oregon asked these two questions: "Can an entry-level wine be truly world class?" And "Are there brands that give their flagship wines the same care and attention in the vineyard and the winery as their upper-tier wines?" Then they asked some of their favorite wineries to share their "least expensive, highest production, early release wine." Then they sent them to me. First, all were from winemakers John and I have admired for years. Still, the thought of an entry- level wine clocking in at $32, as two did, gave me pause.
The three we loved:
2014 Broadley Vineyards Willamette Valley, $20, made by winemaker Morgan Broadley. "We have been making this
wine since 2002, when it sold for $12," Broadley wrote. "Our philosophy is to make this wine accessible." It shows. Our notes read, "Wonderful fruit, tastes like grapes and earth. Maybe a little shy on acidity but extremely pleasing. So easy to drink. Nicely balanced. Tastes more expensive."
2014 Chehalem Three Vineyard, $32, Willamette Valley from winemaker Wynne Peterson Nedry, daughter of Harry Peterson-Nedry, founder, original winemaker and managing partner of Chehalem. "Elegant and Burgundy-like (sorry folks, it was), good fruit, good earth, balanced with smooth tannins and not a lot of oak. Just good fruit."
2014 ROCO Gravel Road, $30, gulp, from Winemaker Rollin Soles in Willamette Valley. "Pretty, like Beaujolais, with a classic, fresh-fruit Pinot Noir nose and some earthy depth. Rich with good acidity," we wrote.
Whole Foods, which has been in the news a lot and not for good things, paired with the Wines of Chile for a new promotion. Oh, if only all grocery stores could sell wine and not have to have a separate space with its own door! Progressive New York!
Three of the wines they stocked in several markets nationwide were serious winners. McKinzey Crossland of Whole Foods wrote me that during the two-month promotion, they were on pace to sell more than 300,000 bottles of the featured Chilean wines. Although the promotion has ended, the wines are still on the shelves of selected stores. The "Wines of Chile promotion is the most successful point of origin promotion we have done to date," over "the better part of the last 10 years," Crossland added.
We tasted a handful and adored these, especially this one:
Boya 2014 Pinot Noir, Leyda Valley (San Antonio Valley) $15, Francisco José Ponce Sanhueza, chief winemaker.. "Impressive! Outstanding fruit, left alone. Clean and true to the variety. A triumph. Fabulous fruit, left alone to shine. Nothing between the fruit and your palate. Black cherries, raspberries, such an easy, pleasing wine. Forthright and yummy," we wrote in our notes.
2010 Erasmo Reserva de Caliboro Unfiltered Red Blend, Maule Valley, $20, Cellar master, Augusto Reyes. "Classy, Bordeaux-like. Nice body, structure, tannins, acidity earth. Tastes expensive. The total package."
2014 Mayu Carménère-Syrah, Elqui Valley $13, chief winemaker, Giorgio Flessati. "Whoa! Big, vegetal in a good way, and dark. Meaty, grilled meat. Great tailgating wine with brats, brawny but with a vision. Charming in its hugeness, a big ass wine," we wrote in our notes. That last descriptor, "big ass wine," is a real wine term, in case you were wondering.
The 2015 Harken Wines Chardonnay, Barrel Fermented, Arroyo Seco AVA of Salinas Valley, $15, came billed as an "old school Chardonnay." Winemaker, Mark Rasmussen. "We created Harken Chardonnay because we missed that rich, oaky taste of Chardonnays gone by," the label reads. "At some point, someone decided that those great toasty notes and buttery finish went out of style. We think that's crazy. So we brought it back."
And it was an old school Chardonnay. "Nice lime (not lemon) and weight, balanced oak. Might not guess that it's American, though. We might guess Mâcon. Pineapple acidity but not the pineapple taste. Just the acidity."
That's it for now. Now play nice!
Dorothy J. Gaiter conceived and wrote The Wall Street Journal's wine column, "Tastings," from 1998 to 2010 with her husband, John Brecher. She has been tasting and studying wine since 1973. She has had a distinguished career in journalism as a reporter, editor, columnist and editorial writer at The Miami Herald and The New York Times as well as at The Journal.
Front Page Banner Design by Piers Parlett
As per Winesearcher at publication the wines are available at:
2015 Harken Wines Chardonnay Shopright in NJ for $12.99
Boya 2014 Pinot Noir, Leyda Valley (San Antonio Valley) is available at the Saratoga Wine Exchange for $17.34
Erasmo Reserva de Caliboro Unfiltered Red Blend, Maule Valley is available at Garnet Wines and Liquors in New York for $19.19.
2014 Chehalem Three Vineyard is available in 375 ml from Saratoga Wine Exchange in NY for $15.54
2014 Broadley Vineyards Willamette Valley from GrapesWine in CT for $19.50
2013 Louis Martini Cabernet Sauvignon from Alexander Valley available at Garnet Wines in NY for $13.59
2015 Don Miguel Gascón Malbec is available at Michael Towne Wines in NY for $12.99.
Chronic Cellars 2014 Purple Paradise is available at Saratoga Wine Exchange in New York for $16.54