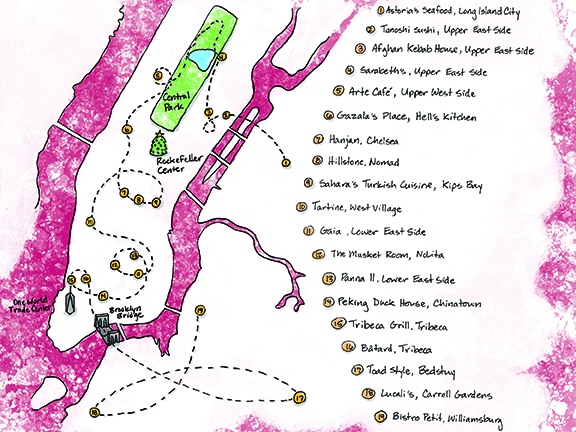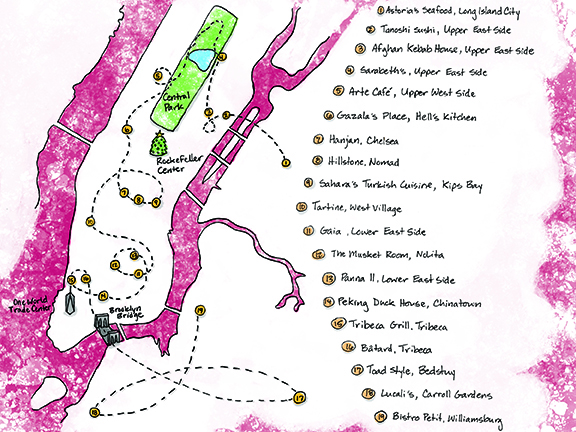 Graphic by Cat Baldwin
It's summer! In New York! What a time to walk down glittering tree-lined streets, an impulse purchase from the boutique on the corner safely tucked underneath your arms—Christmas music lightening your stride as the ambrosial scent of garlic and butter wafts down from a charming brasserie. And what a time to duck into that brasserie for a festive bite and drink! Especially when it's BYOB! Hark! Now hear the decree sing! Indeed, hidden in plain sight are many restaurants that are graciously Bring Your Own Bottle, letting oenophiles and casual yet discerning drinkers alike bring their own juice for, well, a nominal (or no!) corkage fee. Whether you are fastidious about your wine pairings or simply looking for an excuse to pop open that bottle you bought for a "special occasion," these are the joints for you. It really is the most wonderful time of the year.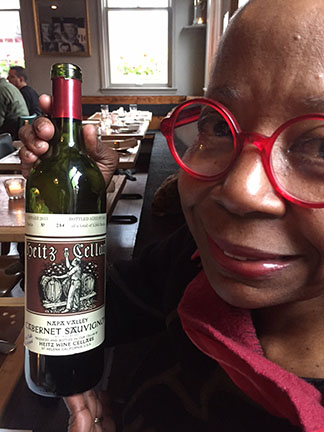 (Photo Dorothy J. Gaiter at L'Antagoniste)
1) Astoria's Seafood, Long Island City, 3710 33rd St (718) 392-2680: Astoria's Seafood brings some much-needed color to Long Island City. Half fish-market, half restaurant, and known as "no frills and no rules," Astoria's Seafood is an experience unalike many others in New York. Pick your own fresh catch from a selection in the back and give it directly to the chef, who will cook it exactly to your liking—or will recommend something delectable if you're a seafood novice. It's inexpensive, absolutely delicious, and simply put, fun.
2) Tanoshi Sushi, Upper East Side, 1372 York Ave (917) 265-8254: If you've spent any time on the Upper East Side, you've probably passed this unassuming omakase spot without even realizing that you've just walked by some of the best sushi in the city. The tiny restaurant has three seating spots per evening and no corkage fee. It's a proper sushi experience—you aren't allowed to use chopsticks or soy sauce—and those who are adventurous can even select additions to the chef's selection like crab's brain. Sake may be the obvious pairing, but a crisp white light wine will complement the pleasingly fresh fish. Kampai!
3) Afghan Kebab House, Upper East Side, 1245 2nd Ave (212) 517-2776: Free corkage every night.
4) Sarabeth's, Upper East Side, 1295 Madison Ave (212) 410-7335: If you've lived in New York for more than a year, you're more than likely to have visited one of the many Sarabeth's establishments for brunch with the girls (that cream of tomato soup, though). But did you know that it's also BYOB? There is a $25 corkage fee, which could be worth it if you want to splurge on an expensive champagne to complement your eggs benedict. There are various locations, but the one in the Upper East Side is my favorite.
5) Arte Café, Upper West Side, 106 W 73rd St (212) 501-7014: It's a Monday night, and you've gotten out of work a little bit early. Why not grab a friend, a date, or the family and ride the B or C up to the Natural History Museum—the recently renovated Planetarium is a particular must-see. Afterwards, walk a of couple blocks to Arte Café, a storied neighborhood spot on the Upper West side, beloved for its cozy atmosphere and simple Italian menu. $25 corkage fee.
6) Gazala's Place, Hell's Kitchen, 709 9th Ave (212) 245-0709: What's not to love about Hell's Kitchen? Bright lights, crowds, gay bars. Amidst all the chaos, there lies Gazala's Place, a quaint little BYOB run by an Israeli expat. The cuisine? Duze, which in case you don't know (we didn't), is a mystic religion in the Middle East, and its food includes influences such as Syrian, Lebanese, and Israeli.
7) Hanjan, Chelsea, 36 W. 26th St (212) 206-7226: Wine only. $30 corkage fee.
8) Hillstone, NoMad, 378 Park Ave S (212) 689-1090: Unless you live under a rock, you're probably familiar with the Hillstone brand. With two locations in Manhattan, the upscale casual chain, known for its leather banquettes and oversized steak dinners, has a surprisingly lenient BYOB policy. Your waiter will uncork your first bottle for free, and it's only $25 per bottle after that. We suggest you bring a first or second date here on a weeknight after work and impress them with your insider info and impeccable palate for vino. Like Sarabeth's, there are various locations, but the one in NoMad makes for a good opportunity to wander through Madison Square Park or over to Gramercy Park, both delightful this time of year.
9) Sahara's Turkish Cuisine, Kips Bay, 513 2nd Ave (212) 532-7589: In my early twenties, my favorite restaurant was Kips Bay staple Limon, a tiny 20 seater BYOB restaurant with the most delicious grilled kebob platters around. Unfortunately, Limon burned down. But its lesser-known sister restaurant, Sahara's Turkish Cuisine remains! And it's just a couple of blocks up the street. What it lacks in Limon's charming ambiance, Sahara makes up for in equally tasty Turkish food, especially those aforementioned kebobs…get the lamb. Sahara make a particularly good pre- or post- movie meal: the giant AMC Loew's Kips Bay movie theater is right around the corner, perfect for sad-movie Sundays.
10) Tartine, West Village, 253 W. 11th St (212) 229-2611: One of the most well-known spots on this list, for good reason, the picturesque French bistro evokes a Parisian charm that transports you directly to a sidewalk café by the Tulieries. Bring a bottle of Chablis to pair with a steaming bowl of mussels for an early dinner. When you're nice and full, wander down the street to Three Lives & Company bookstore and peruse the carefully curated selection of eclectic recommendations. Before you head on over, don't forget: Tartine is CASH ONLY.
11) Gaia, Lower East Side, 251 E. Houston St (646) 350-3977: No corkage fee.
13) Milon Bangladesh (and Panna II), Lower East Side, 93 1st Ave (212) 228-4896: "Where Chili Pepper Lights Meet Christmas Lights," or so says the Lower East Side restaurant's website. Need we say more? Decked out from wall to ceiling with vibrant wrapping paper and sparkling lights, Milon's is certainly an experience—and the food ain't half bad either. If you can't get a table at Milon's, walk the two steps over to Panna II, which is quite literally adjacent and sports a comparable sensory overload-themed décor and BYOB policy. Might we suggest you carry any leftover bottles to Boho Karaoke on Orchard, which is also BYOB (if you make a reservation). What better way to digest Chicken Tikki Masala than with a good group rendition of "Don't Stop Believin'?"
14) Peking Duck House, Chinatown, 28 Mott St (212) 227-1810: Looking for a spot for that next big group dinner? One that isn't at The Smith? Peking Duck House is the perfect venue. It's a classic New York establishment, right in the heart of Chinatown, and promises delicious food, no corkage fee, and a (some would say surprisingly) sophisticated aura. Make sure to order the Peking Duck—it's the restaurant's namesake for all the right reasons.
15) Tribeca Grill, Tribeca, 375 Greenwich St (212) 941-3900: Free corkage on Sunday and Monday. Limit one bottle per two diners. The rest of the week it's a $35 corkage fee per bottle and the bottle can't be on their wine list.
16) Bâtard, Tribeca, 239 W. Broadway (212) 219-2777: Free corkage on Mondays. Limit one bottle per couple. Part of the same restaurant group that owns Nobu and the Tribeca Grill.
17) Toad Style, Bushwick, 93 Ralph Ave (347) 789-1589: It's vegan. It's BYOB. It's delicious. And you should try it.
(Grape Collective's Jason Borrows at Racine's)
18) Lucali's, Carroll Gardens, 575 Henry St (718) 858-4086: A walk in Carroll Gardens often seems like a trip back through time; an ode to the yesteryear of New York's past. There's La Casita Knitting Shop with classes taught by a fireplace, Yesterday's News, filled with vintage finds, and The Painted Pot, where you can let your creative juices flow. And then there's Lucali's, home to some of the best pizza in New York, which was opened on a whim by its owner to save his beloved childhood candy shop. By a twist of fate, he ended up being surprisingly talented at making pizza, and Brooklyn has never been the same. Lucali's does not take reservations, so come early and be prepared to wait—but make sure to leave time for some exploring the 'hood after dinner. Rumor has it that Jay-Z and Beyonce frequent the tiny spot, so if it's good enough for them… As with Tartine, Lucali's is CASH ONLY.
Racine's, Tribeca, 94 Chambers St (212) 227-3400: One of New York's great restaurants. Amazing food, casual yet elegant. Creative wine list with a focus on organic and no corkage fee on Mondays, $50 corkage fee every other day.
L'Antagoniste, Harlem, 238 Malcolm X Blvd (917) 966-5300: No corkage on Monday and $16 corkage charge every other day. Featured in a Grape Collective column by Dorothy J. Gaiter and John Brecher. "We enthused about his list and his No Corkage Mondays and the specialty of the night that we had intended to have, Poulet en Vessie, a whole "truffle-laced" chicken that is placed in a pig's bladder and poached in bouillon and served with a sauce that contains melted foie gras confit."
(The numbers above relate to the map - some restaurants have changed their policies and have not been removed from the initial published list - please note that the restaurants change their policies from time to time so it is advisable to check beforehand).