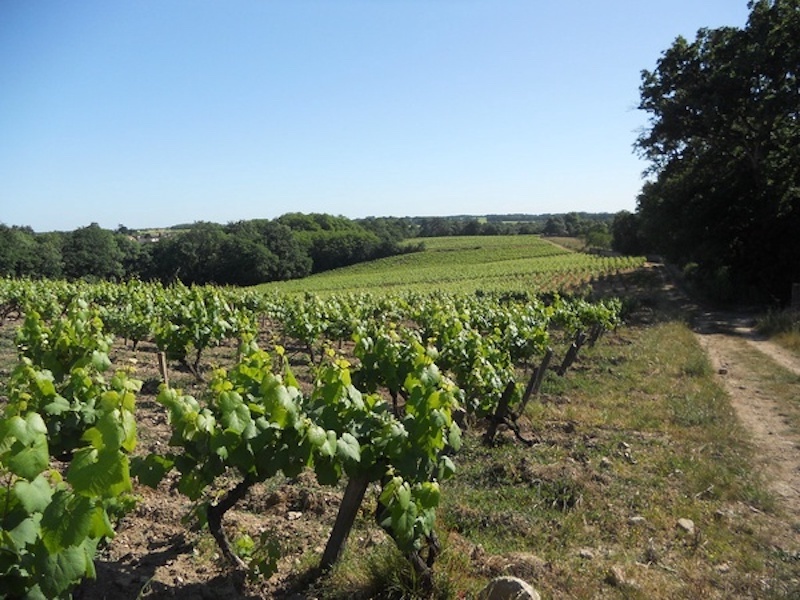 We all have a friend that comes off at first glance as a little...bland. As a close friend and confidante, you have seen their edgy, daring, and witty side, but know their timidness or self-conscious disposition leaves them fading into the background at a dinner party, while the boisterous and extroverted types hold a monopoly on other guests' attention. Muscadet is this friend. When you try a Cru du Muscadet like the 2005 Pepiere Sévre-et-Maine Gorges and its surprising ability to age-- you just wish your other friends would just take him out for dinner once and see he's actually a really great guy! Eric Asimov writes: "the absence of the more obvious attributes (flamboyant aromas and flavors) often cause Muscadet to be underestimated." When expecations are low, the chance is presented to wildly exceed them.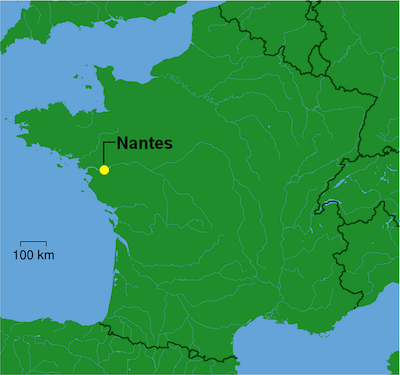 The Muscadet wine region lies at the mouth of the Loire Valley along the southern edge of Brittany. Muscadet surrounds the bustling city of Nantes. Muscadet as a wine has evolved and improved over time, and that growth is concurrent in Nantes. In France, Nantes is ranked sixth in population, but fourth by the Globalization and World Cities Research Network in terms of economic contribution. This is exemplified by its boom in biotechnology and Aeronautics industries.
Surrounding this bustling city to the south and east are 8,430 hectares dedicated to growing the Melon de Bourgogne grape, the sole grape variety used to produce Muscadet wine. The name Muscadet harkens to the grape Muscat, but the two are unrelated and produce vastly different wine. Certainly far from "musky," Melon de Bourgogne is a relatively "neutral" grape, but has the opportunity to produce wines with excellent acidity. The tabula rasa aspect of Muscadet's aromas and flavors makes it a prime candidate for a wine waking practice of aging sur lie. This simply means that prior to botting, after the yeast has finished converting sugars to alcohol, the dead yeast cells (lees) are left either to rest in the barrel or tank, or sometimes occasionally stirred into the wine through a process called battonáge (think stirring your coffee in the french press before filtering it.) In The Wine Bible Karen MacNeil points out this may have started by accident: for special events like weddings a barrel was set asid, the "honeymoon" barrel, extracting extra flavors from the lees. The practice continued and today the three sub-appellations Muscadet-Sèvre et Maine, Muscadet-Coteaux de la Loire and Muscadet-Côtes de Grandlieu can use the term sur lie on the label, as long as the wine spent the winter months post-harvest in contact with the lees and was not filtered or racked before bottling.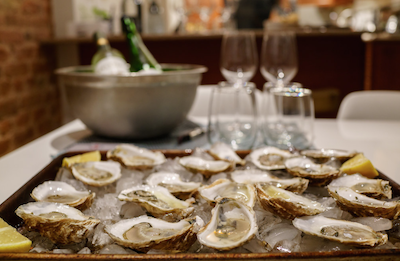 So what does this wine with this seemingly intricate extra process taste like? It may seem counterintuitive that a supposedly crisp wine known for pairing with shellfish should have an added process to extract flavors described as "yeasty," but these notes are rarely the same as the toastiness sometimes found in Champagne, and nothing like the butteriness of some California Chardonnay from new oak and malolactic fermentation. Rather, the greatest Muscadets have an almost salty minerality to match a buoyant acidity. Muscadet and oysters may be a pair as popular as peanut butter and jelly. A large, salty Blue Point oyster is a match made in heaven for a mineral-driven wine like the 2017 Domaine De La Pepiere's "La Pepie." Oysters are the entry to a world of possibility of muscadet pairings. A fuller mouthfeel and tartness can stand up to creamy and buttery shellfish dishes like a classic shrimp scampi or clam chowder.
(Oysters and Muscadet photo credit Premshree Pillai)
The improvement of Muscadet from the easy-drinking, quaffable wines that gave Muscadet a less-than-exciting stigma is more than just anecdotal: Things are changing legally. Melon de Bourgogne is in fact originally from Burgundy, but these wines had no classification like the Cru system until recently. Muscadet Sevre Et Maine currently represents the Crus Gorges, Le Pallet, and Clisson, only certified as Cru Commonaux in 2011, with six other crus still seeking recognition. As Muscadet continues to produce better and more intricate wine, keep an eye open, and keep a spot open at the table for your oft-overlooked friend who is really coming out of his shell.