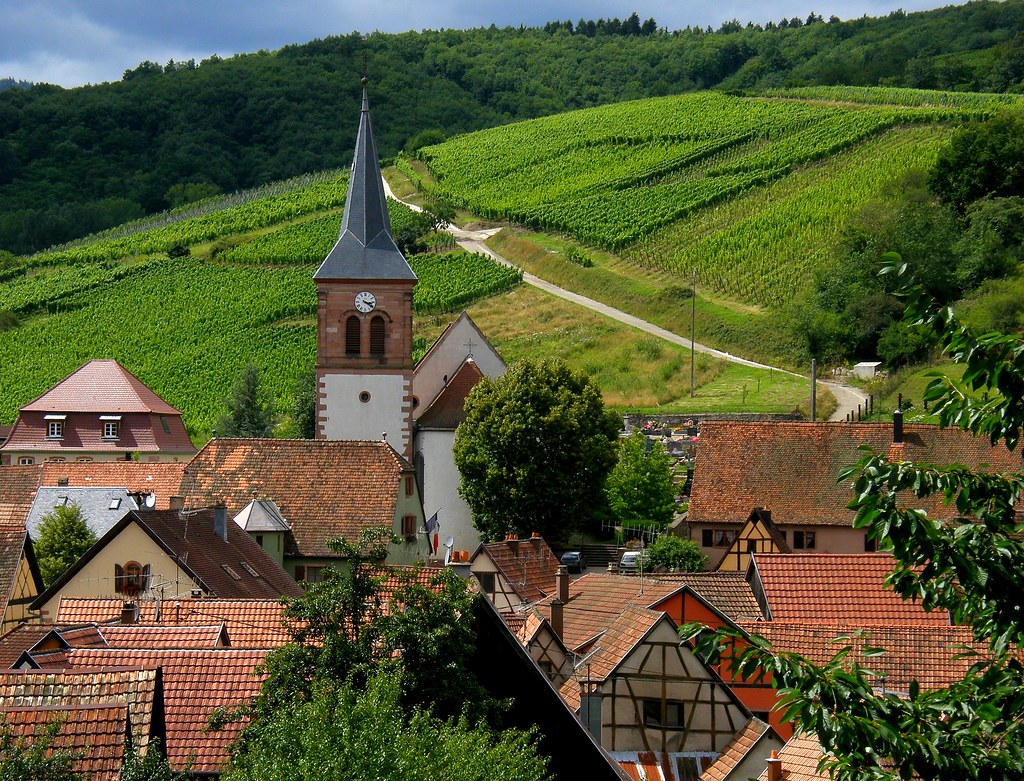 "The wine they drink in Paradise 
They make in Haute Lorraine.
" - Gilbert K. Chesterton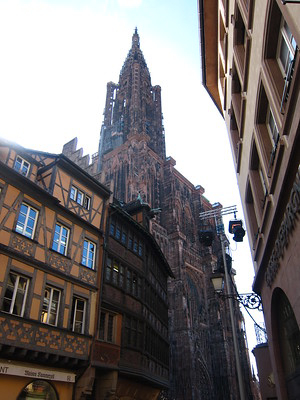 Standing atop the Strasbourg Cathedral, as the machinations of an ancient Astronomical clock tick below you, you can make out the Rhine River and Germany's Black Forest Mountains beyond. Turn 180 degrees and you see the Vosges Mountains. Below you is the cultural and regional capital of Alsace: Strasbourg, tucked into the northeast corner of France. Through narrow streets with buildings capped in steep roofs, you may pass diners eating Bratwurst and drinking pints of Kölsch. Keep traveling south and west and you will find the thin band of the Alsace wine region, nestled in the foothills of the Vosges, running parallel to the Rhine River about 20 miles to the west.
To understand the culture and wine of Alsace, you have to look at its history as a 2,000-year-long tennis match between Germany and France. In the first century BC, Julius Caesar incorporated the region into the Roman Empire and it remained so until Allemani (Germanic) tribes invaded in the 300s and 400s. In 496, it became a Frankish Duchy. By the 10th century it was effectively German, until Alsace became protected under French rule in 1648 in conclusion of the 30 Years War.
French influence and culture increased after the French Revolution...until Alsace was annexed by the German Empire in 1871 at the end of the Franco-German war. In 1919 The Treaty of Versailles shifted the region back to French hands (almost) for good. During World War II, like the rest of France, Alsace was occupied by the Third Reich, only to be returned to France upon Hitler's defeat.
The Alsatian language is more closely related to German and English than French, though French is now the official language of the region. Alsatian is losing ground (as many smaller languages and dialects are worldwide). German and Alsatian are taught as foreign languages in schools in Alsace—but L'Office pour la Langue et les Cultures d'Alsace reports a consistent downward curve in native speakers of Alsatian.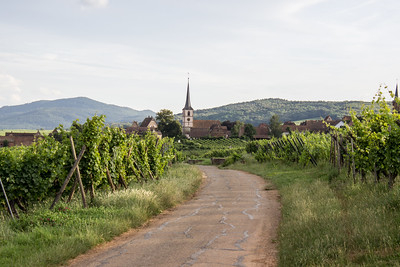 Perhaps an inability to fully embrace a singular national identity has led to a firmer Alsatian regional identity. This is certainly mirrored in the wines. Wine has been a part of this identity from the start, with excavations suggesting prehistoric people enjoyed grapes in the region, though they didn't master fermenting them until later. Records show wine transportation on the Rhine as early as 200 AD. Like Germany, the wines of Alsace are labeled by varietal, but as a generality an Alsatian wine tends to outdo its German cousin in terms of dryness, acidity, and body. The relatively newly created Grand Crus of Alsace appear to be modeled off the stratifications of Burgundy, but the wines themselves are distinctively Alsatian.

Two hundred fifty miles east of Alsace is Champagne, but Alsace has not garnered the same reputation abroad as its shimmering neighbor. Exporting mainly locally in Europe, Alsace is known for its aromatic still whites, predominantly Riesling, Gewürztraminer, Pinot Gris, and Muscat (the four "Noble" grapes)—but also yields a lovely sparkler, Cremant D'Alsace, made in the Methode Traditionelle and some Pinot Noir. Alsace is noted for its variable terroir, representing 13 unique soil types. Riesling, like Pinot Noir, is known for expressing terroir.
Riesling expresses these soil variations and offers the world a variety of wines at a variety of prices. Some Rieslings like Trimbach's Clos St. Hune are best enjoyed years down the line, when intricate minerality, petrol, and salinity balance out floral and apple notes. Hugel and Fils, one of the most prolific Alsace producers, has a more affordable Riesling, enjoyable within a few years, expressing citrus and stone fruit.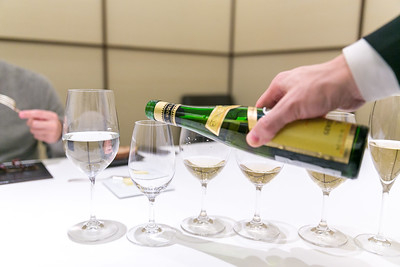 Because of its steep vineyards and dry climate, thanks to the rain shadow of the Vosques, many Vins D'Alsace are noted for acidity, making them fantastic food wines. The classic pairing for Riesling is Asian food. The residual sugar often found in German wine helps balance heat and complements warm spice blends like Chinese five-spice and Thai curry. Alsatian wines, on the other hand, are comparable but heftier in many ways. Jancis Robinson writes that Alsatian Gewürztraminer "is the white wine to drink with supposedly red wine food or, many argue, spicy food." The acidity and dryness of Alsatian wines ensures a lovely aperitif. Imagine five of your best friends, the inviting goldenrod-colored label of an Alsatian Pinot Blanc refracting through your wineglasses, accompanied by a platter of foie gras, blanched asparagus, a few hunks of Comté or Munster with a crispy baguette tradicionale—and maybe a few boudin blanc veal sausages with Dijon mustard (if you're feeling daring in your pairing). It may not be the same as the view from the top of the Strasbourg Cathedral, but you can certainly pretend you're there if you have a hefty imagination and, more importantly, a good bottle.

Kuentz-Bas is one of the top Alsatian wineries. It was first established by the Kuentz family in 1795 in the Alsatian town of Husseren-les-Château. In 2004 the estate was sold to renowned vigneron Jean-Baptiste Adam.
In a past interview we spoke to then winemaker Samuel Tottoli about Kuentz-Bas and producing biodynamic wine in Alsace.

Christopher Barnes: Samuel, how did you decide to work with Kuentz-Bas?
Samuel Tottoli: I started working with Kuentz-Bas in 2004, but I started working for J.B. Adam in '98. J.B. Adam gave me the opportunity to work with Kuentz-Bas in 2004. He proposed to me a new challenge and of course I accepted it.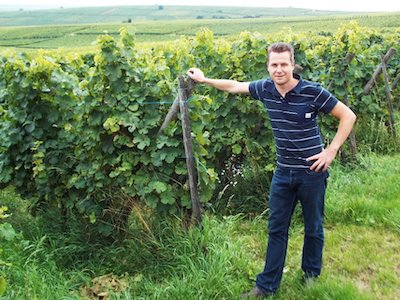 Kuentz-Bas was a family winery for many years, and then it was sold. What happens in a situation like that when there is a lot of tradition and then you have new ownership?
Yes. Kuentz-Bas was founded in 1795 by two families, Kuentz and Bas. For a long time they were family-run, and in the early 2000s, Christian Bas and Jack Bas decided to separate for different reasons. This is when Christian decided to sell Kuentz-Bas and J.B. Adam would take on the estate.
With new ownership of Kuentz-Bas, what kind of changes happened?
No big changes. It was really important to conserve the style of course, the identity of the estate, and as it was a really old estate it wasn't necessary to change a lot or make big changes. For me it was really important just to conserve the style and the identity of the estate.
You make a lot of different types of wine. I think you make 30 wines.
Yes. Exactly. We make 30 different wines and three different ranges and of course with the late harvest. In the past, we produced approximately 40 different wines but we decided to reduce that number, because 30 different wines is a already a lot.
Talk a bit about some of the different wines that you make right now.
We produce different styles and of course we make an entry level, a middle range and our estate range. We produce biodynamic wine and commercial wine.
Talk about the three different levels of wine that you make. What are the differences?
For me of course the philosophy is the same for the three different ranges, but of course the provenance of the grapes and the terroir is different. The method of agriculture is different, because the green grapes from convectional culture and one range from our estate is certified biodynamic, but yes the philosophy during the vinification is the same.
This is the difference, but yes, the philosophy in the cellar is the same.
Roughly a third of your grapes are at the estate right now. How is it different working with estate grapes and working with purchased grapes?
Of course I treat the grapes differently, because I separate the grapes according to their domain. Yes, the philosophy is the same, and for me long pressing is really important of course and so is harvesting. No mechanical harvesting. The difference comes from the provenance of the grapes, but this is a big difference.
With your estate grapes Samuel, you farm biodynamically. Why did you make the decision to go biodynamic?
For me it has been a long time since I have worked organically. In 2004 when we started in Kuentz-Bas, I decided to start immediately using biodynamic viticulture, because it's really important for me to grow fruit, and we don't want to affect the terroir. For me organic viticulture is very good. It's a good start, but biodynamic yes; it's permitted to go to fertile, yeah.
Samuel, in Alsace your estate is fairly high up. Talk about the difference in altitude between where you make your wine and Alsace in general.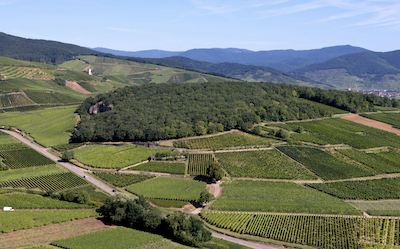 Yes. We are located in the town of Husseren-les-Châteaux, and the highest point of the vineyard has an altitude of 400 meters. This is a nice sector because we have the cold conditions necessary to keep freshness in the wine, and of course to keep great aging potential in the wine. It's different for the rest of the region, because yes, the altitude is very high.
We don't have flat vineyards, only slope vineyards and we are protected by theVosges Mountains.
How would you describe the terroir?
We are only on limestone soils with different marl and clay, and we have a lot of deposits of rocks, pink sandstone coming from the hills of the Swiss castle, because it is composed of pink sandstone, yes. This rock of pink sandstone permits you to have different acidity, a finer acidity with a lot of salinity, but in general we have good retention of water and your soils are very rich and nice of course for control of a vineyard.
How do you describe Alsatian wine to somebody who's never tried it?
Alsatian wine is very interesting because we have a lot of different grapes and different styles. Sometimes it's a problem, because it's really complex for a client to understand the different grapes, different styles, different residual sugar levels. It's a big opportunity for us to have a different style, because it's a different style from other wine producing regions. We can offer a large selection, and a large production of different wines to wine lovers.
You work with Kermit Lynch, the American importer. How did that relationship come about?
Yes. Kermit, is an impressive guy and a good guy. Kermit came in 2004 and we began a very good relationship.
Tell me a little bit about the types of food that go well with Alsatian wines.
Alsatian wine pairs well with a lot of food, and for me it's really important to find good matches with different international food, because before winemaking I was working in a restaurant. When I make wine it's really important for me to serve the wine on the table.That is really important for me, and I think we have a lot of possibilities with our wine in general to make a good match with the food.
What types of foods?
Of course Asian food, but also European food. Yes, international food. We have a lot of possibilities, because we have a lot of different wines and different styles.
What is your philosophy as a winemaker?
My philosophy is to make of course great wine and generally dry wine, because it's just really important to make dry wine, gastronomic wine. It is really important for me to preserve the vineyards, because we make wine in the vineyards, not in the cellar. It's my philosophy just to first preserve the vineyard and to grow good grapes that reflect the terroir. This is just my priority, and of course to preserve the grapes in a cellar with the long pressing of course and harvesting. This is really important.
Not to use chemicals. Just to make easy wine with simple techniques and methods. Yeah, this is important for me.
Note: Tottoli left Kuentz Bas in 2017.