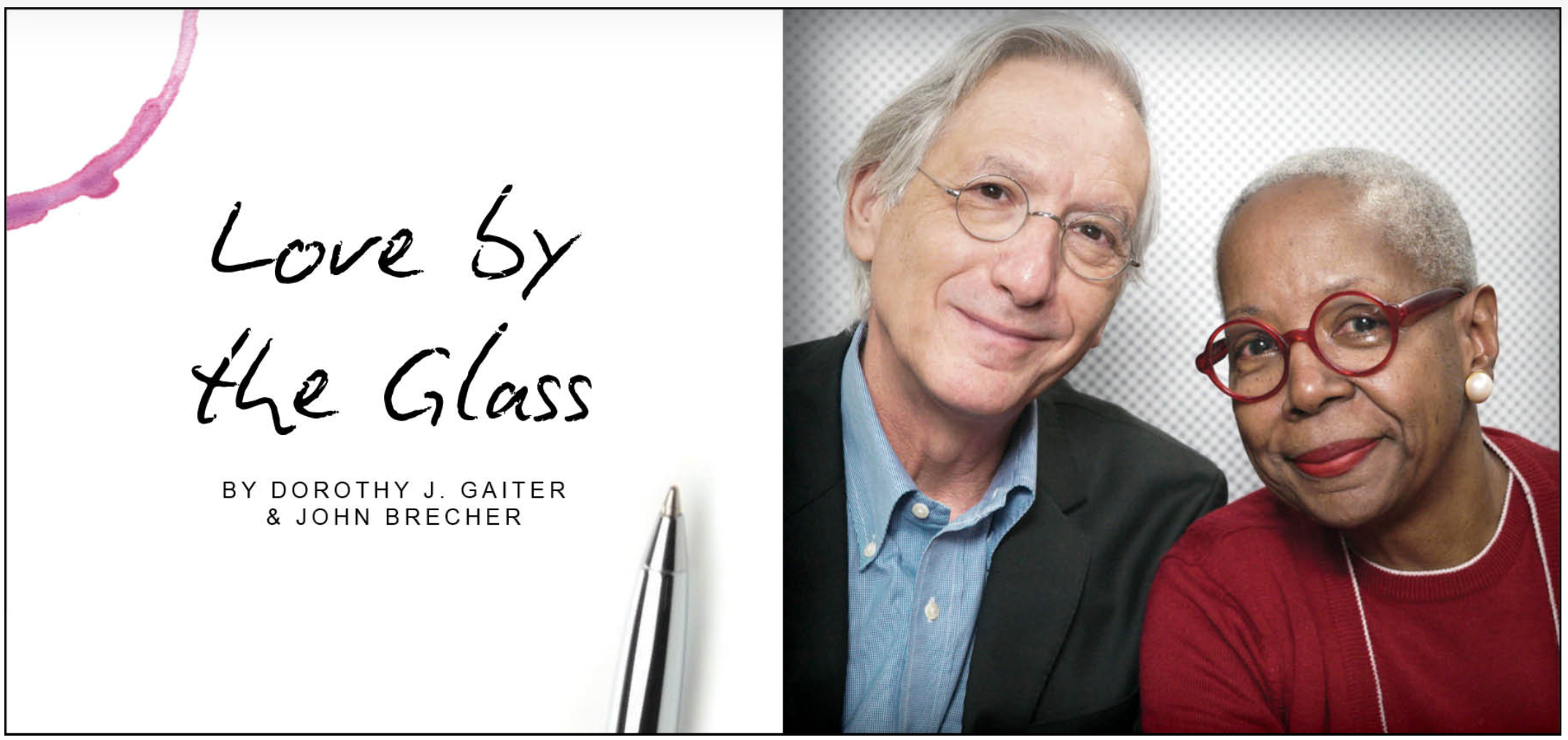 With Valentine's Day approaching, we were thinking, naturally, about romance and how we had an instant connection when we were introduced on June 4, 1973, at 9 a.m. in the newsroom of The Miami Herald. There are so many romantic couples in wine, but it doesn't often happen as quickly as that. Consider Tara Gomez, 48, and Mireia Taribó, 40, the two winemakers and spouses who own Camins 2 Dreams winery in Lompoc, Calif.
As many couples do, they have somewhat different accounts of the introduction that eventually led to their wedding in the Santa Ynez mountains.
It was 2006 at J. Lohr Vineyards and Wines in Paso Robles, where Gomez, a member of the Santa Ynez Band of Chumash Indians, was working as a lab manager and enologist. She had just returned from vacation and was being introduced to Taribó, a cellar intern from Catalunya, Spain, who was a little self-conscious about her English. Taribó told us she looked at Gomez and said, "You look like you speak Spanish. Could you help me out a little bit here? She didn't think that was funny so I said, all right, I'm going back to the cellar."
(Mireia Taribó and Tara Gomez)
"It was the language barrier, so she says," interjected Gomez, a playful eye roll in her voice. Then things got worse. "She was on a totally different schedule than the rest of the interns she lived with, so she'd come into the lab after work and get on the computer, and she always kind of caused disruption in the lab, checking her emails," Gomez told us. "All of a sudden all of this music would start playing from the emails and it was loud and all of the other interns would come running and go 'Oh, what's that music?'
"I would get pissed off because of the disruption. So one day I said, you, let's go. I took her to the warehouse where I was making my own private label wine, directly in back of J. Lohr. She was totally scared to get into the car because she had no idea what I was doing," Gomez continued.
"I thought I was in a little bit of trouble," Taribó recalled. "She didn't say anything. She made me go to a car. I thought oh my goodness, where is she taking me?"
"If the interns didn't listen, I would always take them out to the vineyard for a little walk and talk to them, so she probably thought I was doing the same to her maybe," Gomez explained.
"But she went straight into the warehouse to the refrigerator and handed me a beer and said, 'Help me do punch downs. So every day after work, I would help her with her project, sometimes in the morning before I went to work," Taribó said.
When Taribó's internship at J. Lohr ended that December, she invited Gomez to return with her to Catalunya, in northeastern Spain. "She was already visiting Spain quite often because she had a foreign exchange brother in the south of Spain," Taribó told us. "So we started traveling together for a bunch of years, visiting wine regions and wineries [in France and Germany, too] and learning about wine together. Growing our relationship, our friendship and then we fell in love and the rest is history."
Actually, the history goes back – way, way back. Gomez's father is a major elder in the tribe, which is probably best known for owning the large and prosperous Chumash Casino Resort in the Santa Ynez Valley, where the tribe has lived for more than 9,000 years, according to its website. It is a sovereign nation. As a youngster, Gomez was drawn to nature and science, especially chemistry, and has fond memories of visiting wineries with her parents. Of becoming a winemaker, she told us: "I felt the calling at such a young age and I still love every minute of it as it is my true passion."
With financial support from the tribe, she earned a degree in Enology in 1998 from California State University-Fresno and while there interned at Fess Parker Winery, which she joined after gaining her degree. Gomez followed that job with positions at J. Lohr for nine years. While there, in 2001, she started her own label, the one Taribó helped her with punching down, a brand called Kalawashaq' Wine Cellars, named after a village where her ancestors once lived. That project was put on pause when she traveled with Taribó, including working two harvests with her in Spain.
For Taribó, whose family owns the growing Barcelona-based Camerasa gourmet food shops and restaurants, with a flagship store planned for later this year that will have a wine store, winemaking also started with a love of chemistry. She has two bachelor's degrees and a master's (in chemistry, enology, viticulture and the marketing of wine) from universities in Spain. It was while obtaining her first enology degree that she had that fateful internship at J. Lohr in 2006.
After returning to Spain and obtaining her second bachelor's degree, she worked a harvest at Castell d'Encus, a new winery in the Pyrenees Mountains, and was soon named winemaker there, according to Camins' website.
In 2010, after Gomez returned to California, the Chumash tribe purchased 1,400 acres from Fess Parker's company that included the 256-acre Camp 4 Vineyard. Camp 4 refers to the site being the fourth stop on a stage coach run from San Francisco to Yuma, Arizona. Gomez saw an opportunity to pay back the tribe and talked its members into letting her try her hand at making wine from its newly purchased vineyard.
The tribe gave her about two tons of grapes for its new winery, which she named Kitá, and sold the rest. She bottled the 2010 and 2011 vintages and released them together in 2013, gaining acclaim. The California State Legislature issued a Certificate of Recognition to the tribe for being the "First Native American tribe to have a Native American winemaker, vineyard and winery operations run solely by tribal people," according to the winery's website. Kitá just announced that it is closing.
During a trip back to Spain, Gomez and Taribó had The Conversation.
"If we're going to do this, we need to figure out who's going to be the one to move," Gomez explained to us. "In the end, just because I was probably more established here in the United States, in California, and not only that but my Spanish wasn't good and her English was better, we thought it would be easier for her to adjust here than for me to be able to adjust there." So in 2014 Taribó left Castell d' Encus and moved to California, to Gomez, and worked as a brand ambassador for Castell's wines.
"I already had this plan in my head. We're both winemakers. Why are we going to spend all of our time working for someone else's label when we could be investing in our own? That was always my mentality. It took her a couple of years to get on board with that because she was just trying to adjust here, trying to figure out what she wanted to do," Gomez said.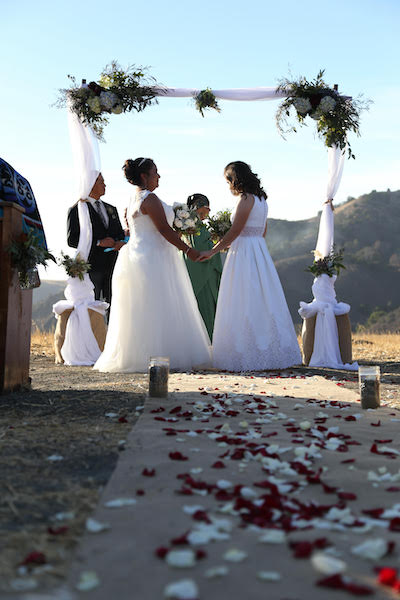 They were married on Oct. 22, 2014, with both families looking on. "It was very traditional, with more of my culture," Gomez said. "Her spiritual leader did the wedding," Taribó explained.
In June 2017, they signed the lease on a winery in Lompoc. After a lot of research, they decided on the name for their new venture, Camins 2 Dreams, "Path to Dreams," they explained, exactly what they had taken together. And this is even more important now that Kitá is closing. Gomez told us: "It has taken a lot out of me, all of my blood, sweat and tears. But the silver lining in all of this is when this door closes, another one opens, which is actually my own winery. I get to spend more time there and really focus on the brand that we started a couple years ago, put everything I have into that. But by the same token it is bittersweet."
Using natural yeasts and minimal intervention, Camins 2 Dreams makes proudly natural wines, staying away, for now, from the Pinot Noir and Chardonnay varieties that their friends and neighbors make so well, they said. That means buying fruit to make three different cool-climate Syrahs, a still Grüner Veltiner, a PetNat Grüner Veltiner, Grenache, Graciano, and Carignane. They've grown from 90 cases to 1,000 cases of the 2021. They ship to 40 states, have some distribution in a few states and can be found on the wine lists of hot restaurants like COTE, where Victoria James is the star beverage director and a partner.
When it comes to the winemaking, they said that they play to their different strengths. Gomez heads to the lab and does analysis, Taribó said, while she does more of the cellar work. When we asked if there were any fault lines, like how do they decide when to pick, both started laughing. "That's the hardest thing for us. We're on two different wave lengths on that," Gomez said.
"We both like the same style of wine," Taribó interjected. "I'm a little more extreme in terms of acidity and she's a little bit more 'OK, you're in the United States. You need to sell to United States people, not European people.'"
"I'm the reality check," Gomez countered. "So we have a lot of discussions. She likes to pick early and I like to pick later. I like to wait just a little bit longer so that it's not so extremely racy and bright. I love brightness, don't get me wrong, just not extreme."
"So we pick blocks at different times so we can balance it like that," Taribó added.
A 2020 study by professors Lucia Albino Gilbert and John C. Gilbert reported that only 14 percent of California wineries had women in lead winemaking positions. That makes Gomez and Taribó unusual, to say the least.
"We're two wives. We didn't know how accepting that would be. We're open with it and if you are really open some people get shocked in the beginning. They look around and there's no men in any part of the winery," Gomez said. "It's only in the last couple of years that we've seen change in highlighting the BIPOC community. It's still a male-dominated industry. Women are still a very small percentage and people of color are an even smaller percentage."
"We've been very fortunate," Taribó said. "There are a lot of people who haven't had the support that we have. We're just trying to showcase what we love to do, our passion project, and try and uplift and pave the way for others in the community to want to get into the industry as well."
Dorothy J. Gaiter and John Brecher conceived and wrote The Wall Street Journal's wine column, "Tastings," from 1998 to 2010. Dorothy and John have been tasting and studying wine since 1973. In 2020, the University of California at Davis added their papers to the Warren Winiarski Wine Writers Collection in its library, which also includes the work of Hugh Johnson and Jancis Robinson. Dottie has had a distinguished career in journalism as a reporter, editor, columnist and editorial writer at The Miami Herald, The New York Times, and at The Journal. John was Page One Editor of The Journal, City Editor of The Miami Herald and a senior editor at Bloomberg News. They are well-known from their books and many television appearances, especially on Martha Stewart's show, and as the creators of the annual, international "Open That Bottle Night" celebration of wine and friendship. The first bottle they shared was André Cold Duck. They have two daughters.
Banner by Piers Parlett
Photo credit craftandcluster