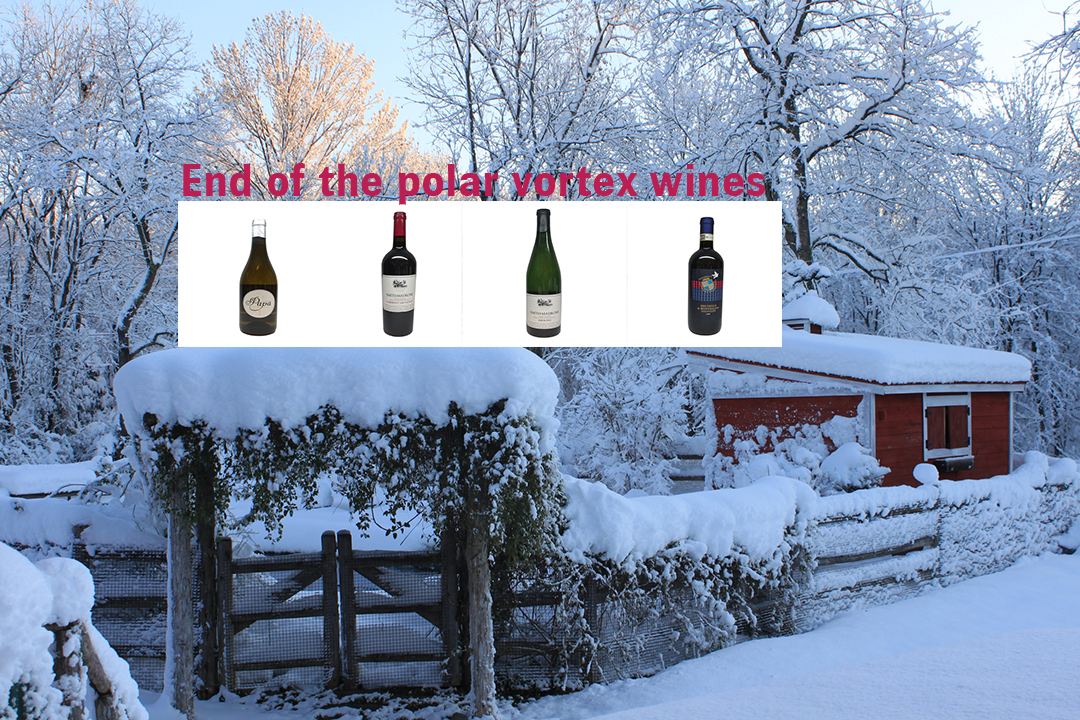 Celebrate, you made it through the polar vortex. Or if you live in Florida, LA or somewhere else warm you can celebrate not ever having to experience a polar vortex.

What is a polar vortex? The research department at Grape Collective unearthed this from Wikipedia:"It is a persistent, large-scale cyclone located near either of a planet's geographical poles." Usually it is confined to the polar regions but, like a naughty school boy, occasionally it sneaks out. It is also called a polar cyclone (sounds like a mid-tier carnival ride) or circumpolar whirl (sounds like one of the Ben and Jerry's flavors you look at but never buy).

There is something nice about being in New York and experiencing extreme seasonal weather, then having it go away fairly quickly. It has some sort of life affirming quality to it. It was cold, it is now less cold, we made it without losing any fingers to frost bite. Time to drink some wine. Here are the four official post-vortex wines.

Having survived the cold, I feel like drinking something evocative of sun and beauty. How can one beat Donetella Cinelli Colombini's Brunello. Imbued with the essence of the Tuscan sun, meaty, yet with some finesse to it. It comes from the only winery in Italy that is completely run by women. At $44.99, it isn't cheap, but is good value by Brunello standards and hey--it is a treat for making it through the vortex, right.

Going from Italy to Spain, a nice white wine, Castello do Papa Godello. It is one of Wine and Spirits top values of 2013 and, at $13.99, a real bargain. It has good minerality and fruit to it, pear and apple with a dob of butter. It feels a little decadent, if you ignore the price.

Smith Madrone (soon to be featured in its own right on Grape Collective so keep an eye out for that), is an impressive property high up on Spring Mountain in Napa. The two brothers that run the property have made the conscious decision not to price gauge in contrast to many of their neighbors. They produce an amazing Napa Cabernet with great structure, and flavors of dark fruit like black cherry, cassis, blackberry. But it's not over the top as many Napa Cabs can get. They also have very tasty Riesling; dry but not austere, firm with a nice acidity, giving you notes of peaches and apricots.