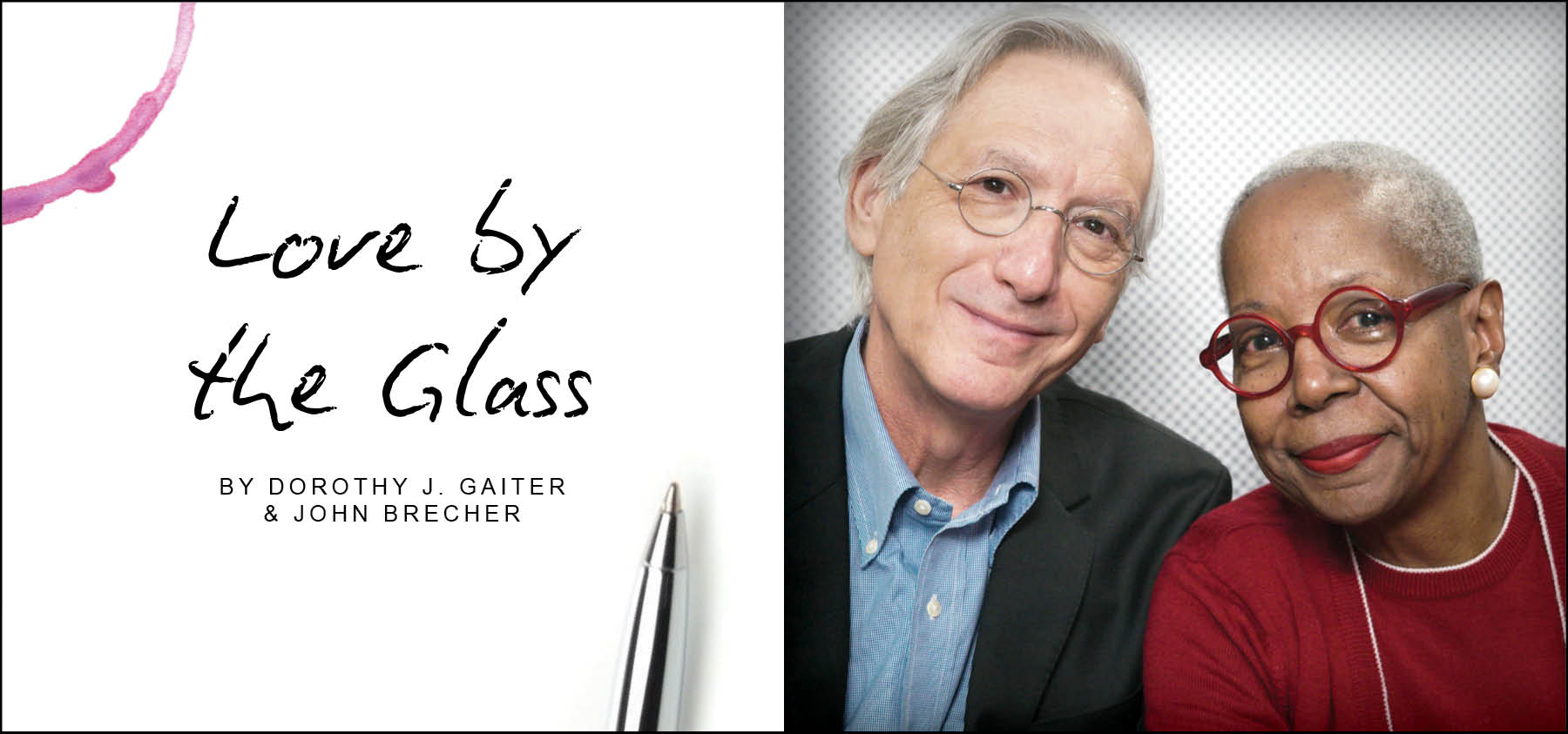 "Let's pretend that life right now is a virtual Grateful Dead show where helping others with food, water or just a hand is commonplace."
This might not be something you'd expect to hear from a vintner while his family winery was taking a quarter-million-dollar revenue hit every month during the pandemic. But winemakers do tend to be an interesting bunch and Chad Melville is no exception.
Chad is the head winegrower at Melville Winery, which his father, Ron, founded in the choice Sta. Rita Hills region of Santa Barbara. The principles on which the Melville family built the winery ultimately are what allowed them to battle the pandemic, the economic downturn and the current political-racial tensions. How they have survived involves old wines and new technology and might offer some lessons for all kinds of businesses long after this crisis ebbs.
We spoke to Chad before George Floyd was killed and the resulting protests, which were generally peaceful but also sometimes descended into violence against demonstrators, journalists, police and property, including the looting of a few wine stores around the country. We got back to him and asked if his winery had been affected. He responded: "We are safe here but, yes, when looters loot wine merchants, it is yet another huge obstacle. Really bummed out for them. But the process needs to take place and I hope people can stay safe."
And he added that a very moving silent protest took place in Santa Barbara and sent a short video he had taken. It is here:

We originally decided we wanted to speak with Chad because we really like his wines. We tasted three new releases – 2017 Estate Chardonnay, 2017 Estate Pinot Noir and 2018 Estate Syrah -- and it was clear they had the same delicious vision. After we'd had all three, which were sent by the winery, we wrote: "These wines are not trying to be French. They are proudly American. At the same time, they avoid the excesses of many American wines. They are not heavy, sweet or oaky. They taste like fruit. They're honest."
And another thing: The Chardonnay is $34 and the other two are $38, which is quite reasonable these days for well-made, thoughtful California wine. It is impossible to know for sure, but we'd guess that consumers are going to be looking for value, even more than usual, for some time to come.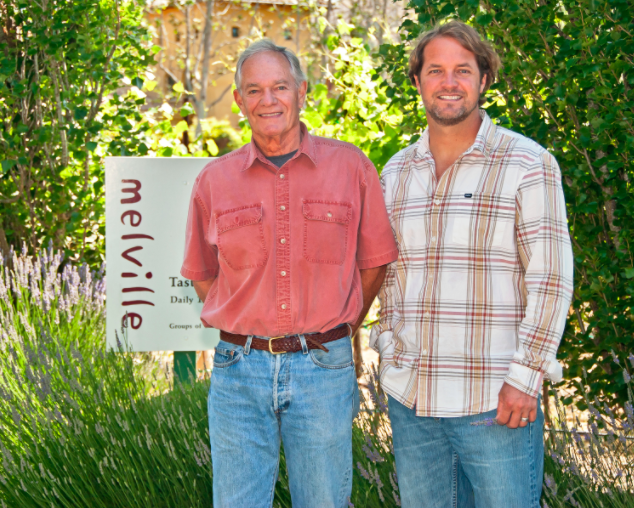 So we gave Chad a call and knew right away this would be an engaging conversation when we asked when he took over winemaking duties from well-known vintner Greg Brewer. He said the literal answer was 2016, "but I don't really emphasize that part of it because this is really more about a place, about our vineyard, and our vineyard hasn't changed at all. So it's the same land, the same farming. I've been involved in the viticulture side from day one. My brother and I helped plant the vines. That's where the magic is. The winemaking part of it is just kind of playing defense – just don't mess it up.
"But the land, the vineyard, that's what's speaking. So the role of the winemaker is less significant than most people would attribute. So I don't see it as a transition from Greg to Chad. I see it as the vineyard just keeps going in the right direction."
In fact, he added, "the vineyard is hitting its stride in terms of vine age and understanding the land and understanding how to manage it and also receive that fruit and its language that it's speaking, and those things take time. The wines are really comfortable with where they are."
That shows in the bottle. The wines – Melville only grows Pinot Noir, Syrah and Chardonnay, a total of 9,000 cases, including some rosé and bubbly -- are estate grown and organically farmed and made with minimal intervention and no new oak.
Ron Melville bought vineyard land in Sonoma in 1986 and sold that and moved to the cool Sta. Rita Hills in 1996. He is 80 now and still involved in the operation. "He's my boss," said Chad, 49. "He reminds me every day he's my boss."
Chad told us there are two reasons for the reasonable prices. "One is my dad's philosophy of building a strong foundation and always over-delivering at the price point," he said. "That's how you make friends and build a foundation." In addition, "we own our own land and do our own farming. We pride ourselves on being farmers. Farming is really key to the whole thing." They also keep their team small, farming 120 acres of grapes, and save plenty by not buying new oak barrels.
We read Chad our notes about the wines – about them not trying to be French – and asked if he would consider that an apt description. "One hundred percent," he responded. "That's the intent. Proud American, proud Californian, proud Sta. Rita Hills. We love wines from all over the world and love a lot of French wine. But I'm not trying to be them. I'm proud of the fact that we're Californian and Sta. Rita Hills and that's why we choose to make wine in that style, as being naked. If you believe in it, really truly believe in it, then you wouldn't do anything to your fruit, like we don't."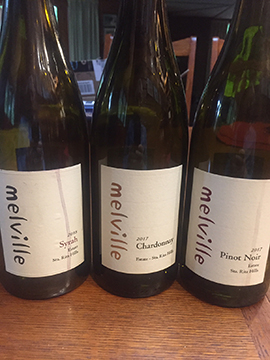 He said he feels the best wines from California are coming from cooler climates "because when things get too hot, too big, too ripe, too juicy, then it's so overtly Californian that it's hard to escape that. I make wine that honestly reflects where it came from." The family had a lot to do with the Sta. Rita Hills region getting appellation status in 2001.
All that said, Chad told us it can be difficult to convince hip young sommeliers to support Melville wine, both because it's from California and because it's affordable. Has Melville considered raising prices so people will take the wines more seriously?
"If we priced our wine higher, people would take it more seriously, there's no doubt. That's a little bit of a frustration I have that I've been living with, but I'm OK with that," he said. But "raising your price just for the sake of being taken more seriously I think you're allowing your ego to get involved. My dad's always been very adamant about not running a business with your ego in it."
And this served Melville well when the pandemic hit.
The Melvilles were affected personally as well as corporately by the coronavirus, of course. Chad is a talented writer – you can read his journal at the winery's website, melvillewinery.com. That's where the quotation above about the Grateful Dead comes from. As the father of two teenagers, he wrote movingly about "my 15 year old daughter begging, I mean begging me with tears to visit with some of her friends."
Fortunately, the Melville family moved with remarkable speed to save the company in this time of Covid. About 40 to 45 percent of their sales come from restaurants and that income immediately disappeared. Maybe another 20 percent is retail and that presented challenges. The rest is direct to consumer. With both of their tasting rooms closed, that meant they needed to focus that channel on mail order and online.
They decided to urge retailers that were still open to feature their wines and gave them financial incentives to do that. "We said we could use some help," Chad said. "Luckily we have a good product that over-delivers for the price point. And so our feeling is that people want this wine, they just need to know about it and the way to know about it is if this retailer does a newsletter or a special offer. That was the first stage. We hit that pretty early. We got aggressive about leaning on our relationships." One helpful partner was Whole Foods.
"I wrote an email to my staff three weeks into this thing and I said listen, everybody, we're going to survive and these are the reasons why," he said.
"One of the reasons we have strong relationships in this business is that people respect what we do. We're not greedy with our prices so people wanted to help us out, people wanted to work with us. So in a way, our winery was set up for the storm."
They also worked with some restaurants to include Melville in their pickup-delivery programs. And Melville immediately became very aggressive on social channels. It had always had a social presence, but the winery became much more active, especially in its communications with people in its direct-to-consumer programs.
Then they had a brainstorm that really saved the day. "We dipped into our library," Chad told us. "We've been holding this inventory for a really long time. We keep basically 20 cases of everything, which is a lot of wine. We keep it for our own reasons. I like looking back and remembering the decisions that we made and why we made them and all that stuff. And we used the library for dinners and whatever." (We tasted some of Melville's library wines in 2016.)
"But we're still sitting on a large amount of library wines, so we re-released library wines to our mailing list. That was super successful. The response was incredible. In the beginning, we were doing two of those a week. That was a big relief because here we were basically looking at our business where revenue on one channel was completely cut off and another channel was OK and our tasting rooms were closed. So we're going like, holy s--t, how are we going to survive? This is scary. Once we found the library wines and their success, we were like this is it, this is our way to survive, to keep our head above water.
"It saved our butts."
At first, Melville was offering library wines twice a week. Then, finally, a PPP loan came through. They felt then they'd make it. They cut back to offering library wines just once a week.
Melville had laid off the staff in the tasting rooms, but prepared for the day when both could reopen. They had masks and gloves ready and a protocol in place for whenever the state and local authorities said it was OK. Finally, on a Thursday, wineries got the green light – and the very next day, Melville's tasting rooms became the first in the county to reopen, Chad told us. Melville rehired its tasting room staff.
"We had a really successful weekend financially and emotionally and spiritually. It was a great weekend," Chad said. "People were so grateful. I greeted everybody at the walkway. The feeling, the energy I got from those people was overwhelming. They were so accommodating, appreciative, grateful. It was crazy. The attitude was like, 'If I could just sit for an hour and have a glass of wine I will be the most grateful person in the world.'"
Dorothy J. Gaiter and John Brecher conceived and wrote The Wall Street Journal's wine column, "Tastings," from 1998 to 2010. Dorothy and John have been tasting and studying wine since 1973. Dottie has had a distinguished career in journalism as a reporter, editor, columnist and editorial writer at The Miami Herald and The New York Times as well as at The Journal. John was Page One Editor of The Journal, City Editor of The Miami Herald and a senior editor at Bloomberg News. They are well-known from their books and many television appearances, especially on Martha Stewart's show, and as the creators of the annual, international "Open That Bottle Night" celebration of wine and friendship. The first bottle they shared was André Cold Duck. They have two daughters.
Read more from Dorothy J. Gaiter and John Brecher on Grape Collective.
Banner by Piers Parlett