While France and Italy have gotten their due when it comes to the traditional practice of butchering, curing, and preserving meat, a new book by Jeffrey Weiss, Charcutería: The Soul of Spain, turns the attention to another European nation with a storied culinary history.
I was first intrigued by this book while reading a recipe, which you'll find below, for Costillas de la Matanza (Matanza Ribs). Though certainly compelled by the dish, I will admit to being most curious about one of the ingredients in the marinade: Oloroso sherry.
So I contacted Weiss to ask him about cooking with sherry, from dry to sweet. And since I steered him into wine talk, I also asked him about regions Spain producing exciting, charcuterie-friendly wines. Finally, what can a home cook learn from a butcher?
(Also, thanks to Nathan Rawlinson for the vivid, hunger pang-inducing photographs.)

One of the ingredients in your rib recipe is oloroso sherry. Tell me what cooking with sherry, both sweet and dry, can add to a dish. And do you enjoy sherry with charcuterie? What is a favorite pairing?

I love cooking with sherry at our restaurant, jeninni kitchen + wine bar—in fact, I use it in various forms since it can add so much richness and complexity to a variety of our dishes.

For example, whenever we make chicken stock we use a Spanish recipe that I learned from my time cooking with chef José Andrés. It involves a lot of sweet carrots and onions, which even a simple sherry like fino can complement nicely (especially alongside the caramelized notes that come from roasting our chicken bones).

That said, sweeter sherries, like the oloroso or Pedro Ximenez (PX) varieties, also find a place in a lot of my cooking. For example, you will find sweeter sherries a welcome complement in this book's recipe for matanza ribs, where oloroso is used in cooking the ribs and then PX sherry is used in a few forms to make the the final glaze.

Also, I love pairing PX sherry with richer flavors redolent with spices, such as in the Pâté de higado de pollo (chicken liver pate), which is one of the book's recipes as well as one of the most popular dishes at our restaurant. Here, the PX is made into a gelée to top a pâté flavored with a classic spice blend of allspice, clove, nutmeg, and pepper.
Beyond sherry, what are some Spanish wines that match particularly well with not just charcuterie, but also with some of the traditional dishes and stews in your book?

For my tastes, I'm a huge fan of the new wines coming from Castilla-La Mancha—they are wines that are just emerging onto the world scene. At Restaurante Adolfo, where I worked alongside chef Adolfo Muñoz and was privileged to visit his bodega for storing wines (it's one of the larger collections in Spain), we often paired these wines with everything from the local game like perdiz en escabeche to migas manchegas (yes, you can find Adolfo's famous recipes for both of these in my book).

I think it's safe to say the vast majority of home cooks are not butchers. But what is a lesson you learned from the matanceros that would be useful for the home cook?

This is a great question! You are absolutely right—not everyone is going to go out and break a whole pig down in their homes. But that doesn't mean that this book won't have some great insights for the home cook looking to make a quick, Spanish-influenced meal at home.

Specifically, I think an important takeaway from this book is that both the matanceros and the sabias utilize the flavors of charcutería in their cooking in various ways. That is, even if you don't have the space to cure a whole ham or chorizos in your home, that doesn't mean that you can't buy these products and use them to make a quick and delicious meal anytime from the recipes I provide (especially since these items will keep in your refrigerator for very long periods of time—this is the nature of charcuterie!).

A great example is the habas con jamón recipe given to me by one of the sabias of the northern countries—this is a dish that she threw together in minutes during the height of fava bean season. A delicious example of sabía fast food at its finest!
Costillas de la Matanza
(Matanza Ribs)
Yields 2 racks of ribs
Recipe from Charcutería: The Soul of Spain by Jeffrey Weiss.
(Courtesy Agate Publishing)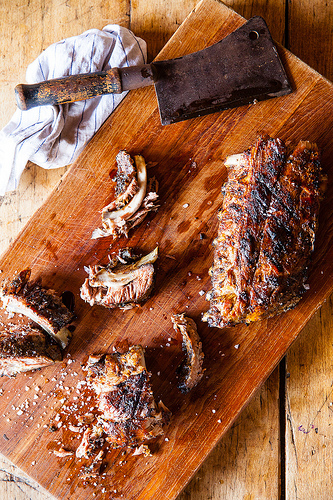 While cooking in Spain, I noticed culinary philosophical differences between Americans and Spaniards when it comes to grilling. While Americans slather their smoked ribs in barbecue sauce, the Spanish like to let the flavor of their meat do the talking, especially when Ibérico pigs are the meat in question. I'm guessing the difference is explained by our history of smoked barbecue meats and the world of sauces and condiments that complement them, contrasted with the Spaniard's heritage of acorny Ibérico fat and letting its subtle flavor come through. The Spanish accent this natural flavor only lightly, with ingredients like herbs and spices.

This recipe, from the sabias of Extremadura, demonstrates the Spanish penchant for soft flavors like lemon and cinnamon that are found in everything from flans and ice creams to meat and other savory recipes. For those who must have sauce, I'm including a killer glaze that we prepared while the ribs were cooking. The acid in the sauce helps cut the richness of the confited meat.

INGREDIENTS:

Per 2 racks of ribs
2 ounces (50 g) kosher salt
2 tablespoons (20 g) freshly ground pepper
1 tablespoon (12 g) granulated sugar
3 dried bay leaves, crumbled
2 teaspoons (4 g) ground cinnamon
½ cup (100 ml) Oloroso sherry
Rinds of 4 lemons, each removed in 1 strip
3 sticks cinnamon
5 cloves garlic, smashed
3 whole fresh bay leaves
Rendered pork fat, to cover
½ cup (100 ml) Pedro Ximénez (PX) sherry*
1 cup (200 ml) Peddro Ximénez sherry vinegar

*this type of sherry (and vinegar) is made from Pedro Ximénez white grapes. The varietal yields an intensely sweet dessert wine.

1. In a large baking dish, combine the salt, black pepper, sugar, crumbled bay leaves, and ground cinnamon, creating a cure.
2. Place the ribs in the baking dish and toss them with the cure, coating them evenly. Sprinkle with the Oloroso sherry. Cover with plastic wrap and refrigerate for 24 to 36 hours.
3. Preheat the oven to 250°F (120°c).
4. Remove the ribs from the cure. Rinse well and pat dry with paper towels. Place the ribs in a large Dutch oven with the lemon rind, cinnamon sticks, garlic, and whole bay leaves. Cover with the rendered pork fat.
5. Place the Dutch oven over medium heat and bring the fat to a bare simmer. Remove from the heat.
6. Cover and place in the oven for 2 hours, until the ribs are fork tender and the bones pull easily away from the meat. Remove from the oven.
7. Allow the ribs to cool to room temperature in the Dutch oven, and then place in the refrigerator to chill in the confit overnight.
8. In a small saucepan over medium–high heat, combine the PX sherry and the PX sherry vinegar. Bring to a boil and then reduce to a simmer. Simmer for 8 to 10 minutes, until the sauce's volume is reduced to 1/3 cup (80 ml). Remove from the heat and set aside.
9. Light a charcoal grill or heat a broiler on high heat (fair warning: The ribs will splatter a lot in an oven, so use caution!). Remove the ribs from the fat, wiping off any excess. Place the ribs, meat-side down, on the grill and cook them for 10 minutes, until cooked through and starting to brown.
10. Glaze the ribs with the sauce on the bone side. Flip them over and glaze the other side. Continue cooking for 5 minutes, until nicely glazed and just charred a little in spots. Remove from the heat and serve.

Note: We ate these ribs right off the grill during the matanzas—finger food at its best! For more civilized affairs, these ribs would make a great main course, especially if you don't have a smoking rig handy for doing American-style ribs.