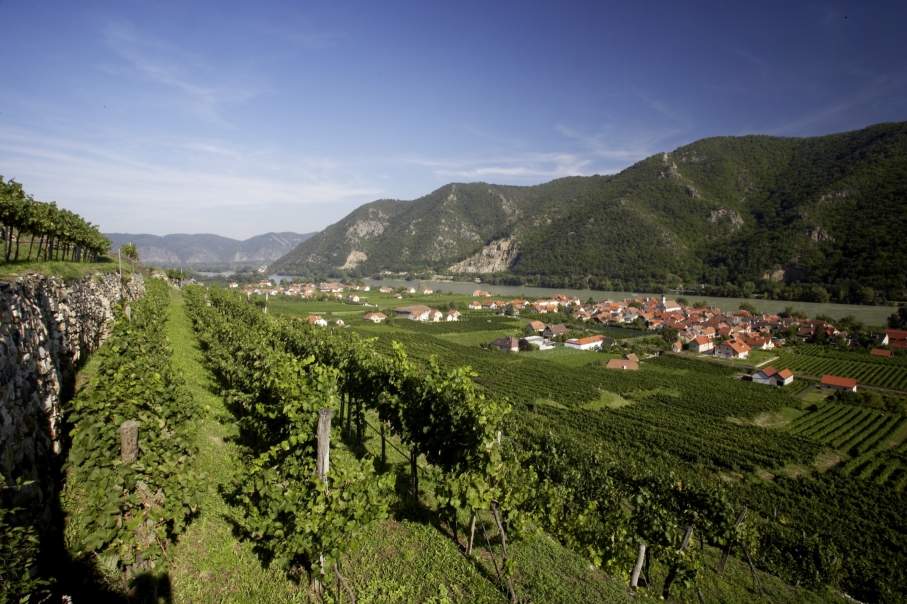 Does anyone get excited about drinking Pinot Blanc? Anyone? Anyone? Thinking about this grape took me back to Ben Stein's immortal cameo in Ferris Bueller's Day Off. Is Pinot Blanc about as exciting as the Laffer curve? What is this grape? Something...b-l-a-n-c?
Have I had Pinot Blanc that was pleasurable? Absolutely! Mostly from Oregon; I'm fond of bottles from Elk Cove Vineyards and Spindrift Cellars. And also from Alsace: the Lucien Albrecht Cuvee Balthazar Pinot Blanc is a welecome (and well-priced) wine to find in a cold box. Throw examples from Alto Adige into the mix, too.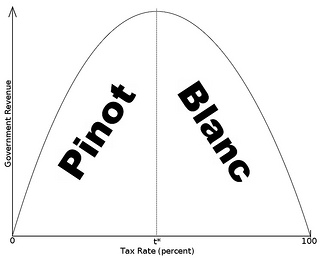 (Right: The Laffer curve, adjusted to rising enthusiam for Pinot that portends diminishing returns when Blanc is added.)
But recently I got to try some Pinot Blanc that showed a daring, cellar-worthy side. Not serious like Ben Stein's monotoned sonorousness, but rather fueled by a stereotype-busting ethos.
This epiphanic moment occurred at a tasting of two Austrian producers, Weingut Prager and Weingut Rudi Pichler, represented by The Winebow Group. Before a recent trip to New York, I was asked if I wanted to attend an afternoon event sampling a wide range of wines from this powerhouse duo. "DUH!" was my enthusiastic--but somewhat unprofessional--response.
Luckily, this did not prevent me from being granted admission at Back Label Wine Merchants. I knew I was going to like this shop as my afternoon was kicked off by Gruner Veltliner and Gang Starr. Whoever had control of the stereo was firing on all cylinders. Also, there was an impressive spread of cheeses (and other provisions) from Stinky Bklyn. Which I had to mostly eschew as I was (full disclosure) headed to lunch as a guest of said The Winebow Group right after the tasting.
So in the midst of all that legendary Gruner and Riesling, let's talk about Pinot Blanc, aka Weissburgunder. Rudi PIchler's 2012 and 2013 bottlings from the Kollmütz vineyard were the most noteworthy versions of the grape I've tasted. Like Guru, they flip the script.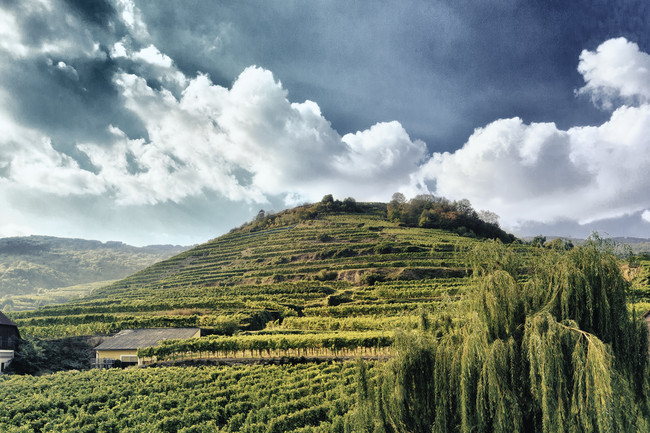 To the left is a snapshot (via Weingut Rudi Pichler) of the vineyard from where this wine hails. And pouring that Weissburgunder was Jodi Stern, The Winebow Group's Austrian Portfolio Specialist in NY, NJ, MA, and DC. After the tasting, I reached out to Stern for her thoughts on how this expression of Pinot Blanc is unique. She explained:
"I've always felt that Pinot Blanc was overlooked yet has so much to offer, with its underlying savory salinity. It seemed to escape notice of most consumers, even though there are so many beautiful expressions made all over the world. Lately this is changing as more people are discovering its potential. Rudi's vines, at about 55 years old, in the deeply mysterious and expressive Kollmütz, exemplify this for me."
Stern also relayed Rudi Pichler's thougths to me:
"This grape is used very often to make simple wine, vini da tavola, vin de pays etc….Having old vines in very good sites combined with the special climate and soils of Wachau, Weissburgunder/Pinot Blanc will show that it is able to achieve even great wines, pairing very good with many kinds of food and can be stored for at least 10-15 years. We opened this year a bottle of 1993 and it was still fresh and fascinating."
So there you go. While Pinot Grigio and Pinot Noir grab more of everything, can I stir up some conversation about Pinot Blanc?
Anyone? Anyone?
Laffer curve image via Wikimedia Commons. "Pinot Blanc" modification via me.