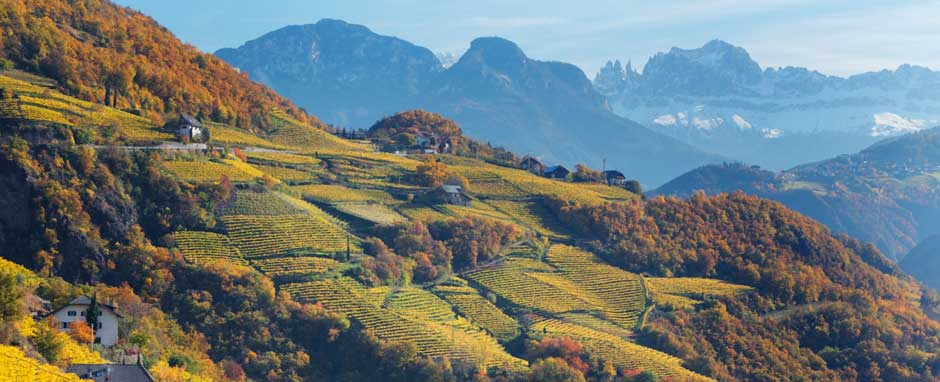 When it comes to the wines of Alto Adige, thoughts of white wines as pure as a mountain stream start dancing around my head. But that's just the tip of the iceberg for this scenic region of Northern Italy, dominated by a dramatic mountain range, the Dolomites. There's a great diversity of white and red grapes, blends, and even wines made from grapes you wouldn't think you'd encounter this far north in Italy, like Cabernet and Merlot. Who better to discuss all of these grapes and blends than someone who producers all of the above? I spoke with Winemaker Elena Walch (pictured below with her daughters Karoline and Julia) of the eponymous winery in Alto Adige about the variety of wine you'll find there. We also take a quick detour to the dining room, where Walch shares some of her favorite pairings with Lagrein.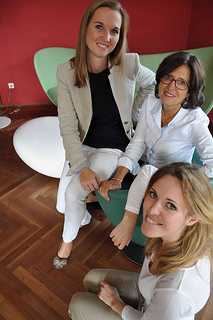 What makes Gewürztraminer from Alto Adige so special?

"The village of Tramin is the birthplace of the variety Gewürztraminer, and the word Gewürztraminer simply means, 'spicy of Tramin.' Alto Adige's Gewürztraminers are distinctive because stylistically they are almost always dry with little to no residual sugar. Thanks to our alpine/Mediterranean climate (very hot days but very cool nights), we are able to make full-bodied, yet fresh Gewürztraminers with crisp acidity and a dry finish. Our Gewürztraminers are very aromatic but not overly perfumed, so they are immensely drinkable."

Tell me about the potential of Bordeaux grapes like Cabernet and Merlot. Are there challenges to growing these grapes in Alto Adige?

"Alto Adige, with its cool climate, has perfect growing conditions for Bordeaux-varieties especially now that the climate has warmed in many parts of the world. We are doing very well with both Cabernet and Merlot - sales are constantly up and we're trying to grow more and more of both of them in our vineyards."

Many of your wines are made from a single grape, but you also have blends ranging from EWA to Beyond the Clouds. As a winemaker, what motivates you to create blends?

"Blends are my very own signature. I follow my own recipe, with the aim of expressing Alto Adige's terroir at its very best. Doing this, I quite frankly ignore what is allowed in the DOC regulation, just like the Super Tuscans. My top white wine, Beyond the Clouds, is a blend based on Chardonnay, together with three other varieties. It's a proprietary blend which changes from vintage to vintage because we adapt to which grapes are the best in a given year. All grape varieties get picked when the Chardonnay reaches optimum maturity and are fermented in small French oak barrels together. As all the grapes get processed together, this is what makes my blend so challenging...this is when winemaking becomes more of an art form to me."

Of your red wines, do you have favorite food pairing with one of them?

"This is always a tricky question... there are so many dishes out there that pair well with my wines. I personally love my Lagrein Selezione with all kinds of red meats and perhaps some typical Alto Adige bread dumplings. The Lagrein Riserva is very complex so it also pairs perfectly with high-quality game meat. However, I also think these reds are perfect companions to many Italian antipasto dishes which are so popular around the world."