In 1989 Emmanuel Kemiji became the twelfth American to pass the Master Sommelier exam in London, and one of only 14 people to pass the exam on the first try. Though Kemiji was born in the United States, he spent a large portion of his childhood in Spain and England where he was raised. He is a graduate of the UC Davis, where in addition to studying economics and Spanish literature, he developed a keen interest in viticulture and enology. For over a decade Kemiji worked for The Ritz-Carlton as the Director of Wine & Spirits while also forming Miura Vineyards in 1995 with projects in Spain following soon after.
Grape Collective talks with Emmanuel Kemiji about his winemaking journey and his passion for Spanish wine.
Christopher Barnes: So Emmanuel, you're the first Master Sommelier to actually become a winemaker.
Emmanuel Kemiji: Yes. In this country. I made my first vintage in California in 1995.
How did you decide you wanted to become a Master Sommelier?
Well, I was working at the Ritz Carlton Laguna Niguel in the late '90s, and I met two gentlemen, Eddie Osterland, who was the first American Master Sommelier who lived in San Diego, and Fred Dame, who at that time was the president of the American chapter and who started the American chapter in the United States. We became friends. And one day they said, "Look, you have to be part of this." And I started taking the exams in 1989.
(Emmanuel Kemiji)
Then what made you decide, "Okay, I'm a Master Sommelier, now I want to make wine?"
No, that didn't happen that way. Not quite that way. Well, it all started one fateful night in late December of '94. I had happened to work in the dining room in San Francisco where Gary Danko was the chef at the time. And it was one of those nights that everything that could go wrong in a restaurant did go wrong, so we wanted to forget about that night as quickly as possible. So a bunch of us got together at my apartment, some Ritz, some non-Ritz, mostly chefs, because we all tended to hang out together, more colleagues than competitors. And it was actually one of the chefs that said, "We all love wine. We're only an hour away from Napa. Wouldn't it be cool to experience a harvest firsthand? Kemiji you're supposed to be the hotshot Master Sommelier that went to Davis. How about if we front the money and you head the project?"
And unfortunately I had too much cognac to drink, and I agreed because I'd never made wine in my life and graduated from Davis 13 years earlier. But managed to convince a good friend, Agustin Huneeus Sr., who at that time hadn't released Quintessa, but I had been up to the property and fell in love with it. And he agreed to sell us two and a half tons of Cabernet from that property. And that became a new challenge for me. And so I kind of say that the first truly commercial vintage is 1998, because you're commercial in the wine business when your family and friends don't drink most of what you make and you have something leftover to sell. That was kind of '98.
But after that harvest where I made 3,000 cases, I realized that it was like having two full-time jobs. It wasn't fair to the wine and it wasn't fair to the Ritz Carlton who had been very supportive of my efforts. So before the harvest of '99, I decided to leave the Ritz and dedicate myself completely to my California project, Miura.
And you have Spanish roots?
Yes, very much so. I grew up in Madrid. My mother was from Cordoba and I was born in New Jersey. I grew up in Spain and England, and we moved back to the US right before college.
So that sort of explains your passion for Spanish wines then.
And it was an uncle in Madrid that kind of introduced me to the world of wine. He's a big aficionado, has a nice cellar. No family member in the business, but my uncle was instrumental in opening my eyes to the world of wine.
Tell us a little bit about how you decided to work the specific vineyards that you have right now in California.
Well, today we only work with Pinot, because for me that is the most challenging grape both in the vineyard and at the winery. And sommeliers love Pinot, it's the red that goes probably with more diverse foods than any other red wine. So as my experience as a buyer of California wines for several decades, I decided, "Okay, what are the best regions in California for Pinot Noir?" And within each of those regions I tried to pick what in my opinion was the vineyard that best represented that region, stylistically and qualitatively. And that's how we've come to where we're at today.
And talk a little bit about the specific regions where you're making wine.
Well, starting from north to south, the Anderson Valley in Mendocino County, the coolest viticultural region in California. So it's natural Pinot country. And so I was very much taken by the wines that Ted Lemon at Littorai was making from a vineyard called Savoy. Then in Sonoma, Rochioli, Tom and Joe Rochioli's vineyard. Well, it was in the early '80s when Burt Williams and Ed Selyem started Williams and Selyem with the Rochioli bottling. That was the first time that people said, "Wow, California can make a great Pinot Noir after all."
And then in the Central Coast, it's the Pisoni vineyard in the Santa Lucia Highlands. I mean today, probably one of the most talked about if not the most talked about Pinot vineyards of the moment, the most expensive Pinot Noir grapes. But really Pisoni kind of epitomizes what we are, which is we have to make wine that's unique, that distinguishes itself from every other thing. Our economies of scale are too expensive. We can't compete with larger wineries that do tens of thousands of cases. So for me, the few hundred cases that we make there of this Pinot that is so unique in style is really the real reason why we do this.
How did you decide on Priorat and Montsant as the areas in Spain where you wanted to make wine in?
Well, after I got Miura going in the late '90s, I decided I wanted to do something to honor my heritage and honor my uncle. And so in the early 2000s I ran around Spain for a couple years, visiting the obvious regions, Rioja, Ribera del Duero, and then some of the newer up and coming. And after that process of a few years, I came to the conclusion that the most exciting place to start a new project were these two tiny regions about 80 miles southwest of Barcelona, Montsant and Priorat. Priorat is a unique place. It's almost like if you close your eyes, you can imagine that things haven't changed much in hundreds of years there. And yet you have this barren land with this slate covering these mountains with almost... You see no irrigation of any kind. It's a hard place, but what you get out of that is a sense of place that I think is unique, and not too many regions have such a strong sense of place. And that's why I fell in love with it.
And talk a little bit more specifically about the terroir.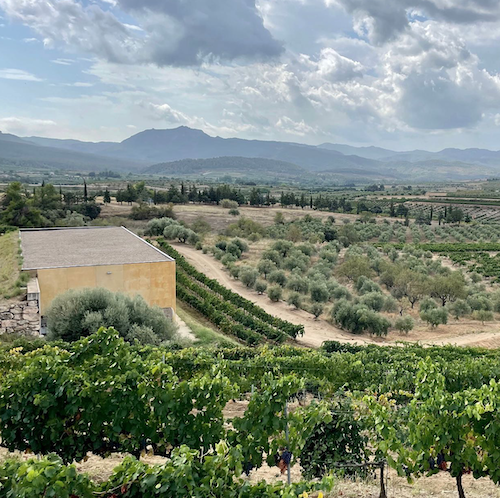 So if we go south of Barcelona, the first city you come to is Tarragona, about 60 miles, and then you head directly west for about 25 miles, and you come over these huge mountains into this valley. We have to remember, today in Priorat there's 5,000 acres, in Montsant there's 5,000 acres. So that's 10,000 acres out of the 3.6 million in all of Spain, in a very small region. Sometimes we forget. I mean, most of us who love wine have been to Napa. Napa's a pretty small place, 28 miles by five miles, and in Napa there are 45,000 acres worth of vineyards. And then in the middle of this valley, you have the very steep mountains and literally all you see, I mean, you look at your feet and you don't see dirt, which is pretty amazing when you're in a vineyard. You see this grayish-brown slate that they locally call llicorella that covers the entire landscape.
(Harvest at Clos Pissarra in Montsant)
Then Montsant, that's within the same valley, surrounds almost entirely like a horseshoe, is hilly, and then goes into flats at the very outer edge. And in the hilly part it has that same slate, llicorella. But there it starts being mixed with clay. And then in the outer part and the flat parts, it starts to get lots of sand. So Montsant is more fertile so yields are higher, but still very, very low. The wines tend to be more fruity, more approachable in their youth without having the minerality concentration and intensity of Priorat.
And talk a little bit about the grapes that you work with.
Right. Well, 96% in the region is red. So the heart and soul for me is Grenache. Actually Garnacha. Because the French like to steal everything from us. And Cariñena. But you also find Cabernet, Merlot and Syrah that were brought in by the modern pioneers of the region in the early '90s.
And how would you compare these Grenache blends to Grenache that you would find in other parts of Spain?
Well, I think compared to other parts of Spain, the Grenache from Priorat is much more intense, much richer, much deeper, deeper colored, more weight, more muscle, just a lot more intense.
Talk a little bit about your philosophy of viticulture and winemaking, Emmanuel.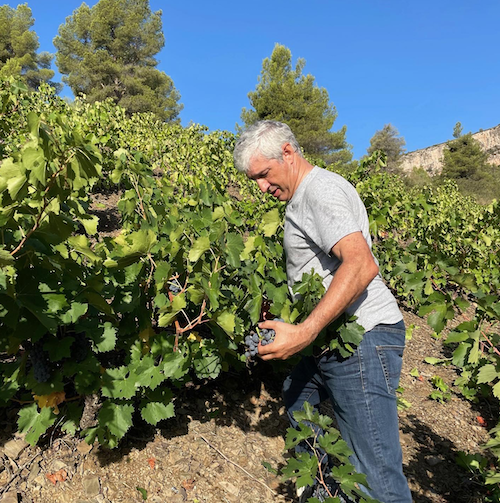 Well, we have 60 acres, myself and some friends in Spain, about 35 in Priorat, 25 in Montsant. And for me, I have a problem with this term that we own land, right? It's this human term that we are merely a blink of an eye in the lifespan of that property, that piece of land. If we're lucky, we might be buried there, but we're really just caretakers, not really owners. And for me, it's about taking care of a place that maybe my sons will take over at some point.
(Emmanuel Kemiji picking Grenache)
And I like to say that I want wine to pass through my hands without having too much of my imprint on it. I want to kind of encapsulate what I think is a special place. I don't want somebody to say, "Wow, this is a great Emmanuel Kemiji and Maruxa," my very talented young lady who's my winemaker there. I want somebody to say, "Wow, that tastes like really good wine from Priorat." That's what I want. So I think like many of us, we don't want chemicals or pesticides, herbicides. And especially when you're a farmer and you see that, and then you're eating something, that's where it kind of really hits you. Sometimes when we go to a store, we buy something, we don't really think about that. But if you're a farmer, and winemakers are just glorified grape growers, right? Glorified farmers. You understand that there's an immediate effect of what you do on the land to what you put in your mouth. So to that extent, we try. We're completely organic. We don't irrigate. We can't irrigate. There's not enough water.
It's illegal, isn't it?
Yes, it was illegal. Now you're somewhat allowed, but the problem is even if you want to, there's just not enough water. And that's why our average yield in Priorat is a ton per acre. That's seven times less than probably the average in Napa Valley, to give people an idea. But that's what makes a place so special. And in terms of winemaking, it's staying out of the way. So to that extent we use native yeasts, because I think the yeast that naturally exists in the vineyard is part of the signature of that place.
So we've never introduced cultured or lab yeast in the winery, and then we don't fine or filter. So we don't want to strip any of the character of that wine, all that work that goes into it. And we can do that because our market's much smaller. We're only making a total of 3,000 cases between six different wines, so we don't have to worry about a general consensus and making sure that the wine is completely bright and clear. We've just got to worry that it's really good. And that's what we try to do.
As one of the first wave of members in the United States of the court, how do you feel about the problems in terms of the sexual assaults and sexual harassment that has plagued the organization recently?
Well, a couple of things. First of all, I think it's very brave of the women that came forth, because that's a very difficult thing to do. I can only imagine. And then I think it's egregious fact that some members took advantage of people in that way. I can't tell you how angry it made me feel that all of a sudden, all of us came under this dark cloud because of the actions of a group. I can say that I'm very glad with the way the court decided to handle it. And the severity of the punishments that were... I mean, we can't legally do anything. We're not a legal entity in a sense of jurisdiction, but we did ban these people and took away their titles, and we've completely redone the organization, a new board, external board of directors now. It will take time for people to understand that and come back and trust us again. And I understand that we've got to earn people's trust, but I think young men and women can feel confident now that we've taken a huge amount of steps to correct these past failures.
And do you feel the board is making more efforts to create a more diverse organization?
Absolutely. And all it takes is looking at the makeup of the current board of directors and the external board that's been appointed and where their experiences lie. And you can see that it encompasses a plethora of different factors and organizations that have dealt with these kinds of problems in this country.