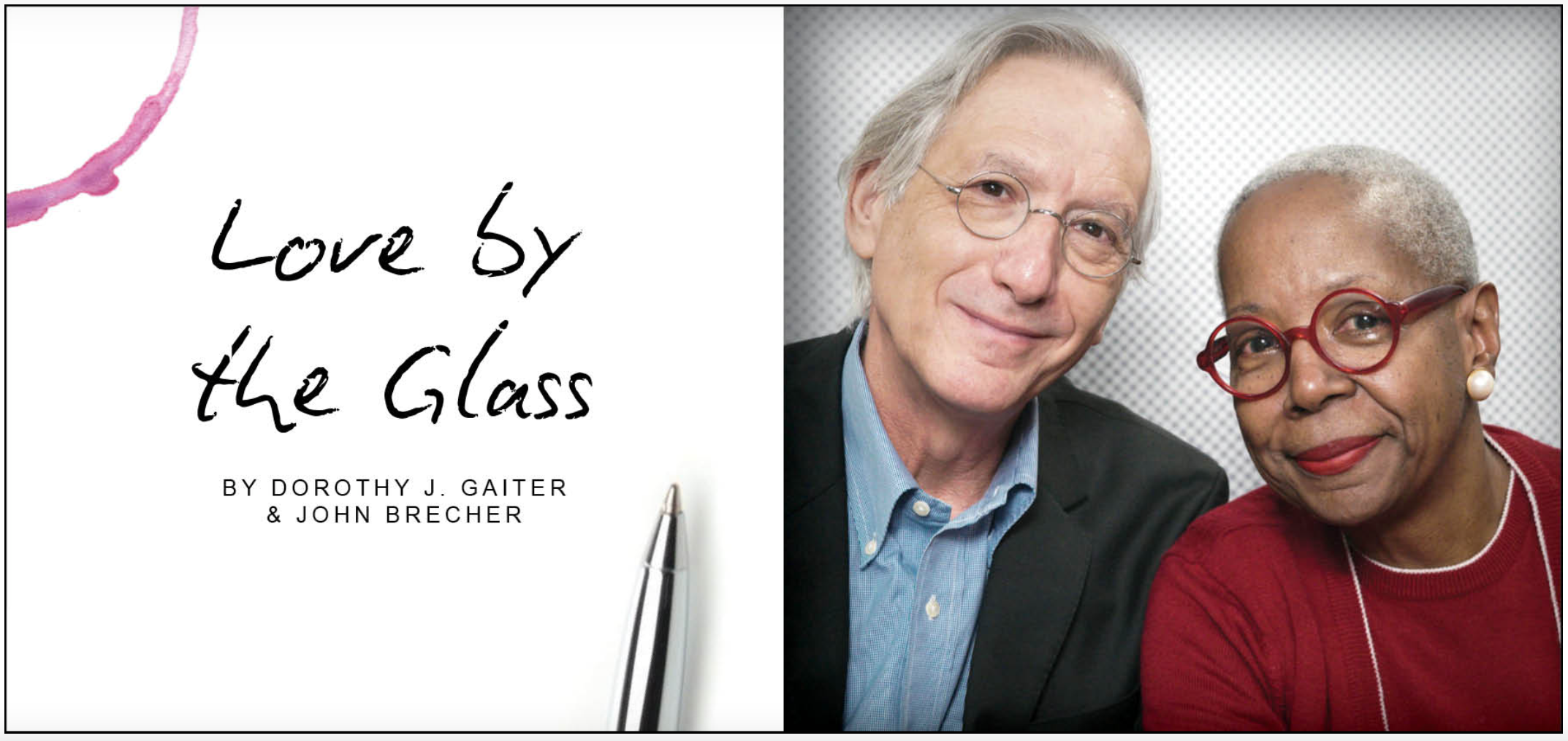 Dan Petroski, winemaker and owner of Massican, which makes only whites in Napa Valley, has one of the most fertile minds we've come across in our 50 years of enjoying and studying wine. But when we heard about his latest project, even we had to say: What the Falanghina? Essentially, the idea is this: What if he asked other vintners to create a wine that would fit under the Massican style umbrella? Considering that winemakers have such individual passions, this seems a bit out there.
But Dan has been out there a long time. Years before others thought to do it, as winemaker at Larkmead Vineyards, owned by visionaries Cam and Kate Solari Baker, Petroski oversaw the planting of their experimental vineyard designed to research which grape varieties would do well with climate changes.
(Dan Petroski)
He has made vermouth and beer; publishes a magazine; has Italian recipes on Substack; offers a playlist; created a proprietary shade of blue; and has released wines with NFTs, to name a few of his endeavors. We're long-time fans of his distinctive whites. It takes a certain type of mindset to make only white wines in Cabernet Sauvignon-centered Napa. Two of the four are from grapes of Italian origin, where his maternal grandfather was born. That certainly requires a unique way of looking at things. Food & Wine magazine named him a Drinks Innovator of the Year in 2022.
When we were in Napa recently for the 2023 Wine Writers Symposium at Meadowood Napa, the program advisor, Maryam Ahmed, asked if we'd like to try a wine she made with Petroski, part of a collaboration project he had hatched. We wrote about that joyful, dry Muscat-based wine and it sparked our curiosity about Petroski's other collaborators, so we called him, promising to ask our questions in 30 minutes. That suited him, he told us, because on that day, he had scheduled several 30-minute calls "back to back to back to back to back," including one with a blockchain consultant. He's researching the development of a vineyard on a blockchain. That'll take several years to come to fruition but the plan is that eventually there will be full transparency for consumers buying wine grown there. "I'm trying to do a lot of things," said Petroski, who had been in publishing for many years before becoming focused on wine. "Figuring out what I'm doing right and what I'm doing wrong to make it better."
And we were off!
"I just don't like how the wine industry has done the same thing over and over again for years. I don't get it. That's why I'm trying to come up with creative ideas, creative partnerships. If you followed brands over the past 5 to 7 years, pre-pandemic to post-pandemic times, the big thing was collabs. Supreme doing things with Nike and Nike doing things with XYZ. But how does the wine industry, the beverage industry, collaborate with another product? It's hard because we have the rules and regulations of the federal government to worry about.
"So I started looking at things like artists for art labels, which is not a new concept. A lot people do that. But then I started looking at winemakers and brands and how I could get really cool winemakers like Sam Bilbro in California, Ken Pahlow in Oregon and Erin Pooley in Australia to go out and be my collaboration. It's more like a creative process for them and for me it's more alignment with really cool good people."
To that lineup of Bilbro, who makes Piedmontese-style wines at his Idlewild winery in Mendocino County, and Pahlow, who makes Chardonnay and Cabernet Sauvignon at Walter Scott winery in Willamette Valley, Oregon, and Pooley, who makes long-aged Sémillon at Little Frances wines in Australia, Petroski added Ahmed; Tyler Thomas, president and winemaker for Star Lane and Dierberg Vineyards in Santa Barbara County; and Mitja Sirk, who has been making wine in Friuli since he was 11.
"I started Massican in 2009 and everyone said that your friends buy the first two vintages and then you have to build your brand after that. And my friends and peers, some of them were winemakers, and some people in the trade, in the business, a lot of people got behind Massican and what I was doing as a fresh, white wine in Napa Valley. And fast forward, I always wanted to open up the net, to give a winemaker a ton of fruit and tell them to make Tocai Friulano. I always thought of that but couldn't figure out how to do it properly."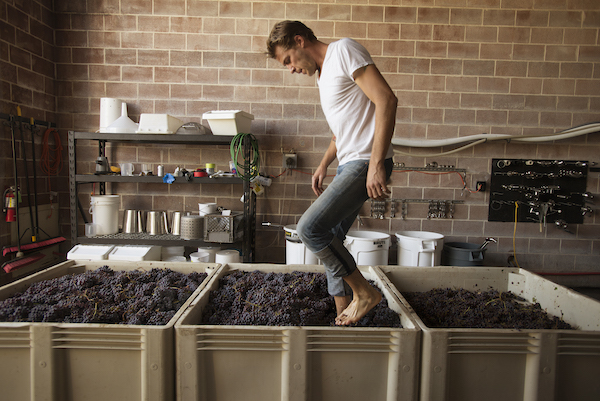 As he's met with success with these Italian varieties and other winemakers have become fond of them, demand and competition have grown. By 2021, he said, he had to "go far afield to buy more fruit because I'm trying to grow Massican's production." Bilbro, Petroski said, was managing a new vineyard in the Dry Creek area and selling the fruit for the vineyard owner. Petroski had planned to buy some Tocai Fruilano from him but, lacking a truck and experience with a grape-delivery service, Petroski started mulling alternatives with Bilbro.
(Sam Bilbro, photo by Erik Castro)
First, Petroski said, he suggested that since he and Bilbro would be picking the same day for Massican and Bilbro's Idlewild and pressing at the same time, why not let Bilbro pick and press the fruit and Petroski would then just pick up and ferment the juice? Then the discussion became, "why don't you just give me my share of it and ferment it at your winery? What would that look like? Then it became, why don't you finish and make the wine that you think would be a Massican wine and we'll promote that you are the winemaker for this collaboration project. And he was like, 'OK.'"
Petroski told us the two had meetings and at one, Bilbro said, '"Dan, you love floral, citrusy and salty wines so I'm going to think about Massican-Idlewild, my version of your wine as floral, salty and citrusy.' After he made the Tocai, which is a slightly floral, slightly salty grape variety, he thought of other grapes to blend in it that would enhance the citrus character."
Then one day, Bilbro invited Petroski to taste the blend he had put together. "I said, I love it and he said, 'you have no questions?" And I said, "Sam, this is your wine. This is your interpretation of me. I'm not going to artistically direct this. It's no different from me assigning a story for you to write. I'm not going to go crazy about rewriting your story. I'll grammar-edit it. But I'm more like a publisher rather than an editor in this instance."
After it was released, Petroski said he asked Bilbro if he wanted to do it again and he said yes and he has. We checked in with Bilbro and he told us: "For me, I am first and foremost in the wine business for passion. Working together with friends is a great way to share the joys of creativity with someone. And this also gives me the joys of being creative on a blend I wouldn't do for Idlewild. Furthermore, Dan is just a great guy and we share a lot in terms of loving Italian wines and exploring them here in California, which makes this collaboration an obvious choice for me."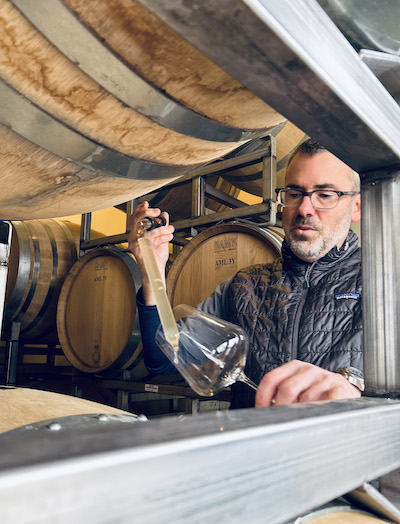 Pahlow of Walter Scott wrote to us, "I, honestly, felt as much pressure to make something special for Massican as I do making our wines. Dan's become a very good friend over the years, has a super brand, a sharp palate to go with it and he trusted us to do this for him. Now, what to make?!
(Ken Pahlow)
"I jokingly said, 'how about a skin contact pinot gris?' Uh, just kidding, Dan, I'm not making any hipster bullshit. I then said what about Pinot blanc? I have a source through another great friend, Robert Moshier, who recently purchased Fir Crest Vineyard, which has some old (27 years, so 'old' for the Willamette Valley) Pinot Blanc that's co-planted with some Pinot Gris and Gamay blanc. This would be perfect."
Thomas said, "Dan and I have been friends for a long time, have had many conversations over glasses of wine about our craft, and I've followed Massican since he founded it and it seemed like fun. Secondly, it's an opportunity for us to explore some things with Star Lane fruit that we may not normally do but that could teach us about our vineyard."
Of the six wines by collaborators, five are already at Massican and the sixth, the one made by Sirk in Italy, has not yet been bottled. They will be released in September and be sold through Massican as six packs or as individual wines in the $30 range. (Ahmed will sell some of hers through her company. A portion of the sales of her collaboration wines goes to fund scholarships.) Most were made in under 160-case quantities. "It's not too onerous with time, energy, effort and space in their facility. That's important to me as well. I don't want this to be a pain in anyone's butt," Petroski said, adding that now there is a large group of people who want to make their versions of Massican.
Nevertheless, Massican is still pretty much a one-man operation and he wants it to grow substantially so the collaboration, which he calls the B-Side, helps him do that. "Leaning into the music reference, which I love, it's like a band covering another band's song," he explained. The other winemakers—everyone except Ahmed, who runs a multi-prong consultancy and inclusive experiential wine and food company—"use their own instruments, their own equipment in their studio to do that, to record. Their own winery and vineyard sources. The only requirement was that the wine had to be white," Petroski told us.
"I give everyone a blank check. I pay for all of the wine and I pay a custom crush fee, so a fee for the winemaker to make the wine and that's it," he said. "I buy the corks, the labels and glass. They pay to keep their lights on. My margins on this are very low. I'm barely making any money on this. I'm taking on all of the risk and assuming all of the upside.
"But this gives me the opportunity to grow. I grew 40 percent year over year with my core Massican wines last year to 6,500 cases. With the collaboration, it'll be another 12 to 15 percent growth, which will put me over 50 percent growth this calendar year. It helps me have the ability to grow without technically doing the work. I'm excited to keep it going," he added.
His only concern, Petroski confided, is whether "consumers have the bandwidth to care about these cover songs or are they just going to be traditional hard-core Massican fans. And we won't know that until September, when we launch."
Dorothy J. Gaiter and John Brecher conceived and wrote The Wall Street Journal's wine column, "Tastings," from 1998 to 2010. Dorothy and John have been tasting and studying wine since 1973. In 2020, the University of California at Davis added their papers to the Warren Winiarski Wine Writers Collection in its library, which also includes the work of Hugh Johnson and Jancis Robinson. Dottie has had a distinguished career in journalism as a reporter, editor, columnist and editorial writer at The Miami Herald, The New York Times, and at The Journal. John was Page One Editor of The Journal, City Editor of The Miami Herald and a senior editor at Bloomberg News. They are well-known from their books and many television appearances, especially on Martha Stewart's show, and as the creators of the annual, international "Open That Bottle Night" celebration of wine and friendship. The first bottle they shared was André Cold Duck. They have two daughters.
Banner by Piers Parlett