Red wine and fish. The two great tastes that do NOT taste great together, right? Never the two shall meet. It's the cardinal sin of food and wine pairing. Well, I'm going to get all John McLaughlin you and say regarding this match, "WRONG!" Enter Beaujolais.
I had the chance to send a few questions regarding Gamay's versatility, its Pinot Noir-esque qualities, and exploring the world of Beaujolais beyond Nouveau to Anthony Collet. He's the Marketing and Communications Director of Inter Beaujolais, and just finished a West Coast Beaujolais Food Fest where Gamay strutted its stuff with Mexican and Asian cuisines, an array of vegetables and, yes, seafood.
Lobster tacos with black beans, crispy onions, avocado, cilantro crema, and pico de gallo? Pour a Beaujolais Village. Baked sea bass with Chinese honey? Open up a Brouilly. And how about a Morgon with a lily bulb and almond flake-accented spicy wild prawn curry?
(Food photography courtesy Acheff Images.)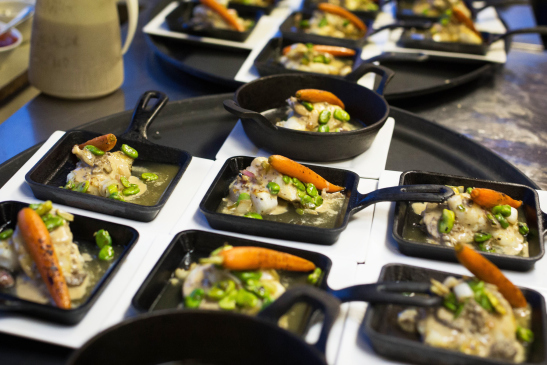 "We did decide to organise the Beaujolais Food Feast events in order to surprise journalists and wine professionals about the versatility and food friendliness of our wines," Collet explained. "This is a strategy we follow throughout the world, even in France, in order to change the perception people may have about us."

So what makes Beaujolais a jack-of-all-trades when it comes to whatever you set down on the table? It's Gamay's bright, natural aciditdy. Which, Collet elaborates, gives the wines a refreshing feel that doesn't tire your palate. "The wines have supple tannins with a moderate alcohol level. They are aromatic without being too rich, over riped and over concentrated. They can also be enjoyed slighty chilled. Therefore, Beaujolais wines are the perfect accompaniment to a huge variety of cuisines from fish to meat, sweet and sour, to more spicy dishes."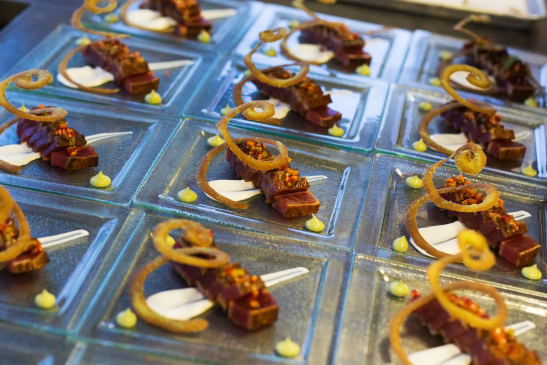 Regarding Gamay, specifically from Beaujolais and especially the Crus, I like to recommend it to people who enjoy Pinot Noir. Collet concurs:
"For fans of Pinot Noir, Gamay is a very good alternative and it is much more affordable (between $15 and $25 a bottle). Gamay is a crossing of Gouais Blanc and Pinot Noir, meaning that in its DNA, there is Pinot Noir characteristics. People who enjoy Pinot Noir usually look for wines which have a lighter style, wines which are aromatic, elegant and subtle. Gamay has all that together with lipsmacking juicy red berry and bramble fruit, supple tannins and a bright refreshing acidity. Beaujolais wines are also very perfumed and floral making them delicate. Gamay, like Pinot Noir, has a great ability to age due to its natural acidity. Old Gamay wines takes on Pinot characteristics like black cherry, plum, kirsch, fruit of the forest…and it is actually hard, when tasting blind, to differentiate the two"
Lastly, I had to inquire as to why most people's experience with Beaujolais is only once a year during Nouveau festivities. Collet responded:
"You are right when you say that people think of Beaujolais wines mainly on the third thursady of November. This is really the case in France or in Asia. In North America, I found people well-educated and they know that Beaujolais wines can be enjoyed all year round and offer more than just Beaujolais Nouveau. Education is key for us (for both professionals and consumers). That's why we increasingly organise educational seminars and tastings to help people to understand our range better and entice them to recommend the wines and purchase them in-store. PR is key too so we can get opinion leaders on board to recommend our wines."
How do you feel about red wine and seafood? And is Beaujolais part of your year-round red wine rotation?