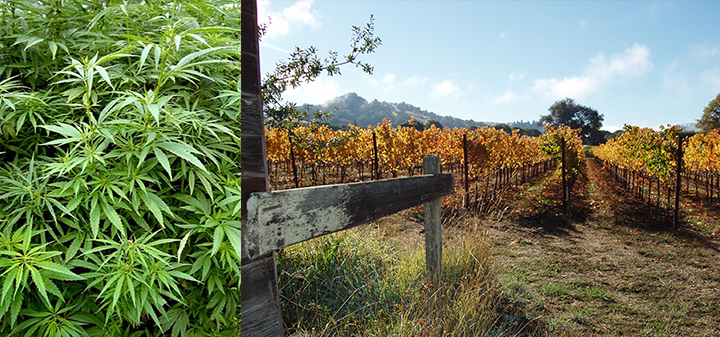 California's Mendocino County has long enjoyed a dubious reputation as the pot growing capital of the USA. Indeed, Napa and Sonoma grape growers would often roll their eyes at the marijuana monkey business going on just an hour north.
But the conversation is changing, and winemakers, sommeliers, and critics are beginning to wax poetic about Mendocino's Pinot Noir. Marijuana still grows in the region, but now all the cool kids are talking grapes, not grass.
"The truth is, pot grows well here, but so does Pinot Noir," says Kristy Charles, fourth generation winemaker for the Anderson Valley's Foursight Wines. "We started farming grapes in tandem with the pot farmers. The fact that we are up here together is a coincidence in climate."
Climate is indeed the big attraction up here. It's cool, rainy, subject to frost and fog, and experiences significant diurnal temperature shifts. Arnaud Weyrich, winemaker for sparkling wine producer Roederer Estate, which has been in the Anderson Valley since the 1980s, attributes the region's viticultural success to its maritime climate. "We grow grapes under the natural air-conditioning of the nearby Pacific Ocean, which helps maintain good acidity in our wines. In fact some years it's a problem having too much acid."
Ryan Hodgins, winemaker for FEL Wines (formerly Breggo), also credits the area's cold winters and late springs for "pushing the growing season later so that ripening occurs in the late fall—as opposed to late August or early September for Pinot in Napa and Sonoma." The result is wines with a vivid freshness, high-toned fruits, and sweet spices.
Quality wine producers have been taking advantage of the superior climate in Mendocino for decades, but Charles credits the new attention to the arrival of bigger names like Cakebread, Jackson Family Wines, and Cliff Lede. Bigger means better product distribution; previously, "None of us were ever large enough to seriously distribute our wines," observes Charles.
The outside investment has done much to promote the region and its wines. "Many say Mendocino today feels like Napa 30 years ago," says Charles. Yet Charles and other winemakers don't see this sleepy, rural outpost ever really becoming a major tasting destination. Weyrich of Roederer Estate adds with a sigh, "It's too bad the Number One agricultural product up here is marijuana. Grapes are Number Two for now."
Katie Kelly Bell writes a wine and travel column for Forbes.com. You can also find her byline in Decanter and USA Today, and listen to her blather on Atlanta's WSB radio. She is a tireless advocate for daily consumption of Champagne.